Professional Email Signature: Tips+Templates
Discover the vast selection of professional email signature templates offered by MySignature.
Create signature from scratch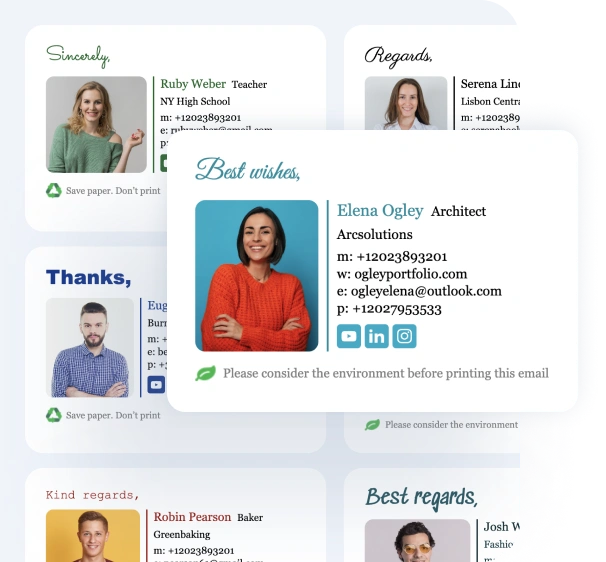 Free and Paid Plans Included
Friendly to Email Deliverability
GDPR Complaint
100+
Templates
10+
Unique layouts
10+
Add-ons
200+
Social icons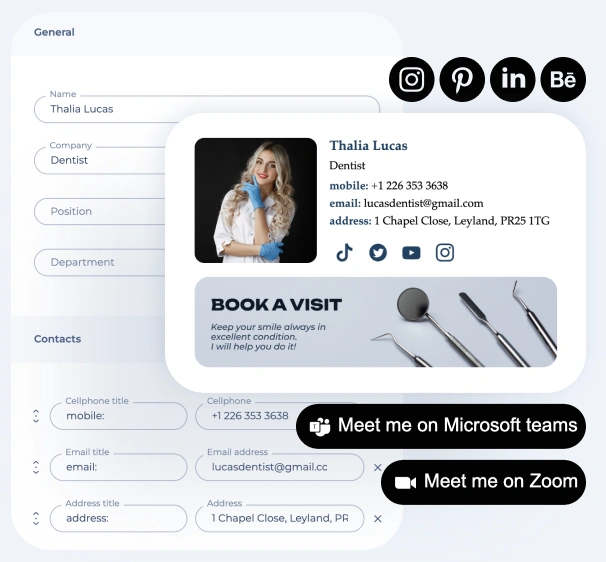 What is a professional email signature?
A professional email signature is a way to provide more context to your email recipients about who you are, how you can be reached, and even what kinds of different services or offers you currently have. It's like a business card for your emails.
Compared to a regular email signature, a professional email signature is designed to represent your business or company, providing relevant information that's meant for clients, business partners, and colleagues instead of friends and family. However, with more people promoting their personal brands as freelancers or creators, the difference between personal and professional email signatures is getting smaller and more nuanced.
Professional email signature templates
Whether you're a realtor, a business owner, a professor, or a blogger, we have free professional email signature templates for you. Choose the perfect template for a professional email signature below.
Professionals choose MySignature to get the most out of their emails

Roman Hotsiak
Email & SMS marketing
I had a great experience. MySignature is very simple and very customizable! I can easily create a nice professional signature for my team. Thanks to the support team for helping with the set up of a signature for my business email.

Mary McGuire
Business Consulting and Coaching
I like the amount of information that can be conveyed in what would otherwise be wasted space. Particular like the design and easy to use.

KiwiOnTheSticks
Gaming Content Creator
I love using Mysignature! It's super easy to set up, even allowing you to use Canva within the editor! I love this service and recommend it to anyone looking to add a clean and professional touch to their emails.

João Mino
Translator & copywriter
I like the well-designed email signature templates by MySignature! Also, your Gmail tracker gives me the ability to track email activity after sending. For example, whether or not the customer received my invoice.
Data supplied as of 05/31/2023
Essential tips for creating a professional email signature
A selection of professional templates can help even someone without prior experience quickly assemble a beautiful email signature. That being said, understanding the fundamental principles of creating email signatures that do their job well is still a good idea.
Let's explore five essential tips for getting the most out of MySignature's email signature template selection.
Define your goals
MySignature offers countless possibilities for designing and customizing your personal email signature. But if you're creating your first one, figuring out what to prioritize can actually become a challenge.
That's why instead of looking at the possibilities, it's a good idea to clearly define what you're trying to accomplish. That way, you can combine the different design elements and types of information to achieve the outcomes you want.
For example, if you're a business owner and want to showcase your newest promotion, consider adding a banner with an enticing call to action to check it out. For doctors, displaying your work hours and contact information is usually a top priority. And if you are a job seeker, you can add your resume and other relevant signature details to draw attention to your qualifications.
The good news is that MySignature templates are already designed to consider the unique needs that different people might have. Once you find a template you like, you can customize and edit the signature further, enhancing it with different elements and making it your own.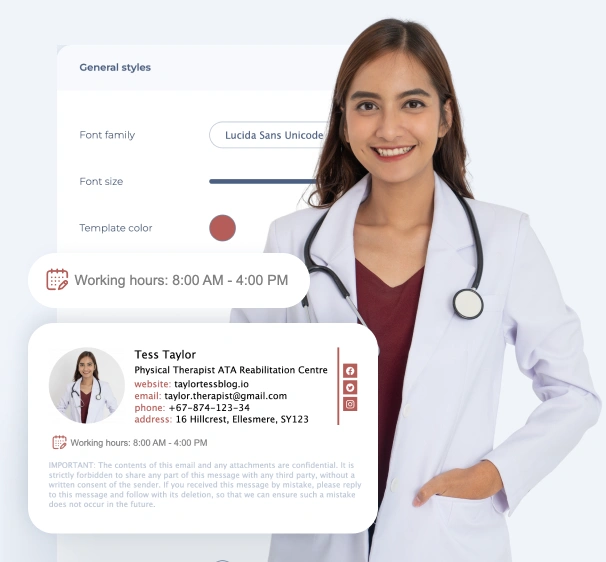 Make it more personal
One of the main advantages of using an email signature is that it helps make your emails more personal, allowing you to share relevant information and show who you are as a person.
Adding certain elements such as a picture can help the recipient connect with you on a more personal level, turning you from a faceless email address to a real person.
At the same time, you can use pictures and branding elements to convey the type of brand image you want to create. For example, for lawyers or doctors, the aim may be to project trust and professionalism. For someone like a designer, you may want to emphasize creativity.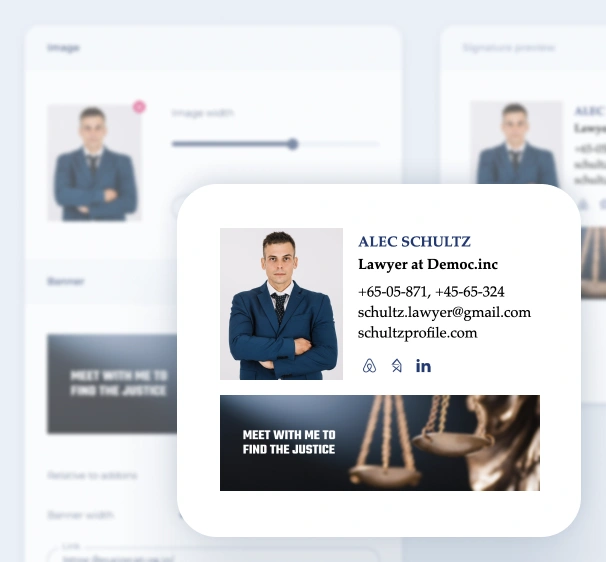 Don't overcrowd your email signature
When creating an email signature from scratch, it's easy to get carried away with adding new signature elements. Each different piece of information can be useful, but as you start adding your secondary contact information, social media links like your LinkedIn profile, pictures, disclaimers, a business address, banners, and more, you may find yourself with a signature that's a bit clunky.
Therefore, when building your first email signature, it's a good idea to lean on the proven designs you'll find in MySignature's template collection. These designs are based on thousands of successful email signature examples used by real professionals in various industries. That means you can insert your information and have a simple but great-looking signature that's ready to use in minutes.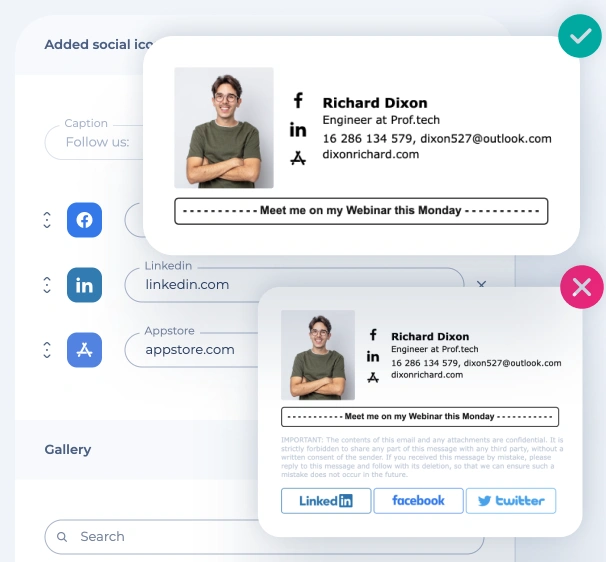 Add a call to action
The best way to maximize your email signature performance is to add a compelling call to action that entices people to click through to where you want them to go. Once set up, the CTA banner will work on autopilot, bringing you a continued stream of readers, leads, and buyers with every email you send.
Most people associate a CTA with an aggressive sale, but that doesn't have to be the case. For a doctor or lawyer, it may be a banner urging people to book an appointment. For a professor, it may be a link to helpful student resources. And for a business owner, the best option could actually be a link to a sales or offer page.
When you use MySignature templates, you don't have to worry about how to fit a banner. The templates make it easy to add a banner that works well with the overall design, enhancing your email signature and making it more engaging.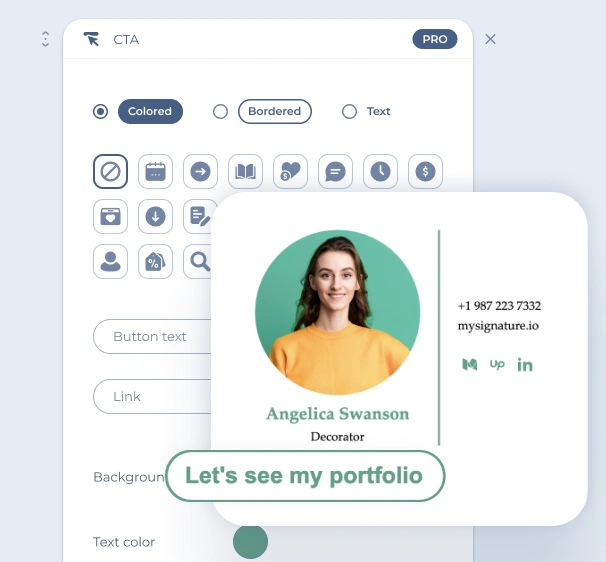 Proofread everything
Your business email signature is supposed to showcase your brand and make you seem more professional. But all of that can be undone in an instant if your signature has grammatical mistakes or incorrect information.
Therefore, when designing your signature using a template, double-check all your information to ensure no important details were missed. It's especially important to check the contact details and links, as these can make it impossible for the recipient to click through or reach out to you.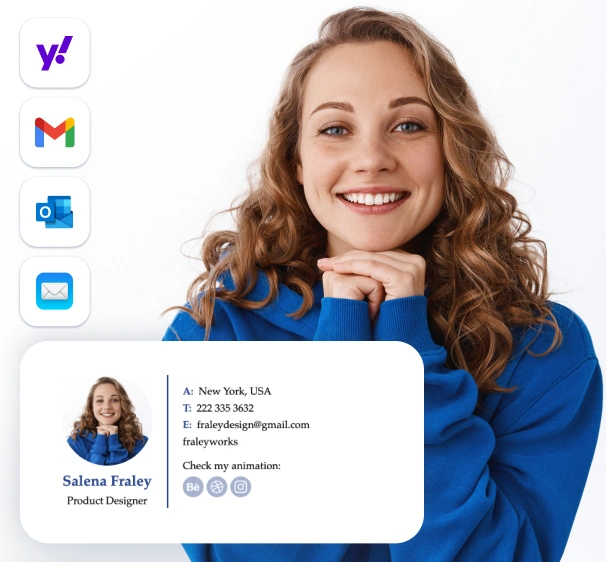 Use email signature generator
Using an email signature maker like MySignature can dramatically expand the possibilities of what you can do with your email signature. Instead of just adding a few lines of text, you can use beautiful designs to create a free professional email signature that's:
Customize the templates using a powerful built-in editor in minutes
Bring your email signature to life by adding a company logo, a personal photo, or an engaging banner
Quickly share your email signatures on your Outlook account, Gmail, Apple Mail, Yahoo Mail, Thunderbird, and Office 365 email clients
Whether you want to tell more about yourself, make your brand more visible, drive traffic to your site, or even generate leads on autopilot, the right email signature design can help do it all, and more.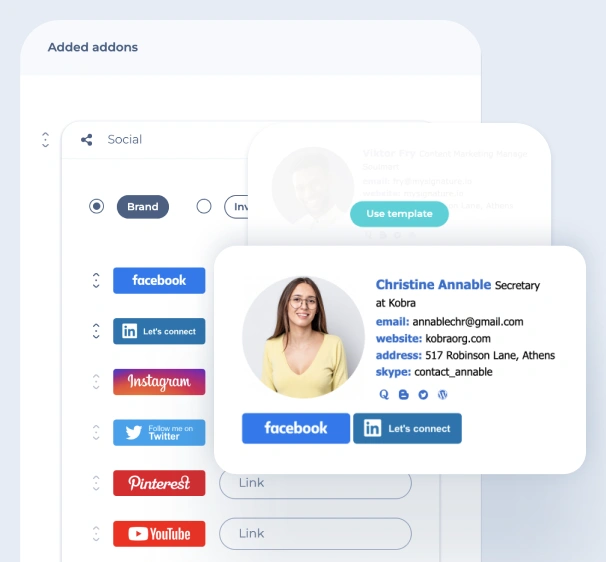 FAQ
How to create a professional email signature?
What should a professional email signature look like?
What to put in a professional email signature?
Why are professional email signatures important?
How to structure a professional email signature?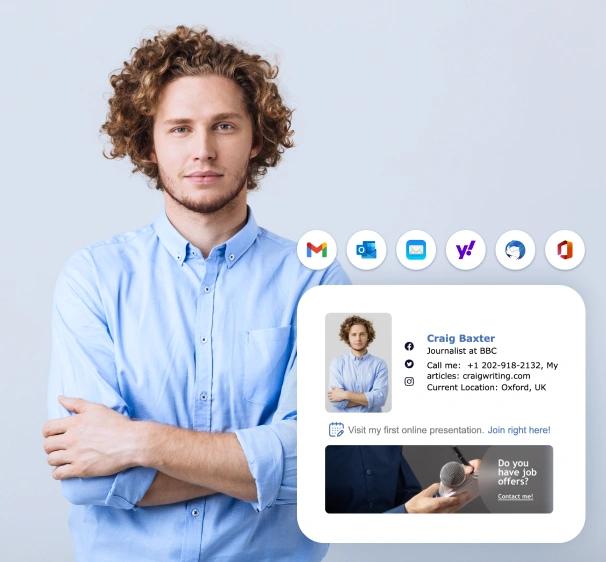 Create your professional email signature with MySignature
Building a professional email signature that's customized to suit your brand has never been easier. Using the extensive selection of professional templates offered by Mysignature, you can put together a signature that will drive growth for your personal or business brand in minutes.
Create your first email signature now!