A professional email signature is a crucial part of any successful communication. It serves as a way to differentiate yourself from other emails, give your message credibility, and remind the recipient of who you are. It's also an excellent opportunity to showcase your personality, promote your business, or link to other important resources.
A professional email signature design: what does it look like? Here we'll explore tips and examples for creating an email signature that gets you noticed. So let's get started!

What is an email signature?
An email signature is a short block of text that appears at the bottom of your emails. The signature can include info like your name, job title, company name, a link to your website, contact details, social media accounts, and other elements. In fact, your signature serves as a digital business card and is a part of every email you send, so it's important to make sure you design a good one.
Why is email signature design important?
What is email signature design, actually? In short, email signature design is about how your signature looks.
Many people read a large number of emails regularly, and it's easy to forget who they're dealing with after only a quick scan-through. An effective email signature design will prompt the recipient to take another look at your message and remember who you're. It's also a good starting point for some marketing techniques. You might, for instance, include a link to some of your website's useful resources or advertise a rewards program to people who read all the way through the email and make them an additional offer.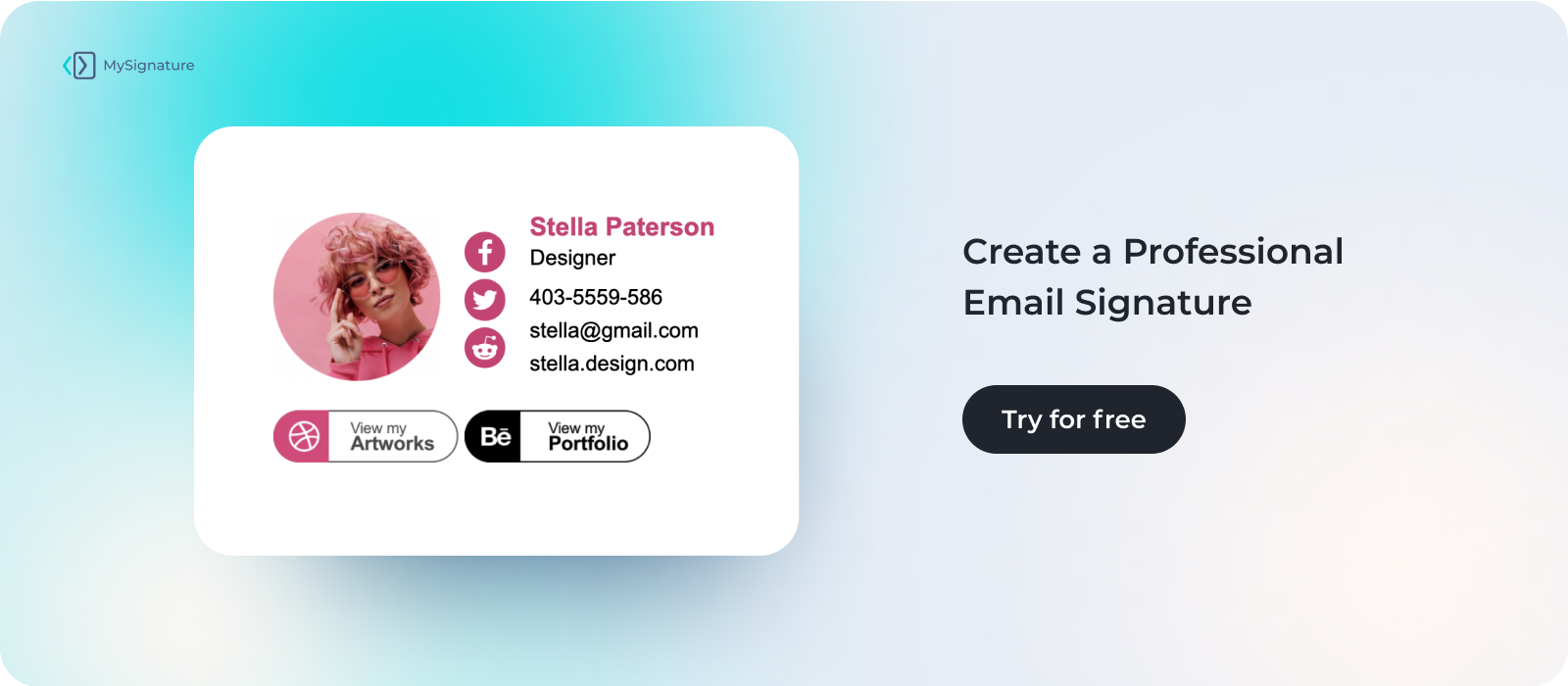 Choose the right email signature layout
First of all, try to arrange all the elements in your email signature so that they don't make your design cluttered and overwhelming for your readers.
There are various layouts for your signature to consider. Still, as a general rule, your headshot or company logo should be placed prominently at the top or left, followed by your key details, such as name, job title, company name, and phone number. Below are a few more examples of how you can place various elements in your signature.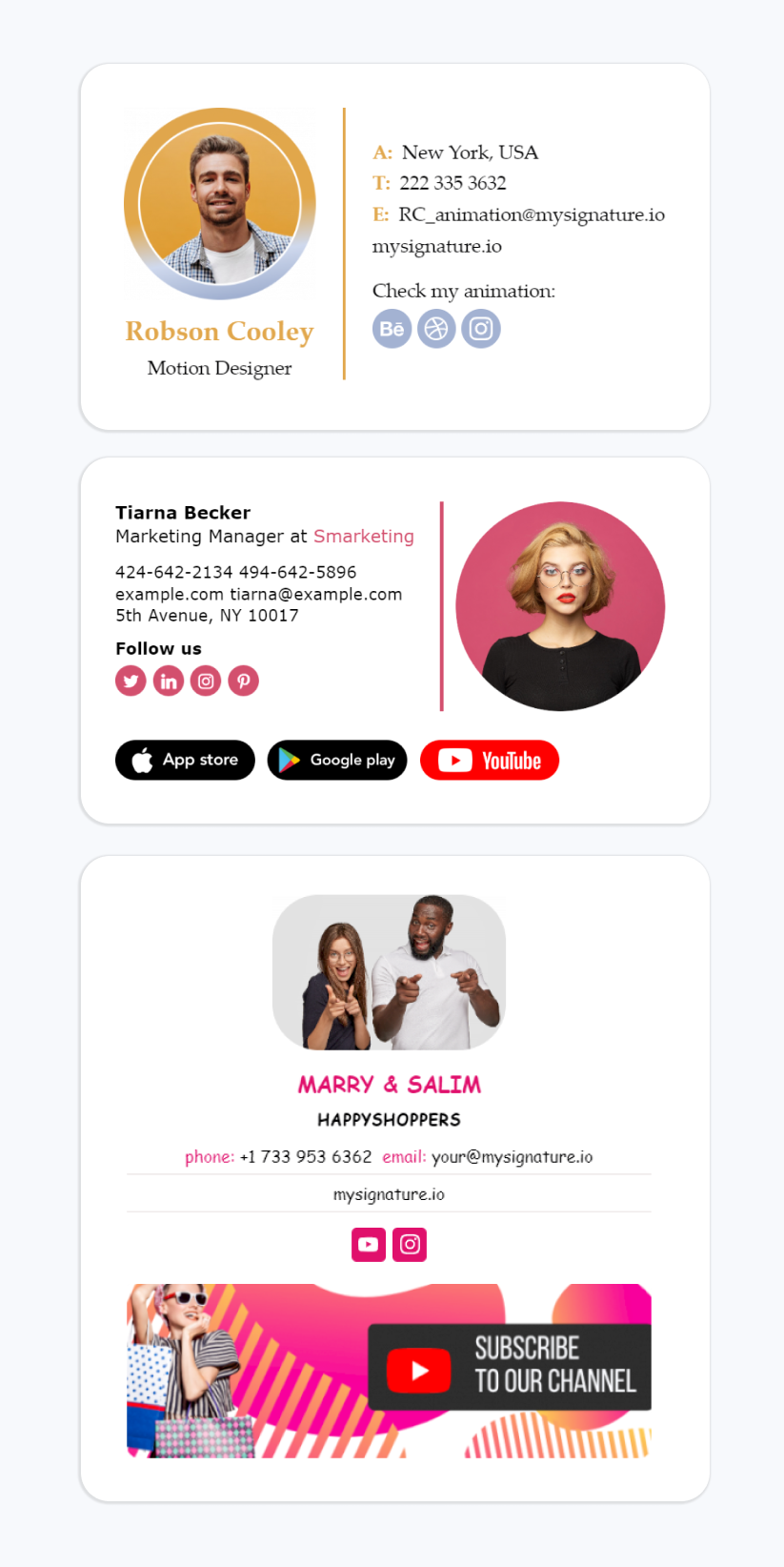 Professional email signature design tips and principles
Finally, let's dive deeper into professional email signature design and its best practices.
General advice
When creating your signature, keep these tips in mind.
Make it relevant.

Your signature is part of every communication you make, so it must be appropriate to each situation. If you usually write emails to your friends, clients, and colleagues, you'll want to ensure the signature you use is suitable for each. You can also have a few signatures.

Check your spelling.

Errors can be present in even the shortest passage of text. These minor imperfections have the power to spoil both the first and final impressions. So make sure to check the copy of your email signature.

Optimize it for mobile.

When creating an email signature with images, make sure to make it mobile-friendly.

81% of people read emails on their phones

. If the signature is blurry or pixelated, it will look unprofessional.

Keep it simple.

Less is more when it comes to making a professional signature. Try to fit all the most important information into just three or four lines of text.
Informative elements
As a rule, an email signature contains your name, job title, and phone number, but if you want to use its benefits to the fullest, make the informative part longer and more detailed. Here's what you can do:
Show that you're social.

If your business uses social media, you should put links to your profiles in your signature. You might also want to add a link to your personal LinkedIn/Youtube/etc. page.
Add a call to action

. This is a must if you want your signature to get people to do something immediately. With a compelling call to action that email recipients can click on, they can sign up for your newsletter, reserve a spot at an event, or download an eBook.

Share a blog post.

If you want to prove that you're an expert in your field, why not include a link to one of your high-performing blog posts or any other relevant content?

Add a disclaimer.

Depending on the field you work in, you may have special rules concerning email usage and how you're preserving the confidential information communicated. If this applies to your business, you might want to include an email disclaimer.

Include your accomplishments.

Are you in a field where clients expect to see your credentials? You should sign off with them. Include any awards you may have received to highlight your achievements, but make sure they are recent or current.
Visual elements
Adding the right image to your email footer is the cherry on top of the cake! It will help the recipient to make a personal association with you and your brand. So what images are right for a professional email footer?
Use a professional headshot.

There's no reason you can't use a photo you took yourself, but make sure it looks as professional as possible. Take it against a simple background to cut down on clutter, but ensure there's enough contrast between your face and the background. Lastly, dress appropriately and don't forget to smile.
Minimize logos and banners.

It's totally acceptable to put a company logo or a banner in your email footer. Not only does it help tie in your email with your brand-building efforts, but it creates a sense of cohesion throughout your marketing and communications materials. However, avoid cluttering your signature with logos and banners. They can add GBs to your recipient's inbox and appear salesy. Keep your branded images preferably around

50kb

.

Include space and space dividers.

Even though a typical signature isn't very big, try to leave some space around your information so that your design looks neat. If your signature is too crowded, try changing the color of your text or using vertical bar separators (pipe glyphs) to break up any long lines and lead the eye to your information.
How to format your email signature
Creating an effective email signature isn't difficult, but it does require some thought and planning. Have a look at our tips if you need help with the format of your email signature.
Choose the right size

. For design, delivery, and display, we recommend email signature dimensions of 300-400 pixels wide and 70-100 pixels high. It's best to keep the size of all images in your signature less than

50kb

.

Use hierarchy in the design.

Think about how you read something on a page to figure out how to make the best email signature. Your signature's design hierarchy should draw the reader's attention to the most important details first by using scale, color, and font size.


Think of the alignment.

Even though a properly-designed email footer shouldn't look "boxy," lining up your contact information will help draw attention to it and give your email signature a sense of balance. We suggest that you base your alignment on where your logo is, and keep in mind that text that is aligned to the left is the easiest to read.

Control your color palette.

Color always draws attention, but it's vital to know where to stop. As we've mentioned, we recommend you stick to a few key colors that go well together.
Use pictures smartly.

People remember images better than words, so it's a good idea to put an image in your email signature (a headshot, a logo), but don't use too many. Also, make sure that your images are embedded, not attached.

Choose a web-safe font.

You don't have to use just one font in your email signature, but choosing more than two isn't a good idea. If it makes sense, your choice could match the font of your logo and be easy to read. We suggest using a font size of at least 10pt. Most importantly, choose one of the "web safe" fonts that are supported by all browsers so you can be sure your signature always looks right. These fonts are Arial, Verdana, Georgia, Tahoma, Courier, Times New Roman, Trebuchet, Palatino, and Lucida.
More on email signature images
As you can see, your image is usually an essential part of an email signature. However, if you go wrong with its proportions or size, people may not see it as you intended. Follow the recommendations below to make sure you choose the right image.
Email signature image recommendations

| | | | |
| --- | --- | --- | --- |
| Format | Size | Proportions | Resolution |
| | | | |
| --- | --- | --- | --- |
| The best file formats for images to use in email signatures are PNG and JPEG. | As a general rule, the smaller the size of the image in your email signature, the better. Try to keep it no more than 50 kb. | The optimal size for logos and photos is between 100-300 pixels wide. | We recommend saving your image at 72 dpi. X 2 dpi if you want to avoid images becoming blurry on Retina displays. |
Email signature design don'ts
Try not to ruin your professional email signature with any of the following no-nos.
Don't include everything.

You've probably seen those long email signatures that are hard to read. These can have ten or more lines and contain excessive information. Such signatures can seem annoying or like desperate attempts to get people's attention.
Don't make your signature an image.

The person who gets your email might have it set to block images automatically. That means that if you use an image instead of your signature, they will never see it.

Don't experiment with GIFs.

An animated image can be useful if you want to add motion and feelings to your email signature design. While the animation is fun, keep in mind that some email clients don't support it. So the GIF will show up as a still image instead. That's why the first frame must be applicable in case your recipient won't see the whole animation.

Don't use more than two images.

Some recipients might not be able to see them because of the slow internet.

Don't use personal quotes.

If you want to promote a professional brand, your email must make the right impression. The best way to do this is to include only relevant information. Unless you're a well-known celebrity, using personal quotes would look over the top and tacky.

​​Don't list too many ways to get in touch with you.

Include one or two of the best and fastest ways to contact you.

Don't include many offers.

After all, an email signature is more of a way to tell people about yourself than to sell something.
Email signatures advice
Whether you're a business person, a startup, a marketer, a sales manager, or a creative individual, having an email signature can make your emails look more professional, communicate important information at a glance, and increase your brand visibility. As we've mentioned before, it's important to design a signature in a way for it to be relevant to various audiences and occasions. Let's discuss how various types of professionals can design and improve their signatures.
Email signatures design advice for businesses
When creating an email signature for a business, you want to keep it professional, straightforward, and focused on the company's mission. Include your name, business name, and contact information. Be sure to add a link to your website and any relevant social media profiles. Your photo should match your company and be consistent.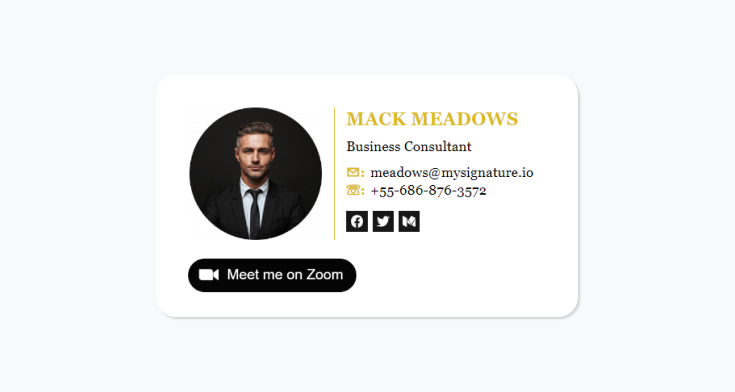 Email signatures design advice for startups
Did you know that an email signature can bring 300-500 extra leads per month for your startup? Add your new signature and turn the hundreds of emails you send into a powerful marketing channel. Include your company logo and contact information, like the company website and social media profiles. Don't forget about a clear call to action. You can also use an eye-catching font and color scheme to stand out from the crowd, but be sure not to overdo it.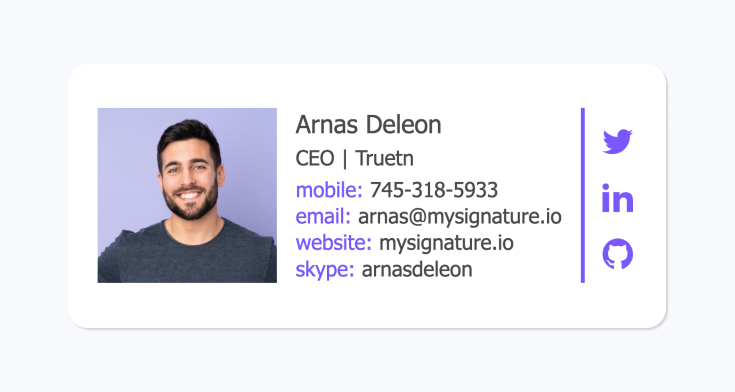 Email signatures design advice for marketing
As a marketer, try to create an email signature that will grab people's attention and draw them in. Include a link to your website or blog, your social media profiles, and your most recent post, article, or video. You can also add a call to action, such as "Follow us on Twitter" or "Download a free guide." Be creative, and make sure your email signature reflects your brand's personality.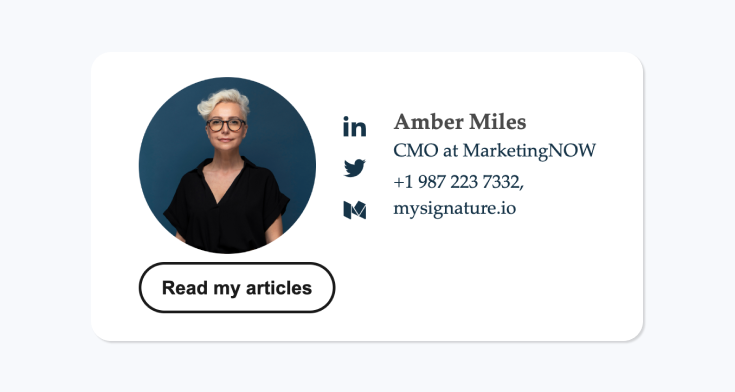 Email signatures design advice for sales
Your email signature should be professional and focused on getting people to take action. Include a link to a contact page, your social media profiles, and any special offers or promotions you're running. You can also include a "Book a demo," or "Book a call" button that links to a contact form. Use a casual yet professional tone.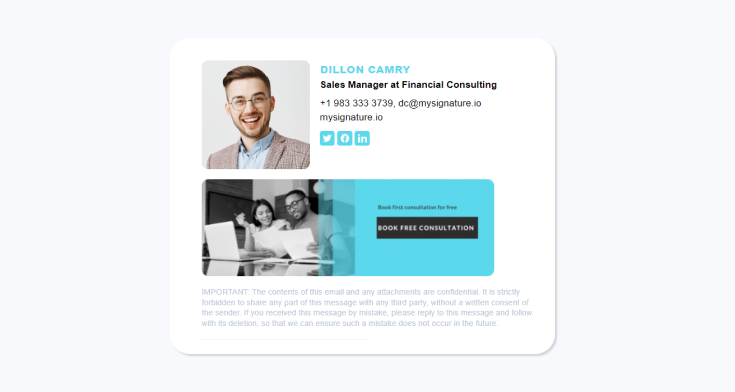 Email signatures design advice for creative people
If you're a creative individual, you want to have a signature that's unique and reflects your artistic style. Add a memorable photo that helps people understand who you are and what you do. Include a link to your portfolio on Behance or Dribbble and any relevant contact information. You can also add some links to your social media profiles.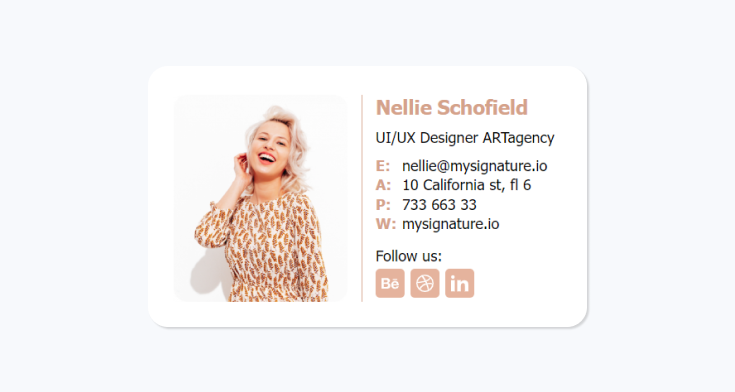 Email signature examples for inspiration
Are you looking for some new ideas on how to spruce up your email signature? Check out these amazing email signature examples for some inspiration!

How to create an email signature
As you can see, designing an email signature isn't difficult, but it's important to make sure that it looks professional and reflects your personal brand. The right email signature format can make a killer first impression and help you succeed. So how do you design a good signature?
If you're tech-savvy, you can create it using Adobe Photoshop or Microsoft Word. However, to achieve the most professional email signature result, we recommend using dedicated tools such as MySignature. This email signature generator provides a wide range of ready-to-use templates to choose from, allowing you to customize everything from fonts to colors and logos. Once you've created your signature, all you have to do is copy and paste the HTML code into your email account, and you're good to go! MySignature saves countless hours and guarantees that you get a consistent email signature anytime.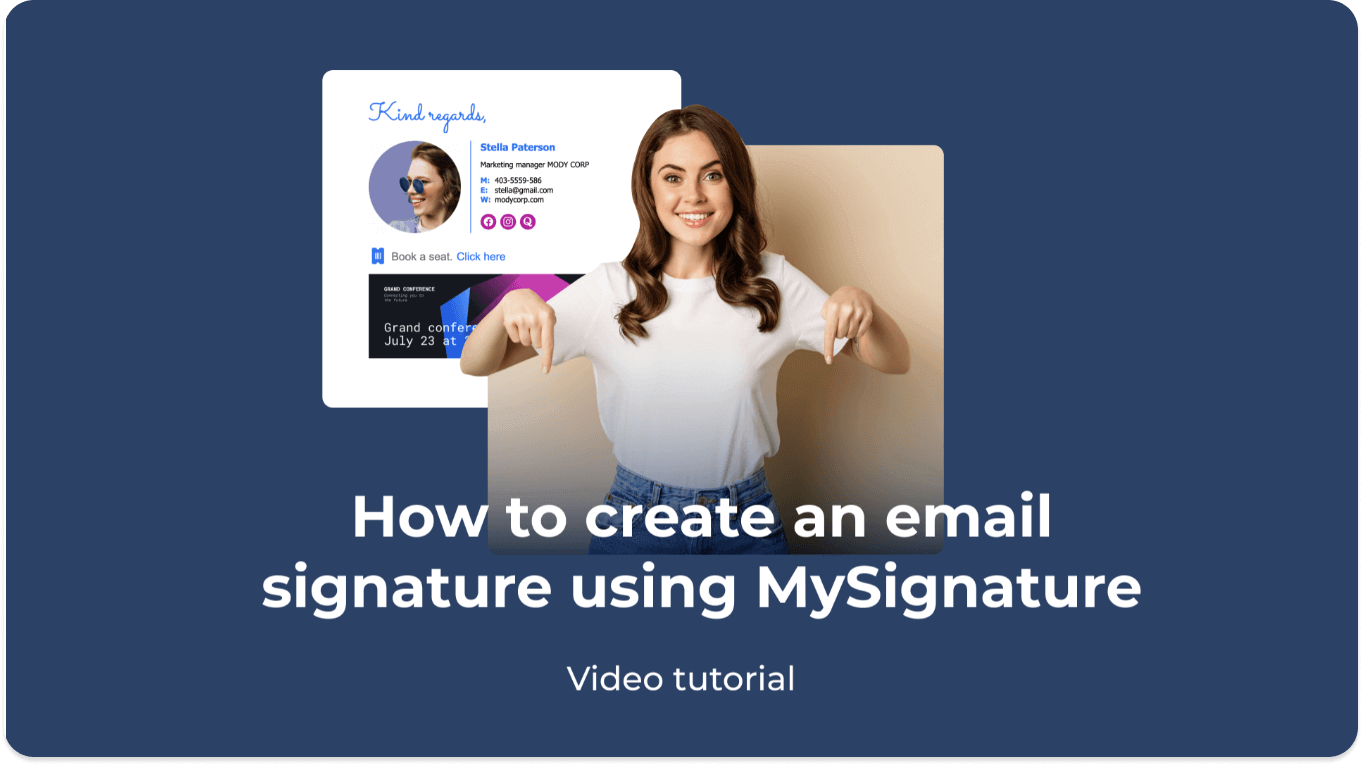 Conclusion
We hope this guide has answered your questions about how to design an email signature. These are suggestions, not rules, so try different things to find out what works best for you.
Good luck!
Ostap
Ostap is a marketing professional (PMM) with 5+ years of experience in the software industry (B2B and B2C). Having worked with email marketing products and services, Ostap has a deep understanding of various email marketing strategies and solutions.