Email Signature Management for Google Workspace
Create and manage all your employees' email signatures with our comprehensive Google Workspace email signature management solution.
Create your email signature
Save your time managing signatures
Keep your brand consistency across emails
Take control of employees' email signatures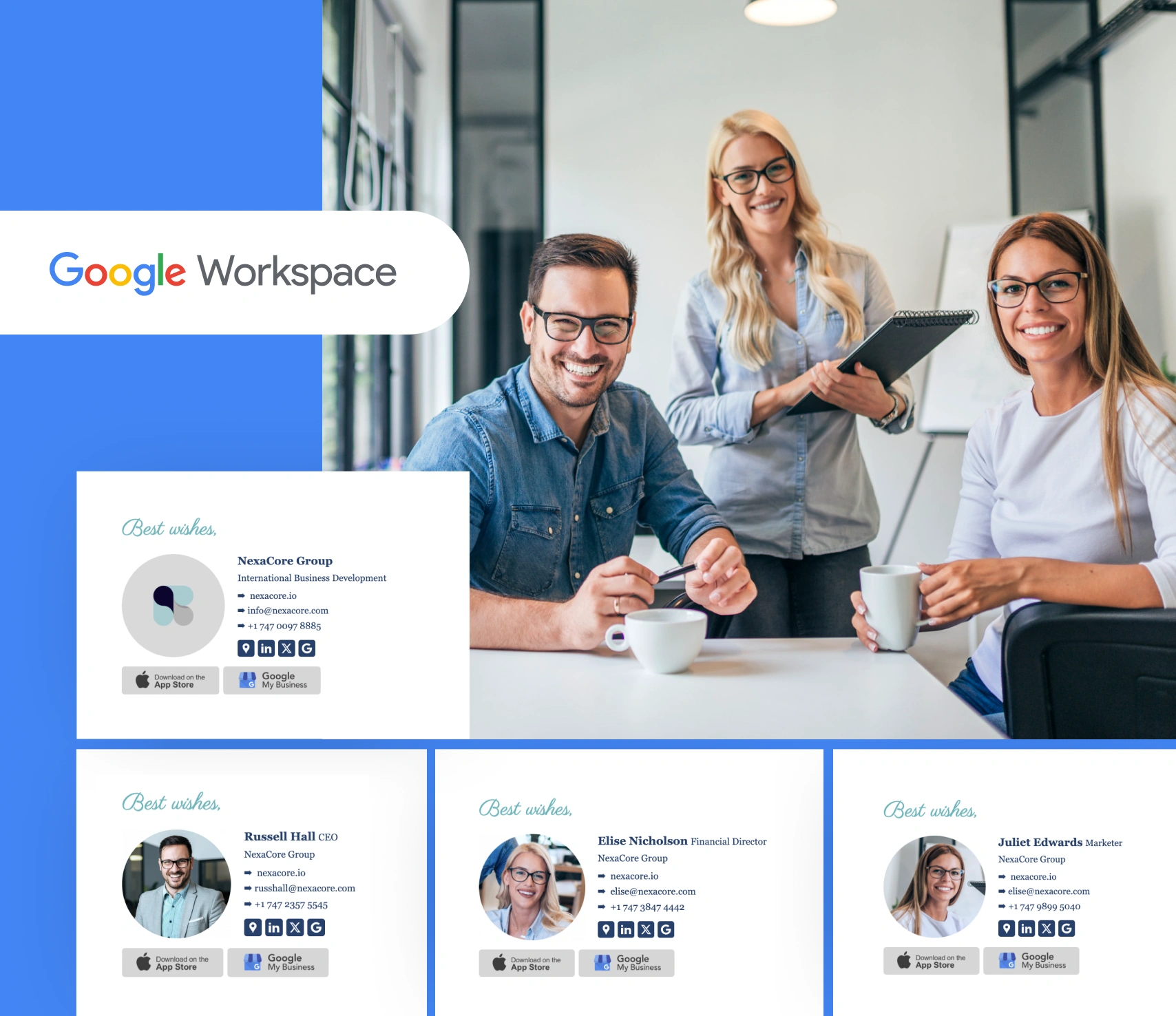 Comprehensive email signature management for Google Workspace
Is your team's email signature a chaotic mix of styles and information? Don't worry, we've got you covered! Create, install, and manage email signatures for your entire team with all-in-one Google Workspace email signature management software.
Create a unified email signature design for your entire organization, ensuring consistency and proper representation of your brand in every email message.
Don't get caught up in mindless administrative tasks. Assign Google Workspace email signatures from one place for joiners, movers, and leavers.
Boost marketing and sales conversions by effortlessly adding banners, Pro add-ons, and CTA buttons to your team's email signatures.
Explore our email signature templates gallery for Google Workspace
Benefits of centralized Google Workspace signature management
A Google Workspace email signature manager like MySignature can supercharge every part of your business email. Here are just a few benefits Gmail signature management can offer:
On-the-fly synchronization
MySignature allows managing your email signatures within the Google Admin console. Update your department email signatures and synchronize via Google Workspace API for all users in that group.
Enhanced security
Data privacy and security are a top priority for any business. MySignature utilizes the best security measures to ensure that your data remains safe.
Professional unified design
Utilize a range of professional and responsive templates to highlight essential company details and direct people to your hottest offers.
MySignature vs. Google Workspace for email signature management
The MySignature email signature management solution simplifies the process of creating a unified company-wide signature by providing a single application for setup.
Be sure of brand consistency across email clients with custom email signatures that seamlessly function on both desktop and mobile devices.
Gain access to a MySignature centralized email signature template library that is very easy to customize.
Get direct to the inbox. MySignature email signatures have a minimal impact on email deliverability, allowing you to utilize them for cold email campaigns and outreach.
Priority support. Get direct access to our expert support team, ensuring prompt resolution of any technical issues or questions.
Integration & setup assistance. Our dedicated experts will guide you through the seamless integration process, ensuring a smooth transition and optimal setup for your organization.
GDPR compliant. We value your privacy and don't store and read your emails. MySignature is fully GDPR compliant and takes great care to protect your data.
How does Google Workspace email signature work
Setting up a personalized signature using the MySignature Gmail signature manager is incredibly easy and takes just a few simple steps. Here's a step-by-step guide for the process you should use:
First, you'll need to go to the MySignature Google Workspace landing page and sign up using your Google Workspace account. Signing up by email or other social media accounts is not supported.
Start creating your first email signature by answering simple questions. Don't worry, you can change the email signature details later.
Subscribe to the MySignature pricing plan and choose how many users (email signatures) you need. One email signature equals one user.
Next, you'll need to connect your MySignature account with your Google account through the Google Workspace Admin Console using our step-by-step instructions. This ensures that the signatures appear correctly and are easy to deploy.
Import users from the Google Workspace Directory to your segment. The segment is the group of users that you manage; you can create additional segments if desired.
MySignature will import some users' information from your Google Workspace to help you get started quickly. However, you can clarify and manually add additional information for your users' email signatures.
Once you're ready, you can deploy your email signatures, and they will be automatically added to your employees' Gmail accounts.
What Our Customers Say About Us

Roman Hotsiak
Email & SMS marketing
I had a great experience. MySignature is very simple and very customizable! I can easily create a nice professional signature for my team. Thanks to the support team for helping with the set up of a signature for my business email.

Mary McGuire
Business Consulting and Coaching
I like the amount of information that can be conveyed in what would otherwise be wasted space. Particular like the design and easy to use.

KiwiOnTheSticks
Gaming Content Creator
I love using Mysignature! It's super easy to set up, even allowing you to use Canva within the editor! I love this service and recommend it to anyone looking to add a clean and professional touch to their emails.

João Mino
Translator & copywriter
I like the well-designed email signature templates by MySignature! Also, your Gmail tracker gives me the ability to track email activity after sending. For example, whether or not the customer received my invoice.
Data supplied as of 25/10/2023
Take ownership and control of your Google Workspace email signatures
Schedule a discovery call with one of our experts to discuss your requirements for the Google Workspace email signature solution and explore how we can assist you
Book a call
FAQ
What is email signature management for Gmail?
How long does it take to set up company-wide email signatures?
Will MySignature break my email security?
Will my email signature appear in the correct format on all email clients?
Enhance Google Workspace with MySignature today!
MySignature is the perfect tool for designing professional email signatures for your entire team. Manage your signatures from the Admin Console, utilize a range of templates, and enhance your brand's authority in the eyes of your customers.
Get MySignature now