An email signature is an essential marketing tool for realtors. And that means that you need to be deliberate about every element you use, as each line will reflect who you are as a realtor and a person.
Because of that, adding real estate quotes in your email signature can be so effective. In just a sentence or two, it can tell an entire story about your vision, ideals, and philosophy. And that can become the deciding factor in a prospective client wanting to work with your real estate business.
But what are the best real estate quotes you could use? And how to choose one that fits in your email signature?
Let's explore different types of quotes for real estate agents and why they matter.
[ Article navigation ]
Motivational Quotes for Realtors You Can Add to Your Email Signature
Why You Should Use Quotes in Your Realtor Email Signature
Motivational Quotes for Realtors
Inspirational Real Estate Quotes
Real Estate Quotes for Marketing
Why You Should Use Quotes in Your Realtor Email Signature
Adding a quote to your email signature may seem like an unnecessary distraction. After all, since every element in your signature should have a clear purpose, a quote may detract from your business goals.
However, there are many situations when using a realtor email signature makes a lot of sense. Here are a few reasons you may decide it's a good idea to add a quote to your email signature:
Showcase your values. A well-selected quote can tell a lot about who you are as a person and as a professional realtor, even if it's just a few words long. If you want to build a stronger connection with the person receiving your email, the quote can help them feel like you have the same values and can be trusted or that you have a deep understanding of your industry and how a realtor should operate.

Inspire others. Sometimes, the best way to use a quote is to inspire others. For example, an inspirational real estate quote may convince someone on the fence about buying a home that they are ready to take this vital step in their lives, making it easier for you to close them as a client.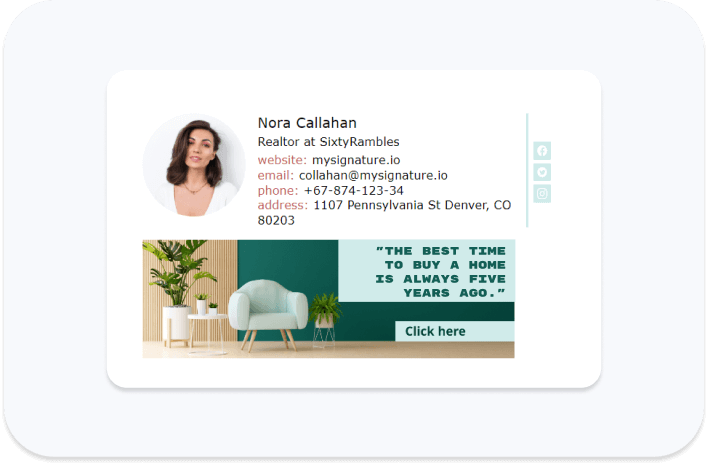 Strengthen your brand. Another way to use a quote in your email signature is to

make it a part of your brand

. You could choose a motivational quote that aligns with your professional vision and emphasizes the priorities you will have if the prospective client decides to work with you. A good example of this is the famous "Better Call Saul" slogan that was used by Saul Goodman, a character of the famous TV shows Breaking Bad and Better Call Saul.

Show a lighter side. Finally, you can use the email signature quote to add a bit more personality to your professional brand and lighten the mood of the communication. If you can find a respectful but funny quote that ties in with what you do, you may get a chuckle from the recipient, which will go a long way in making them want to work with you.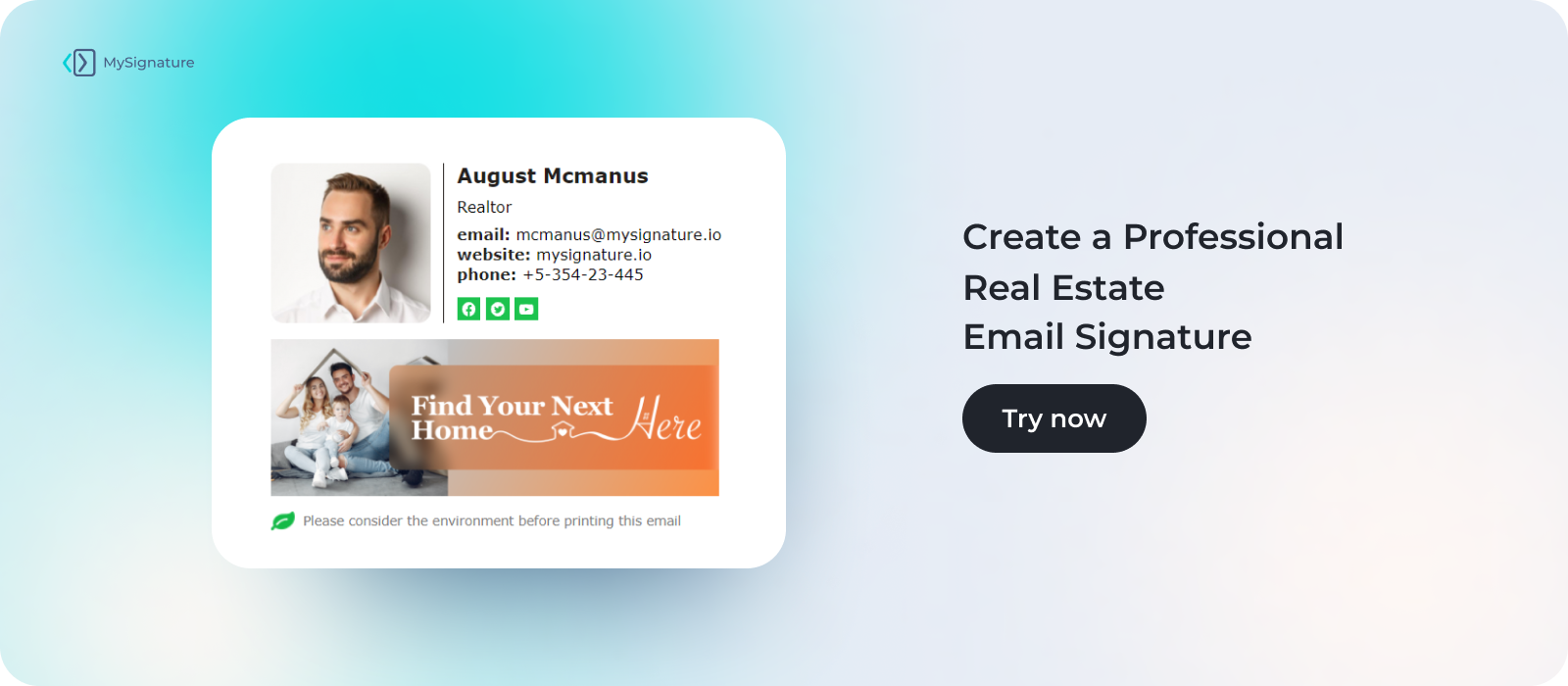 Motivational Quotes for Realtors
One of the main reasons why motivational quotes for real estate agents work so well is that they symbolize ambition. People want to know that their realtor strives for big things and has vision, and that's why you can use these quotes to become more credible, trustworthy, and likable to anyone receiving your email.
Here are a few motivational quotes for realtors you could use in your email signature.
❛ Real estate is an imperishable asset, ever-increasing in value. It is the most solid security that human ingenuity has devised. It is the basis of all security and about the only indestructible security. ❜
Russell Sage
When considering whether to buy a home, many people are hesitant about the potential fluctuations in the market. This classic quote by Russell Sage emphasizes that, in most cases, real estate will be one of the soundest investments a person can make over the long term.
❛ Success in real estate comes down to two factors: taking care of and valuing the customer. ❜
Michael Miedler
This quote by Michael Miedler is more geared toward real estate agents than clients. But it's an excellent example of a quote that can reflect the values you believe in as a real estate agent, reassuring prospective clients that you will always put them first throughout the buying or selling process.
❛ Real estate practice is not about selling or buying a home. It's about representing your client's greatest asset to your client's greatest benefit. ❜
Alex Delgado
Each client you serve brings unique challenges. And the client wants to know that you'll take the time to work with them to find the best solution in their situation. This quote by Alex Delgado emphasizes that you treat each client individually, considering their situation when exploring options.
❛ I will forever believe that buying a home is a great investment. Why? Because you can't live in a stock certificate. You can't live in a mutual fund. ❜
Oprah Winfrey
A great motivational real estate quote doesn't necessarily have to come from a person in the real estate world. In this powerful quote, Oprah Winfrey makes a great point about why real estate will always be a safe bet for an investment. And the fact that it's coming from Oprah will make the quote even more impactful in the eyes of your email recipients.
❛ Real estate cannot be lost or stolen, nor can it be carried away. Purchased with common sense, paid for in full, and managed with reasonable care, it is about the safest investment in the world. ❜
Franklin D. Roosevelt
The former United States president makes a good point about why real estate is a sound and relatively safe investment compared to some of the alternatives. But at the same time, he puts some context on what making it pay off can take, and all of those aspects are where good realtors can provide valuable advice to their clients.
❛ Ninety percent of all millionaires become so through owning real estate. ❜
Andrew Carnegie
A significant percentage of real estate buyers aren't looking for their first home. For many, it's just another investment that allows them to increase wealth. This quote by Andrew Carnegie can motivate your email recipients to consider taking a more proactive approach to their real estate investment strategy.
Inspirational Real Estate Quotes
Sometimes, your prospects need just a bit of inspiration to start envisioning their future as homeowners. And these inspirational quotes for realtors will work really well in your email signature as a way to get people to want to take action right now.
Find the best inspirational real estate quote for your situation below.
❛ The best time to buy a home is always five years ago. ❜
Ray Brown
If you want to light a fire under your prospects, this Ray Brown inspirational quote for real estate agents is a perfect choice. It emphasizes the urgency of not waiting for something ideal, as the best time to invest is already in the past.
❛ Success in real estate starts when you believe you are worthy of it. ❜
Michael Ferrara
One of the most common reasons realtors get discouraged from buying or selling a home, or even becoming a realtor themselves, is fear of failure or lack of confidence. This short and simple quote can be a powerful inspiration to those who are doubting themselves and need a bit of a nudge.
❛ There have been few things in my life which have had a more genial effect on my mind than the possession of a piece of land. ❜
Harriet Martineau
Owning a piece of land or a real estate property can be a transformative experience. It can provide a sense of security and achievement that's hard to match with any other type of investment. And that's why this quote is so effective at inspiring people to take action.
❛ Landlords grow rich in their sleep without working, risking or economizing. ❜
John Stuart Mill
A significant part of your prospective clients won't be first-time homebuyers. To inspire those considering becoming landlords, you can use this quote to drive home the benefits of generating passive income round the clock.
❛ If you don't own a home, buy one. If you own a home, buy another one. If you own two homes, buy a third. ❜
John Paulson
Making sound choices in real estate can be difficult. And that's why many people choose the help of professional realtors. But it's also a good idea to remind your audience that, in the end, having more real estate is always a good idea.
❛ Don't wait to buy real estate. Buy real estate and wait. ❜
Will Rogers
This is another quote that drives home the fact that, in most cases, being proactive in buying real estate will turn out to be a good decision over time. Instead of waiting for the perfect conditions, it's better to take action and watch as the decision pays off.
Funny Real Estate Quotes
Inspiring and motivating quotes definitely have their place in your email signature. But sometimes, you might be better off breaking the ice using funny realtor quotes that show prospective clients you have a good sense of humor and don't take yourself too seriously.
Here are some funny quotes for real estate agents you could consider adding to your email signature.
❛ Judging by your pins, you'll need a house with 14 bathrooms, 27 living rooms, and a master closet the size of a small village. ❜
Someecards
When buying a house, people can sometimes get carried away by the endless possibilities of how they would redesign it. This quote gently pokes fun at the enthusiasm, but does it in a way that a prospective client amid a house hunt will surely appreciate.
❛ The neighbors always leave their sprinklers on, which is a little bit annoying. It's a source of constant irrigation. ❜
LaffGaff.com
If you want to add humor to your realtor email signature, why not do it with a punny punchline? This play of words will get a chuckle from your email recipient and be a nice icebreaker for the conversation.
❛ Buy land, they're not making it anymore. ❜
Mark Twain
The best funny realtor quotes don't just produce a laugh. They also contain wisdom that people can use to make a decision. This quote by Mark Twain emphasizes that land is a limited resource, so owning a piece of land is almost always a wise choice.
❛ I am basically a full-time psychologist who shows houses every now and then. ❜
Dori Warner
As a real estate agent, your success often comes down to how well you connect with your audience. This playful quote shows that you're able to empathize with your clients and help them overcome their challenges through the purchase of a home.
Real Estate Quotes for Marketing
If you want to add a quote to your email signature, you might as well make it an opportunity to market your services. And there are actually some great real estate quotes for marketing that will showcase the value of your services and drive people to take you up on your offers.
Here are a few real estate marketing quotes you can use.
❛ Typically, the research tells us that a high-quality real estate agent that really knows what they are doing will add more to the equation than they cost. Because people make mistakes when selling their own home – the mistakes are costly…❜
Dave Ramsey
A good marketing quote for real estate gets to the very heart of the typical objections your prospect might have. Dave Ramsey does a great job of emphasizing that the cost of hiring a real estate agent will almost always be worth it when you consider the value a good realtor can offer throughout the buying or selling process.
❛ If you think hiring a professional is expensive, wait till you hire an amateur. ❜
Red Adair
This quote doesn't specifically mention realtors, but it applies just as much (if not more) to the world of real estate. And it also suggests that you are someone who can be trusted to help the client make the best decisions in their situation.
❛ If you're not going to put your money into real estate…where else? ❜
Tamir Sapir
A great marketing quote should have a strong call to action and a strong argument for its claim. This quote poses an impactful question that indirectly emphasizes the advantages of putting money into real estate.
❛ The bottom line: investing in real estate is smart because property is tangible. People always have, and always will, need shelter. This means it is very unlikely that our need for shelter (ie: buying or renting homes) will ever go away. ❜
Kathy Fettke
One of the main reasons why real estate is such a good investment is its functionality. Besides increasing in value, it also fills an essential need all people have, which means that there's no chance of real estate ever becoming worthless, even with market fluctuations. And over time, its price is likely to increase, and this quote does an excellent job explaining that.
❛ Owning a home is a keystone of wealth…both financial affluence and emotional security. ❜
Suze Orman
Many quotes on this list did a great job of showing that real estate is a wise investment that helps accumulate wealth. But this one also hints at the emotional security that owning a home can bring, which is precisely what can prompt many of your prospective clients to take action.
❛ The house you looked at today and wanted to think about until tomorrow may be the same house someone looked at yesterday and will buy today. ❜
Koki Adasi
A marketing quote for realtors must have at least a bit of urgency. And this one by Koki Adasi packs a punch with a homebuyer's worst nightmare: their dream home being snatched up right before they made a decision to buy.
Add a Real Estate Quote to Your Email Signature with MySignature
The list above has many great quotes you could use to engage your prospects, showcase your realtor brand, and drive people to take action right now. But a quote is only helpful if you can easily insert it into your email signature in a way that looks good and seamlessly blends in with the other elements.
MySignature has an extensive selection of professionally-designed email signature templates for you to choose from. With MySignature, you can turn every email into a powerful marketing opportunity that grows your realtor business automatically.
Oksana Chyketa
Oksana is a creative professional with experience in Marketing and Brand Management.