In business, it is crucial to choose your partners wisely. No man is an island. Steve Jobs and Steve Wozniak, Bill Gates and Paul Allen, Sergey Brin and Larry Page… Once these people made the right choice that defined their career and brought them to success. Therefore, I can assure you that good discernment of character is a key to prosperity in business and private life.

Unfortunately, in the age of technology, we are often being robbed of a chance to use our intuition since we have to do business with people we have never met in person. So how are we supposed to get an adequate impression of someone being introduced to us in the form of zeroes and ones alone?
These days everyone seems to be talking about email signatures. More and more people are searching for free email signature generators to get an email signature for their usage. In addition, more and more companies encourage their employees to add the signature block to their work emails. Of course, you've probably already got one as well. But what's all the fuss about?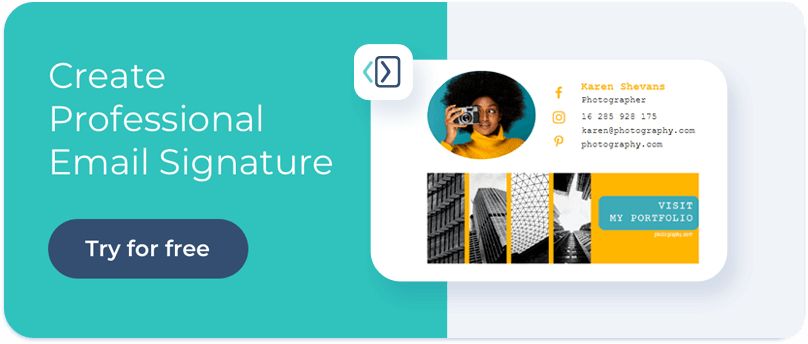 Well, people need something to judge others by! In our life, we are constantly assessing people around us without even realizing it. However, what we call intuition is merely based on the results of these observations.
In the process of personal communication, we judge people by their pose and intonation, scan their appearance, and pay attention to their handwriting style. But, unfortunately, we are deprived of those little markers that help us decide whether we should trust this particular person on the Internet. That's why we invented email signatures!
An email signature can tell you a lot about its owner
Like handwriting, an email signature can tell you a lot about its owner. For starters, no matter what the email signature template is, it will tell you the full name of the person you are dealing with and tons of other essential facts like telephone number, company name, and position. The fact that someone on the Internet willingly shares such information with the email correspondents favors this person.
Nevertheless, let's proceed to the case studies and look at the Outlook email signature templates. All of these free email signatures were created with the help of an Outlook signature generator called MySignature.
James Castello, Pharmaceutical Sales Representative
This email signature presents us James Castello, a pharmaceutical sales representative of Sefella Medical Group. We know that the company is located in East Hanover from the signature. We also know two phone numbers to reach this company (or James Castello personally), Skype, and email address (which is unnecessary since we got an email from this person and already know the address).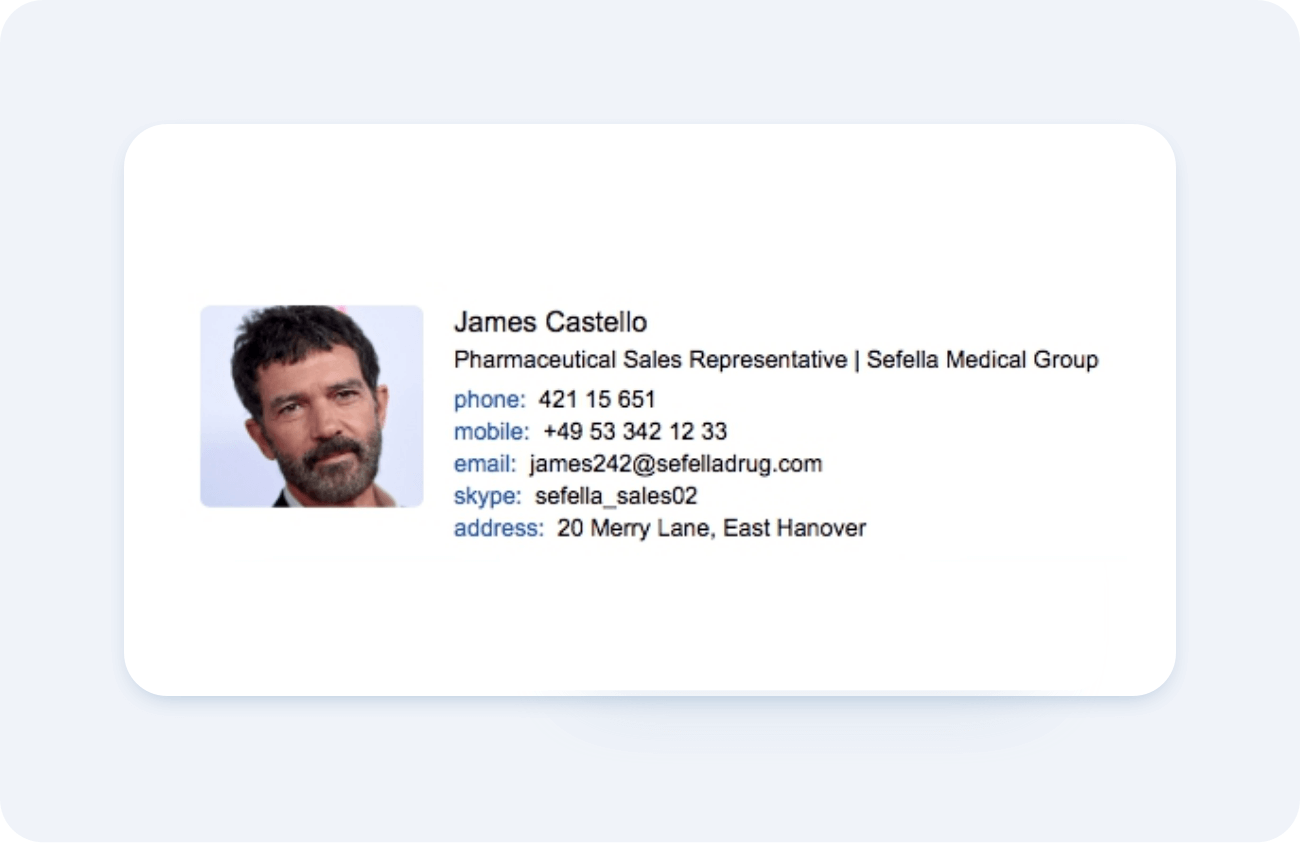 This signature contains a clear photo with a straight-to-the-camera look. Again, we see a man of formal professional appearance. This is a perfect example of a photo for an email signature. This is the man you can do business with.
The only minor trouble is that it is highly unlikely that Antonio Banderas left Hollywood to sell you some drugs from Sefella Medical Group. By the way, there is no such company. So do not trust implicitly everything you read and see on email signatures. You can probably recognize Antonio Banderas, but sometimes people steal photos of random people from social media – so be sure to google pictures just in case. All information about any company should be checked, too.
Sarah Smith, Logistics Manager
Wow! That's a lot of social media icons. I am not sure I even recognize all of them. I am sure that I do not need to know what my logistics manager is watching on YouTube and what she is posting on Snap Chat if only it is not the route she chose for my goods to be shipped. A person with an urge to fill every line causes mixed feelings.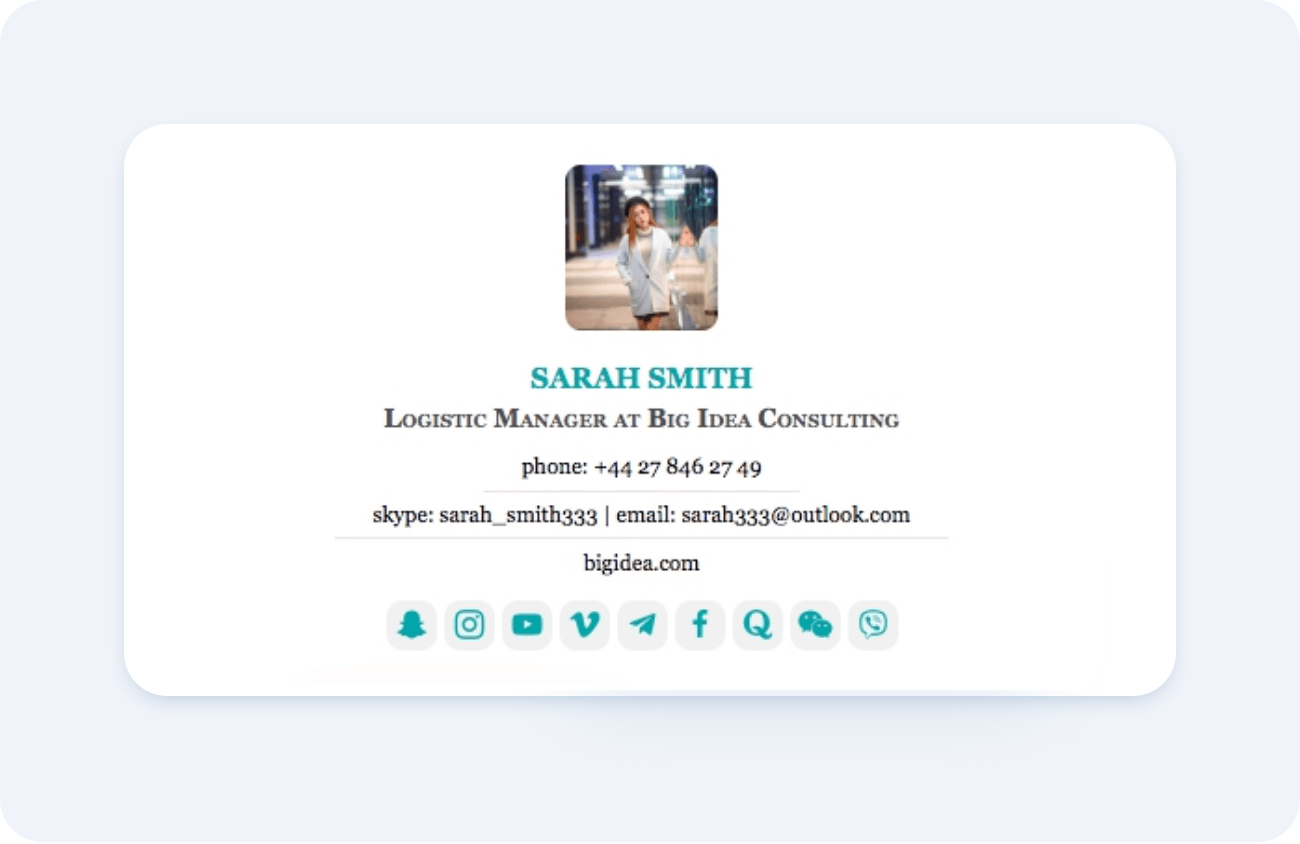 On the bright side, Sarah is a people person. However, her poor choice of photo for an outlook email signature template makes it hard to take her seriously. Do not work with people who use full-height images in their email signature because their logical thinking is peculiar.
Anna Livingston, Wedding Planner
 If I had to plan a wedding, I would give Anna Livingston a chance. She has got a lovely outlook email signature template, has not she?
It is pretty informative and concise. Unfortunately, unlike previous signatures, this one does not have an address, and there are only three social media icons. However, we have a phone number and a website (aside from the outlook email address, of course), which is more than enough to contact a person.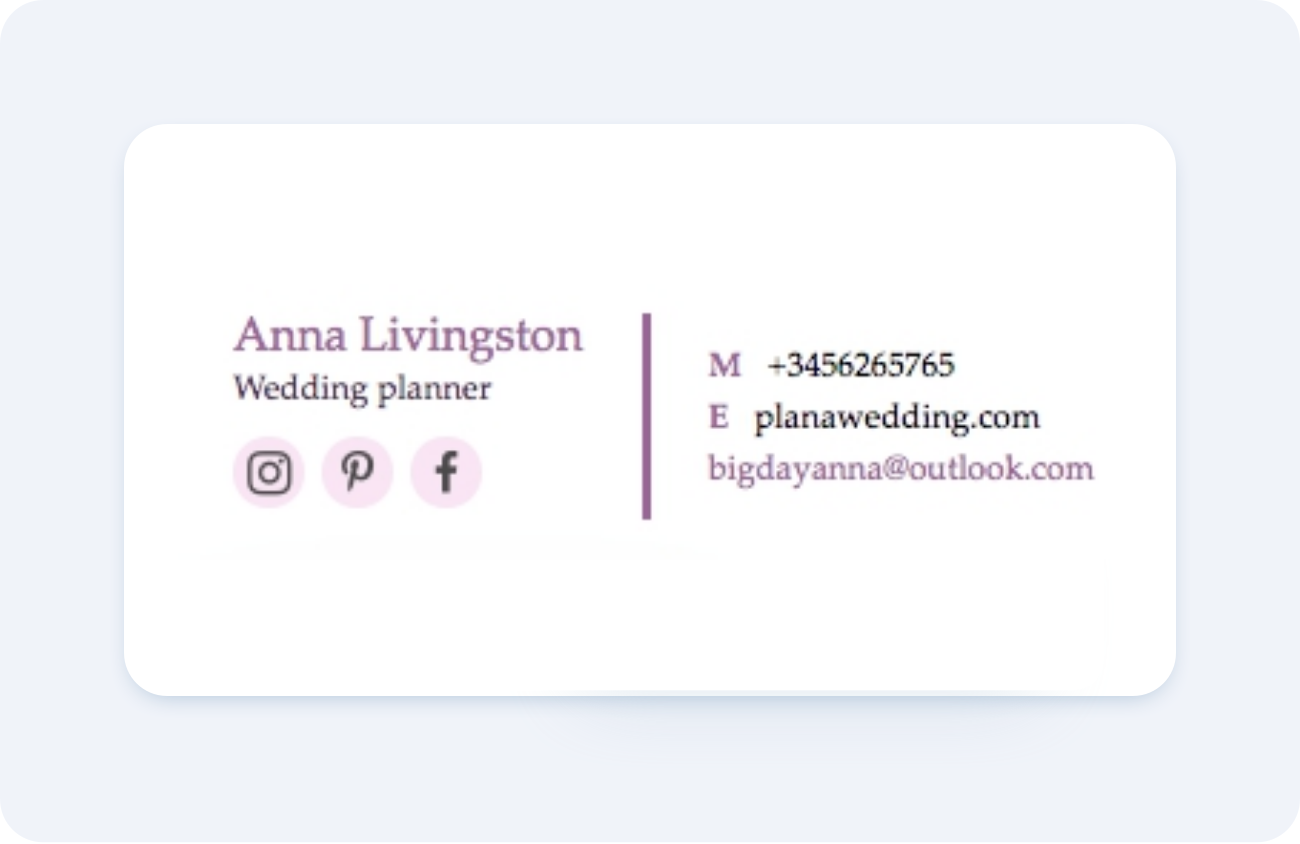 Anna also chose her social media wisely. Instagram and Pinterest pages probably represent her works and will allow us to access her as a professional, and a Facebook page is one more way to contact her. This free email signature doesn't include a picture. Some people choose not to reveal their face in the email signature. That in itself is NOT a bad sign.
Although having the opportunity to "see" your correspondent is valuable, do not immediately reject a person because of this. Note that despite thе lack of visual representation, this template created by means of an outlook signature generator looks very stylish. Even with the help of basic elements, MySignature allows the creation of elegant templates. The chosen color, lilac, perfectly fits the person's professional activity. Moreover, it's super easy to install the created signature, check this guide.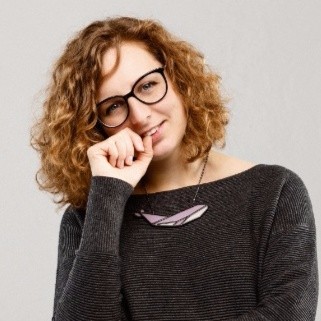 Helga Zabalkanska
Helga is a CMO at MySignature and digital marketer with 7+ years of experience. Having worked in numerous industries she has a deep understanding of various markets and a variety of tools as well as growth hacking techniques that can boost marketing activity in a particular sphere.