In most cases, the first contact with a potential employee goes through the email. When you apply for some position, you should take into account that this first email creates an impression about you as a candidate even more than the resume you attach to it. Very often, a poorly composed email text with no attention to details and sincerity affects the decision whether to respond and continue the communication with you. While you can put effort into writing a good text without using any additional tools, an eye-catching professional email signature can't be designed on your own (unless you are a designer). It does not mean that without a professional
email signature
your candidacy will be declined. Surely, no. However, if you have it, you increase your chances of being invited to the interview, because you display your accuracy, professionalism, and charisma.
What information should be included in the job seeker's email signature?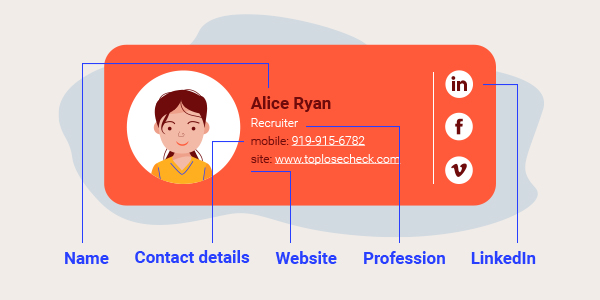 The same email signature does not work for different purposes. For instance, if today you are
looking for a job
and tomorrow it turns out that you have to hire someone, you need two entirely different email signatures. So, here is what information you need to include if you are a job seeker.
Name.
There are the situations in which applicants forget to introduce themselves and recruiters or HR managers do not know how to refer to them. That is why, to avoid such misunderstanding, create an email signature with your full name. And even if you forget to tell your name in the email, the recipient will always have a chance to see it in the signature.
Contact details.
Appreciate the recipient's time and provide your phone number right in the email signature. This will help to reach you out at once without sending one more email with the request for some additional contact information.
Profession.
If you are looking for a job in the same sphere you have been working so you can indicate your professional title. In case you are changing careers, it would be better to add some taglines that describe your values and job expectations.
LinkedIn.
This part is significant. It makes the life of the recruiter easier because they can quickly check your qualifications without downloading the file with your resume by clicking on the LinkedIn link. With MySignature, you can customize your signature with this social media link with the corresponding icon.
Website.
If you have some online source with your portfolio, personal site that can tell more about your experience and skills, or blog where you publish specific articles, you should definitely add the link to your email signature. Again, you will save the recruiter's time by shortening the correspondence with one more email.
What information should

NOT

be included in the job seeker's email signature?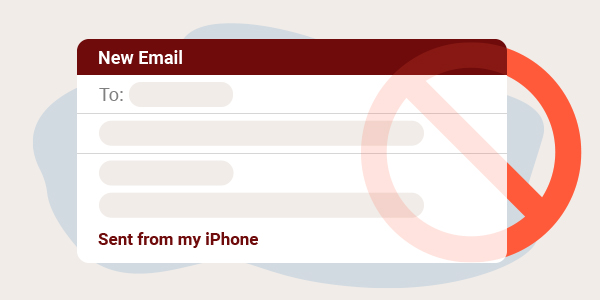 The
email signature
should be informative and helpful, but at the same time, it should not be longer than the email body. Thus, there are some details that you have to avoid when creating it.
Email/Mailing address.
Never ever add your email to the email signature. It is redundant. If you send an email to someone, this person already knows how to respond. Regarding your mailing address, everything is simple. We live in the 21st century, and no one will send you a real letter with the response to your application (unless you are applying for some super secret spy organization).
Logo.
You can easily embed your personal photo, but do not include the logo of your previous company. The employer may perceive it as an advertisement and leave your email without attention.
Default signature.
When you send emails via your mobile phone, turn off the option of the default email signature. It always includes the smartphone manufacturer name (like
sent from iPhone
) which is also redundant and may look like an advertisement. I hope this information has helped you to compose a good email signature and find a job of your dream. Remember, your skills and experience are much more critical, but a good email signature may help you pass the initial steps of the recruitment process faster.
Maria
Maria is a passionate marketer and content writer at MySignature. She has strong skills in Content Marketing, Email Marketing, SMM, and SEO.