The choice of small businesses, entrepreneurs, and industry thought leaders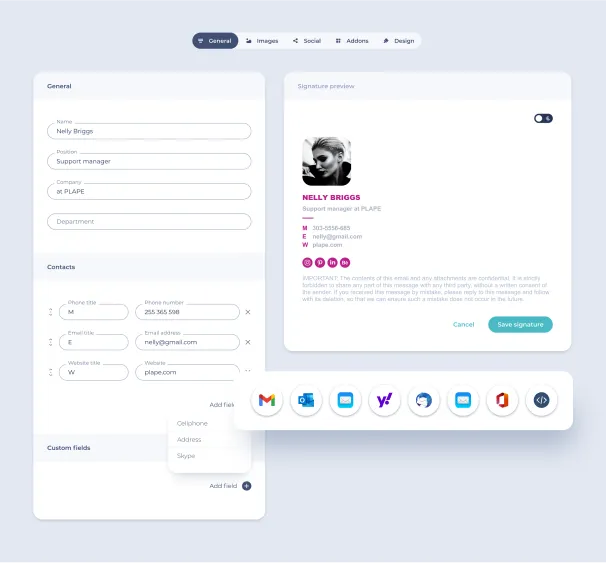 The email signature is a significant element of your business image. That's why it must reflect your personal brand and align with your company's brand voice. Trying to create a sign-off on your own takes much time that could be spent on more important tasks.
MySignature is an online email signature generator that helps create professional and branded email signatures for Gmail, Outlook, Apple Mail, Thunderbird, and Office 365 clients. No technical background is needed.
Create Signature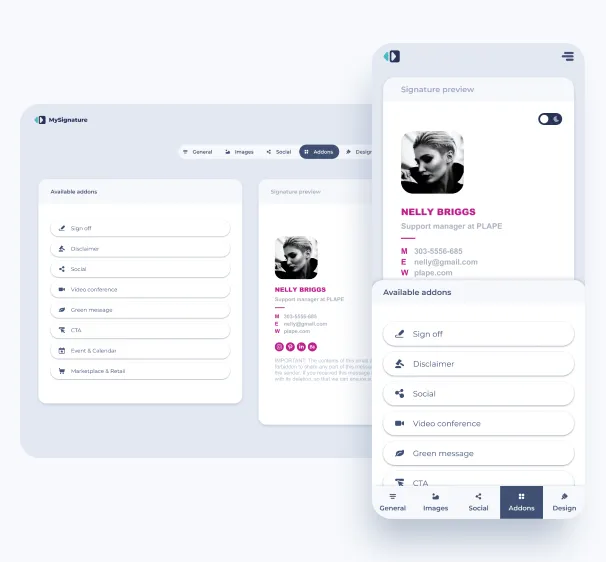 Create email signatures from any device
Generate email signatures by using any internet-connected device, no matter whether it is a smartphone or tablet. Being mobile-optimized, MySignature saves time while allowing to create multiple email signatures even on the go.
Create Signature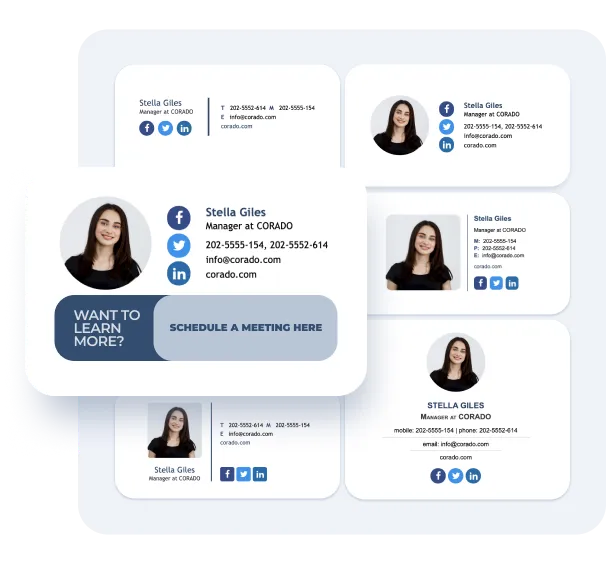 Choose from a variety of templates
Multiple professionally designed free email signature templates are available in MySignature. Choose a template that suits your brand identity and voice. Decide on the formatting, elements organization, color, and create an email signature to help grow your business.
Email Signature Templates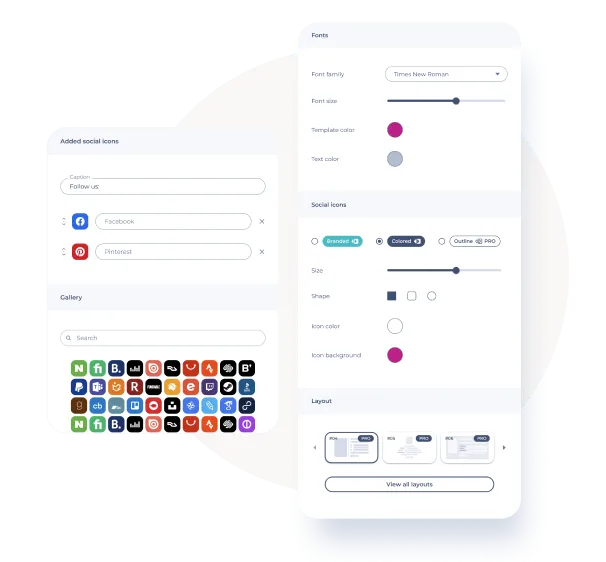 Easily customize your email signature
Enable your clients to reach you out through other communication channels such as a website or social networks. Promote your personal brand and services more effectively by adding clickable email banners, links to landing pages, and interactive CTA buttons.
Create Signature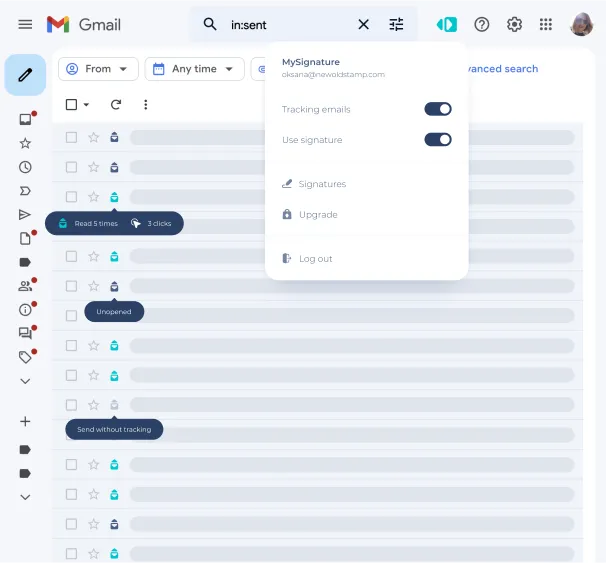 Know who opens and clicks your emails
Track your email opens and link clicks with the email tracking feature for Gmail. Install the MySignature extension and get all the important insights necessary to prepare a perfect, timely response. It's easy to set up and use for your daily email communication.
Track Your Email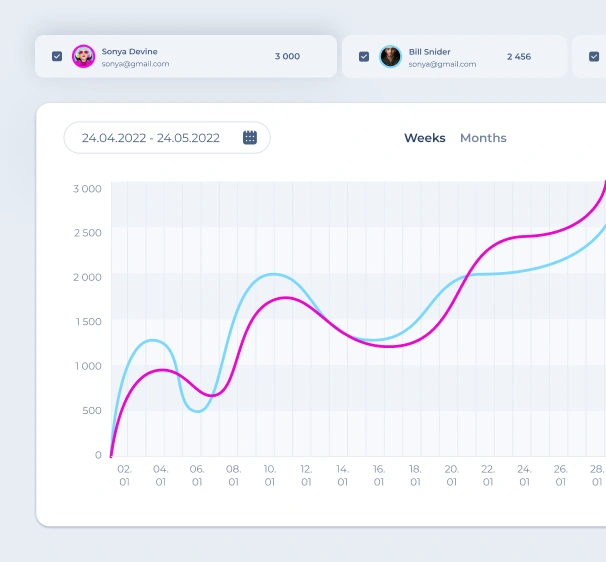 Email signature analytics
Get a deeper understanding of your email signature's effectiveness. Track clicks of all your links, banners, images, and buttons instantly. Check daily and monthly email signature performance reports in your dashboard.
Email signature analytics
Professionals choose the MySignature free email signature generator to get the most out of their emails

Roman Hotsiak
Email & SMS marketing
I had a great experience. MySignature is very simple and very customizable! I can easily create a nice professional signature for my team. Thanks to the support team for helping with the set up of a signature for my business email.

Mary McGuire
Business Consulting and Coaching
I like the amount of information that can be conveyed in what would otherwise be wasted space. Particular like the design and easy to use.

KiwiOnTheSticks
Gaming Content Creator
I love using Mysignature! It's super easy to set up, even allowing you to use Canva within the editor! I love this service and recommend it to anyone looking to add a clean and professional touch to their emails.

João Mino
Translator & copywriter
I like the well-designed email signature templates by MySignature! Also, your Gmail tracker gives me the ability to track email activity after sending. For example, whether or not the customer received my invoice.
Data supplied as of 25/10/2023
Why you should use an email signature for your business
Showcase your brand
Let your clients know who is behind your email address by uploading a custom banner, logo, or photo. Choose an email signature from different template styles and premade designs. Boost your brand's visibility and engagement with every email you send!
Set up a free marketing channel
Turn your email signature into a powerful marketing channel to generate leads and revenue. Advertise upcoming events and special offers, promote your blog, share social proof, and more using special add-ons and buttons in your email signature.
Create Signature
Track email performance
No more wondering about your email performance. Find out who is reading you and clicking your links and who is ignoring you. Use these insights to send better follow-ups and cold email campaigns.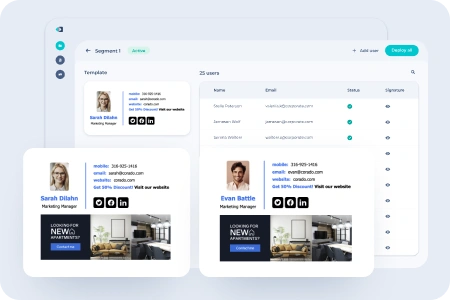 Email Signature Management for Google Workspace
Create a unified email signature design for your entire organization. Deploy signatures from the MySignature email signature central management service in one click to all employees' emails.
Try Google Workspace Integration
How to make an email signature?
Creating good email signatures for email clients such as Gmail , Apple Mail , Outlook and Thunderbird is a hassle-free task. Simply follow our guidelines:
Sign up for MySignature, a convenient tool for creating a custom email signature. You can use your Facebook, Google, or LinkedIn account for authorization.
Choose an email signature design template or start designing your signature from scratch. Our free email signature maker offers dozens of well-designed templates. Feel free to select a design template that you like.
Follow these basic email signature design guidelines:

Keep your email signature design minimalistic and structured.
Use visual gradation to highlight important information.
Use high-quality images and graphic elements.
Add only important and professional social media links.
Don't overload your signature with contact details.
Don't use a wide variety of colors and fonts.
A portrait or logo makes a better impression. A full-length photo is difficult to see

Customize your beautiful email signature by adding professional features. Use an email signature editor to add a call-to-action button, social media icons, a banner for your marketing campaigns, disclaimers, and other essential branding elements.
Add your email signature to your email client. Follow our instructions to add an email signature to Gmail, Apple Mail, Outlook, and Thunderbird within minutes. Alternatively, you can simply copy and paste the HTML email signature into your email client. These are short instructions on how to create an email signature!
Who can benefit from using a free email signature creator?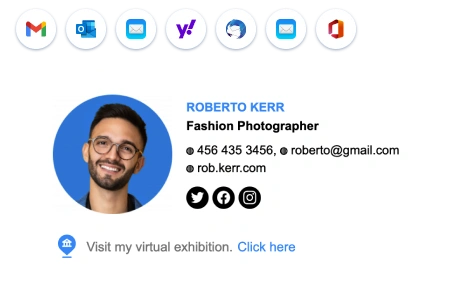 Building your brand online?
Use a free email signature generator and spend your spare time running your business and creating valuable connections. MySignature is the right solution for small businesses, entrepreneurs, and customer-facing professionals that need a flawless HTML email signature, mobile adaptable email signature templates designed with a brand voice in mind, and an online editor with outstanding customer support. Need more info? Contact us
FAQ
What is an email signature?
What is an email signature maker?
What should an email signature look like?
How to make an email signature in Gmail
How to set up an email signature in Outlook
How to add an email signature in Apple Mail
How to add a signature to Yahoo Mail
How to make an email signature mobile-friendly
How to create an email account to use your email signature
Is an email signature the same thing as an electronic signature?