The number of global email users is set to reach 4.73 billion by 2026. Email has become not just an indispensable method of communication but also an integral part of taking advantage of everything the internet has to offer.
But figuring out which email provider best suits your personal or business needs can be challenging. With so many choices and contrasting features, many people are unsure which top email providers are best, as well as how to choose between free and paid email features.
To help you navigate the increasingly-complicated world of email providers, let's go over everything you need to know to make an informed decision. We'll cover the best and safest providers, how to choose between them, and more.
[ Article navigation ]
The Top 21 Safest Email Providers for Personal and Business Use in 2023
Best Personal Email Providers in 2023
Top Email Providers for Businesses
How to Choose the Best Email Provider for Your Needs
Top 6 Business Email Providers for Business in 2023: an Overview
Tips for Selecting a Free Email Provider
How to Keep Multiple Email Accounts Organized
Supercharge Your Emails Using MySignature
Best Personal Email Providers in 2023
When choosing between different email providers, you need to consider a few key parameters:
You want the email clients to be secure.

You need it to offer a set of basic features, such as email forwarding.


The email hosting providers you consider must be convenient to use and provide an intuitive interface.
But which webmail provider does that (and other important things) best?
Let's look at the list of all email providers for 2023 that are worth considering.
Gmail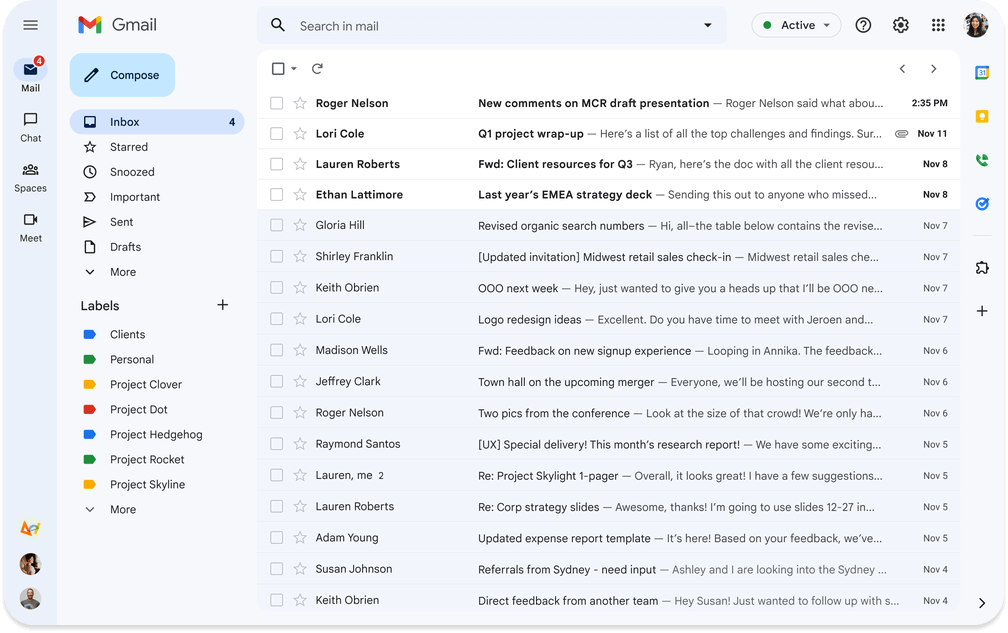 There's a reason why Gmail has over 2 billion active monthly users and a 29% email client market share. It's the most accessible and feature-rich email provider designed to be simple to use even for the most basic users while still offering a long list of advanced features to those who want more.
Gmail also has a comprehensive app market, where you can choose from hundreds of apps for different purposes. For example, you can download and install the MySignature Google Chrome extension, gaining a powerful tool for creating professional email signatures and tracking email performance.
Features:
You can use Google Drive storage to share a file of any size, which is a powerful feature for a free email tool.

Advanced and convenient search function makes navigating through your email history fast and painless.

Multiple ways to structure and sort your email inbox according to your needs.


Gmail is designed to work seamlessly across all your devices.
Cons:
If you have a common name, finding a free email address will be challenging.


Since the 15GB of storage you get with the free account includes everything you store on Google Drive, it can run out relatively quickly.
| | | |
| --- | --- | --- |
| Mailbox Size: | Maximum Attachment Size: | GetApp Rating: |
| ? 15 GB | ?? 25 MB | ⭐ 4.8 |
iCloud Mail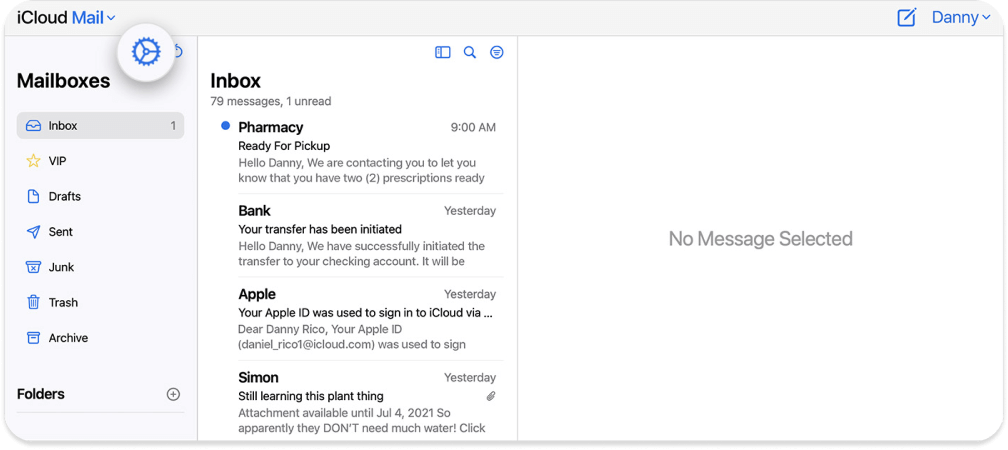 Nearly three in ten smartphone users in the world have an iPhone. And because of Apple's ecosystem of devices and features connected to its software, it's easy to see why many of those users would choose Apple's iCloud as their free email provider.
It may not have the full range of features that Gmail offers, but it's still very convenient to use on an Apple device, provides an ad-free experience, and has a variety of shortcuts for managing your inbox.
Features:
As with most things Apple, iCloud Mail has a sleek design that combines functionality with ease of use.

Convenient email sorting options, including the ability to mark a sender as a VIP and have their emails appear in a special inbox.


Apple takes its security seriously, so you can expect all your messages to be end-to-end encrypted and backed up.
Cons:
If you use devices other than Apple, iCloud mail may not offer a versatile experience compared to Gmail.

It lacks some of Gmail's features, such as offline accessibility, Send Later, and more.
| | | |
| --- | --- | --- |
| Mailbox Size: | Maximum Attachment Size: | G2 Rating: |
| ? 5 GB | ?? 20 MB | ⭐ 3.8 |
Outlook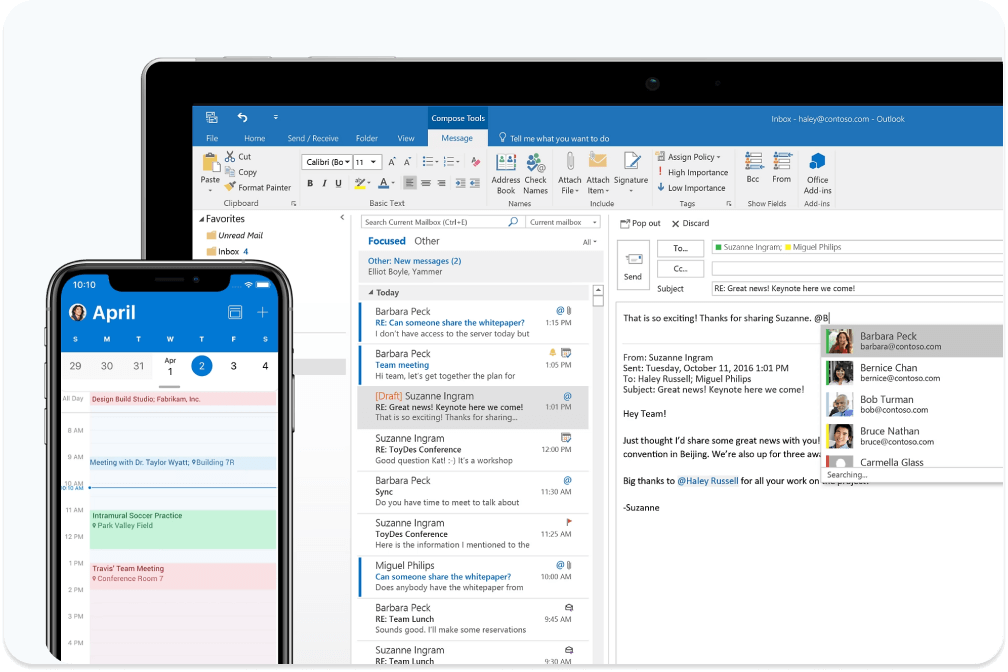 Even though Microsoft is more geared towards business users, Outlook remains a popular option for those who need a personal email with a range of features and the ability to integrate into the Microsoft ecosystem.
Features:
Ability to create custom rules for your inbox to categorize emails and make them easier to recognize in your inbox.

Snoozing emails so that you can review them later.

Seamless integration with Microsoft products, including Microsoft Office. Open Excel and Word files right in your inbox.
Cons:
Part of Microsoft's ecosystem, so the support for Linux or Apple devices might not be as good.

Integrations with Google apps like Google Calendar can be limited. Can pigeonhole users into using Microsoft apps.

Some users report many legitimate emails ending up in the spam folder.
| | | |
| --- | --- | --- |
| Mailbox Size: | Maximum Attachment Size: | G2 Rating: |
| ? 15 GB | ?? 20 MB | ⭐ 4.4 |
AOL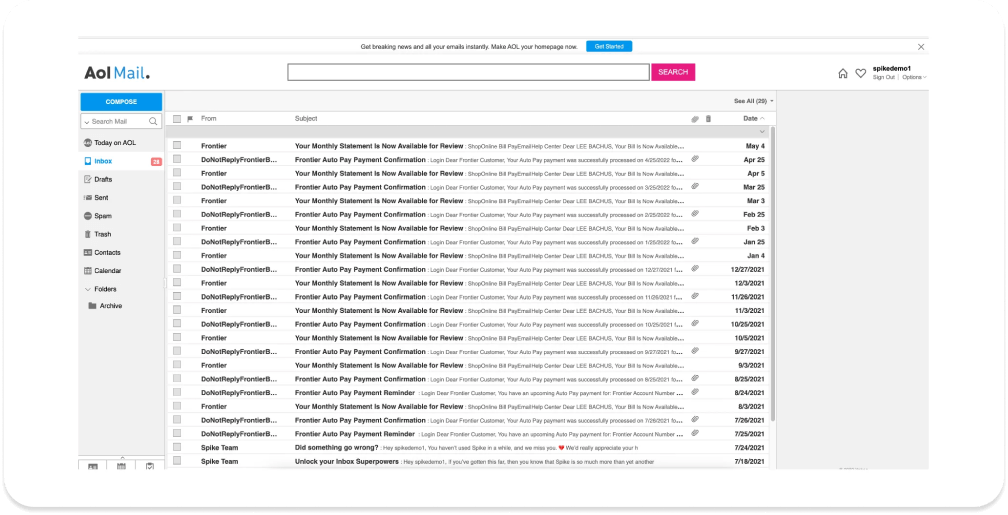 Back in the early days of the internet, AOL was on par with current-day Gmail in terms of market share and user adoption. But while those days are long in the past and it has been taken over by a variety of more modern solutions, AOL still has as many as 1.5 million users paying for its services and a 0.03% market share in the hosted email market.
And despite being mostly forgotten, AOL can still be a good choice, offering a robust 250GB storage limit and a simple but convenient interface for sending and receiving emails.
Features:
Ample storage space compared to most competitors, allowing users not to worry about buying paid cloud storage plans.

A library of email templates that you can use, including various themes and styles that give your emails more personalization.

A simple yet effective email folder structure allows you to sort your inbox.
Cons:
Importing contacts from social media or elsewhere is a bit more tricky.

Lacks some of the more advanced features offered by Gmail or Outlook.
| | | |
| --- | --- | --- |
| Mailbox Size: | Maximum Attachment Size: | GetApp Rating: |
| ? 250 GB | ?? 25 MB | ⭐ 3.9 |
Zoho Mail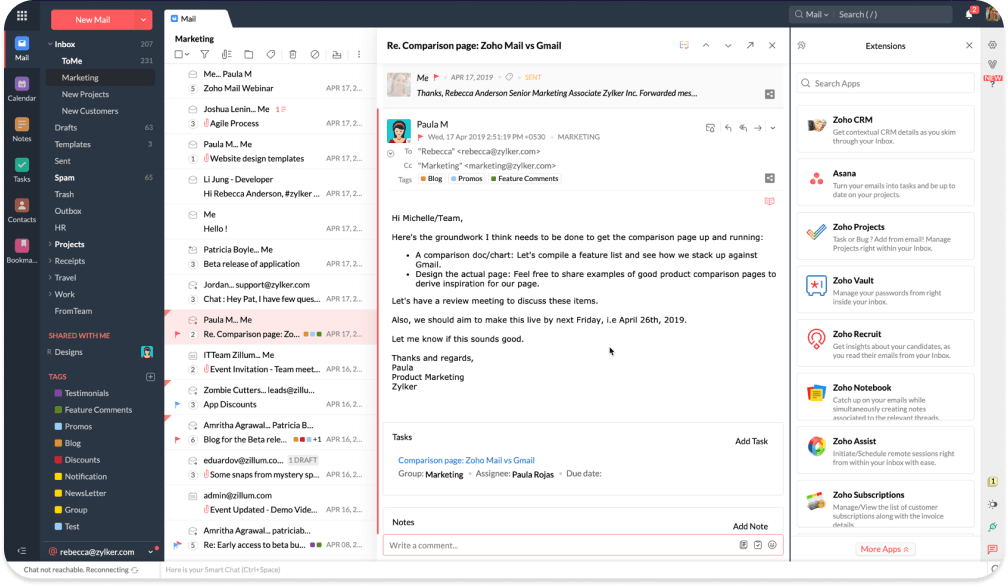 While Zoho may not be a household name in the personal email market, it has been enjoying steady growth and now has amassed more than 15 million users. If you want top-level security, a simple user interface, and affordable premium plans, it might be a good option to consider.
Features:
Robust encryption and security features that ensure your data remains secure.

An amazing 250MB attachment size in the free plan.
Cons:
The free plan comes with only 5GB of storage.

Many users report issues with deliverability and poor spam filter performance.
| | |
| --- | --- |
| Mailbox Size: | Maximum Attachment Size: |
| ? 5 GB | ?? 250 MB |
Yahoo! Mail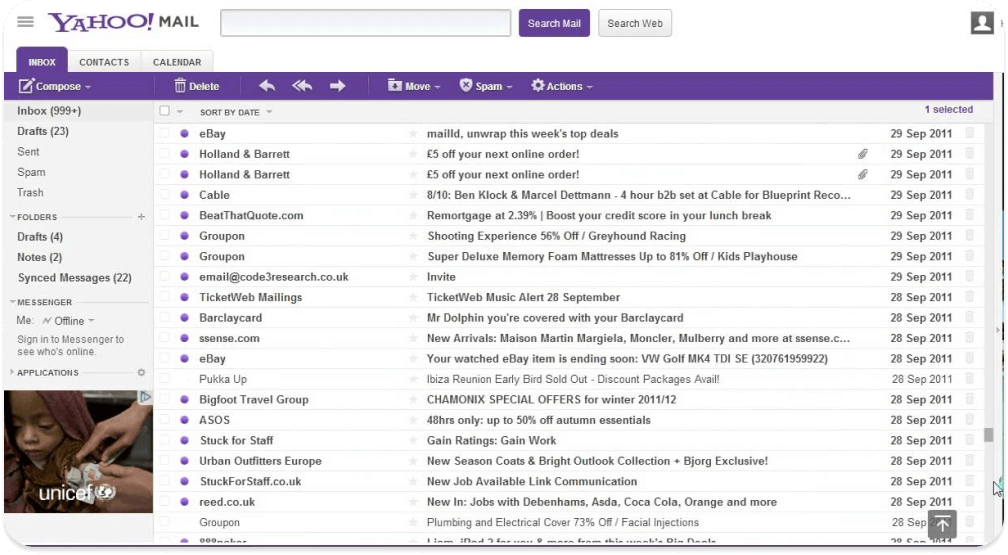 Yahoo is an excellent example of a company that managed to reinvent itself a few times throughout the history of the web. And while it may not be as big as in its heyday, Yahoo Mail still has almost 230 million users and enjoys a 2.93% global market share.
Features:
Easy to integrate and sync your calendar to your inbox for planning your time and marking events.

An impressive 1TB of email storage space in the free plan.

Integrated ability to send SMS messages from your inbox.
Cons:
| | | |
| --- | --- | --- |
| Mailbox Size: | Maximum Attachment Size: | G2 Rating: |
| ? 1 TB | ?? 25 MB | ⭐ 3.8 |
GMX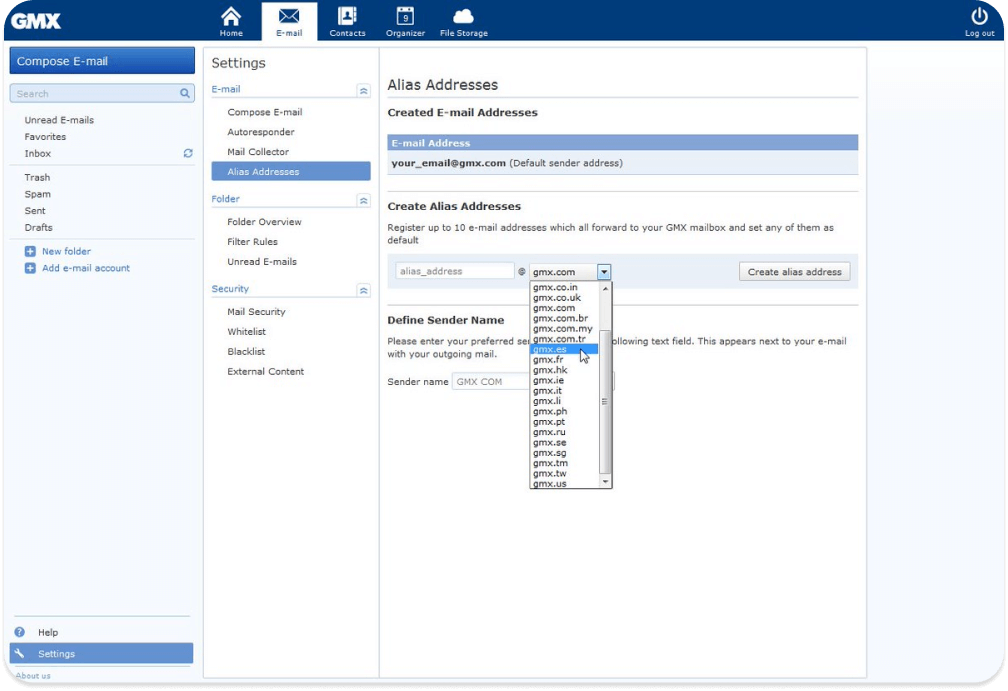 Many people have probably not even heard of GMX before. But in places like Germany, it's actually a leading email provider that offers robust security and makes people feel better in terms of data privacy. It's used by around 11 million people worldwide.
On top of that, GMX also has a few features that make it stand out, including a generous 50MB max attachment size.
Features:
Advanced encryption options for extra privacy and security, even compared with Gmail and other leading providers.

Ability to

combine all your email accounts

into a single one where you can receive all your emails.

Customize the way you filter your messages if you don't want to use the default filtering options.
Cons:
If you want to use the international version, you won't have two-factor authentication.

The user interface could be more convenient and might require some getting used to.

Quite a lot of ads that can be annoying and distracting.
| | | |
| --- | --- | --- |
| Mailbox Size: | Maximum Attachment Size: | Trustpilot Rating: |
| ? 65 GB | ?? 50 MB | ⭐ 2.8 |
Mail.com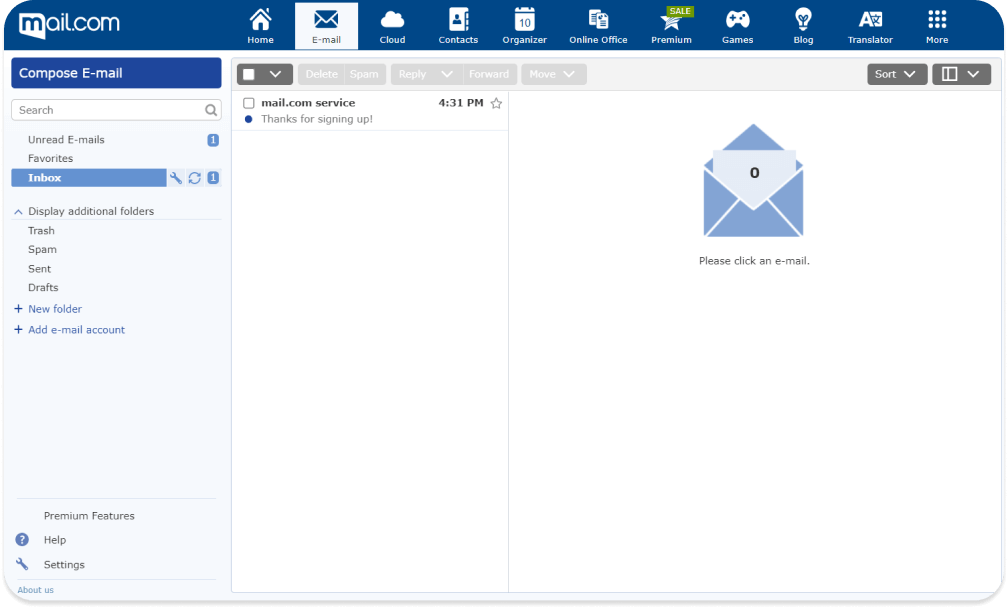 Mail.com is a surprisingly comprehensive email provider that may not have the user numbers of Gmail or Outlook, but offers a range of features that can match almost anyone on the market.
It comes with an Online Office with word processor and spreadsheet tools, has a built-in calendar for organizing your time, and even allows you to choose from over 200 extensions.
Features:
Choose from more than 200 email extensions instead of the default one.

Create up to ten

email aliases

that you can use from a single email account. Send emails from different email alias accounts in the same dashboard, depending on the recipient.

Online Office tools that provide a similar experience as Microsoft or Gmail.
Cons:
Dedicated phone support is only available to premium users, so you might have a hard time getting help if you run into issues.

The number of ads showing in your inbox can be distracting.

The spam protection is not as good as Google or Outlook, which means you can't always expect it to spot junk mail.
| | | |
| --- | --- | --- |
| Mailbox Size: | Maximum Attachment Size: | Trustpilot Rating: |
| ? 65 GB | ?? 30 MB | ⭐ 4.3 |
Proton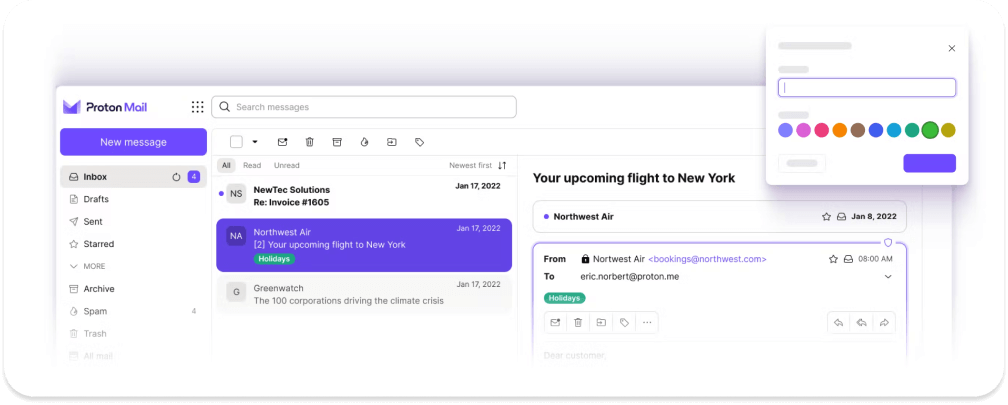 Proton's slogan is "privacy by default," which provides a good clue who the company targets as its user base. With Proton, you get end-to-end encryption that will provide peace of mind to security-conscious users. And on top of that, Proton doesn't require any personal information when signing up, which means there's zero chance of it getting hacked.
Features:
The biggest feature and selling point of Proton is its security. It's a Swiss-based company with an excellent reputation and track record of taking user privacy seriously.

Encrypted file sharing to minimize the risk of data getting stolen.

Ability to send messages that are permanently deleted after an amount of time that you can set up.
Cons:
The number of messages is limited to 150 per day, which will not work for users who send many emails.

Only 1GB of storage on the free plan.
| | | |
| --- | --- | --- |
| Mailbox Size: | Maximum Attachment Size: | G2 Rating: |
| ? 1 GB | ?? 25 MB | ⭐ 4.4 |
Tutanota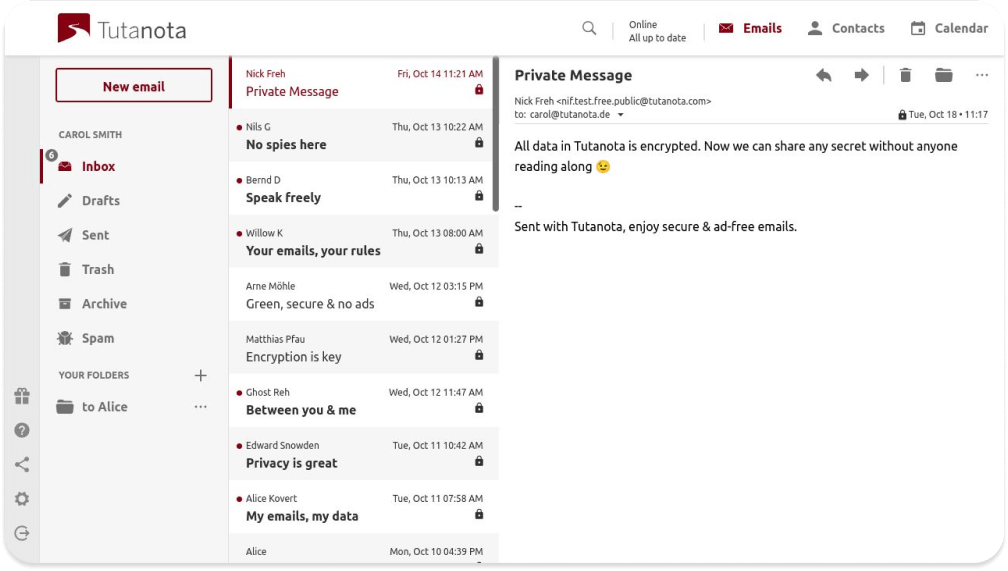 A common theme for services outside of Google, Microsoft, and Apple sphere of influence is privacy and security. Many people inherently distrust large corporations and are looking for more reliable alternatives, which is where services like Tutanota can be very useful.
But Tutanota is more than just a secure email provider. It offers a convenient experience on all devices, runs on open source, and focuses on making its service sustainable.
Features:
Tutanota offers end-to-end encryption, two-factor authentication, and a range of other built-in security features on par with or beyond any competitor.

A completely anonymous experience, without the need for phone numbers or other personal information.

No ads or tracking, even on the free plan.
Cons:
No support on the free plan.
| | | |
| --- | --- | --- |
| Mailbox Size: | Maximum Attachment Size: | G2 Rating: |
| ? 1 GB | ?? 25 MB | ⭐ 4.5 |
Juno.com

If you're looking for an email provider with a versatile selection of supported email technologies, you can't go wrong with Juno. You can choose from POP3, SMTP, IMAP, Exchange, and Office365, allowing you to customize your email experience according to your preferences.
Features:
Juno allows sending and receiving encrypted messages using easy-to-set PGP encryption.

Instantly translate your messages using built-in translation tools.

Juno allows to automatically block tracking pixels, ensuring your email opens aren't visible to the sender.
Cons:
Doesn't have the range of features and apps offered by the more prominent competitors.
Top Email Providers for Businesses
Email is an indispensable form of communication for business. And because the features of professional and personal users can be completely different, it makes sense that there's a need for business email providers that can offer more comprehensive solutions for organizations of various sizes.
But which email providers for business are the best today?
Here's a list of the top options you could consider. But first, let's look at the key considerations for making the right choice.
How to Choose the Best Email Provider for Your Needs
With so many options, finding the right business email provider can quickly become overwhelming. To simplify the process, it's a good idea to identify the key areas to focus on:
Ease of use. A good business email platform should be easy to use and implement across your team and organization. That includes not just an intuitive UX, but also integrating with your current systems, apps, and tools.

Specific Features. Most businesses switch to more advanced email solutions because they're looking to streamline and automate processes.

Price. If you have a budget you want to stick to, the price will influence where you might need to compromise or which features you may be willing to concede.

Security. Keeping your data secure is vital to running a successful business, so you need to trust that the email provider won't misuse or lose your data.
Top 6 Business Email Providers for Business in 2023: an Overview
The list of business email services below is by no means complete. But it will help you understand the top options on the market and choose based on what matters to you the most.
Google Workspace Just as Gmail is a clear leader for personal users, Google Workspace comes out on top when you look at business email solutions. There are six million paying users on the platform, and when you consider the range of powerful features and tools that are available, it's not surprising. 
Business Pros:
Ability to add a custom domain email address.

Seamless experience across all devices.

A wide variety of powerful communication, conferencing, and other business tools and apps.
Business Cons:
One of the pricier options on the market.

Doesn't have a desktop app.

Need constant internet access to use the account.
Pricing:

G2 Rating:

? Business Starter: $6/month per user
? Business Standard: $12/month per user
? Business Plus: $18/month per user


⭐ 4.6
Zoho Mail Premium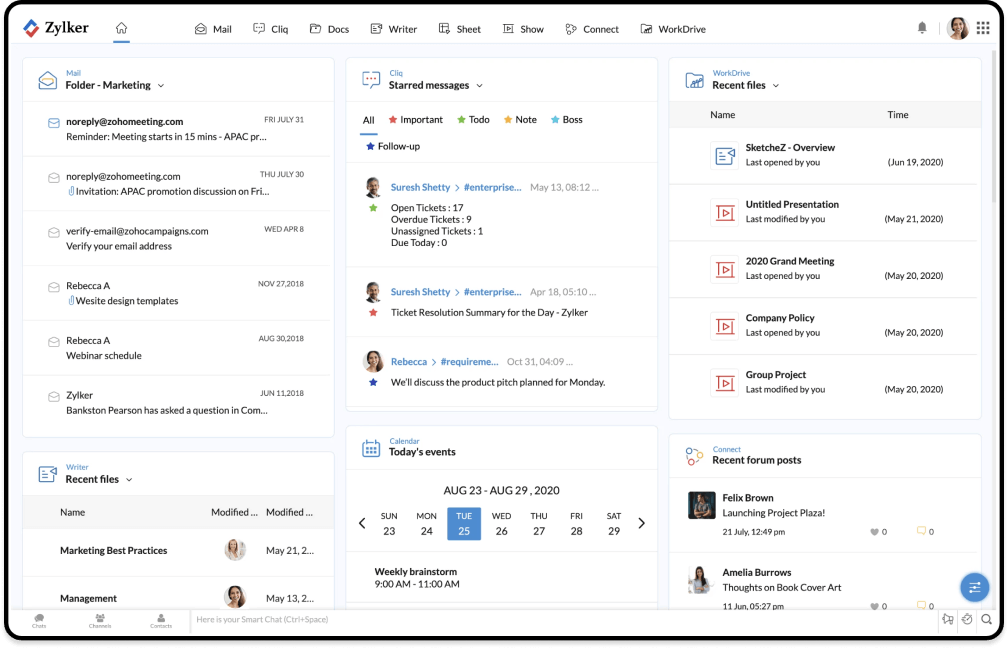 Zoho Mail was one of the options featured on the personal email list, and the premium versions come with enhanced benefits geared toward professional users on a tighter budget. With the paid Zoho plan, you get most of the functionality you can expect with Outlook or Google Workspace at a much friendlier price.
Business Pros:
Integrates with various third-party apps, including Google Drive.

Email hosting features for a custom email extension.

Allows offline access through IMAP and POP3.
Business Cons:
Not the most intuitive or effective search function within the email dashboard.

Email images won't show by default and must be manually enabled every time.

Just as in the free version, spam filtering could be better.
Pricing:

G2 Rating:

? Mail Lite: $1/month per user
? Mail Premium: $4/month per user
? Workplace: $3/month per user


⭐ 4.4
Yahoo Mail Plus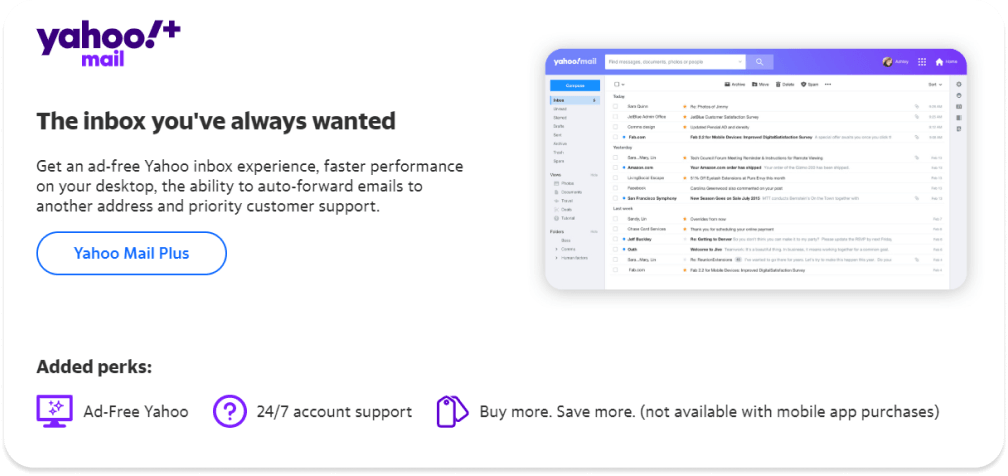 The paid version of Yahoo Mail expands on the already-impressive range of features that come with the free version. In addition to the robust 5TB of storage, you also get the ability to forward emails, an ad-free experience, and support for IMAP and POP3, which means you can perform inbox management tasks offline.
Business Pros:
Ability to permanently block domains you don't want to receive emails from.

Automated email forwarding to an email address of your choice.

A single database for all your attachments and photos.
Business Cons:
Can't add a custom domain.

Doesn't have a large selection of business tools.
Pricing:
? Yahoo Mail Plus: $5/month per user

Proton Business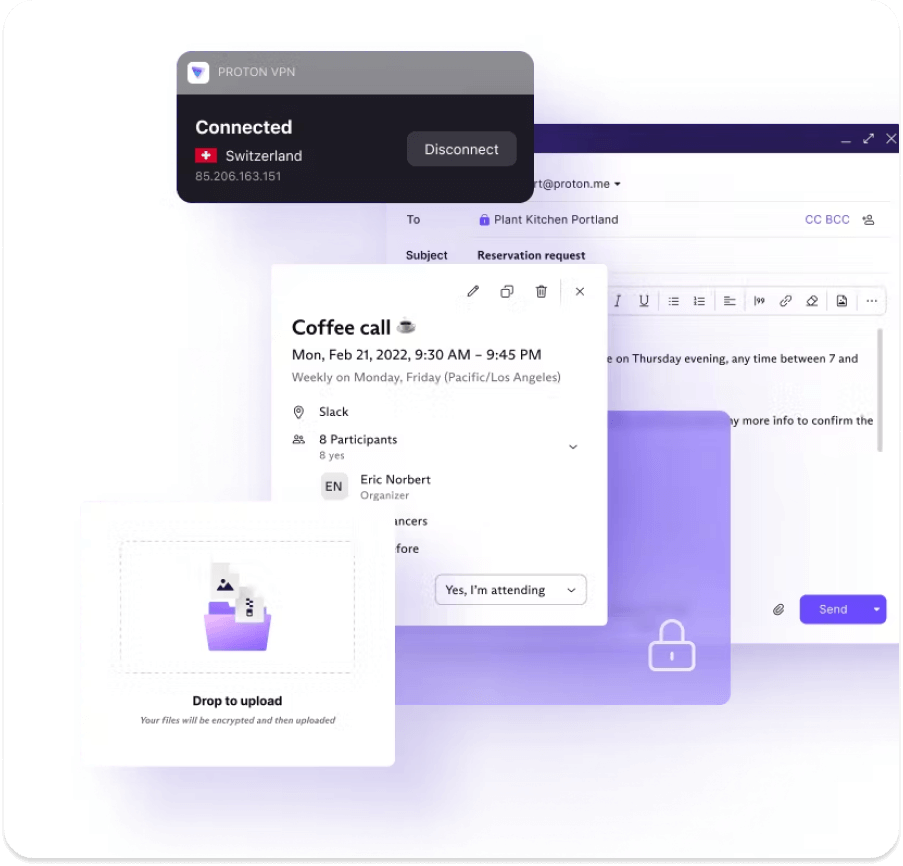 In addition to the email service geared towards individuals, Proton also has a Business version that offers an expanded range of features. The main appeal of Proton Business remains that it's one of the safest email providers, with security features like built-in VPN, end-to-end encryption, and even password-protected emails. But it also offers cloud storage, a team calendar, and team-management tools, making it a worthy competitor to other business email providers.
Business Pros:
Up to 500GB of storage per user, which is more than most others on the list.

Priority support, which can be very useful when implementing a solution or solving an issue.

Password-protected email messages for an added layer of protection.
Business Cons:
One of the pricier options on this list.

No support for POP3.
Pricing:

G2 Rating:

? Main Essentials: $6.99/month per user
? Business: $10.99/month per user


⭐ 4.4
Titan Mail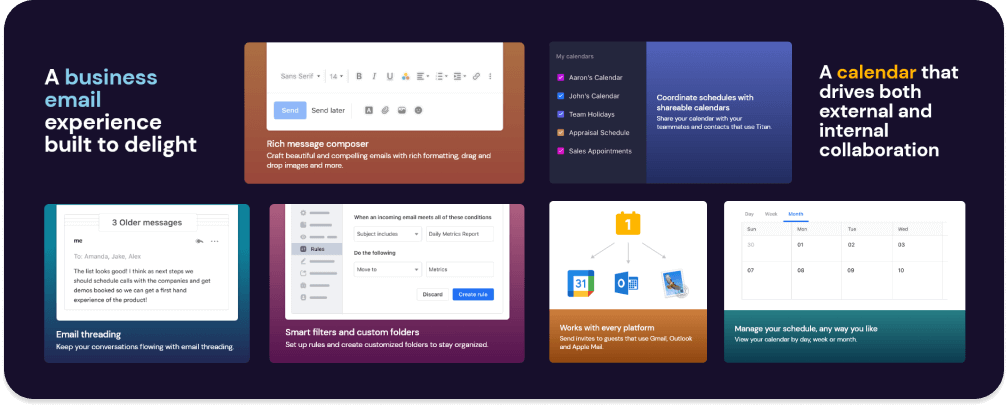 Titan Mail is one of the top-rated business private email providers on the market, and for good reason. They provide an affordable and feature-rich solution to entrepreneurs and small businesses that's secure, convenient, and designed with their unique needs in mind.
Business Pros:
Affordable pricing, with plans starting at just $2 per user.

Countless useful features like email scheduling, email templates, priority inbox, and more.

Powerful administrative tools for managing your team's email in one place.
Business Cons:
Some users complain of an inconvenient webmail that makes it hard to sort through conversations.

It takes time to learn how to use the range of features.
Pricing:

G2 Rating:

? Business Pro: $2/month per user
? Business Premium: $2.45/month per user


⭐ 4.7
Best Temporary Email Services
Protecting your inbox from spam is a crucial part of maintaining its usability. But sometimes, you may need to subscribe to a list or register for a website you don't trust with your data.
In these situations, a temporary email address can be the perfect solution, allowing you to access the content or website you want and have the address expire after a designated time.
Here are the top options you could consider:
10 Minute Mail - As the name implies, 10 Minute Mail offers an email address just for signing up and confirming your email. After ten minutes, the email will be deleted, and you won't have to worry about it again.

Proton - Proton has been featured on this list as a business email, but it also offers a temporary email via ProxiedMail, which can forward emails to your real account.

Temp Mail - Another convenient solution that will dispose of the email address after ten minutes.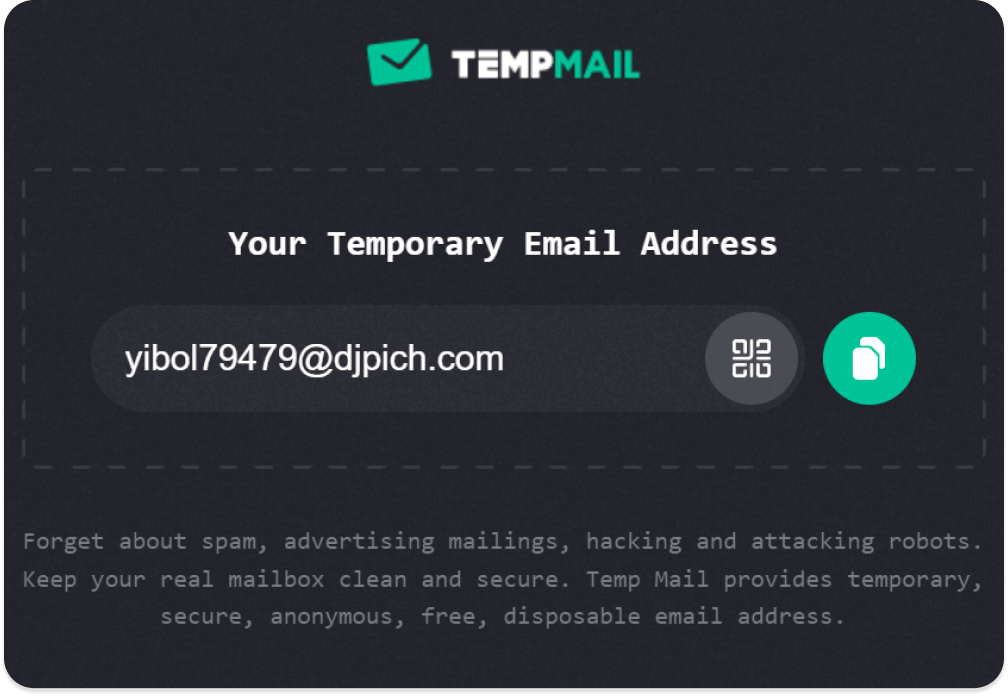 Emailondeck - A quick and easy disposable email provider that offers a free service with limited functionality.

GuerillaMail - If you want a platform where everything is in one place, GuerillaMail is an excellent choice. A disposable email is generated on the site, which you can delete after use.
Tips for Selecting a Free Email Provider
If you want to be more deliberate in choosing the right free email software for your needs, it's essential to understand some of the main criteria to focus on.
Here are a few tips for selecting the right option:
Prioritize Security & Privacy. The main concern with using any free service online is that the company needs to make it profitable even if you don't pay. That means you need to carefully evaluate what happens to your data when you use the service and if there are any risks of it being misused or stolen.

Evaluate Your Needs. An easy way to quickly narrow your choice is to consider the specific features you want. If you need a built-in calendar, a way to sort your emails, or the ability to combine multiple email accounts, the specific features you are looking for will help you prioritize one option over another.

Storage & Sending Limits. You don't want to encounter storage capacity issues when using your email. So in most cases, having more storage is a huge plus. Also, you should make sure that there aren't limits on sending emails or attachments that would prevent you from using the app according to your needs.
How to Keep Multiple Email Accounts Organized
Many people today need more than one email address. And if that's the case, switching between multiple accounts and keeping them organized can become a hassle.
Luckily, some providers solve this problem by offering all-in-one email solutions, which allow you to merge multiple accounts into a single email dashboard.
For example, Mail.com offers a way to collect all your emails in a single inbox. GMX is another tool that makes it easy to combine multiple email accounts into one. Alternatively, you can use a desktop app for managing multiple email accounts in one place.
Supercharge Your Emails Using MySignature
At this point, you should have a pretty good idea of your options for personal and professional email providers. And if you want to take your email marketing to the next level, you can enhance every one of the tools on this list using MySignature, an intuitive email signature generator for small businesses, entrepreneurs, and industry thought leaders.
MySignature offers a range of professional templates you can customize to suit your needs. Share what you do, add personality to your emails, and showcase your best offers using engaging banners and CTAs.
With MySignature, you can also stay on top of your email performance and know exactly what happens once you hit send. The software provides easy-to-use email tracking that you can set up in minutes, monitoring performance and learning insights in the built-in analytics dashboard.
Create your first email signature today!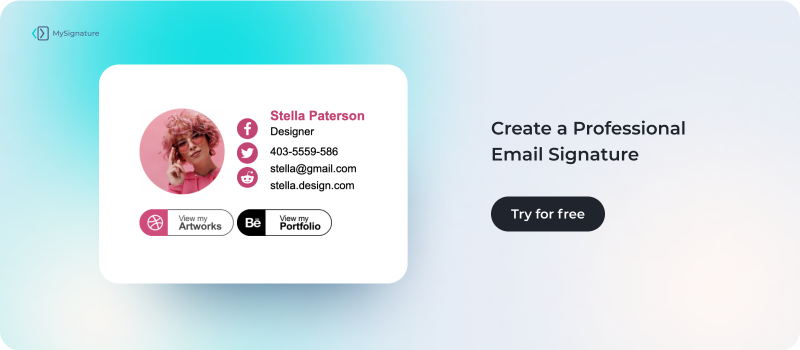 Frequently Asked Questions
What is the safest email provider?
Identifying the single safest email provider isn't easy. And the answer can vary depending on the person and their priorities. However, some of the top email service providers prioritizing security are GMX, Proton, and Tutanota.
How to transfer an email address to another provider?
Transferring your email address to another provider is relatively simple.
Sign up with the new provider and configure your domain name in the new account settings.

Create the same email address you had before.

Go to your domain name provider and redirect your domain to the new server.

Configure your new email tool to send and receive emails on the new server.
What security features should you look for in an email service provider?
The most important features to look for are encryption, the ability to filter incoming emails, and a transparent privacy policy.
Which is the best free email service provider?
There's no single answer to this question. For people who don't mind working with a large corporation, the answer is usually Gmail, Outlook, or iCloud Mail.
What is the most widely used email service?
Gmail remains the most popular email provider, with over 2.1 billion users.
How do I keep multiple email accounts organized?
If you're using Gmail, your best bet is to log in to multiple accounts and switch between them in the top right corner. But if you're using Mail.com or some of the other providers that offer all-in-one accounts, you can do that more easily.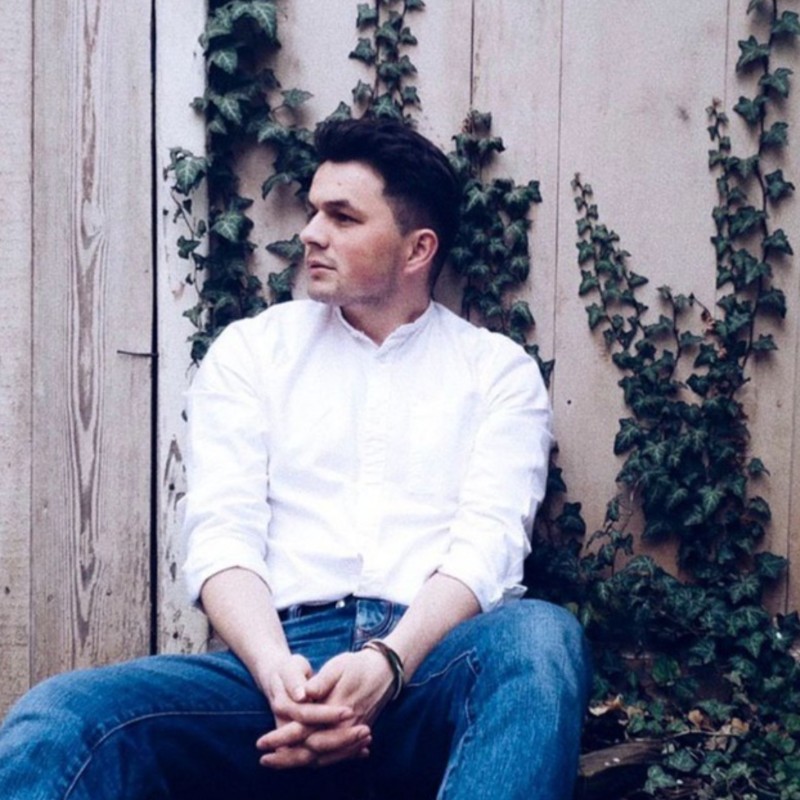 Vasyl Holiney
Vasyl is a Product Marketing Manager at MySignature with experience in SEO and Growth. He has been featured on HubSpot, The Next Web, ActiveCampaign, and other well-known marketing blogs.