The iPhone email signature has become so common that most people don't even notice it. You've probably seen "Sent with my iPhone'' or "Sent with my iPad'' thousands of times. And if you have an Apple device, your emails probably have the same signoffs at the bottom.
?If you already have a signature and want instructions on how to add a signature on an iPhone, jump straight to the instructions below.
But in the end, the default signoff is little more than an opportunity for Apple to promote its products. It doesn't do anything for you, the user, and you're missing a chance to improve email communication, tell more about yourself or your business, and become more professional in the process.
But how can you get rid of the standard iPhone email signature? And how to make a signature on iPhone that's actually useful?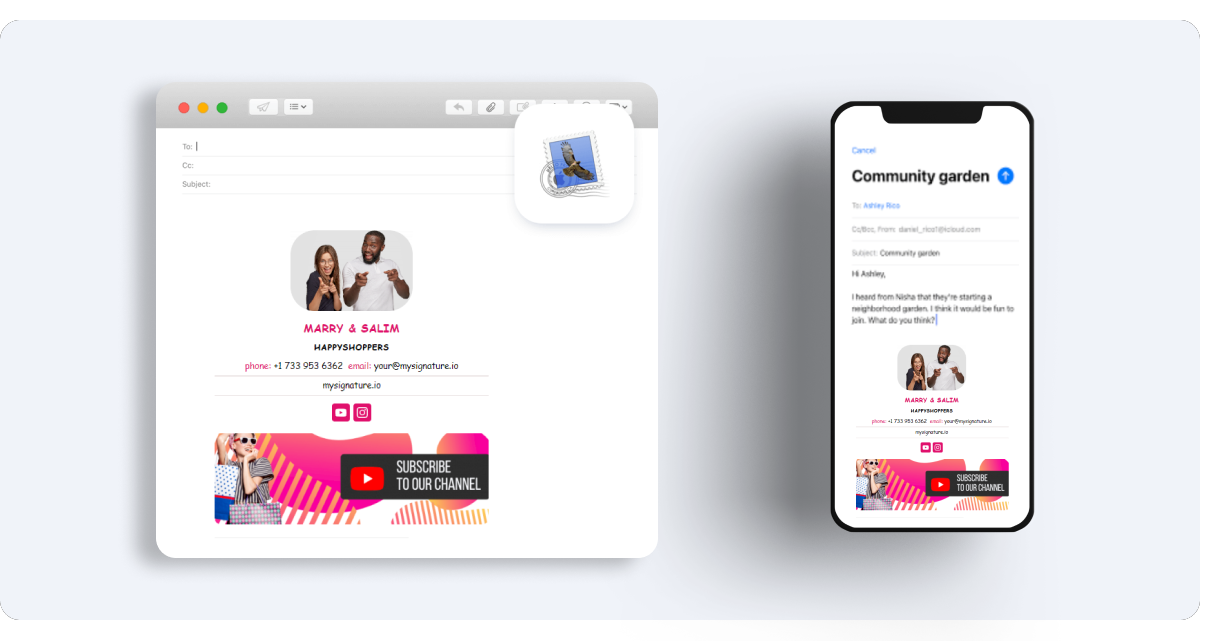 In this guide, you'll learn why you should do it, how to create an effective email signature on your iPhone, and a few tips that will help you create the right email signature for your needs.
How to Create an iPhone Email Signature:
2. How to create an iPhone email signature
3. Tips on how to make your email signature
4. How to add an email signature on iPhone
5. Add images and other formatting to a signature
6. iPhone mail signature templates you can use
8. Are you ready to create your personal email signature
Why You Need It
Before you start learning the different ways you can change your email signature on your iPhone, you may be wondering why you should make an effort in the first place. And the truth is, most people could benefit from a more relevant email signature, no matter how they use their email address.
Sure, when communicating with friends and family, the default iPhone email signature is harmless. But any time you email a colleague, reach out to a prospect, or apply for a job, the iPhone signoff becomes a missed opportunity to present yourself better.
Today, most professionals use an email signature to showcase their position, area of expertise, services they offer, and more. And with setting up an impactful email signature on an iPhone being easier than ever, there's no excuse for not having one included in every email you send.
Some of the things you can include in your email signature are: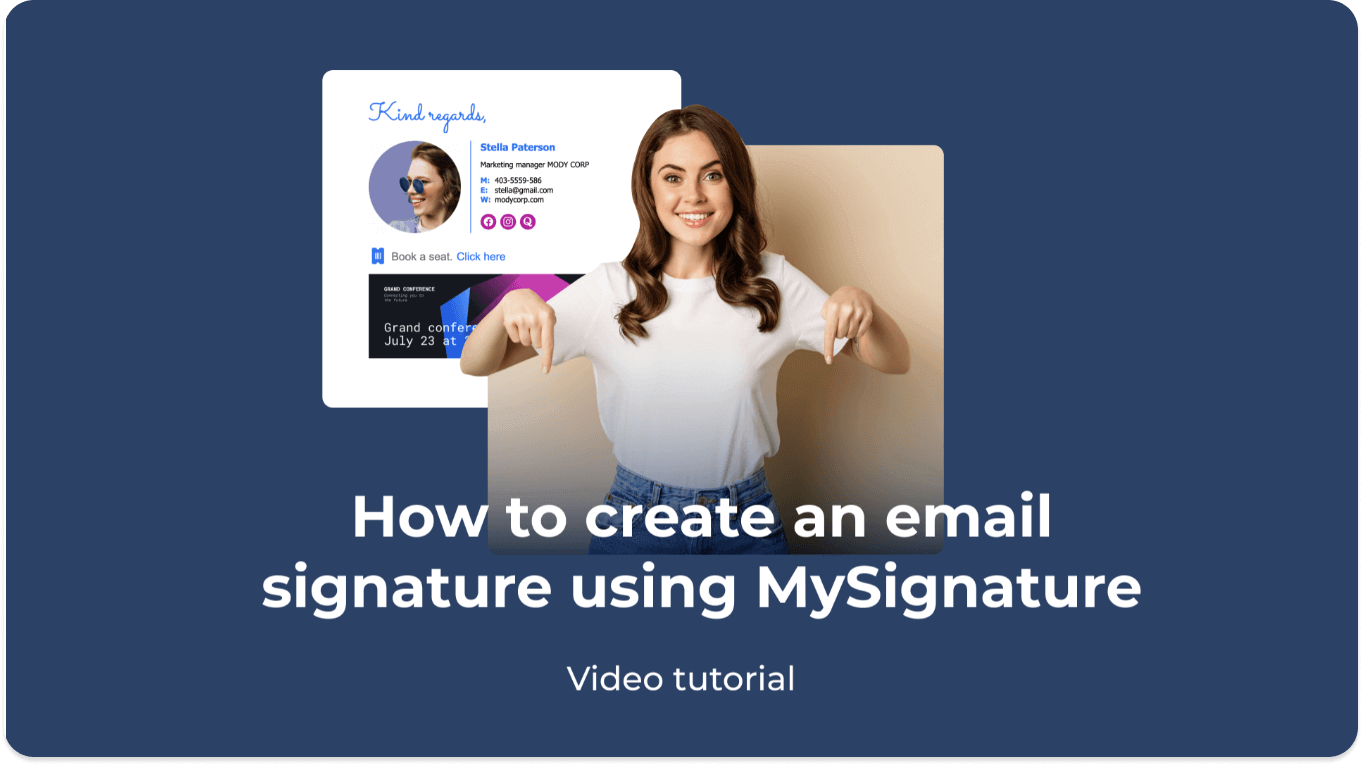 Your picture or logo

Your work position or area of expertise

The Services you offer

Social media icons for your personal and professional profiles

Banners with enticing call-to-actions that drive people to take action

Link to your website

Contact information

Disclaimer

Links to your most recent blog posts or other content
How to Create an iPhone Email Signature
There are many ways to replace the default iPhone email signature when you send emails from your phone. And the option you should choose will depend on how much you want to do on your own and whether you want more advanced customization options, templates, and beautiful designs.
Let's explore the main options you could consider below.
Manually Add a Signature
If you just want a simple and quick way to set up a different signature than "Sent from my iPhone," there's a manual method that doesn't require any apps or tools. But while it may be the quickest way to switch the signature, it comes with limitations.
To change the default signature manually, go to your mail app and choose to edit the email signature. There, you can delete the default one and manually type in the information you wish to include.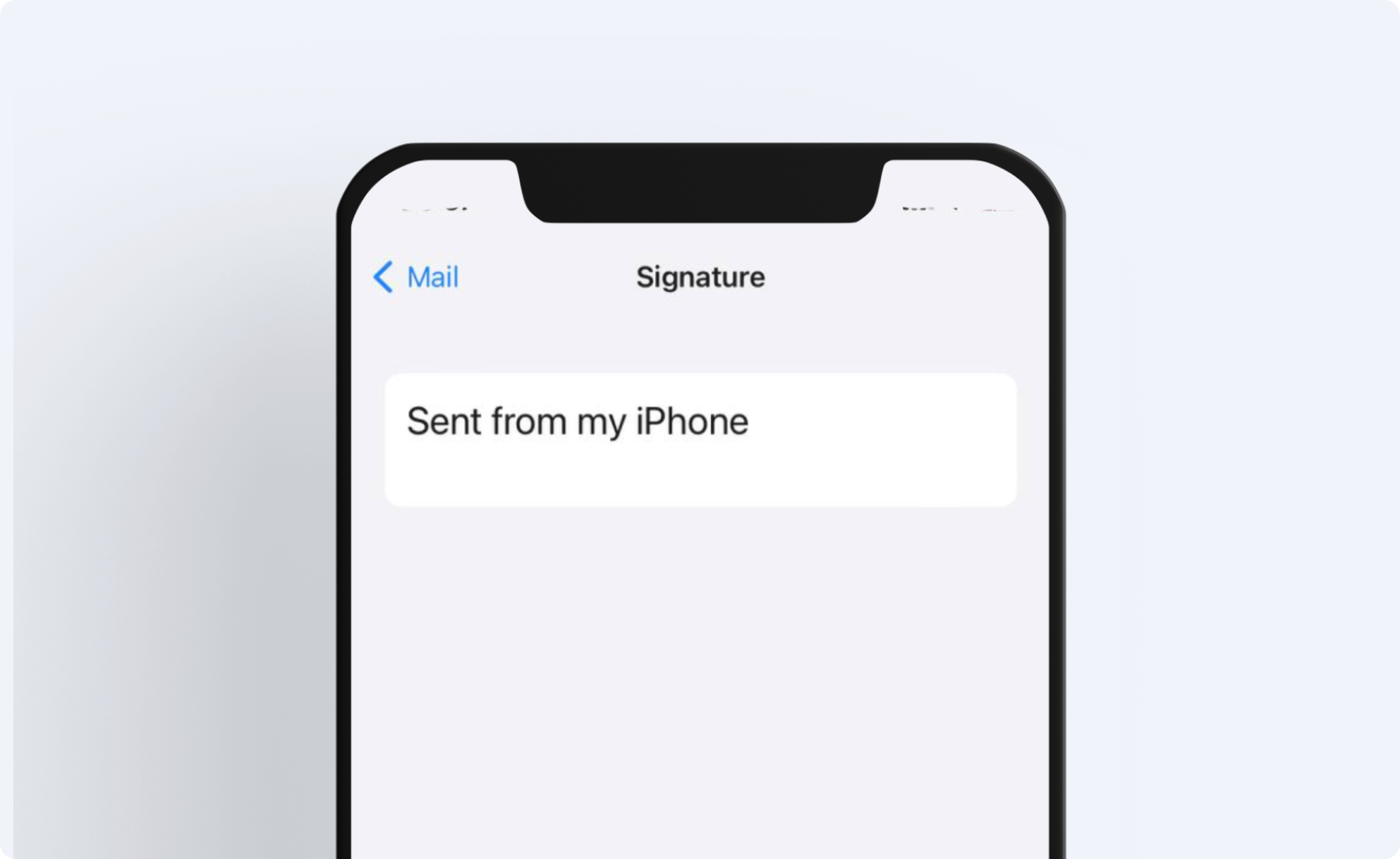 Some of the basic information an email signature should have is a name, work title, and contact information. But consider adding more elements to showcase your work and how people can connect with you.
However, since you're creating a signature from scratch, you may need to look up tutorials or design guides and figure out how to make the signature look better. And without more advanced design tools, your signature will be plain text, which will not be very effective at grabbing attention.
Use a Mobile iPhone Email Signature Template
If you want to leverage proven email signature principles and quickly fill in the blanks with your information, you can use signature templates to create HTML iPhone email signatures. This method makes figuring out how to make a signature on iPhone email relatively easy and can provide you with a much more engaging message to display instead of the default iOS one.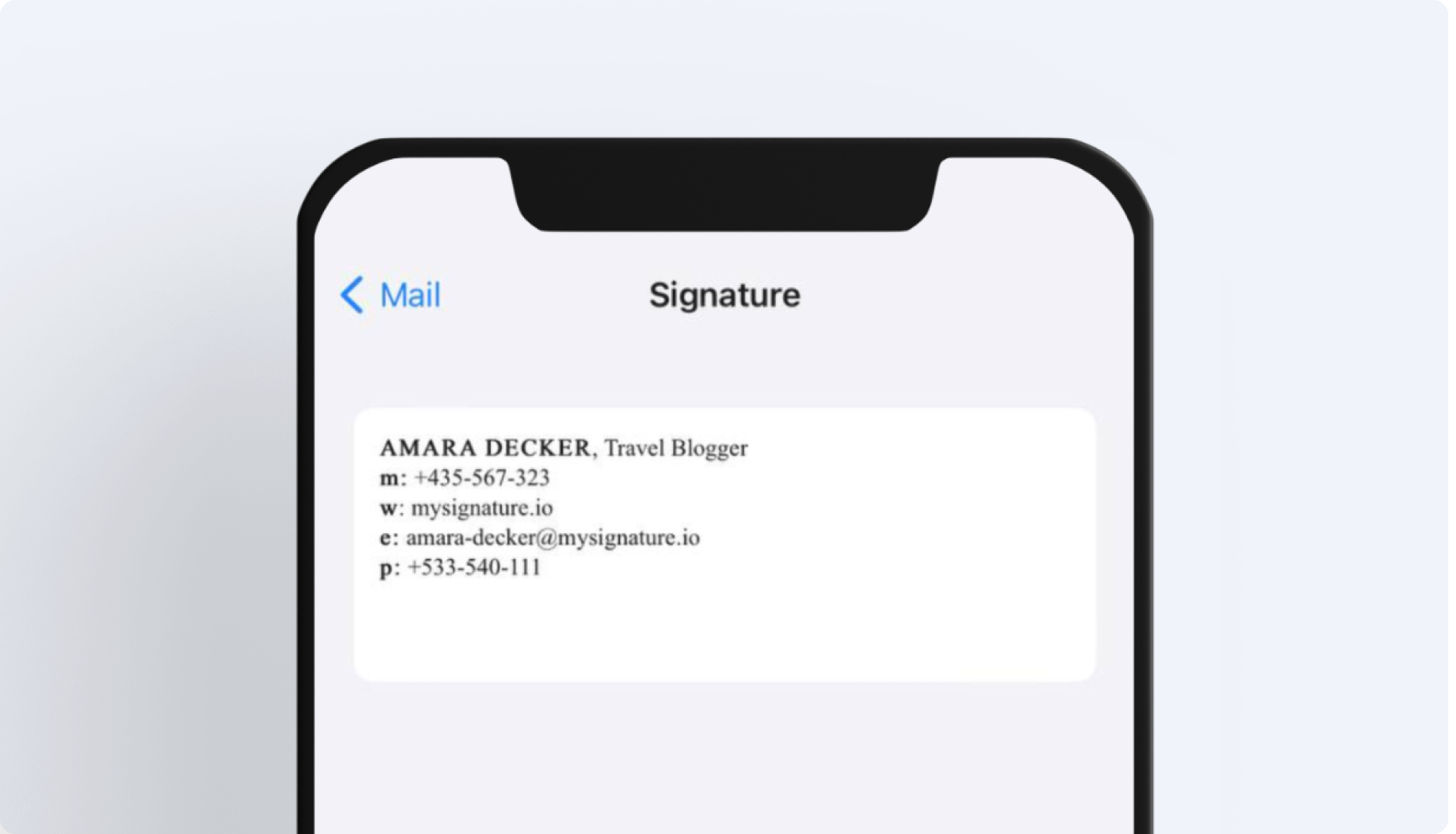 Creating an HTML email signature on your own is challenging if you have experience. But if you use an email signature template, you won't have to. The email signature on iPhone you create will be based on a proven design that you can adapt to your needs.
Generate a Professional iPhone Signature with an Email Signature Maker
The final and most comprehensive option for creating engaging email signatures is to use Apple mail signature generators like MySignature or Newoldstamp, which are designed to make the process of customizing the email signature on iPhone as easy as possible.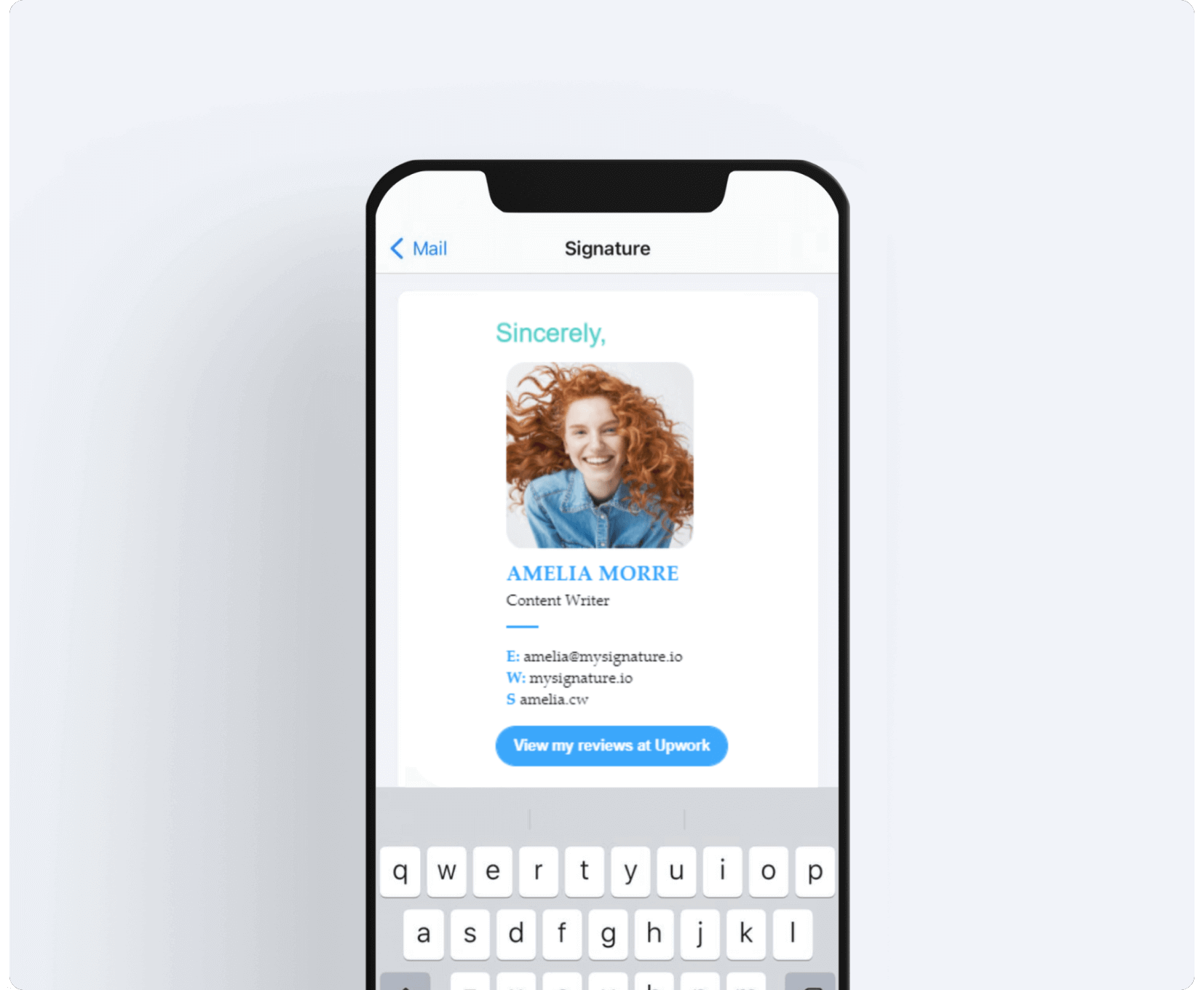 Even though these tools are intuitive and easy to use, they're pro-level solutions that will give you all the features you need. You can:
Quickly upgrade your iPhone signature with customizable information in just a few minutes;

Enhance your email signature with visuals like a logo, other branding elements, or a profile pic;

Add custom banners linking to your special offers, website, or content.


Create a handwritten signature on iPhone using the

Signature Drawing Tool

to make your email signatures more authentic.

Include visually appealing and clickable social media icons from all the sites you're using.

Leverage a vast library of professionally-designed signature templates you can trust.


Manage all of your email signatures from a central Dashboard that will allow you to instantly create, change, clone, and upgrade signatures.

Easily

install the email signature on your iPhone

in just a few simple steps.


Enjoy powerful email tracking features that will help you track opens and clicks in every email you send out.
Tips on How to Make Your Email Signature
Creating an impactful iPhone email signature comes down to more than just having the right tools. It also helps to know some of the essential principles about including the right information and making the signature accomplish your goals.
Here are a few tips you should consider for your email signature on iPhone devices:
Include the Essentials. Every email signature you create should include your name, title, the company you represent, phone number, and website. You can then build on that by adding social media profiles, links to posts you want to promote, banners with special deals, and more.

Keep it Brief. To be effective, email signatures must get to the point and convey the most important information in as few words as possible.

Utilize the Opportunities. An email signature can be much more than just a signoff. Use the full capabilities of the email signature tool by adding banners linking to your offers, events, or new content.

Consider an Inspiring Quote. If you want to add a personal touch that highlights your philosophy, you can add an inspirational quote to your signature. But this is better suited for personal rather than company signatures.

Don't Include Your Email. Including an email address is not necessary since the recipient already has it.

Test It. Make sure your signature looks well before you send it to clients and partners. You can also split-test different variations to see what works better, tracking opens and clicks with MySignature.
How to Add an Email Signature on iPhone
It shouldn't take more than a few minutes to add a signature to iPhone email. Here are the steps you'll need to take:
On your iPhone, select the Settings icon.
Click on Mail and scroll down to find the Signature option.

Select which account(s) you want to change.

Tap the text field and select the original "Sent from my iPhone" text to delete it. Then, you can either paste or type in your new signature in its place.

Close the Settings menu and compose an email to see how your new signature looks.
Add Images and Other Formatting to a Signature
When creating an email signature on your iPhone or iPad, you can only use plain text. But there is a process for adding images and other formatting to your iPhone signature, even if it takes a few steps to get around the limitations of iOS.
Here are the steps you should follow:
Create the email signature you want on an email client that supports HTML, such as Gmail or Outlook. You can add images, banners, social media icons, and anything else you want.

Once your signature is ready, send it as a blank message to your iPhone email address.

Find the email with the signature on your iPhone and locate the signature text without any web links or email addresses. Next, tap Select All, then Copy.

Head to Settings > Mail > Signature and delete the current text. Then hold until the context screen appears and press Paste.

Now your new HTML signature will be visible in the editor, but it won't have the original formatting. The good news is you can quickly fix this by shaking your iPhone and triggering the Undo Change Attributes context menu, where you can select Undo.

You can now head to your iPhone email app and check out your HTML email signature. Make sure you send it to yourself to see if the signature gets delivered correctly.
iPhone Mail Signature Templates You Can Use
Want to find the right template or your email signature? Browse hundreds of professional email signature templates for every situation, compatible with Outlook, Gmail, Mac Mail, and more.
Chose any and click to start create your signature!



FAQs
What should my iPhone signature Include?
The most critical elements in an email signature are your name, title, the company you represent, and website.
How to add social media icons to my iPhone signature?
You can either find an HTML email signature template that includes social media icons or use the MySignature builder to add social icons to your signature.
How to change the font size on an iPhone email signature?
One of the easiest ways to customize font size in an iPhone email signature is to create it in the Pages iOS app. You can apply any formatting you want and paste the created signature directly into your iPhone by going to Settings > Mail > Signature.
Why does my email signature look different in Apple Mail?
When you edit your signatures on Apple, make sure you uncheck the box next to "Always match my default message font." You can also use MySignature to create and import a signature to customize your signature and paste it directly, which should help prevent formatting issues.
How can I add a logo to my email signature on an iPhone?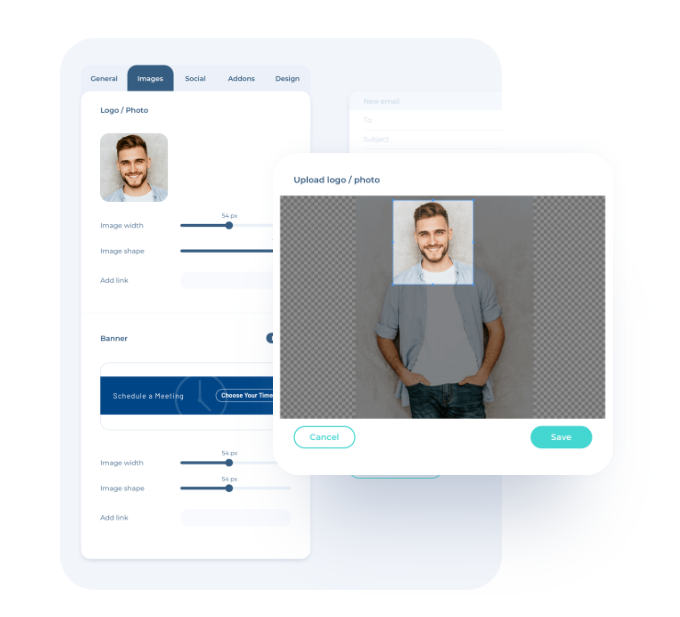 The easiest way to add a logo to your email signature on an iPhone is to use MySignature. You can add a logo, personal image, and other visual details to enhance your signature.


How can I change my email signature font on an iPhone?
To change the font in your iPhone email signature, go to the Pages app and edit the text font to what you want it to be. Then, copy and paste it into Settings > Mail > Signature.
How to use multiple email signatures on iPhone or iPad?
On your iPhone or iPad, go to Settings > Mail > Signature, and you'll find an option to select either to display the signature for All Accounts or Per Account. Choose the latter option to have a different signature for each email account you use.
Are You Ready to Create Your Personal Email Signature?
Make your emails stand out in any inbox and track your email performance using the MySignature email signature and tracking tool. Gain access to hundreds of professional templates and customize your signature to include logos, images, banners, social icons, company links, and more.
Create Your New iPhone Signature Now!

Need more than just an email signature? Install the MySignature Gmail Tracker to access unlimited real-time tracking of opens and clicks!
Ostap
Ostap is a marketing professional (PMM) with 5+ years of experience in the software industry (B2B and B2C). Having worked with email marketing products and services, Ostap has a deep understanding of various email marketing strategies and solutions.