Email marketing revenue is projected to reach almost 11 billion by the end of 2023. And with the number of total email users set to reach 4.6 billion by 2025, it's clear that the platform will remain an essential business tool for reaching target audiences worldwide.
But while sending regular emails will almost always result in positive outcomes for your business, that's only part of the equation for achieving success. You must also know how to track email performance to discover what your audience prefers.
And that's where email tracking tools can be so valuable.
If you pick the right tools and track the essential KPIs, you can stay on top of your email marketing performance and know exactly what to do in any situation. But how can you pick the right email marketing tool for your needs?
In this article, you'll discover:
[ Article navigation ]
The Ultimate Email Tracking Tools list for Gmail:

Why You Should Implement Tracking in Your Email Routine
     Understand What to Do Next
     Automate Your Processes
     Provide a Better Experience
   
 How to Track Email Opens and Clicks in Gmail
     Use Gmail Read Receipts
     Manage Email Tracking with Google Analytics
     Use Professional Email Tracker Tools

Top Email Trackers for Gmail
     Best for Personal Gmail Tracking
     Best Email Tracking Solutions for Business
     Bonus: Absolutely Free Email Trackers for Gmail
 
Ready to get started? Then read on below.
Why You Should Implement Tracking in Your Email Routine
Having more information is almost always a good thing. And when it comes to Gmail email tracking, even a simple system will dramatically improve your email quality, engagement rate, and the results you can achieve.
Here are the main reasons why using an email tracker for Gmail makes so much sense.
Understand What to Do Next
When it comes to email marketing, more emails will almost always deliver better results. But even so, you still need to figure out what emails to send next, when to send them, and how to make them more engaging and impossible to ignore.

And that's where Gmail email open tracking can help you plan each step with more precision and confidence.

Even if you just track whether your email was opened, you can make better decisions about your next step. For example, if the email was opened but didn't receive a response, you may need to try a different angle. But if the email wasn't opened at all, that means your subject line didn't work, so that's what you should focus on.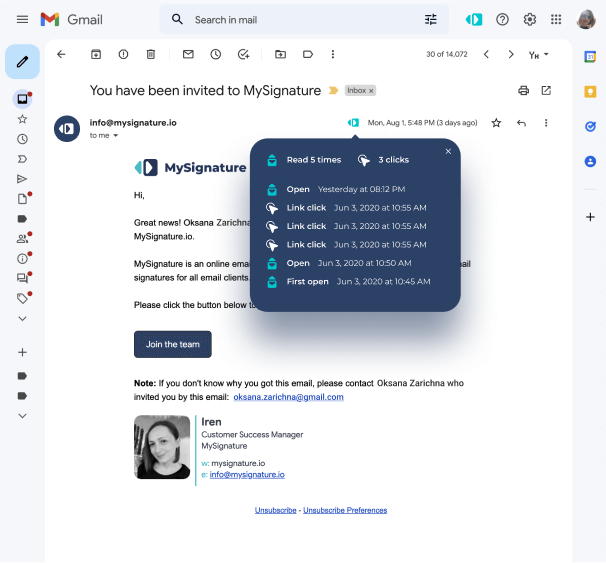 And if you can also track link clicks, that will tell you even more about how engaging your email was and what you should do in the next one. For example, you can offer or emphasize an incentive that drives the recipient to click through in the follow-up email.
Automate Your Processes
If you want to scale your email marketing efforts, you'll need to set up email automations so that you don't have to send each message manually. But the only way to ensure your automated email campaigns deliver results is to personalize them according to your email recipients' actions.
You can use automations such as automated follow-ups for all emails you send out, but they're especially effective for emails where you want the recipient to perform an action.

For example, if you want them to click through to a landing page, you need to know how they respond to the initial email before figuring out which one should go out next. If they don't even open your email, you need to send perfectly timed follow-up emails to get them to reconsider. And if they click through but don't buy, you need to add an extra incentive that motivates them or reframe your arguments in a way that shows more value.
Provide a Better Experience
The success of your email campaigns will come down to how well you anticipate the needs of the people you're communicating with. And the best way to understand those needs is to use Gmail email tracking to discover how people respond to different types of emails.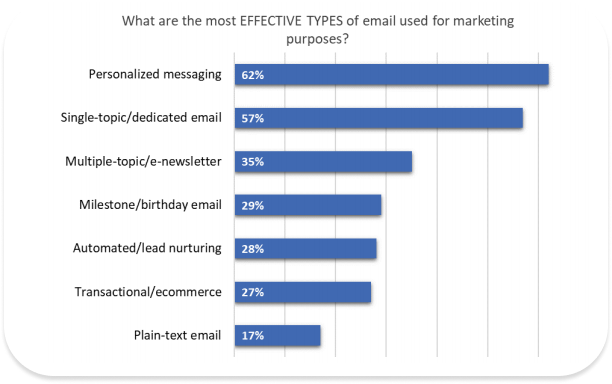 source: SFWP
Over time, you'll learn valuable insights about what people prefer to see and their email behavior, developing an effective email marketing strategy that works for your audience. This will not only provide an overall performance boost but will also be vital in ensuring you achieve consistent results in every campaign you work on.

Whether you use automations to scale your email marketing efforts or want more control in manual outreach campaigns, having data about which emails are opened, read, and responded to can become the driving force behind every decision you make.
How to Track Email Opens and Clicks in Gmail
You can use a few methods to start tracking email opens and clicks in Gmail. It's possible to get started with built-in tools available in Gmail, but you can also utilize more advanced solutions to give yourself more options and develop a more effective email strategy.
Here are three quick hacks that will help you get started with more detailed email tracking
Hack #1: Use Gmail Read Receipts
Read receipts are a convenient built-in feature of Gmail that allows users to verify that their message actually got delivered and didn't end up in the spam folder. But although its original purpose was to help educational institutions or businesses communicate internally, you can also utilize it when reaching out to prospects or clients.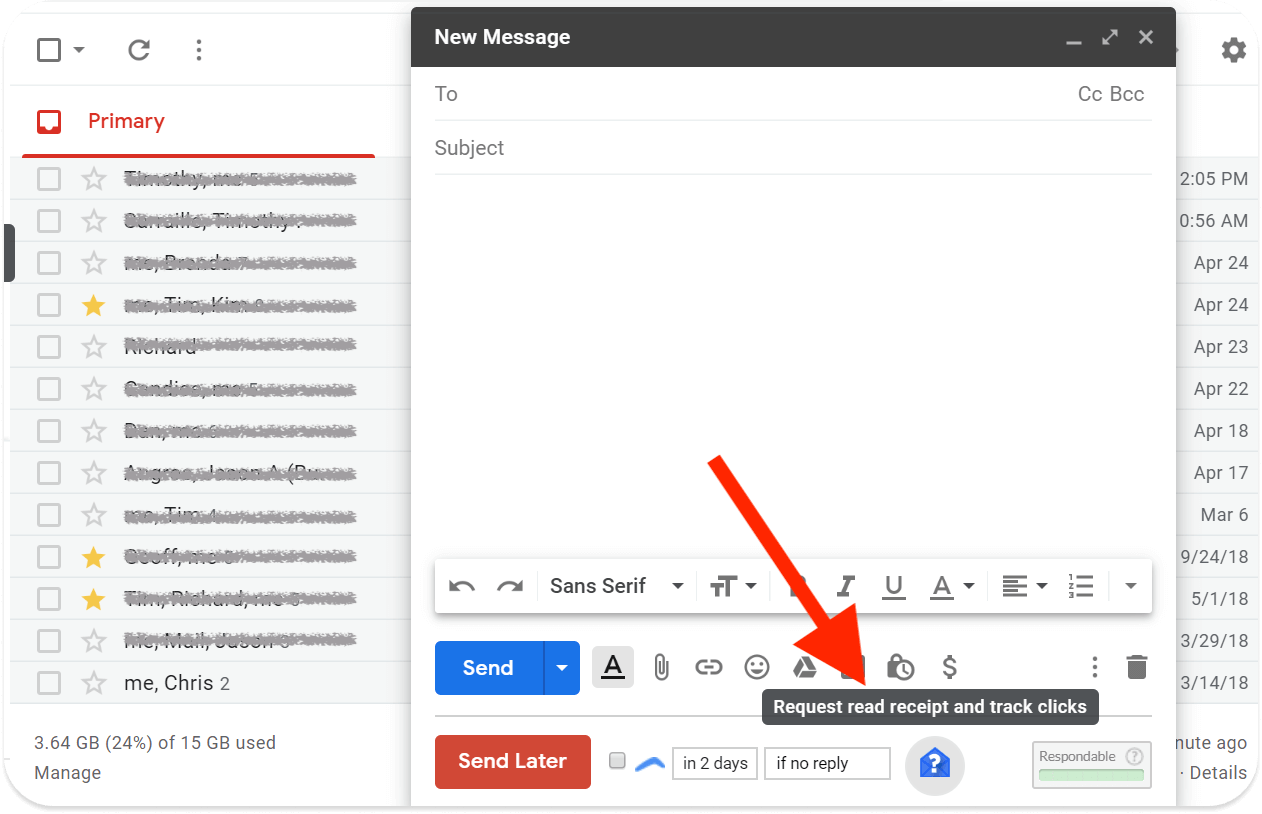 source: PC
To turn on Gmail read receipts:
Head to your Gmail account and select "Compose" to start a new email.


Once you're done creating the email, find a down arrow at the bottom right of the email and expand it.



Select "Request read receipt" on the menu and send the email.
Drawbacks
Although setting up Gmail read receipts is pretty simple, it also has significant drawbacks.
First off, when you use it to track email opens, your recipient will have the option to either accept the read-receipt request or deny it. And if they deny it, you'll have no way of knowing whether they opened it or not. The second problem is that it can only be used with Google Workspace, which is a paid version of Gmail.
Hack #2: Manage Email Tracking with Google Analytics
Another effective Gmail email tracking free method is to use Google Analytics. This email tracker solution is fairly easy to set up and will allow you to track whenever someone clicks the links in your emails. And if someone clicks the link, you can be reasonably sure they also opened the email.
Here's how you can set up an email tracker for Gmail using Google Analytics:
Sign up for Google Analytics and connect it with your Website. This is required if you want to start collecting and reviewing data.



Create a trackable URL using the

Campaign URL Builder

. 


Once you set up the tracking campaign, paste your generated trackable URL into your email. 

source: Agency Analytics



You'll be able to see clicks from your email in your Google Analytics account. 
Drawbacks
The primary issue with using Google Analytics is that you can only track clicks. That limits your ability to understand what emails your audience finds interesting and prevents you from sending automated email follow-ups based on initial activity.

Another problem with Google Analytics is that the reports it generates can be quite limiting. For example, while you can get data on clicks and opens, it can't provide information about the actions of individual recipients.
Hack #3: Use Professional Email Tracker Tools
If you want to have the most control over how you track your email performance, your best bet is to opt for a professional email tracker tool that is designed to provide accurate, timely, and specific data you can use to make informed decisions.
But what can an email tracker do? Here are five ways you can use a tool like MySignature:
Track Email Opens and Number of Opens

Your subject line is the most impactful part of your emails. If it fails, the body copy won't matter, as the email won't even get opened in the first place.

By tracking whether your email was opened and how many times it was opened, you can learn what's working with your audience and continually improve your open rate and overall email performance.


Track Clicks on Links in the Email

You want your email recipient to take a specific action. Whether it's clicking through to your landing page, checking out a piece of content, or scheduling a call, you will usually want them to click through and take the next step in their journey.

And that's where tracking email clicks can be so valuable. By knowing whether your links have been clicked (and how many times they were clicked), you'll be able to optimize your email body copy to generate interest, create a desire, and drive action consistently.


Show Time and Date When the Email Was Opened

In email marketing, timing can be just as important as what you send. You need to know when your email recipients are the most likely to respond and take action, or you might waste valuable opportunities. It also helps to understand how to pace your emails and how long to wait until an email has been opened before sending a follow-up.

Comprehensive email tracking solutions allow you to know the exact date and time when the email was opened. Using this information, you can discover insights about the times of day or days of the week that work best with your audience.


Show the Location Where the Email Was Opened

If your business involves meeting with people in person, their location impacts the types of email messages you want to send. For example, if their location is too far from you, it might not be feasible for you to do business. At the same time, you can figure out how national holidays in different regions might affect your chances of landing the client.

By knowing the location where the email was opened, you give yourself a much better chance of adjusting the next steps accordingly. For instance, if you find out that an in-person meeting is impossible, you can shift towards a video conference or call instead.



Show a Device the Email Was Opened On
An email doesn't always look the same on mobile and desktop. And the device also impacts how people view, react to, and respond to the emails they receive.
Knowing what devices your audience uses can help you optimize performance, email deliverability, and design accordingly. You can test out how your email body and signature look on desktop and  mobile versions, making changes and optimizing based on the results. 
Top Email Trackers for Gmail
With the abundance of email trackers for Gmail, it's easy to get overwhelmed when choosing the option that matches your needs and budget. And with various email trackers catering to different types of clients, a solution that could work perfectly for one situation might not be the right fit for another.
With that in mind, let's look at a few of the best Gmail email tracking solutions available today. We'll look at the best options for personal Gmail tracking, as well as the leading tools for businesses.
Best for Personal Gmail Tracking
Here are the leading Gmail email tracking tools for personal users.
MySignature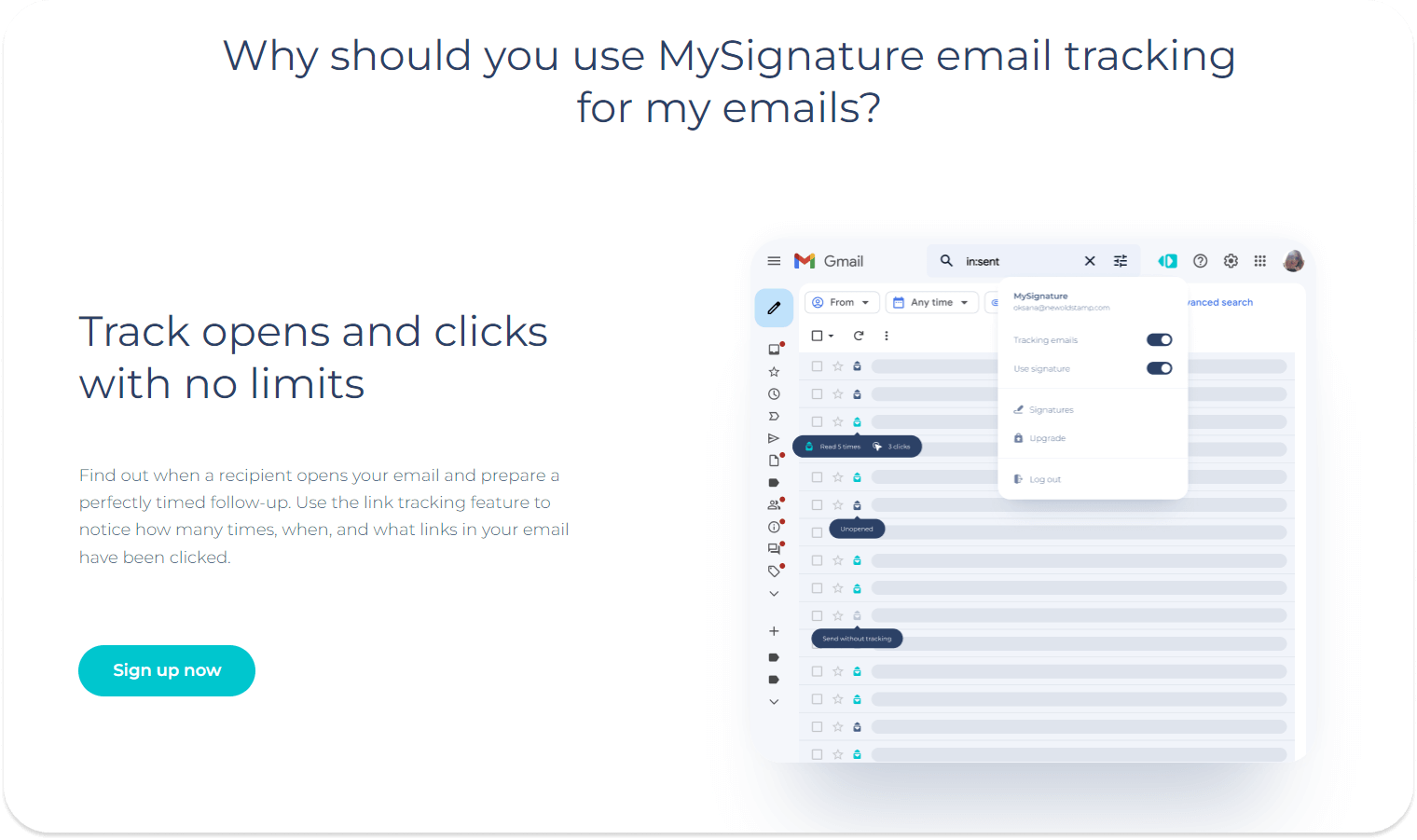 MySignature  has been a leading signature generator for a while now, but the tool has taken a big step forward by recently introducing comprehensive Gmail email tracking features as part of the Pro Plus plan.
You can track unlimited opens and clicks in all emails you send from your Gmail account. And that's on top of enjoying a list of excellent email signature features, which include professional templates, advanced signature customization, signature banners, signature management for multiple users, and much more. You can even set up company-wide email signatures that will close the gap between email and marketing.
MySignature works with all major email clients and makes it very easy for business owners to set up email signatures and tracking metrics for emails on Gmail/G Suite.
PRICING
MySignature remains one of the best value email signature management and tracking solutions today, offering a flexible payment plan based on the number of users you want to have. For one user, the Pro Plus plan, which comes with email open and click tracking, starts at just $6/month. It's the perfect choice for personal users who want a simple-to-use email signature and tracking tool with pro-level features.
MailTrack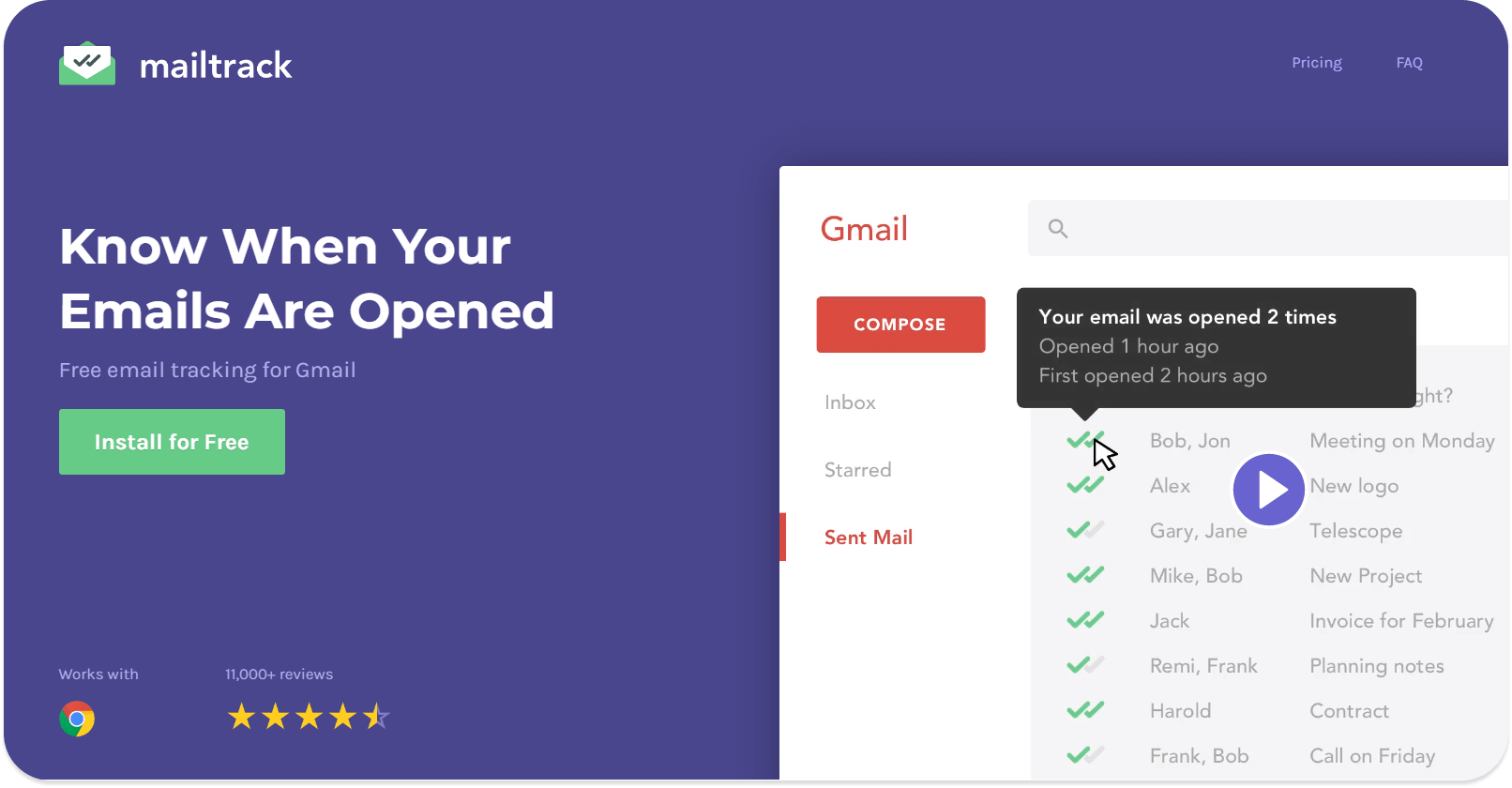 Mailtrack is an easy-to-use email tracking Chrome extension for Gmail that comes with a range of powerful features such as real-time notifications, read receipts, daily reports, and more. It's a good option for freelancers who need to track emails but don't want a complicated solution with features that aren't necessary. 
FREE FEATURES

PAID FEATURES

One of the best things about MailTrack is that you can get started for free. The free version comes with:

Unlimited number of emails you can track

Alerts for opens, follow-ups

Daily reports


However, it will only track the first open of your email and will also only track activity in the first open of the email. There's also a MailTrack signature ad at the bottom of every email you send.


With the Pro version, you get:

Everything in the free version

Tracking history and activity dashboard for all opens

No MailTrack ad

Ability to track clicks as well as opens

PRICING

MailTrack offers a free plan, so you can get started with basic functionality and see if it works for you. The paid plans start at $1.99/month for the Pro plan and $4.99/month for the Advanced plan.
RightInbox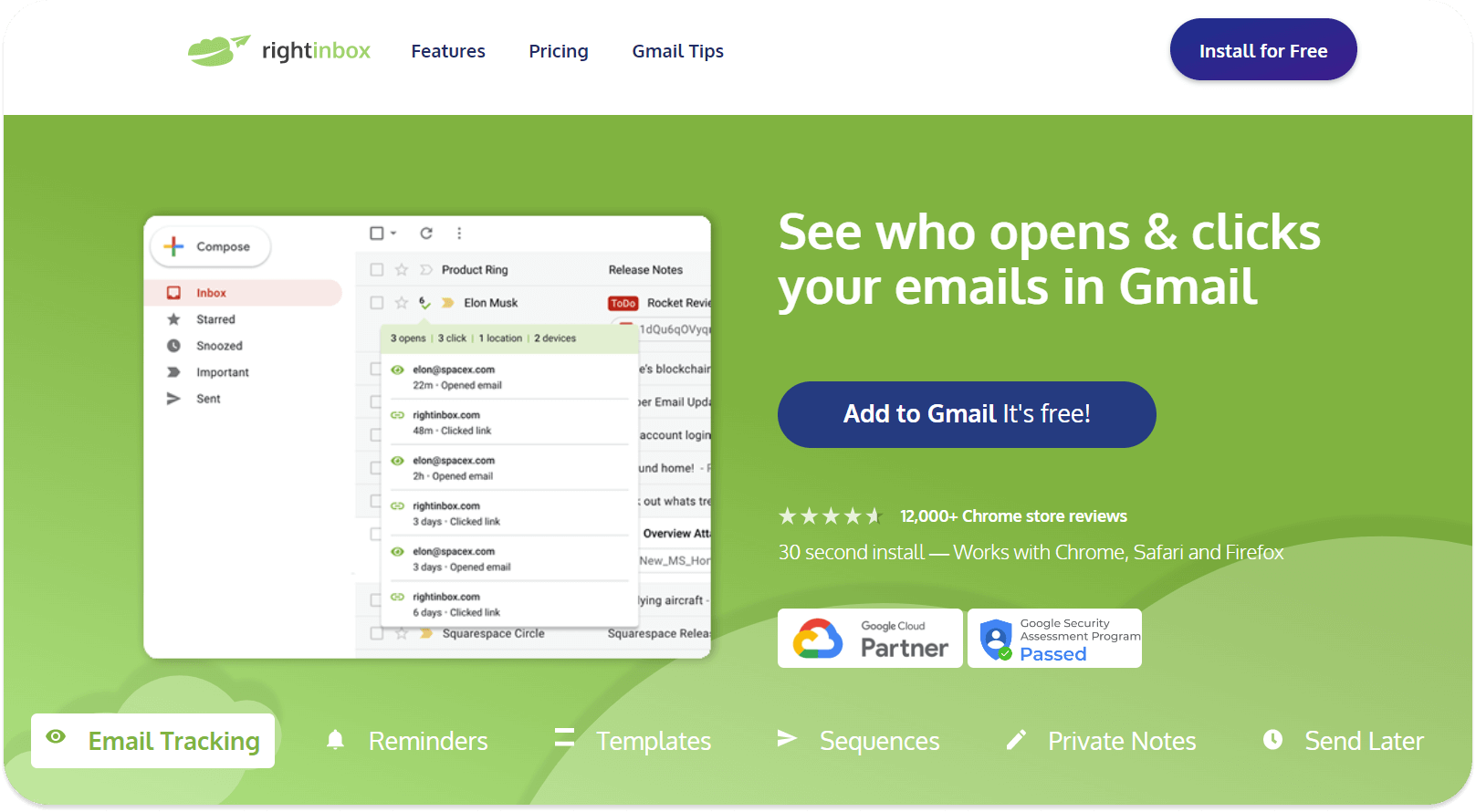 RightInbox is another email tracking extension that you can use for free. It offers open and link click tracking, convenient reminders to send emails, scheduled emails, templates, and other features that will help you take complete control over how you manage email conversations with prospects.
FREE FEATURES

PAID FEATURES

The biggest limitation of using the free version of RightInbox is that you can only track up to five emails. At the same time, you don't get any of the more advanced features like mail merge, email sequences, priority customer support, and recurring emails. However, the free version offers:

Reminders

Private notes

Templates

Send later option

But just like with email tracking, you can only use these features for up to five emails per month. 

The Personal plan offers:

Unlimited email tracking

Unlimited reminders, private notes, templates, and send later scheduled emails

PRICING

You can get started with using RightInbox for free, and it actually offers tracking for both opens and clicks as part of the free version. The main drawback is that you can only track five emails per month before you have to upgrade to a paid version. You can also set reminders and use templates for up to five emails as well.
The Personal plan comes with unlimited email tracking and is priced at $7.95 per month. And the Professional plan costs $14.95 per month.
Best Email Tracking Solutions for Business
If you want more flexibility and advanced features, you might benefit from one of the email tracking solutions designed for businesses.
Let's explore the top options you could consider below.
Mixmax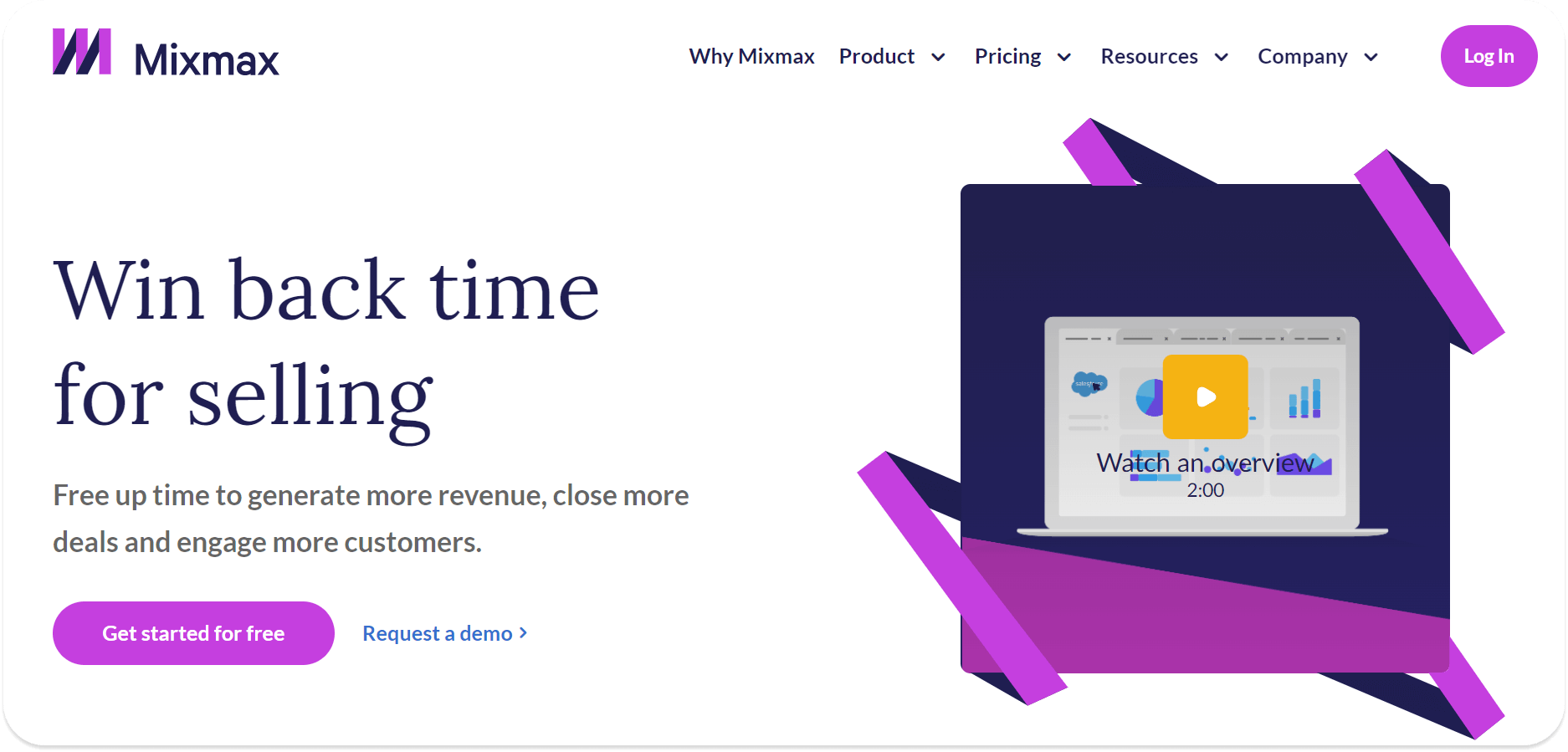 Mixmax offers a complete sales engagement solution for Gmail, and tracking email performance is a vital part of its functionality. But even if you don't need the comprehensive features geared for account executives or customer success, you can still take advantage of convenient tracking combined with an email scheduling feature and a variety of templates.
FREE FEATURES

PAID FEATURES

With the free Mixmax plan, you get:

Instant scheduling

Unlimited meeting templates

Tracking for up to 100 emails per month

Email templates

Email polls & surveys

Industry-leading security (SOC 2 Type II)


The SMB plan offers:

Everything in the free plan

Unlimited email tracking

Sidechat

No branding

CRM auto-bcc

PRICING

Mixmax offers a few pricing tiers depending on how many of their sales engagement features you want to use. It also has a free version that provides email tracking for up to 100 emails per month, which might be enough to get started.
Once you grow out of the free plan, the SMB plan is priced at $24/user/month, offering unlimited tracking and a range of other features such as sequences, mail merge, templates, and no Mixmax branding in your emails.
Boomerang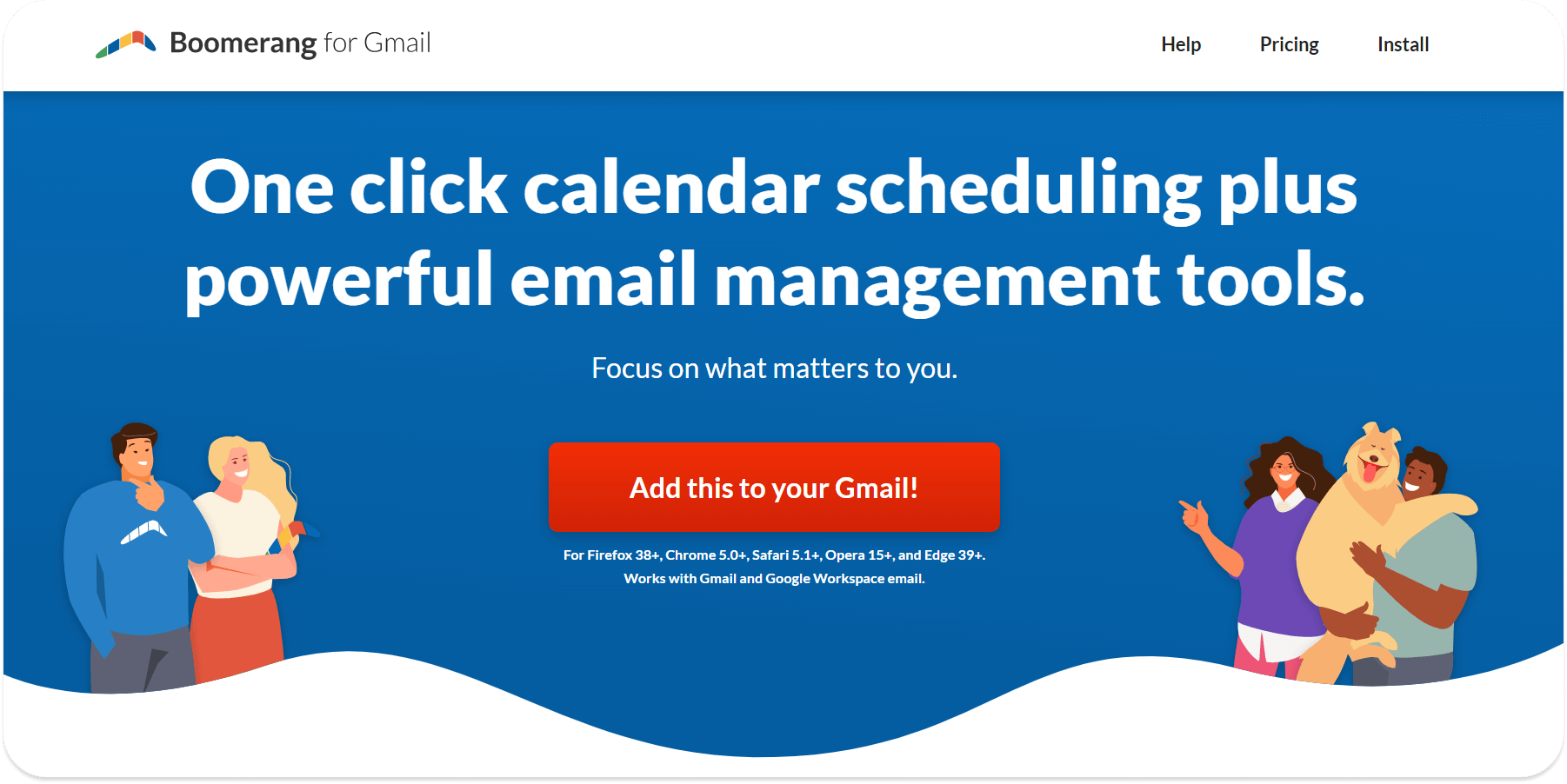 Boomerang is one of the top-rated email management solutions on the market, so it's not surprising that it comes with many powerful features. In fact, it's an entire productivity solution for business that extends much further than just email tracking. But you can also use it as a convenient tool for tracking emails in Gmail that will let you know when the recipient opens the email or clicks your link.
FREE FEATURES

PAID FEATURES

If you're just getting started and want to track just a few emails per month, the free plan might be enough for you. And it also comes with additional Boomerang features like:

Send later

Reminders

Response tracking


For unlimited tracking, consider opting for the Personal plan, which will offer:

Unlimited emails

Send later

Reminders

Response tracking

iPhone and Android apps

PRICING

The free plan allows you to send ten monthly emails that you can track. For $4.98/month, you can use the Read Receipts and click tracking features on all your emails, as well as enjoy other functionality. Higher-tier plans range from around $15/month to $50/month.

A cool feature in the most expensive plan ($50/month) is the tracking by default option, which will automatically track all your emails and send you reminders based on the rules you set up.
Snov.io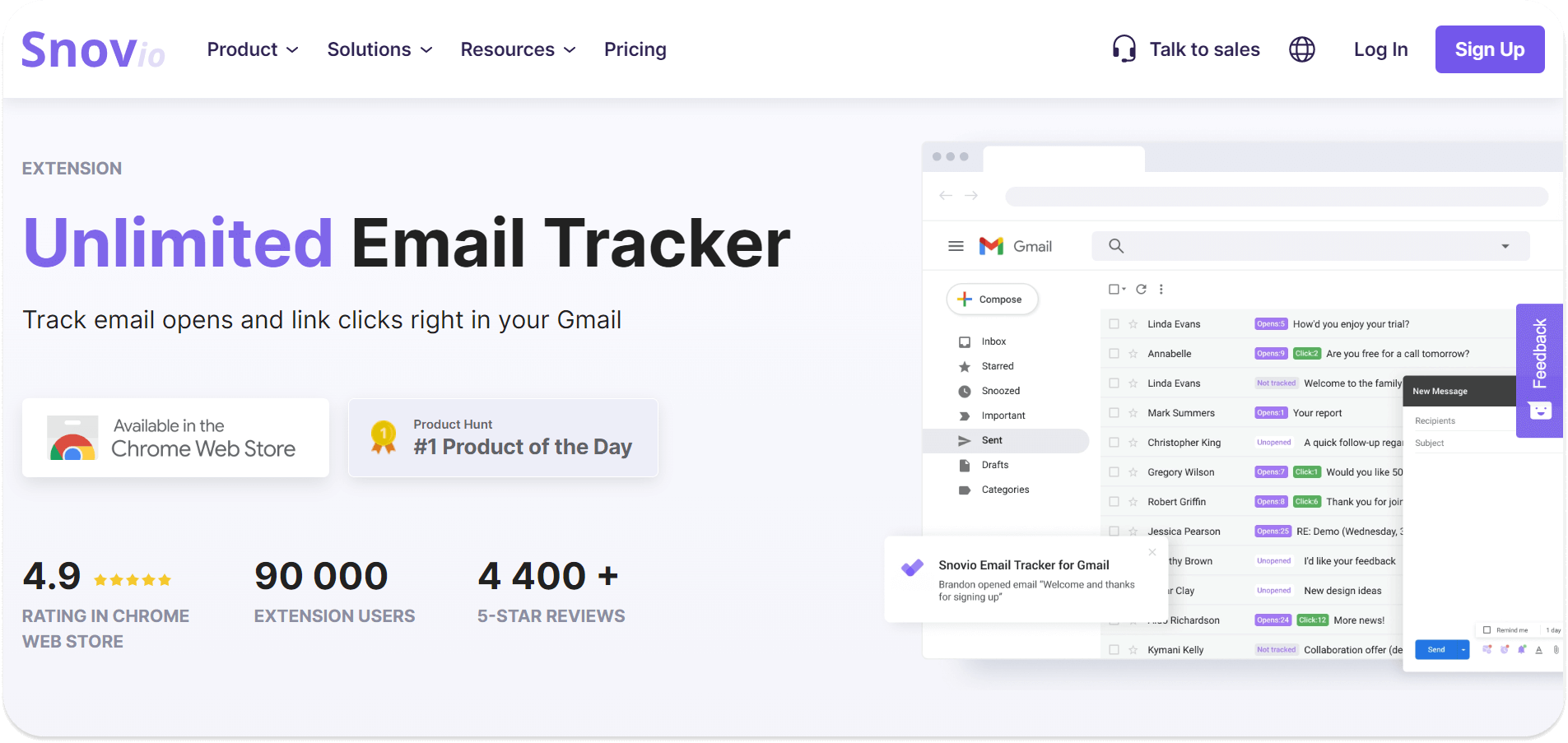 Snov.io offers a sales and marketing solution that includes features like an email finder, email drip campaigns, sales CRM, technology checker, and a range of integrations. But it stands out on this list because it also offers unlimited email tracking through a Chrome extension. You can track when recipients open your email and click links.
FREE FEATURES

PAID FEATURES

The great thing about using Snov.io is that the free version allows tracking an unlimited number of emails. However, the free plan only extends to 100 email recipients per month. That means you can track an unlimited number of emails with 100 recipients.



The Starter plan allows you to track conversations with 5,000 email. Paid plans also come with a range of sales and marketing features like A/B testing, bulk lead search, Calendly integration, and more. But if you just want to track emails, they aren't really necessary for you to get started.

PRICING

The Starter plan costs $30/month.
Gmelius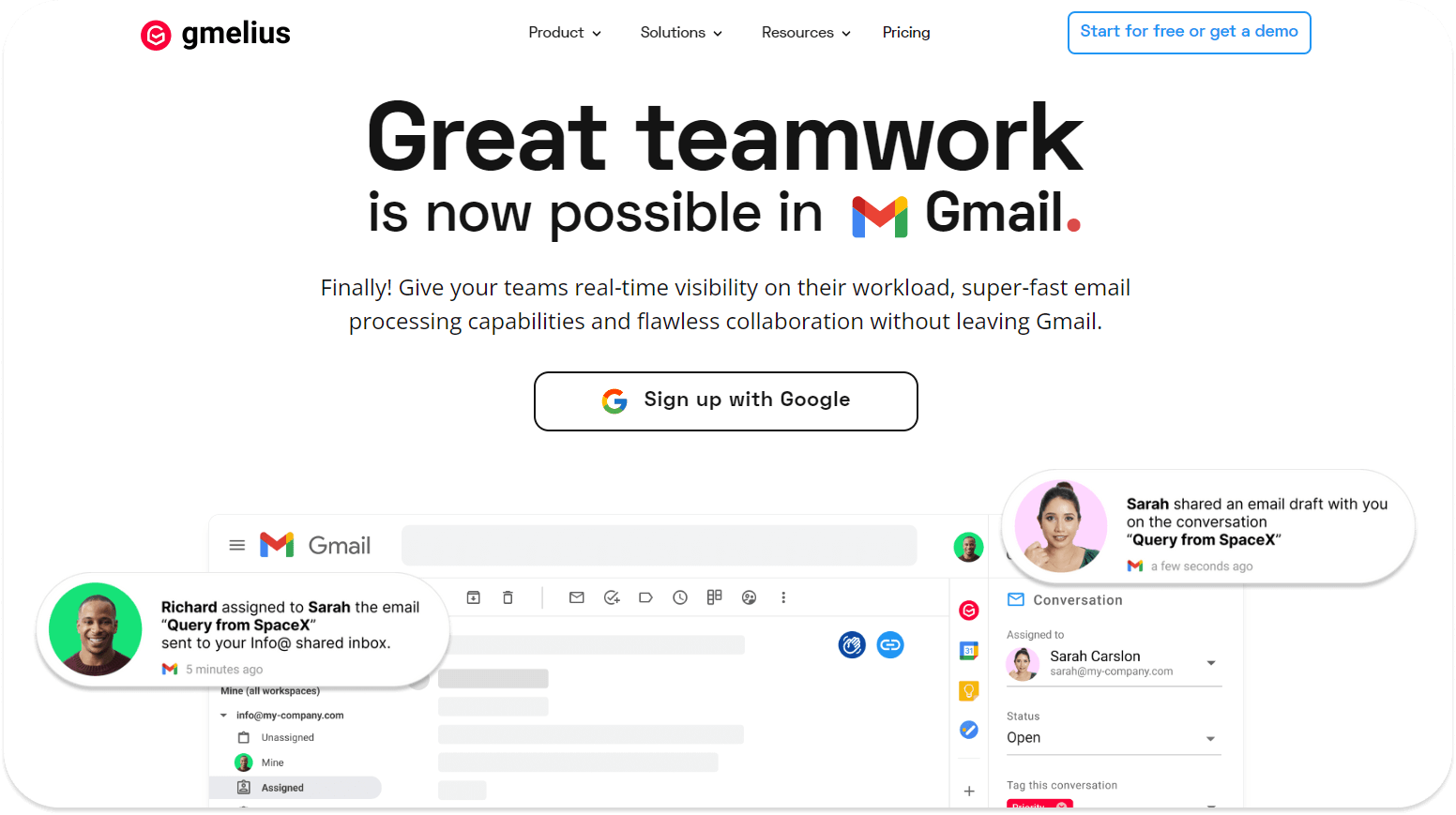 Gmelius is an all-in-one business productivity solution that seamlessly integrates with Google Workspace. And it's also designed to help teams supercharge their collaboration, providing a range of tools that help manage, respond to, and track email performance. As part of the features, it offers an email tracking service that helps you improve your campaigns.
FREE FEATURES

PAID FEATURES

Gmelius doesn't offer a free plan, but it does provide a free trial you can use to see if it's a good fit.



Gmelius is more expensive than most options on this list, and that's because it encompasses much more than just email tracking. You also get powerful collaboration, customer service, and account management solutions that can completely change how your team uses Google Workspace. 


PRICING

Plus plan ($12/user/month), the Growth plan ($24/user/month), or the Pro plan ($49/user/month).
That being said, if you need a leaner and more focused solution for tracking email performance, it might not be the best fit.
Saleshandy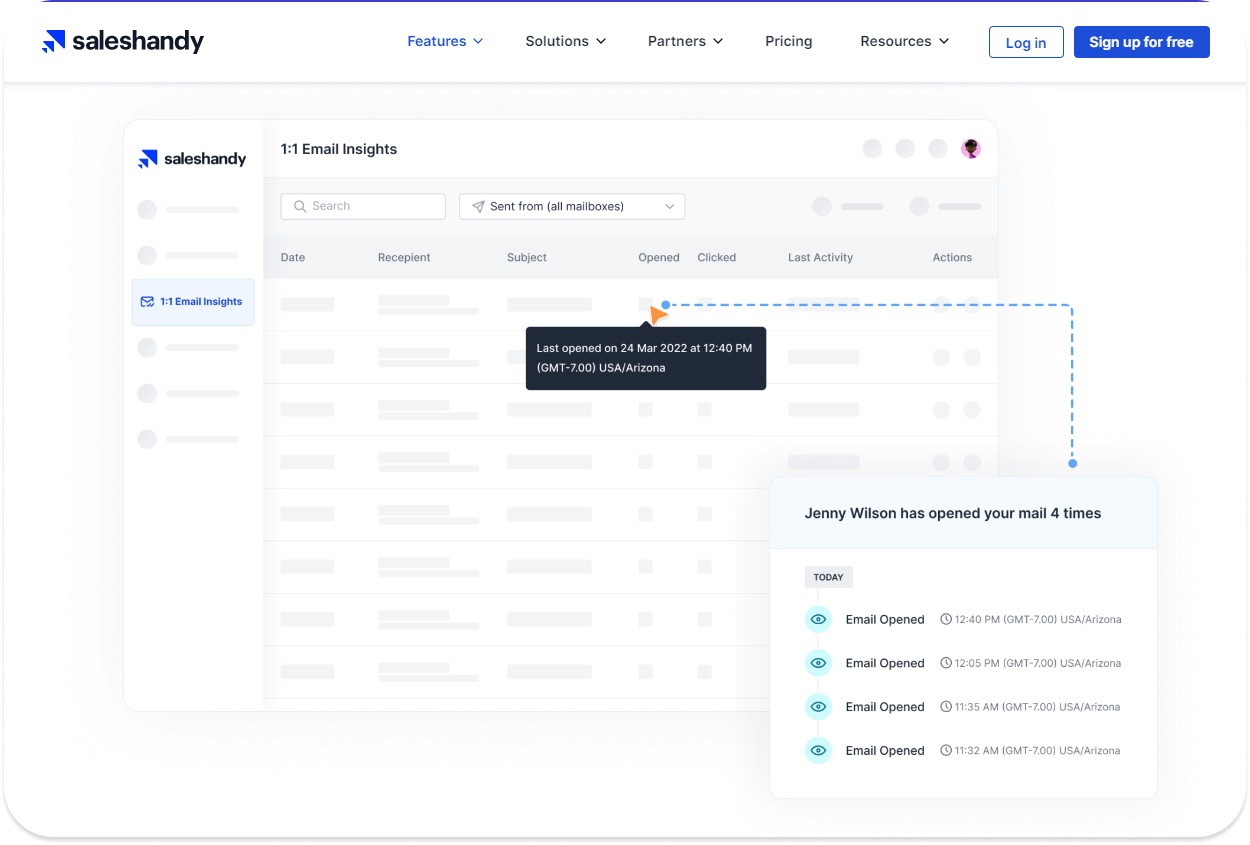 Saleshandy is primarily a cold email automation tool, but it comes with email tracking features as well. By adding a Chrome extension to your browser, you can track every email you send and get real-time desktop notifications whenever your email is read. It will also show unique open and click counts, including the time when it happened. 
PRICING
Since Saleshandy is primarily a cold outreach tool, its pricing differs from most options on this list. The Outreach Basic plan starts at $27/month and allows you to send 10,000 monthly emails. The good news is that those emails can be sent from an unlimited number of email accounts and by as many team members as you need.
As of January 1st of 2023, the company has phased out its Chrome extension for email tracking, which means the free features are no longer available, as the tracking features have been integrated into the web app.
Bonus: Absolutely Free Email Trackers for Gmail
Having a premium tool for tracking emails will usually provide you with more flexibility and better features. That being said, there are free alternatives that can help you get started if you don't want to invest money right now. 
Here are a few of the best Gmail email tracking free options.
Mailpanion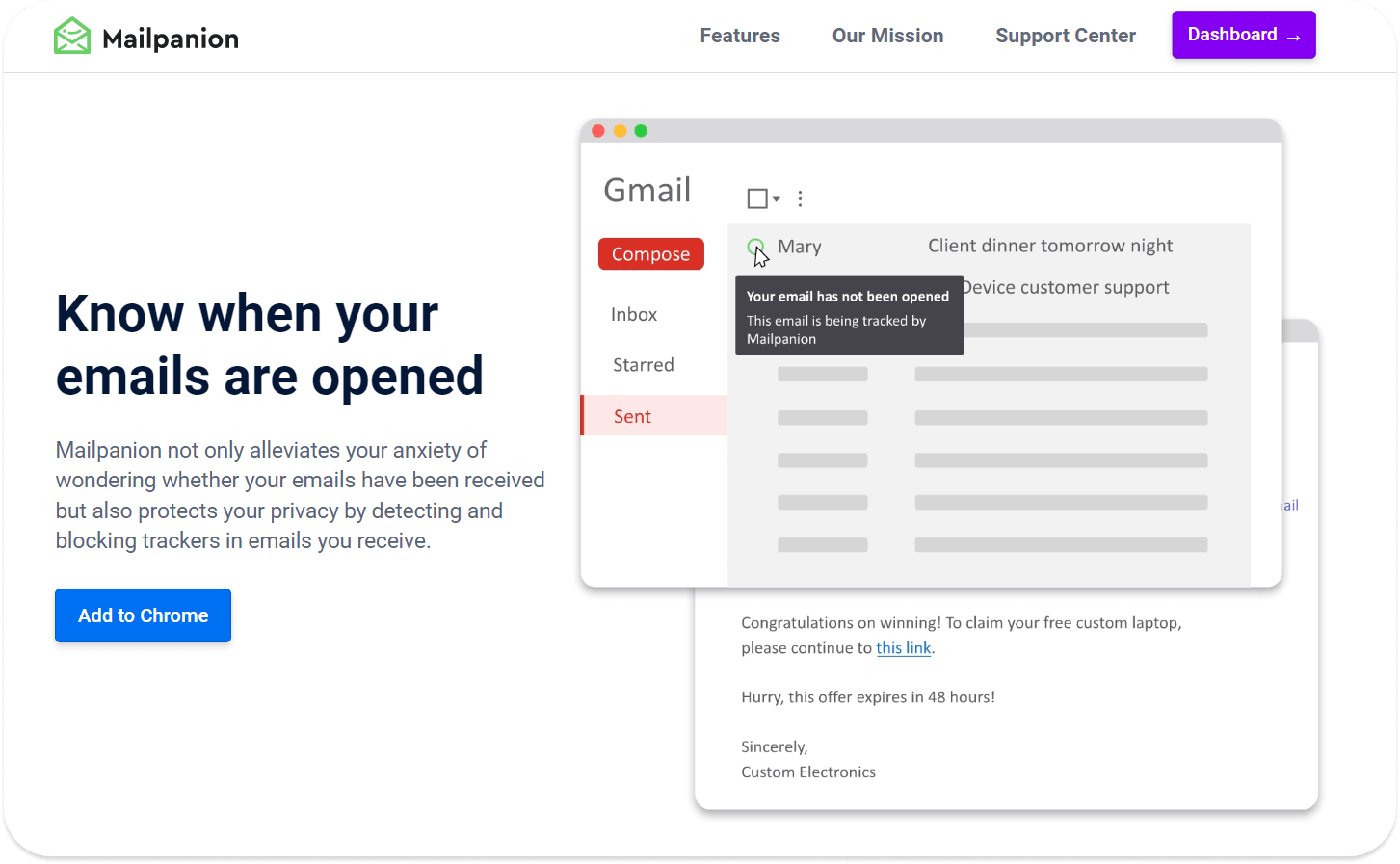 Mailpanion is a simple yet very useful tool that aims to eliminate the anxiety that comes from not knowing whether your email has been opened. It's a Chrome extension you can add in seconds, allowing you to track whether an email has been opened and how many times it happened right in your Gmail dashboard.
KEY FEATURES
Simple Installation. Get started with Mailpanion in just a few clicks by adding it to your Chrome browser.


Prevents Tracking in Your Account. In addition to tracking opens in emails you send, it will prevent other trackers from collecting information in emails you receive.


Desktop Alert. You can set up a desktop alert to know when your email is opened.
Mailalert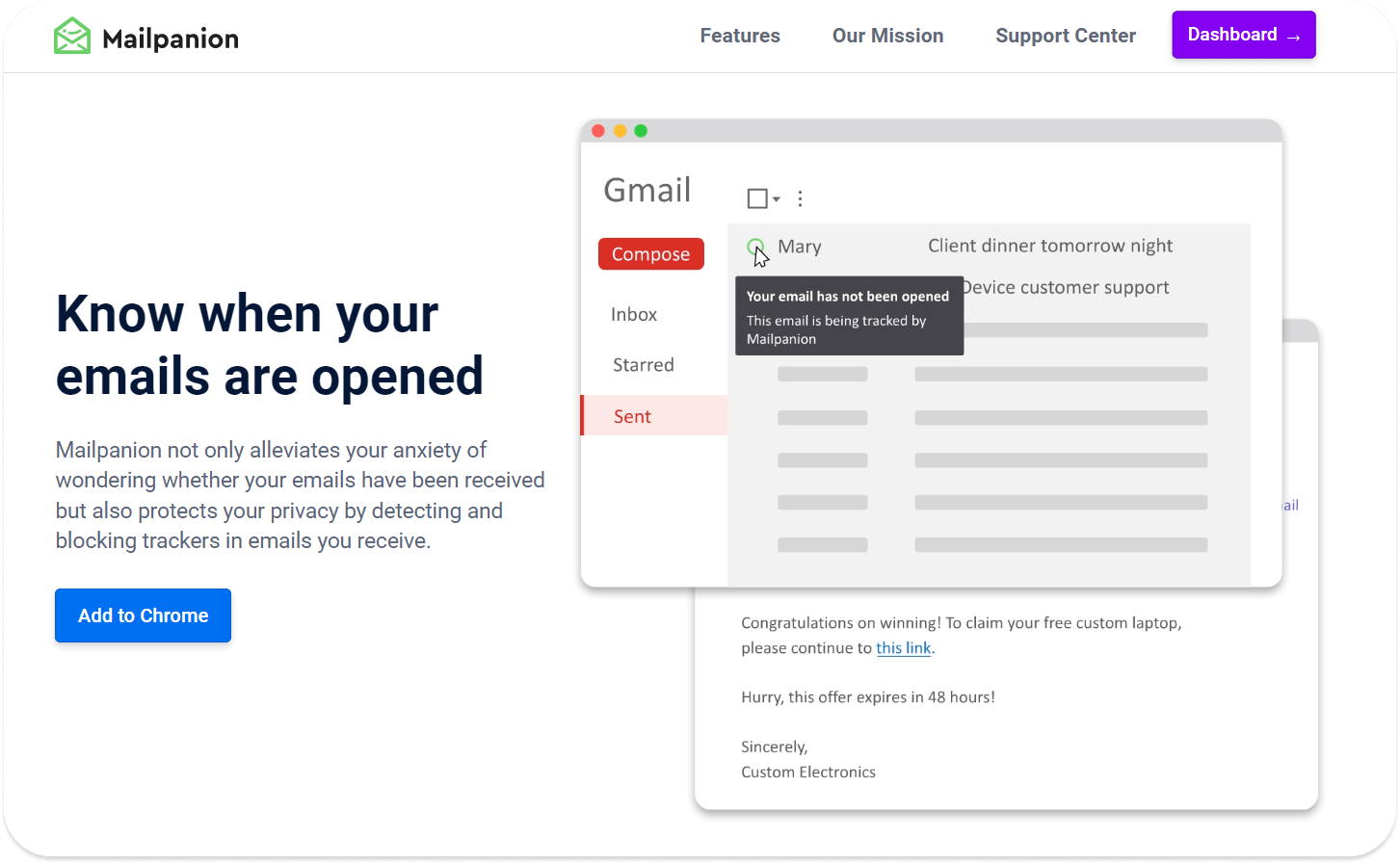 Mailalert is a lightweight and convenient free email tracker that lets you know when your emails are opened and links clicked. By adding the Chrome extension, you can send tracked emails that don't have any branding, which is a big plus with a free tool.
KEY FEATURES
Forever Free. Even though Mailalert is planning to launch a more advanced email analytics solution, the core tracking features will remain free forever.


No Limits. You can send and track as many emails as you want, no strings attached.


Easy Install. Just add the Chrome extension, and you're good to go!
HunterMailTracker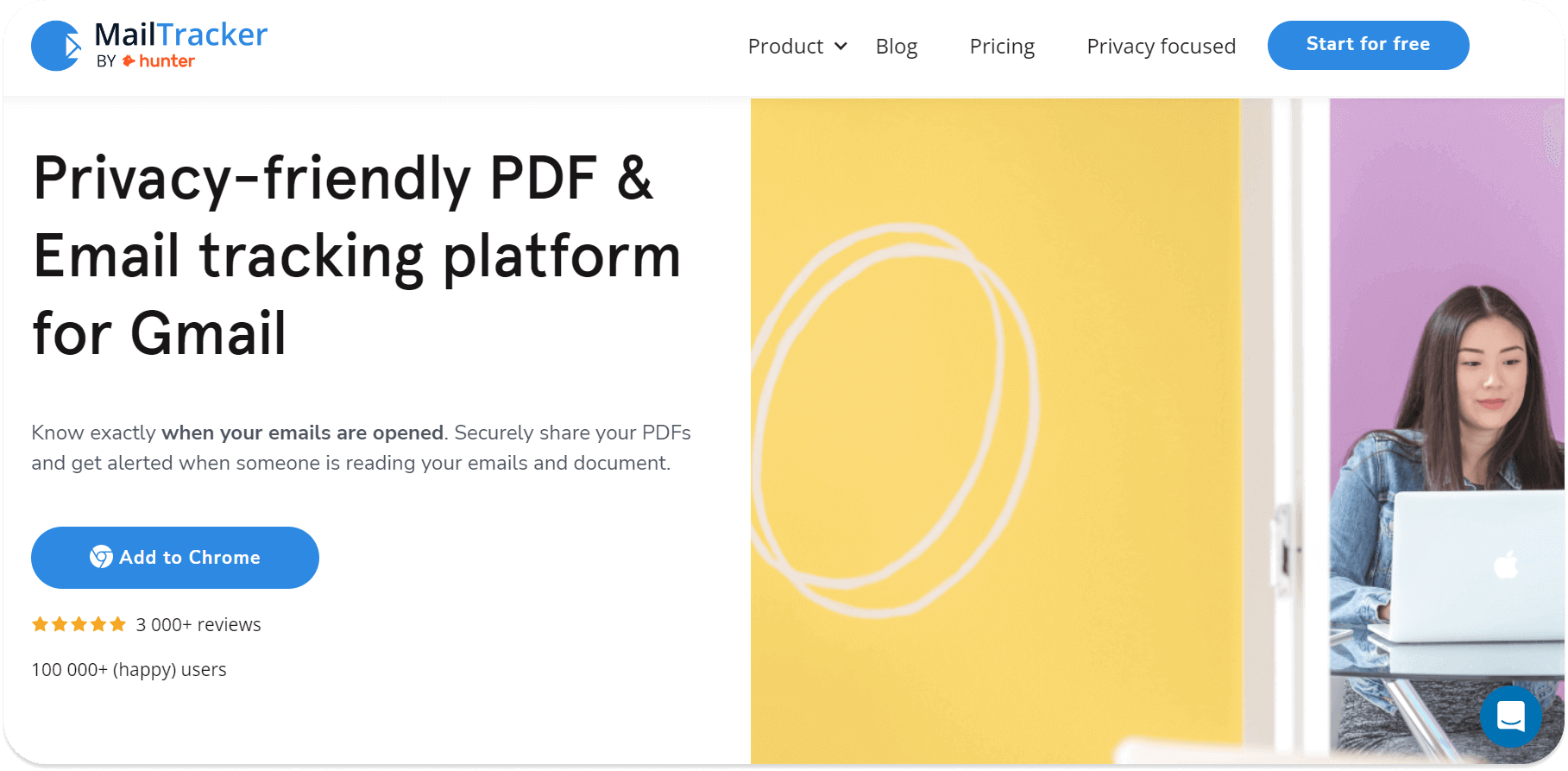 Hunter is an established company that specializes in helping users find professional email addresses in seconds. But it also has a free Chrome that can let you know when your email was opened.
KEY FEATURES
PDF Open Tracking. HunterMailTracker can track when someone opens a PDF attachment. But it's only applicable for one email per month on the free plan.


Unlimited Emails. You can track opens on as many emails as you want.
Openedornot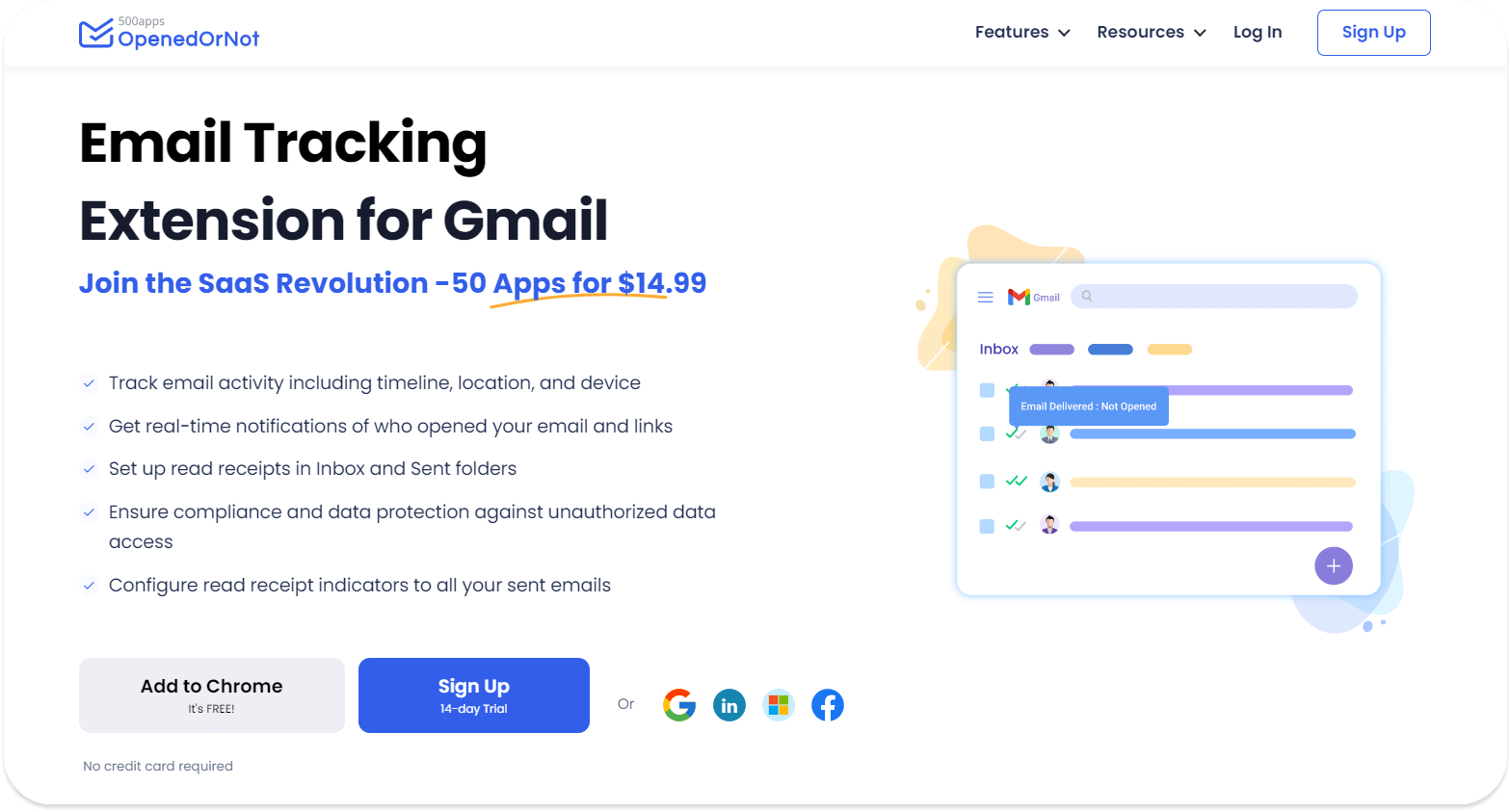 Openedornot offers a range of features that help with email management, but its free email tracking Chrome extension provides simple functionality that you can use immediately. You can get real-time notifications about every email you send, discovering when your emails are opened, where it's opened, and how many times it has been read.
KEY FEATURES
Real-Time Notifications. Get real-time updates on when your emails were opened and how many times.


Forever Free. Don't worry about having to pay for currently-free features. Opendornot email tracking will stay free forever.


Email Analytics. Get basic analytics about email open timings, locations, devices, and read counts to make informed decisions about your future email campaigns.
Conclusion
If you want to get started with tracking emails, there's an abundance of email tracking apps to choose from at all complexity levels and price points. Whether you just want to track whether an email was opened, or need a complete suite of tracking and analytics features, this list has the right option for you.

And if you want the perfect blend of email signature management and email tracking functionality in one place, you can't go wrong with MySignature. You can design beautiful-looking email signatures and showcase your best offers in every email while also continually optimizing performance based on your open-and-click performance
Ostap
Ostap is a marketing professional (PMM) with 5+ years of experience in the software industry (B2B and B2C). Having worked with email marketing products and services, Ostap has a deep understanding of various email marketing strategies and solutions.