Personal branding is about taking responsibility for how you present yourself in front of your audience. If you aim to establish yourself as an expert or become an influencer within a specific area, consider personal branding as the thing that can help you set authority as a leader. By being ready to show unique character features and having an active presence online, you can work towards developing a powerful self-branding strategy and building a successful brand that resonates with people throughout the world.
We have already published a blog post covering the best tips for personal branding. In this article, we are going to analyze more personal branding examples.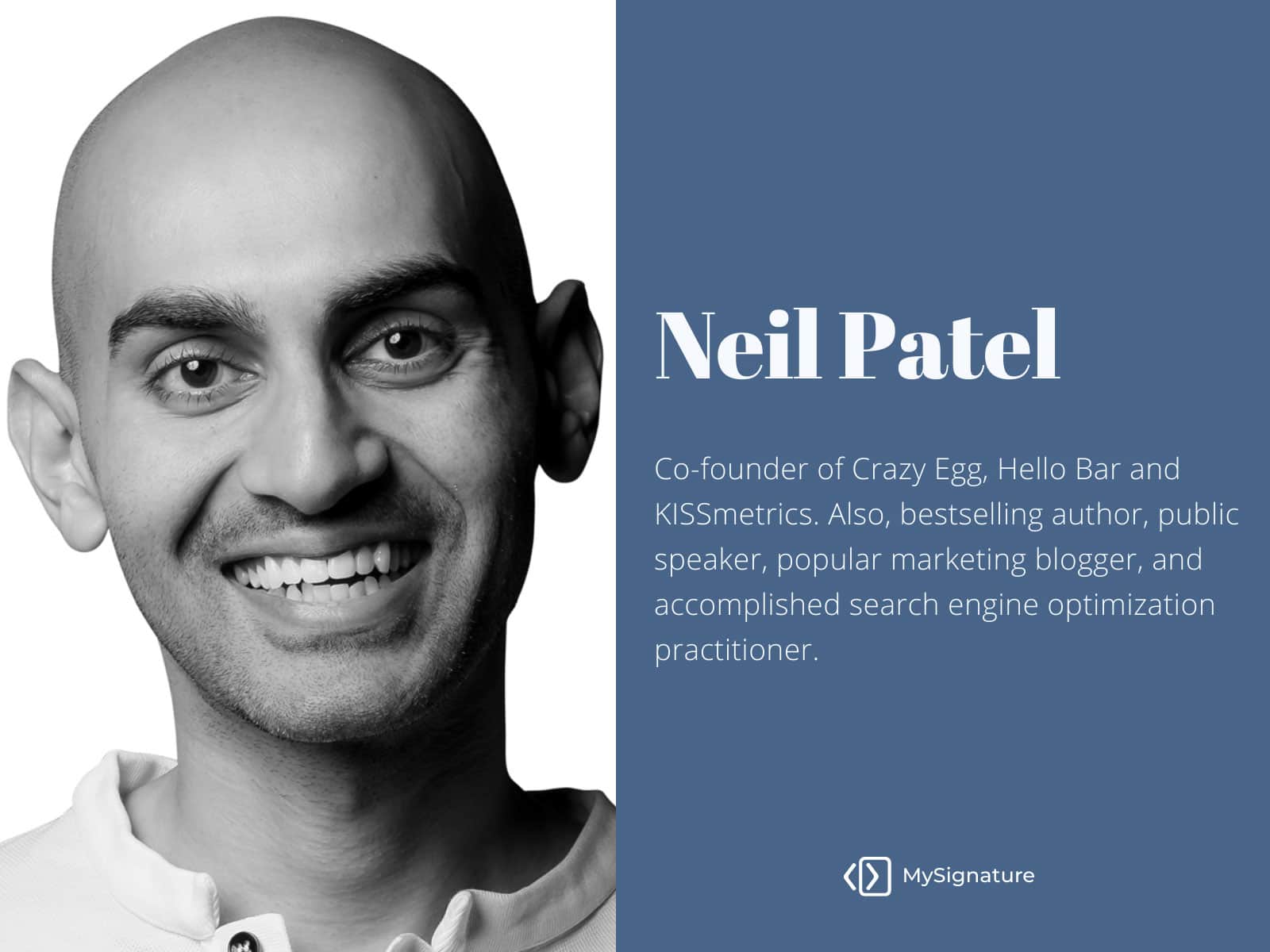 Neil is a marketing expert whose face can recognize even my friends that don't deal with marketing at work. However, they are striving to grow their personal blogs on social media. And Neil's blog is among the most popular resources that teach people how to promote and sell anything online. Even those with no marketing background can easily "absorb" information provided by Neil. His articles are thorough, well-researched, and, as a rule, supported with examples from Neil's own experience.
What to learn from Neil Patel?
✔ The ability to cooperate with other influential people. In his posts, Neil recommends backing up your content with quotes of experts in the field you are talking about. After that, you need to email them to let them know that you linked out to their content. Don't be afraid of asking them to share your post as well.
✔ Speaking at events within your space. People want to see you, remember your face, and build an emotional connection. 
✔ Caring for people genuinely. Neil always responds to comments and share tons of valuable information for free.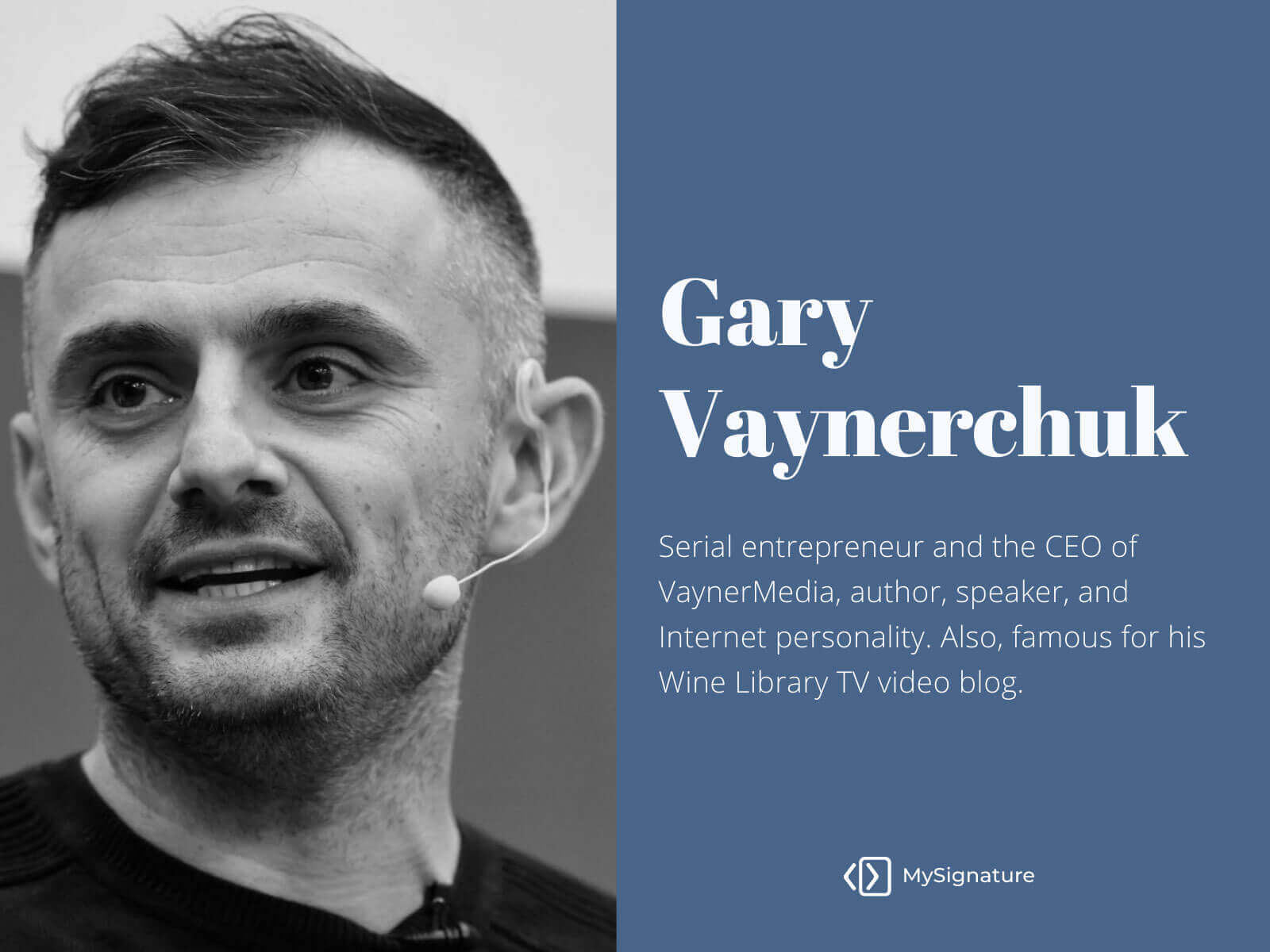 Vaynerchuk first rose to prominence as a leading wine expert, transforming a small family wine business into a $60 million a year company. In 1999, Vaynerchuk became the manager of his father's store, Shopper's Discount Liquors. And soon, he changed the shop's name to Wine Library and opened an online store. Finally, in 2006, he launched a daily webcast dedicated to wine. Gary sat in front of the camera and tasted the wine. People liked the guy for his way of talking to the audience and showing his products with passion. 
Even later, when Gary became a best-selling author and co-founder of a few well-known companies, he managed to keep his image of an easy-going and down to earth person. He talks to people the way friends talk to each other. He never tries to show that he is more successful than his audience. 
What to learn from Gary Vaynerchuk?
✔ Be who you are, not who you wish you were. 
✔ For a personal brand to work, you need to promote only the things that you feel deeply about. Otherwise, it will neither come across as authentic nor sustain the test of time and interest.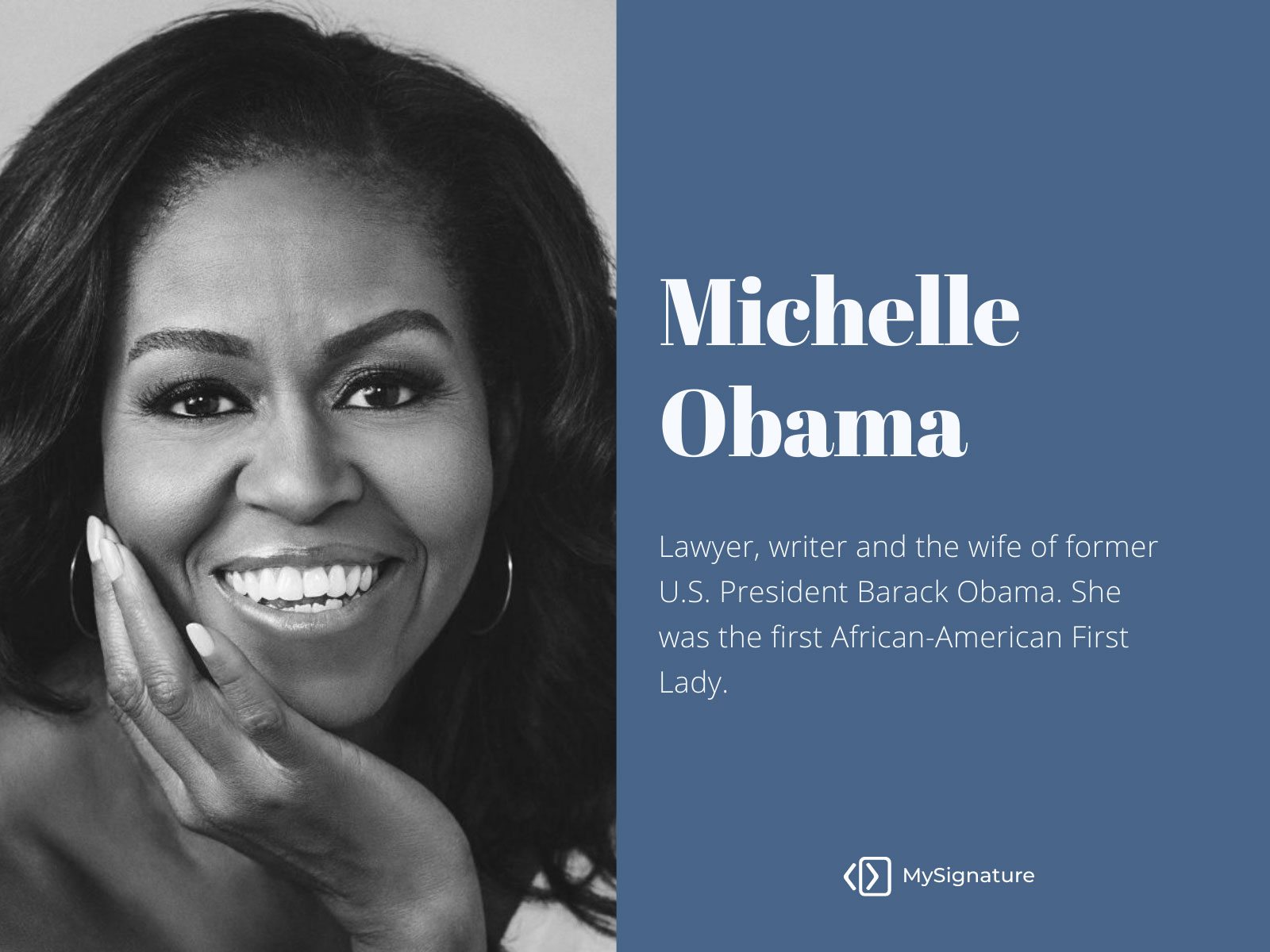 The President of the US holds one of the most influential offices in the world. So, you can imagine how important the position of First Lady of the United States is. Former First Lady Michelle Obama understood this and worked hard to maintain her personal brand. Even now, when Barack Obama is no longer President, she still has a great reputation and influence.
It is worth mentioning that Michelle was an influencer long before her husband became President. 
During her life, she has worked as a lawyer and vice president of a hospital. In 1993 she quit her job to help establish a national community service program called Community Allies Chicago. This non-profit organization helped young people build meaningful careers. She said, "There is little that can be more satisfying than watching young people realize that they have the opportunity to enrich not only their own lives but those of others as well."
People love Michelle for her authentic character that makes her relatable and accessible. Being First Lady, she still has time to meet with her girlfriends, eats french fries, and simply isn't afraid to look funny. 
What to learn from Michelle Obama?
 ✔ Base your personal brand on your real and authentic self.
✔ Market yourself as a regular person. People will connect with you on an emotional level easier. 
✔ Follow your passion. Most of Michelle's professional life is focused on the things she really cares about.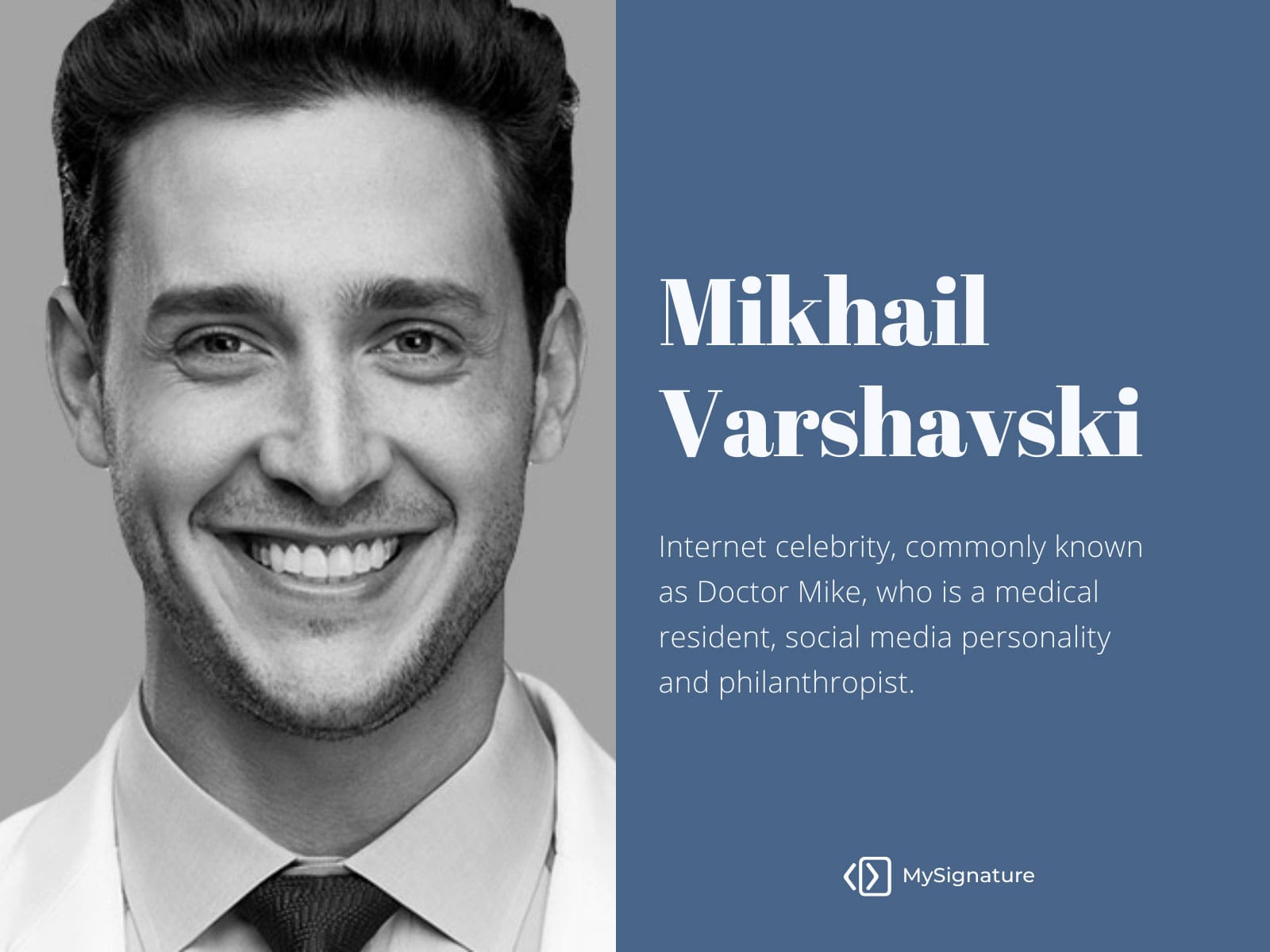 Dr. Mikhail Varshavski (known as Doctor Mike on the Internet) is a family medicine physician. However, you most likely don't recognize him from your last annual checkup. But how do you know him? Right. You probably saw him on social media. 
Doctor Mike isn't a typical doctor who is known for writing serious medical articles that are published in the world's top medical journals. Educating his audience through entertainment is what a young doctor does on social platforms. Firstly, he was frustrated because of his colleagues calling him "a hot doctor" when he wanted to be called a professional. But then Mike decided to use his image to inspire changes in the younger population on the Internet. People like him because he knows how to make learning and understanding medicine fun and interesting. The way that he speaks on television is the way that he speaks with friends, colleagues, patients, and at home. He gives the same impression of who he is all the time.
What to learn from Dr. Mikhail Varshavski?
✔ Doctor Mike's personal branding statement sounds as follows: "Detect your strengths and passions, find a mix in between, and do something no one has ever done before."
Influencers don't necessarily have to be human to achieve massive social media followings and earn money online.
TurboRoo is a dog who was born without his two front legs. He is also the first dog who got 3D-printed wheels to help him run around. TurboRoo has over 1 million followers on TikTok and thousands of followers on other social platforms. First, no one wanted to take him in, and Turbo was set to be euthanized. But now, despite the fact that the dog has only two legs, he watches TV, plays with toys, loves life, and inspires others to do the same. 
Turbo has his own organization that helps fundraise for other pets who require prosthetics and carts. He personally meets people who learn to walk again after a stroke or children that are survivors of a certain disease. The dog's owner said he had no idea adopting a little puppy no one wanted would allow him to meet so many nice people who wait for Turbo to get inspired.
What to learn from TurboRoo?
✔ Love life and never give up. 
Conclusion
So there you have it, five great personal branding examples in action. As you can see from these examples above, personal branding is more than just the right choice of a name, logo, color palette, email signature branding, etc. 
While a well-thought-out design is essential to stand out, it's even more important to be clear and consistent with your message, be authentic, and make people experiences with you memorable. 
Nick
Nick is a professional content marketer and writer at MySignature. He has been working in digital marketing for more than 5 years.