Branding is a complex, never-ending activity that begins with yourself deciding to create a brand. The very first words you say about your brand start building your identity and people's perception of it.
Personal branding is little to not-at-all different from huge corporations'. We have already described what a brand, branding strategy, and brand identity are:
And we could keep talking about strategies and general things, but it's the solutions you've probably come looking for. So, we happen to know one awesome way to promote your personal brand. Hang in there!
What does branding have to do with email?
Just like saying the first words about who you are when getting to know a new person, email is often the initial message you receive from a new person online.
Whether it is a meet-up invitation or a newsletter welcome email, it's nice to introduce yourself right away.
But wait!
Would it be wise to talk all about yourself when a recipient is expecting some value from your email? Hardly.
Your branding should be subtle and subconscious. It's about visual elements, tone of voice, all these things we've talked about in 'How to Create a Brand Strategy'. So, one could argue that making your email stand out and look different from everything else would do. But then again, do you really ever take emails like this personally?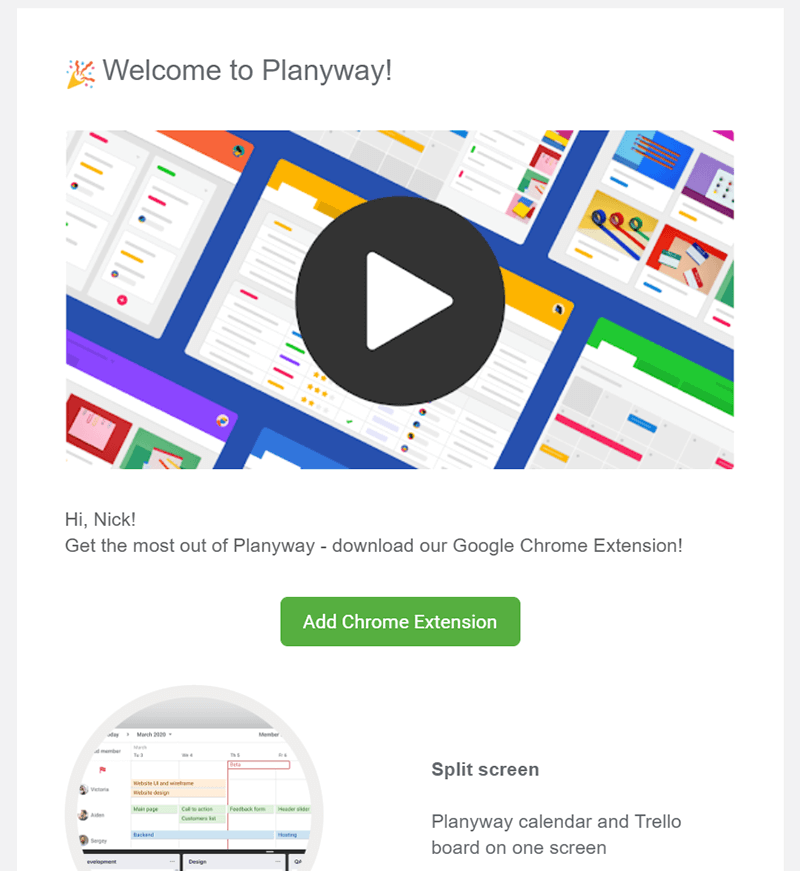 Even though it has a nice video, a branded call-to-action (or CTA) button, and compelling images, an email like this won't work for personal brand distribution.
In fact, the more simple and 'default' emails sent from your personal address look, the more trustworthy they are. It means that you have probably spent some time writing the message instead of simply copying your beautiful marketing email template.
Why email signature branding is a top-notch marketing
Keeping in mind the necessity of adding something branded to your email, consider an HTML email signature. Not the one that goes like this: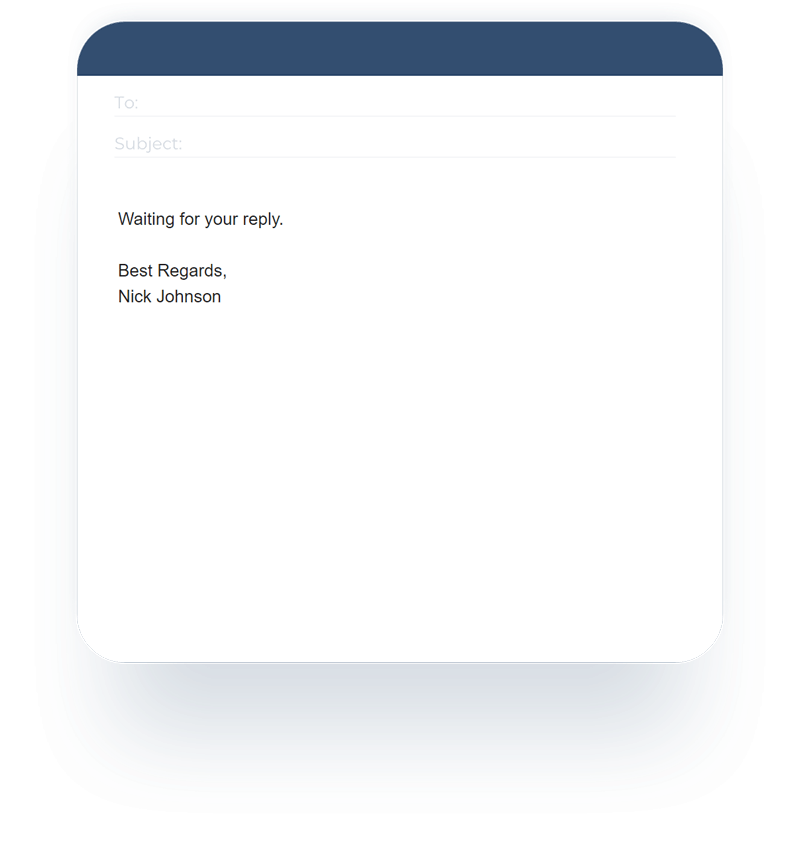 But the one that contains visuals and contact information.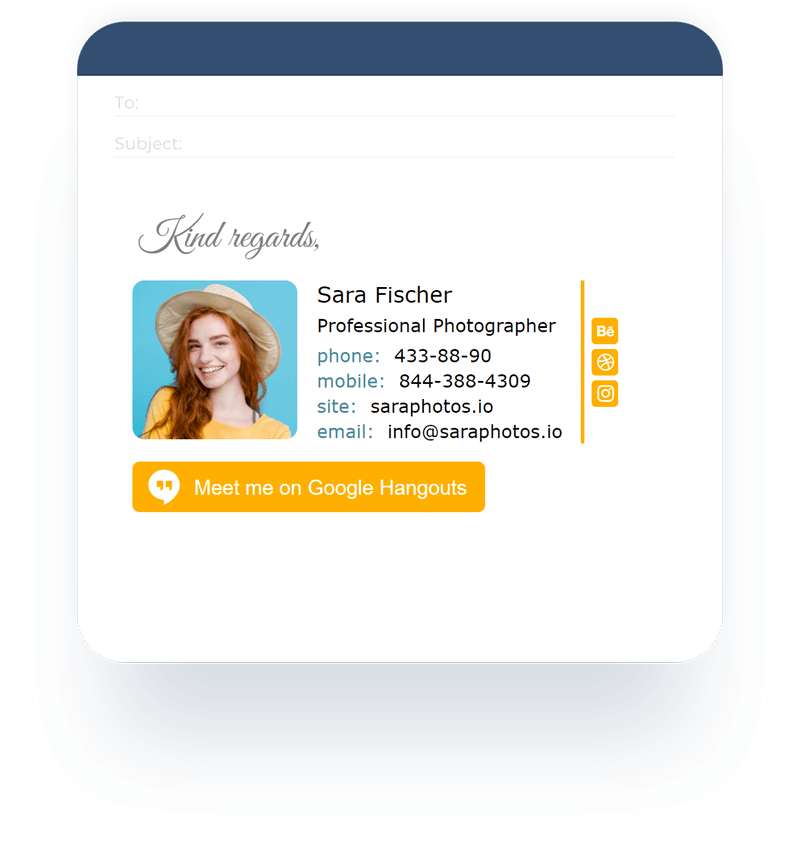 The awesome thing about any email signature is that people never perceive them as some promotional element. Subconsciously, everybody knows that a signature is always there at the end of your email. You would not change it or add to some emails specifically.
So, this gives you the opportunity to include things about your personal brand in every email without looking like you want to promote them intentionally.
Let's learn then how to make your email signature the best personal brand representation.
Email signature as your personal brand leaflet
Think of your email signature like it's the info you tell a new acquaintance about yourself. Your interlocutor sees your face, learns your name and what you do. You might exchange your social profiles with them and maybe give them your phone number or email address.
That's a short answer to what you add to an email signature. Here's more on each point.
Personal information
The general email signature formatting suggests you add your name, position and company you work for, phone number(s), and email address. And it totally makes sense.
Apart from knowing your name, the email recipient would definitely like having more than one way to reply. A phone number or another email address added to an email signature show that you trust the person and want to connect closer.
You can also include your website to the signature. Why not promote it and let people learn more about your work?
Social icons
So, what if the person wants to learn more about you? That's what social media accounts are for.
Add up to four social media icons linked to your profiles. Make sure that they're not something like an Instagram profile you update once per year. Your email signature should contain relevant and useful information only.
For example, a designer could add Dribbble and Behance profiles to their signature. A professional blogger needs YouTube and Instagram promoted. And a CEO may add LinkedIn, Google MyBusiness, and stuff like that.
Visual elements
A photo is what makes your email signature truly stand out. Look at it as if your signature was a summed-up social network profile. The photo is what identifies you, especially if we're talking about a personal brand.
Here's an example of how much more personality a photo added to Jess's signature.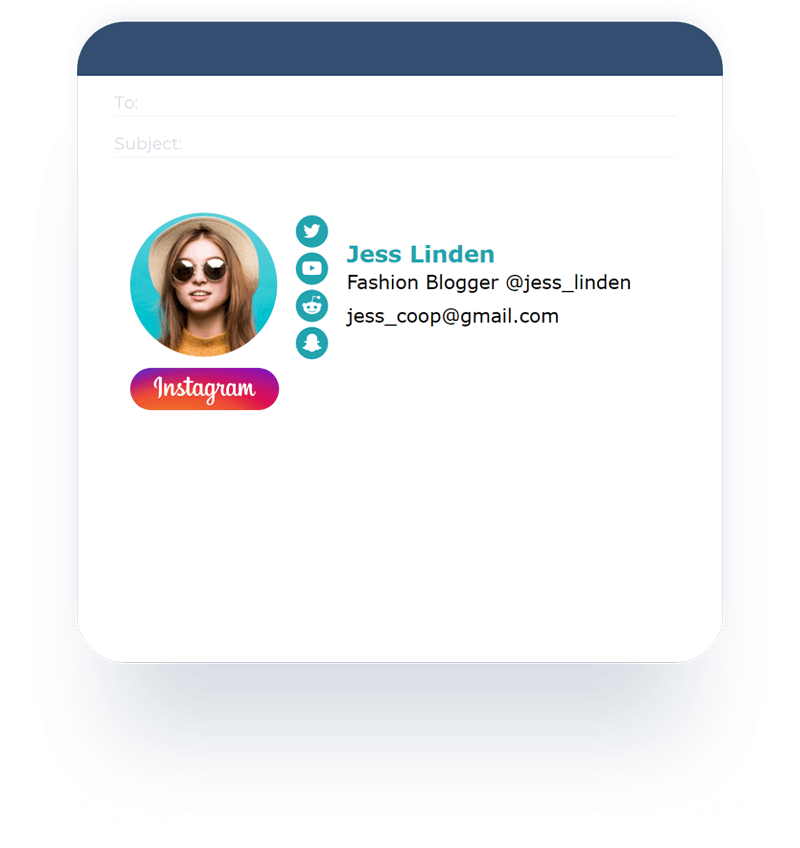 Some people might have their personal brand logo, which is OK to add to a signature, as long as it's widely recognizable.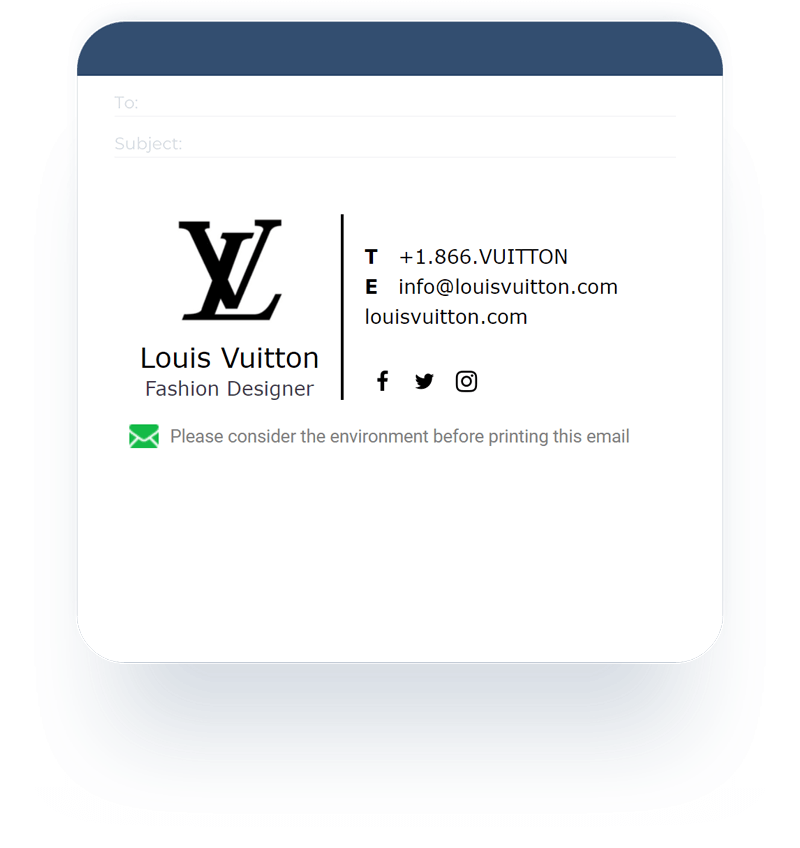 Another essential visual element of your branded email signature is its banner.
Here, for instance, Jasper emphasized how much he wants the recipient to check his portfolio.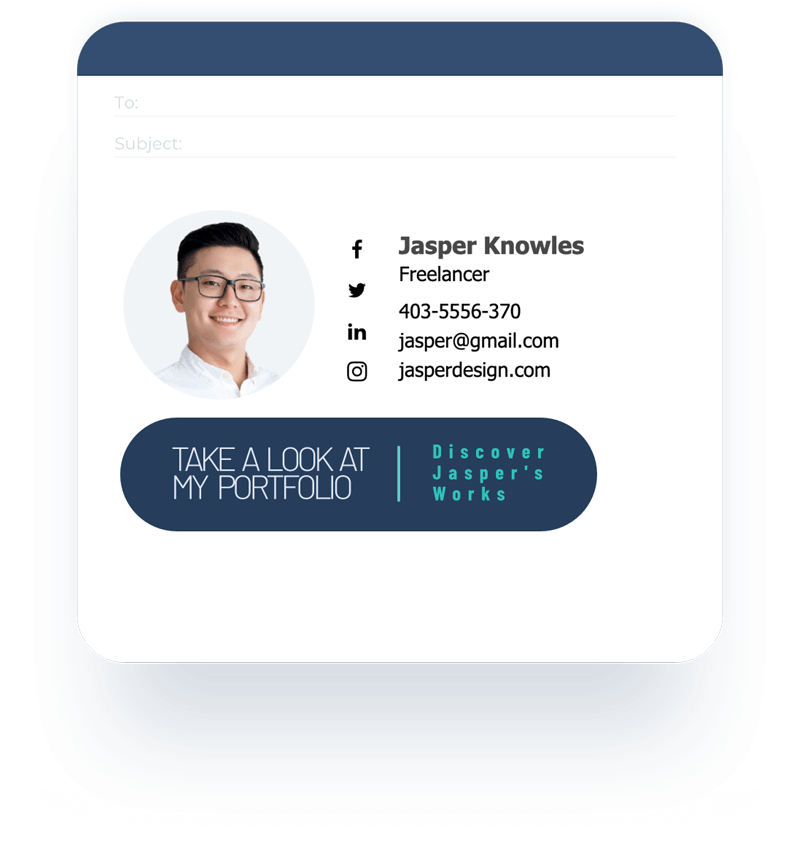 He could have added a website link but decided to use a whole banner instead, which made for a few benefits.
People will definitely notice the banner, as it stands out from the rest of the signature.
The banner contains a call-to-action in the words "Take a look", which makes people want to click it subconsciously.
Jasper used the same colors his portfolio website is designed with when creating the banner. Therefore, it helps people get used to his unique style right from the start of their cooperation.
By adding the banner to his email signature, Jasper made himself look like an outstanding professional. From now on, people will probably take him more seriously than they could without it.
And there's more...
In addition to logos and banners in your email signature, you can go further by including something special. MySignature editor has lots of different addons you can use. Let's take a closer look.
Here Judy added a sign-off to her signature. It adds up to a more friendly look and pays regards to an old way of using 'Kind regards' instead of a visual email signature.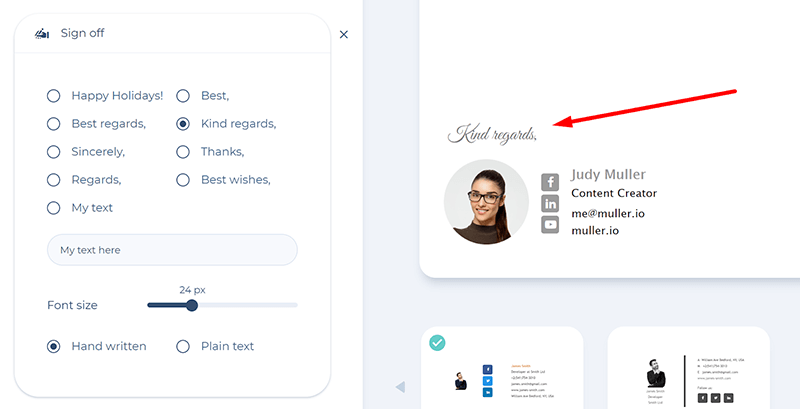 And if Judy wanted to better emphasize her social media profiles, she could add some buttons for that purpose, like these: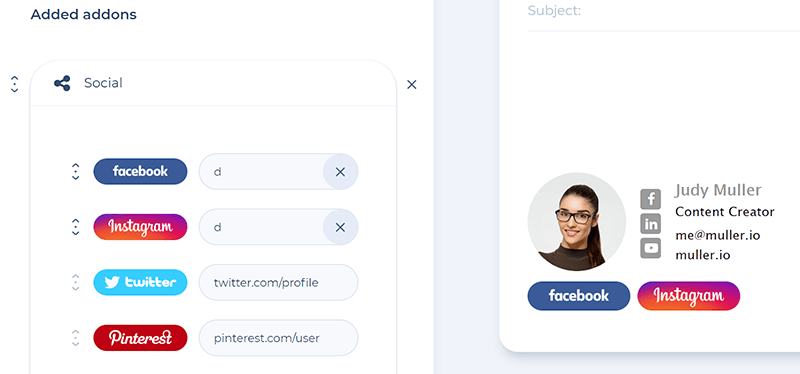 Regarding your branding, you should think carefully about which buttons to use in an email signature. If you check out the functionality, you'll see that the possibilities are endless.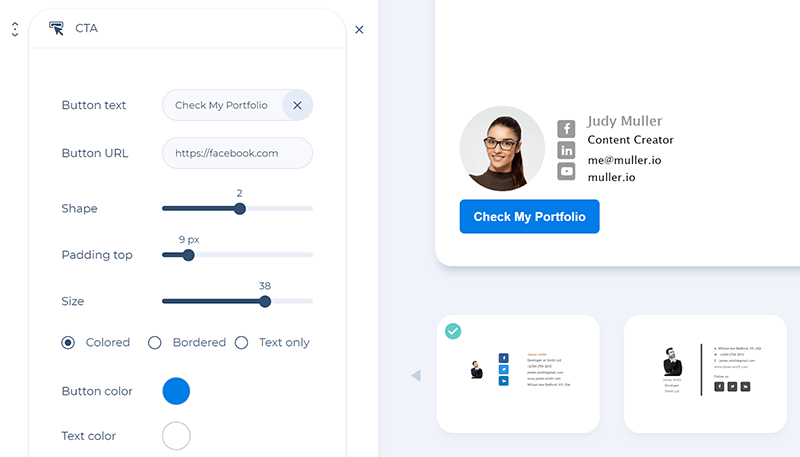 However, you should only use things if you know why you do that. Just like in interior design adding too many elements makes the whole picture look peculiar.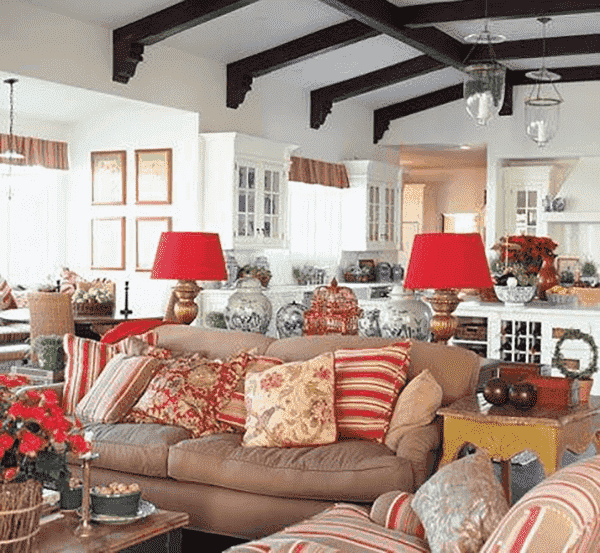 source: vigostore
The same thing applies to email signature branding, as you should add only the necessary elements. For example, being a graphic designer, add a CTA button linked to your portfolio, and social icons of Dribbble, Pinterest, and Behance. But nothing more.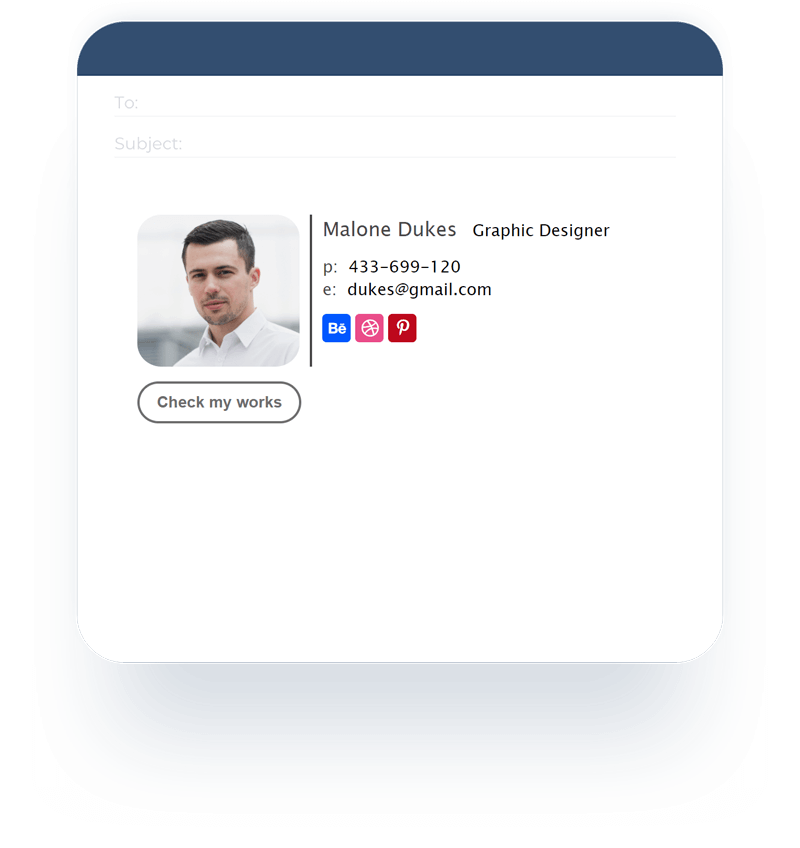 And here's what it would look like if Malone didn't pay attention to the design complexity.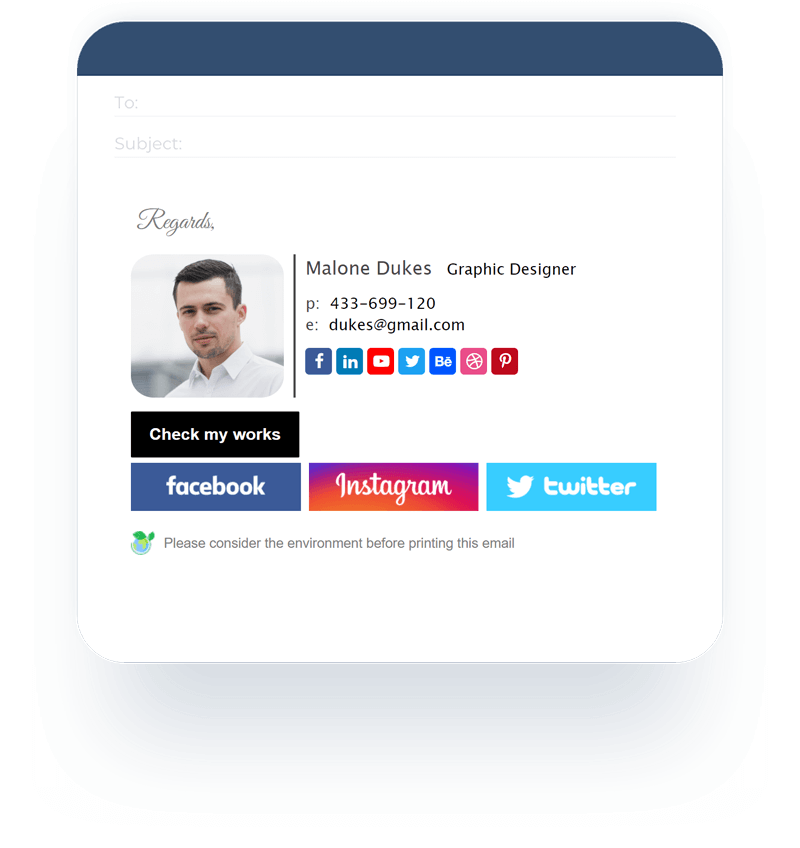 While the signature is surely hard not to notice, there are just too many things that catch a recipient's attention. As a result, they would probably just ignore it altogether. Which brings us to the most important part.
How to make your email signature represent your brand perfectly?
Create your own personal brand guidelines (or brand book) that you will follow.
Think of what information about your brand is essential. Add it to the signature.
Following your personal style, adjust the colors of your signature accordingly. You can even try and make a photo that fits your brand colors.
Add 3-4 social media icons to your email signature. Make sure they are important and lead to pages that can interest new visitors.
Include a CTA banner or button that highlights your most important content. Make sure you drive your email recipients directly where they (and you, of course) will benefit the most.
Add your email signature to all the email accounts you use. Stay consistent and professional no matter what.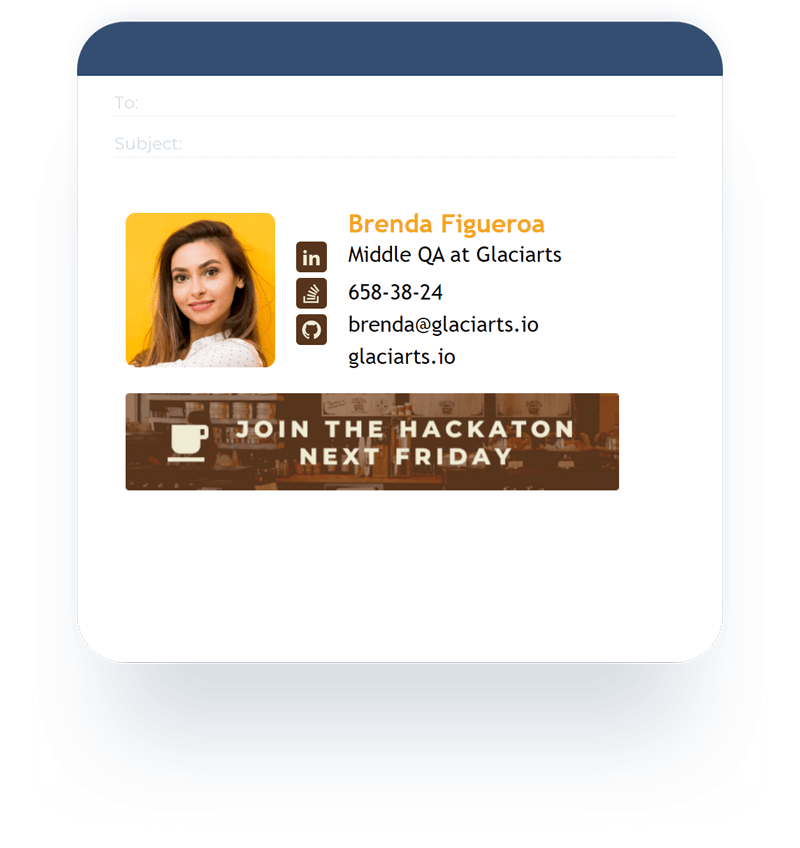 You might also like: Proper Email Signature Is The First Step to Building A Successful Business
That pretty much sums it up. Always treat your branding email signature as the first thing people will see when they get to know you. So, if you want to make a good first impression, think twice about what to say (and what not to) and how to do it.
Check out MySignature and try some things for yourself. You'll see that having an email signature has a lot of benefits.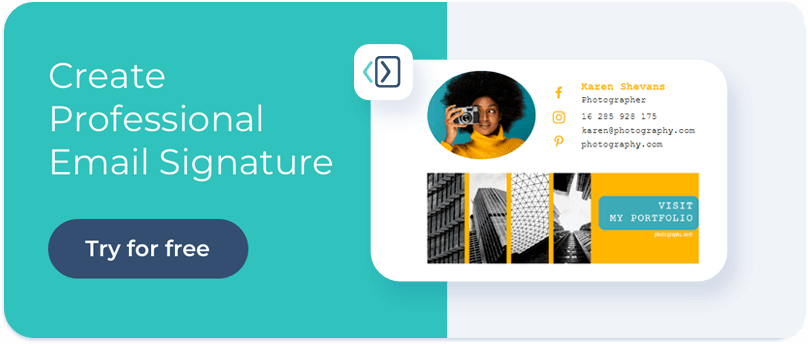 Nick
Nick is a professional content marketer and writer at MySignature. He has been working in digital marketing for more than 5 years.