The primary purpose of any email is to convey information. And that means that for an email to be effective, it needs to follow a logical structure and format that makes it easy for the reader to understand who it's from, what the topic is, and what they need to do next.
And while there's a lot of leeway when you're writing to a friend or family member, a business setting requires a professional email format that's consistent and in line with what the recipient will expect.
But how can you ensure that your professional emails maintain a structure that people can easily understand?
Let's explore what an email format is, how a professional email differs from a personal one, and how to format a professional email below.
[ Article navigation ]
Professional Email Format: Definition, Tips & Examples

What is an email format?

What is the difference between professional email and normal email?

How to format a professional email
    The core elements
    Email etiquette & tone
    Common professional email format mistakes
    Enhance your email with a professional email signature

Professional email format example

Supercharge your professional email format with MySignature

Frequently asked questions
What is an email format?
An email format is the basic personal or business email structure that is consistent in the vast majority of emails. It is a set of unspoken rules that have developed over the decades that email has been in use, which has also shaped the expectations the recipient has when they receive an email in their inbox.
Most people don't think about the format they're using when communicating through email, and that's because the basic structure has become so ingrained in their habits that it doesn't even cross their minds. But when you think about it, there are various email formats that could theoretically be used, many of which may make the email all but unreadable.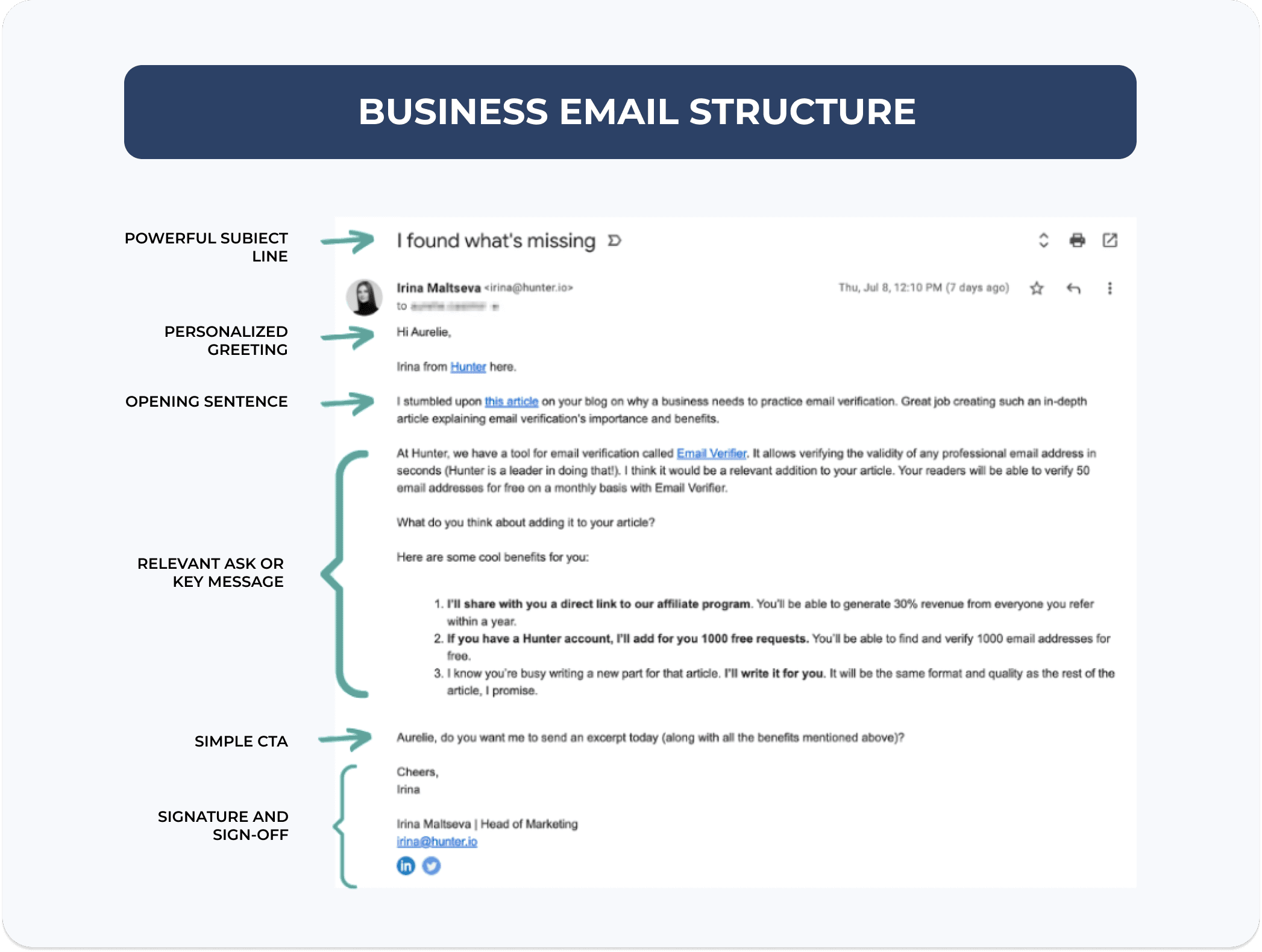 source: Hunter.io
If you were to check your inbox, most emails would likely follow a structure of an subject line, a greeting, the body of the email, a closing line, and a sign-off or an email signature.
However, when you look beyond this basic formula, there are some variations and important considerations when developing a professional email format that suits your brand, goals, and audience. And to better understand how to make these decisions, it's essential to first establish the difference between personal and professional email communication.
What is the difference between professional email and normal email?
When sending emails, there's a big difference between a casual "hey, what's up" you'd send to a friend and an email to your boss or client. Even if your message is similar, your format and tone matter if you want to be understood and taken seriously.
For one thing, a professional email format must not waste the recipient's time. You need to make your intentions clear from the first moment of having the reader's attention, and get your message across in a concise, clear, and informative way. The email must also follow specific rules for greetings, sign-offs, and subject lines.
Meanwhile, casual emails can utilize humor, colloquial language, a more liberal sentence structure or grammar, and even emojis or GIFs. At the same time, the subject lines don't have nearly as much importance because the recipient will open the email because of who the sender is and not for the subject.

source: Drip
Here's a quick list of defining qualities that differentiate between professional and casual email formats.
   Professional email format:
Starts with a clear email subject line

Is sent from a professional email address

Has a formal greeting

Uses proper grammar and clear sentence structure

Has a formal sign-off
   Casual email format:
Doesn't have hard rules for the subject line

Can be sent from quirky or personal email addresses

Can be very liberal in the use of grammar and sentence structure

Can use emojis, GIFs, and other media

Doesn't need to have a formal sign-off
Important note ?: Even though these differences are essential to understand and apply in many situations, how businesses communicate with their audiences is changing. And because of that, certain industries have become much more daring in their communications, striving to create a brand voice and customer experience similar to how friends communicate over email.
This is especially common for eCommerce brands that need to find a strong voice that gets noticed and creates an appeal for their products. But forward-thinking tech companies are also becoming less formal in their communications, although clarity, a clear message, and a sign-off that drives action remain integral parts of a successful email.
How to format a professional email
At this point, you probably have a pretty good understanding of how a professional email differs from one you'd send to a friend. However, when crafting an email consistent with professional email formatting best practices, you may still lack a clear idea of what you should focus on.
To help you master the art of writing consistent emails in a business setting, let's explore how to format a professional email below. We'll look at some of the critical considerations, best practices, examples, and mistakes you should avoid.
The core elements
The best way to consistently maintain the format of a professional email is to have a solid understanding of the main elements you need to use. As briefly mentioned before, these are the subject line, the salutation, the body of the email, and the sign-off. But what are the principles of each, and what should you include in them when figuring out how to write a formal email?
Here's an overview of what each section requires:
The subject line. A professional email's subject line is like an article's headline. And that means you need to get good at distilling the main topic and idea of your email into a few words, summarizing what the recipient can expect to see if they open in an informative way. For example, if you want to inform someone of a meeting, don't just write the word "Meeting" in your subject line; make it more specific by adding details such as the project name and the date or time.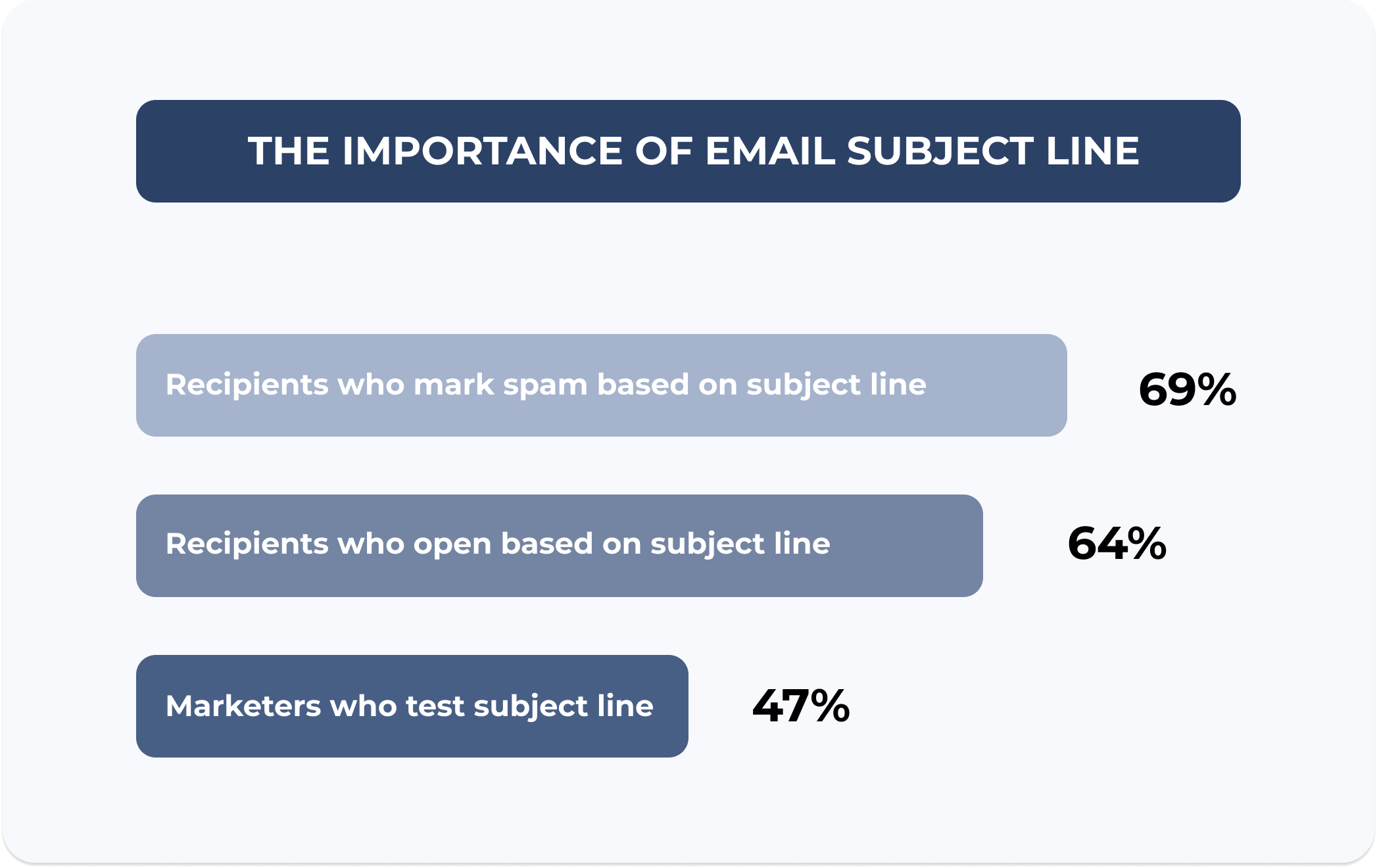 source: Wordstream
The salutation. If you don't want to put off your recipient as soon as they open your email, you need to consider the right way to address and greet them. And the right choice can depend on many factors, including whether you know the person and your relationship. For example, if you're reaching out to someone you don't know or aren't too familiar with, start the email with "Dear," followed by the appropriate title and surname. But when communicating with a colleague, you can usually use a more informal "Hi [name]."


The body. The body of the email will be the lengthiest part, and the structure will largely depend on how much information you want to convey, what you want to emphasize, and if there are questions or actions you want the recipient to take. That being said, you should strive for clarity above all else, as a business email is often skimmed. That means using short, clear sentences, splitting the text into shorter paragraphs, and even using bullet points to convey the most crucial information.



Closing remarks. The way you sign off on an email is not only important for being polite but is also crucial for conveying who you are, your job title, and how you can be reached. In more formal settings, using sign-offs like "Sincerely" or "Best Regards," followed by your name, is a safe choice. Then, it's also essential to provide relevant information such as additional contact details, your position, and even

social media icons

, all of which can be included in a professional email signature design.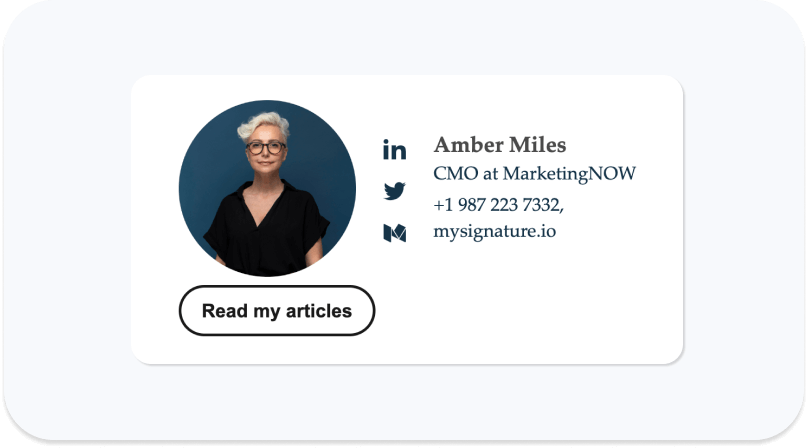 Email etiquette & tone
One of the main reasons why maintaining a professional email format can be tricky is that a one-for-all approach will not be very effective. And that's especially true when deciding what tone to use and how not to overstep email communication etiquette in a way that could upset or put off the recipient.
But while deciding on what tone to use and what to avoid is a decision you'll have to make depending on the situation, there are certain guidelines you can refer to if you want to be more confident that you're making the right choice.
In terms of tone, you need to balance being clear and succinct with making your email interesting and engaging. And you also need to consider whether you can allow any personality to show in the communication. 
When emailing your boss, a prospect, or a client you don't have a long-term relationship with, it's always better to err on the side of caution and use a tone that's formal and without colloquialisms. With someone you know well, you can allow yourself to be more conversational, even if you should still maintain your professionalism.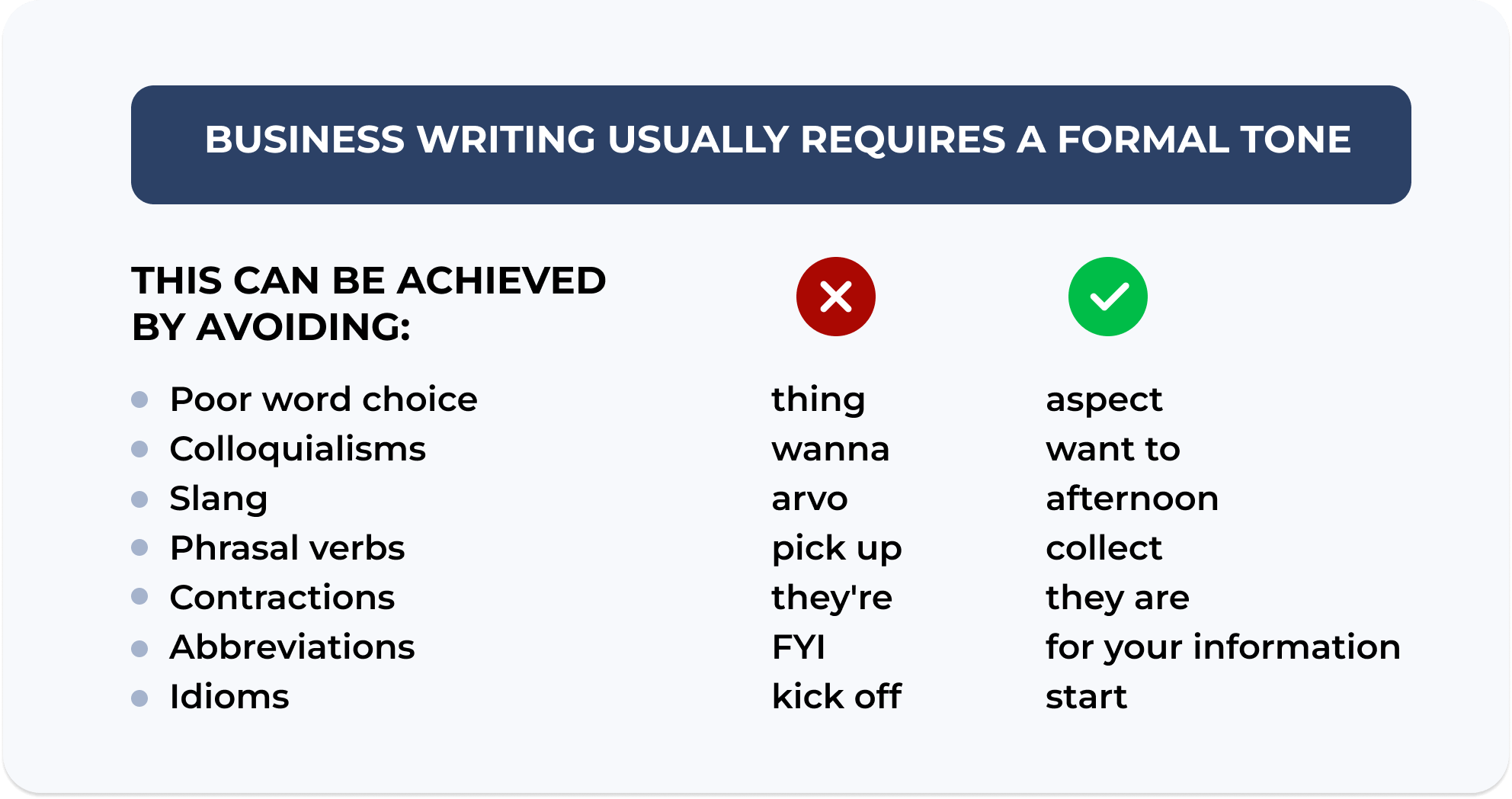 source: YouTube
And that's where etiquette comes into play. There are certain rules that you want to follow to avoid upsetting the recipient or seeming unprofessional. For one thing, it's very important to maintain good grammar and double-check to ensure you didn't make any mistakes before hitting send. In emails to people you don't know very well, sending emojis or GIFs will also not be appropriate.
Common professional email format mistakes
Even people who send thousands of professional emails make occasional mistakes in email formatting and style. But the good news is that when you're aware of the most common blunders, it becomes much easier to stay on top of them and maintain a consistent format for professional email, improving how your emails are received and how well they work.
Here are some of the most common mistakes you should avoid:email address
Using a vague subject line. When people start writing an email, they typically know what they want to communicate. But that can sometimes result in them jumping straight to the body of the email, which can end up causing the subject line to be neglected. However, it's important to remember that for the email to be read at all, it must have a subject line that clearly describes what the email is about. And that is why you should avoid using vague subject lines and keep it professional. It's also not a good idea to use emojis or caps unless you know the person well.


Starting with a vague salutation. Another common mistake people make with professional emails is using a salutation that's too vague. While you don't want to be too familiar with someone you don't know, going with something like "To Whom It May Concern" is also not great, as it feels too impersonal and almost like you could have sent that same email to anyone. Ideally, you should use the recipient's name to show that the email is meant for them. If that's not possible, something like a more familiar "Greetings" might work better.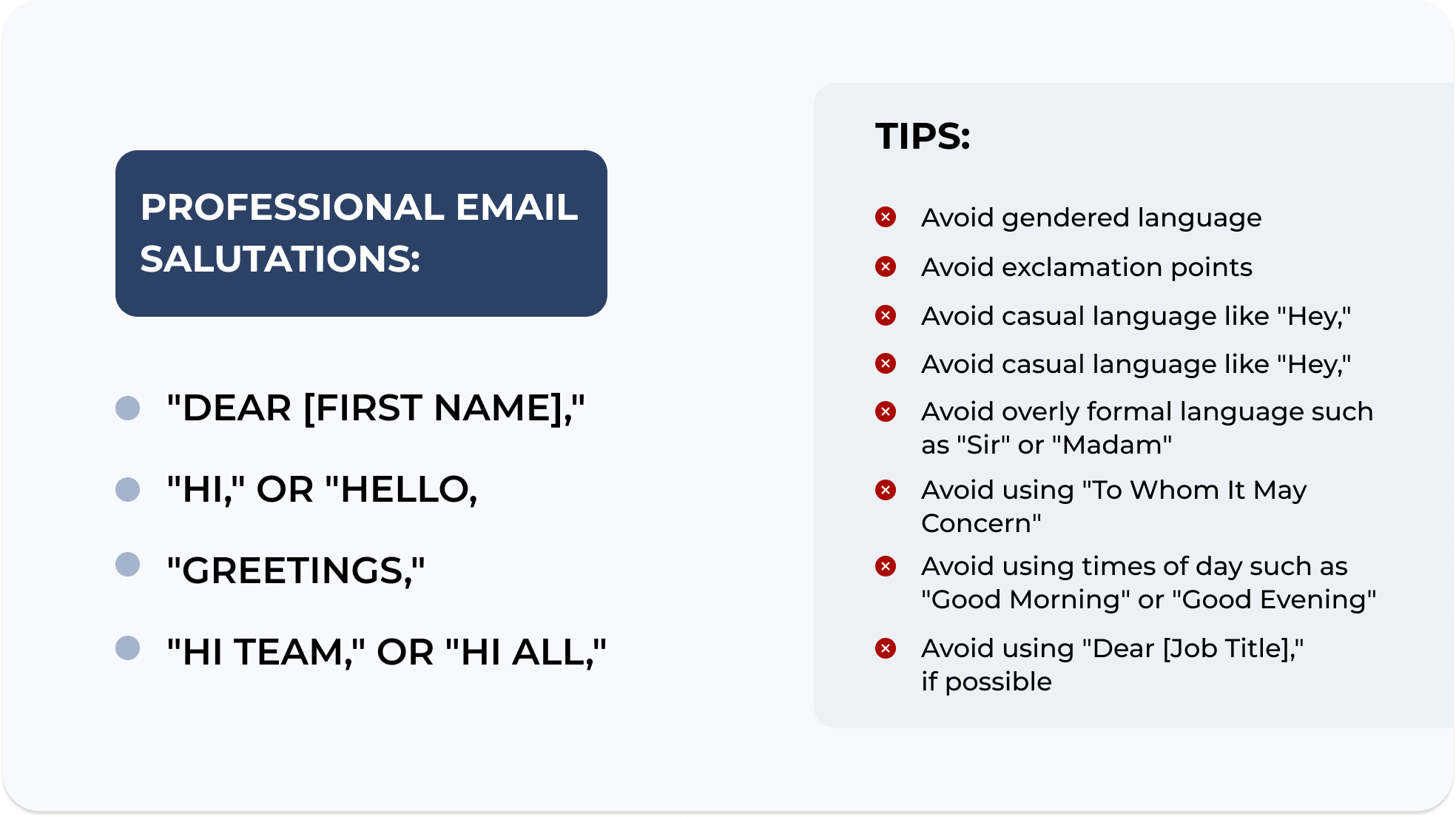 source: Indeed
Not proofreading. Most people want to send an email as quickly as possible. In business, an email is usually a short distraction before returning to other work activities, so most people don't spend a lot of time crafting and editing the email to ensure it's perfect. However, the problem is that grammatical mistakes and typos can instantly diminish your credibility. It's not only unprofessional but shows that you rushed to send the email. The good news is that proofreading an email doesn't have to take more than a minute or two, especially if you use a tool like Grammarly that can quickly spot any issues.
Enhance your email with a professional email signature
A professional business email format is more than just the layout and the tone. Today, every email you send can be enhanced and serve not just as a communication but as a central part of your marketing strategy. You can have a sign-off that is professional and also provides a ton of relevant information while also serving as a way to promote your best offers, showcase your content, and build your personal or business brand.
And the good news is that email signature tools like MySignature make setting up a beautiful-looking email signature a breeze. Even if you don't have any prior experience.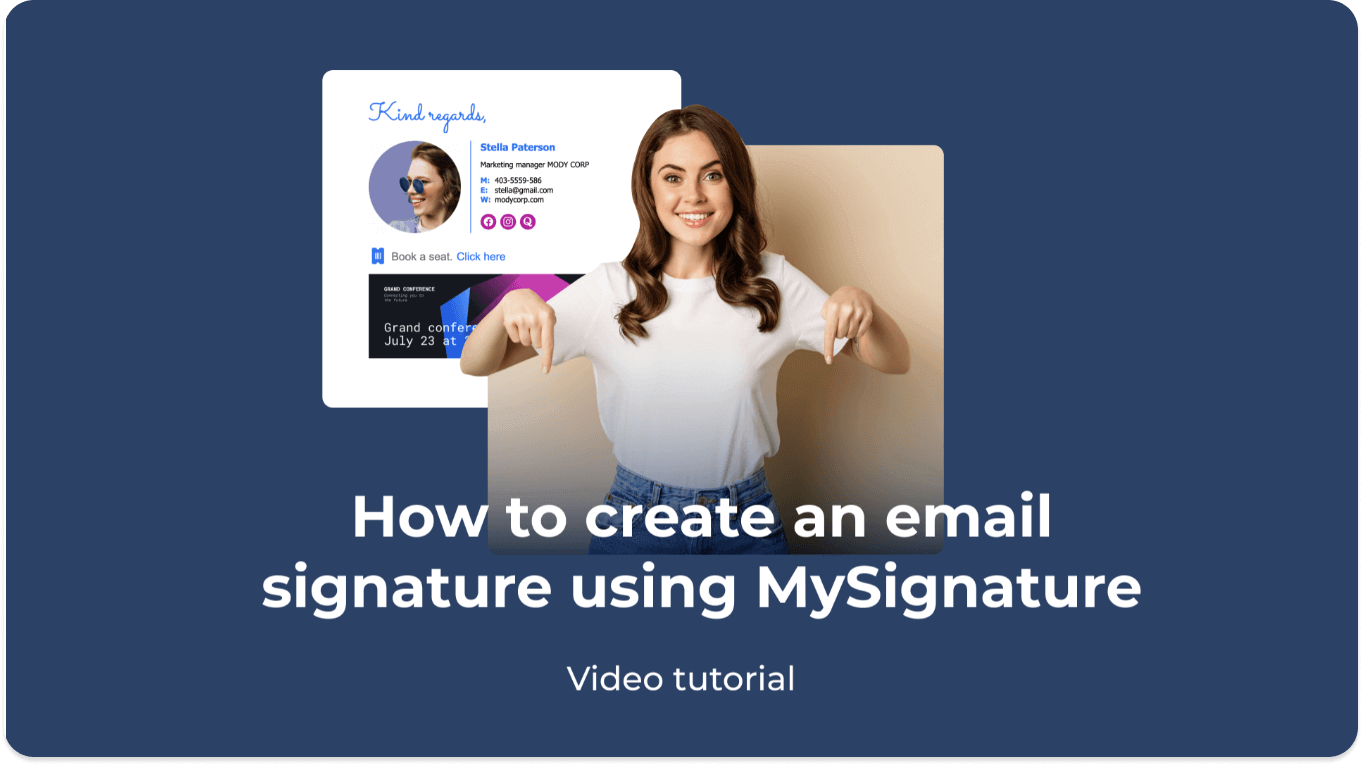 With MySignature, you can take advantage of a vast collection of professional email templates, which will help you include all the information you want to have in a way that fits well together. Some of the details you can add include your phone number, website, social media profile, a professional picture, and even a banner that links to your best offers, new content, or a page to schedule an appointment.
Having a professional signature will immediately set the tone for every email communication you send. People will get more context about who you are and be more likely to trust your message, even if they haven't heard from you before.
Professional email format example
In a good professional format email, format decisions come down to the specific goals you want to achieve and the person on the receiving end. That being said, it can be helpful to see what a well-written professional email looks like and how the rules and principles discussed above look in action.
Below is a simple professional email format template that is clear, concise, and follows a logical structure. This email example may not include every element that you may want to have, such as a professional and comprehensive email signature, but it will provide a basic framework for you to work with.

Subject:  Request for a meeting regarding [purpose of the meeting]
Dear Mr./Ms. [last name],
I hope this email finds you well. I am inquiring about scheduling an in-person meeting about [purpose of the meeting]. It would be helpful to discuss [topic #1] and [topic #2], and your expertise on the subject could help improve the project.
Can we schedule a time to meet next week on [date and time]? If that time doesn't work, please let me know when would be better for you.
I appreciate your consideration and look forward to hearing back from you.
Best regards,

As you can see, this email has a clear and specific subject line, immediately introduces the context, and informs the recipient of what they need to do next. In addition, it offers context about who you are and how you can be reached.
While it's just one email, these types of email examples are useful for better understanding what to prioritize when writing formal emails and how to convey your information in a short but informative manner.
Supercharge your professional email format with MySignature
Creating an impactful email signature is one of the best ways to instantly make every email you send more professional. Instead of a generic sign-off, you can have a beautifully-designed email signature that tells a story about who you are, provides a ton of relevant information, and becomes a strong representation of your brand.
With MySignature, you don't have to worry about designing your email signature from scratch. Whether you're an entrepreneur, a business owner, a teacher, or a lawyer, you'll find specialized templates that suit your situation and make it easy to fill out the details in minutes. Then, you can quickly paste the signature into your email client and be sure that it will display correctly on any device.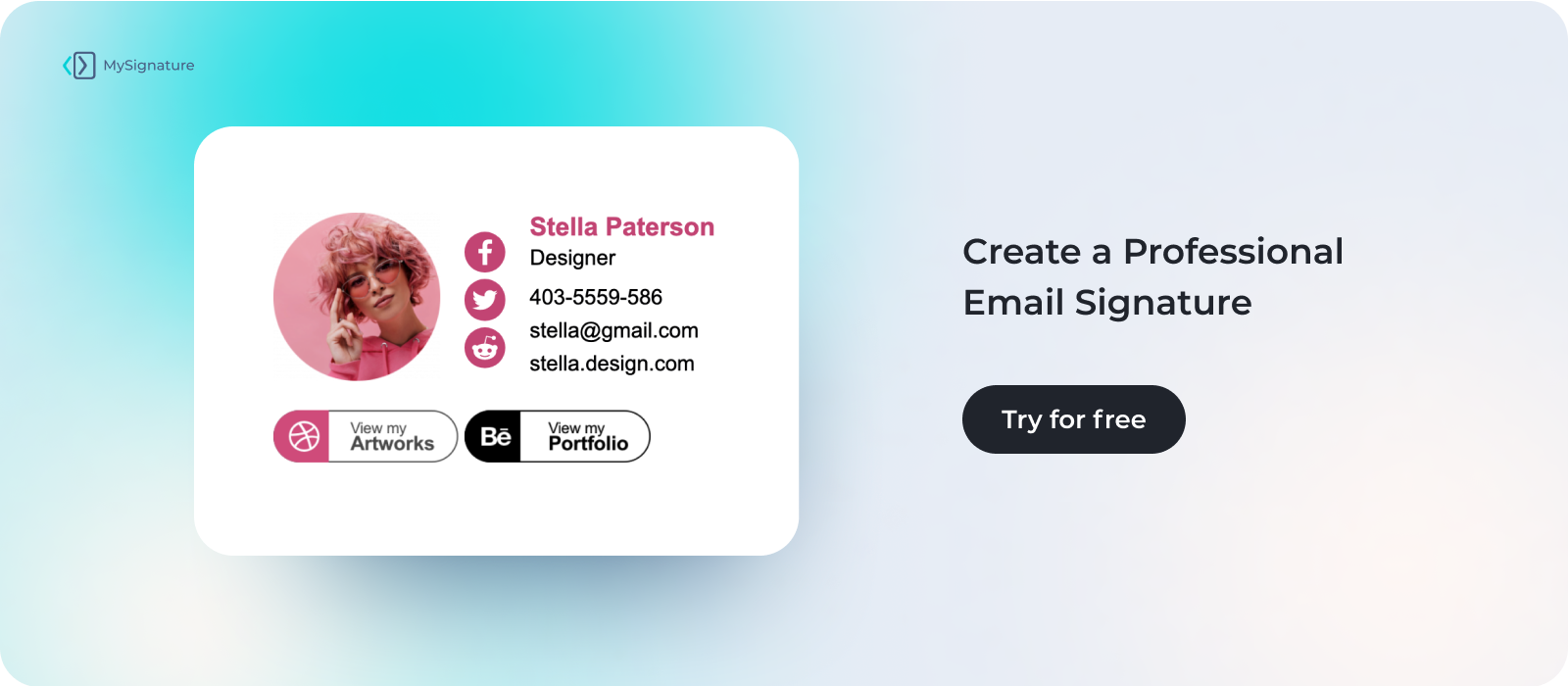 Frequently asked questions
How to write a formal email?
The most important aspect of writing a formal email is understanding the main principles, such as being clear, concise, and following sound grammar rules. It's also important to consider the context of your email, including how well you know the person you're emailing, what you want to achieve, and what steps you want them to take.
How do you start a professional email?
In most cases, it's better to begin with a formal but personal "Mr./Mrs. [Last Name]. If you're more familiar with the person you're emailing, you can also use "Hello [First Name]." However, before even thinking about the beginning of the email, you should work on a clear and specific subject line that will get the email opened and read.
How do you address a company in an email?
Ideally, you'd want to find out the name of the person on the other end and use that as an email greeting. However, if it's not possible, you should use a greeting like "Dear [Company Name]" or "Hello, [Company] Team." 
What is a good email opening?
The most important aspect of a good professional email opening is being courteous. And if you don't know the person well, it's usually better to use greetings and openings that are more respectful. A safe option for most situations is going with something like "Dear Mr./Ms. [Last Name]. Once you're on a first-name basis, you can switch to a more informal "Hello [First Name].
Ostap
Ostap is a marketing professional (PMM) with 5+ years of experience in the software industry (B2B and B2C). Having worked with email marketing products and services, Ostap has a deep understanding of various email marketing strategies and solutions.