Managing an overwhelmed email inbox can sometimes be challenging in today's fast, dynamic online age. Luckily, a strong solution is offered through the rules in Outlook, one of the most popular email clients. We will look at Outlook rules and the benefits, as well as step-by-step instructions on developing a set of rules that will streamline your inbox management while we're doing this exhaustive guide.
What are Outlook rules?
For managing incoming and outgoing email messages, you can establish a set of automated actions called Outlook Rules. They help manage a large email volume because they streamline communication and guarantee you don't miss crucial messages. You can use these rules to organize your mailbox better, sort an email list into folders, forward essential messages to specific people, and perform many other simple task requests automatically. Outlook rules are not limited to existing emails. You can create rules that apply to future messages, ensuring consistent organization and management of incoming emails.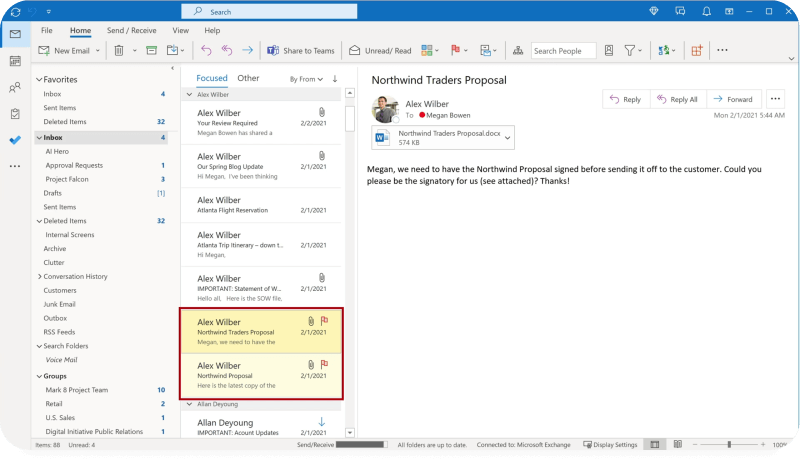 source: Support Microsoft
You can select a destination folder where emails that match your rule criteria will be automatically moved. Outlook rules can be configured to handle unread messages differently. For instance, you can set up a rule that highlights or categorizes unread messages for quick identification.
Rules can be configured to trigger a response when certain conditions are met. For example, you can set up a rule that sends an automatic email reply from a specific sender.
Some rules in Outlook can trigger quick responses, such as acknowledgments or notifications when specific conditions are met.
Benefits of using a rule in Outlook
There are many advantages of setting up rules in Outlook, which can greatly improve your experience in email management.
Inbox organization. Rules will help you filter and segment your email, thus making it easier to find essential messages while the rest of them are easily hidden. You may specify a specific mail folder as the destination of messages that meet specified conditions by means of Outlook rules. Imagine never having to deal with the mess of an overflowing mailbox again!


Saving time. Rules enable you to spend your time on more important work by automating repeated tasks, such as moving emails into specific folders. When managing your rules, the "Select Rule" option allows you to choose from a list of predefined rules or create your own custom rule. For your email, it's as if you had an assistant.
Improved Productivity. Increased productivity and reduced distraction are brought about by a clutter-free inbox. When setting up rules in Outlook, you can choose the type of rule that best suits your needs. Whether it's a basic rule for sorting emails or a more advanced rule for managing future messages, Outlook provides various rule options and special requests. If you stay laser-focused on what matters most, you won't be bombarded with irrelevant messages.


Higher efficiency. You can use rules to automatically deliver certain messages to the people or folders you select to reduce the risk of missing important messages. You don't need to search for the missing email anymore!
How to create rules in Outlook from a message
Step 1: Open the email message
Open the email message for the rule you want to create. You can select an email from a specific sender address, a message with specific keywords in the subject or body type of the rule, emails with attachments, or any other criteria you choose.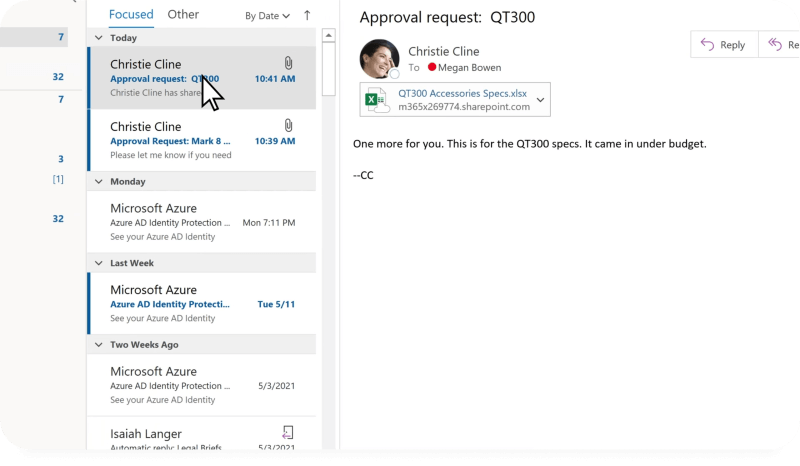 Step 2: Click on the Home tab
On Outlook's ribbon, you'll find a Home tab. You can learn about tools to manage your email messages, such as rules to mark emails and filter them.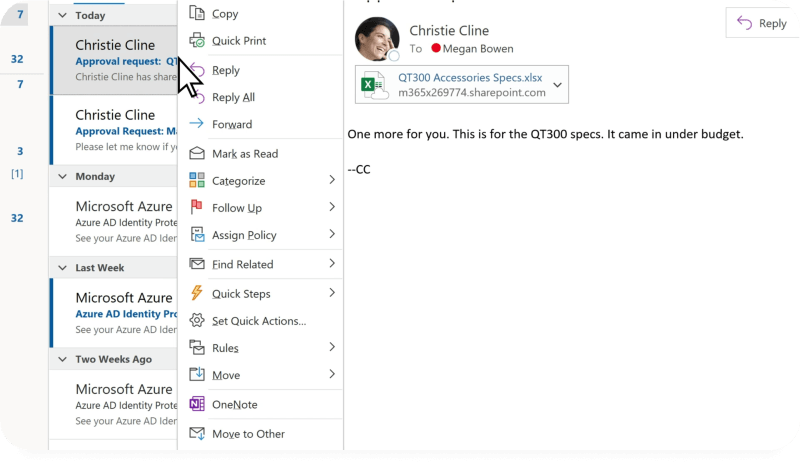 Step 3: Go to the Move group.
Click on the Rules button in the Move group. This is where the magic will happen so that you can create a rule in Outlook.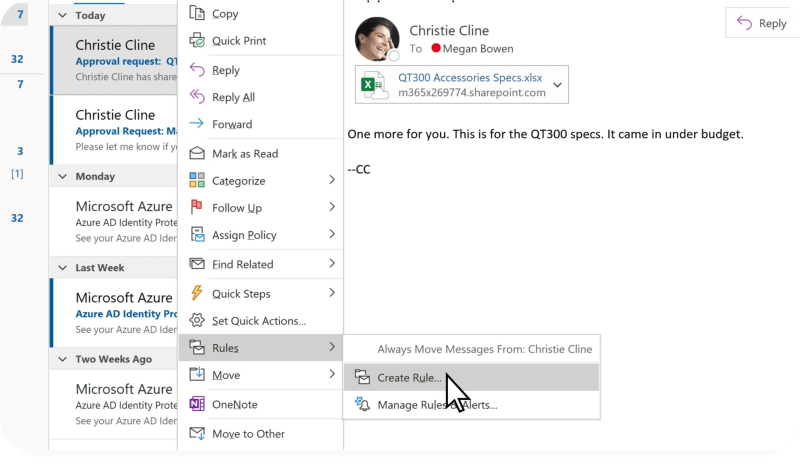 Step 4: Create a new rule.
In the dropdown menu, click Create Rule. You're going to have to write your custom rules so that you can meet your needs. You can create custom rules from scratch using a pencil icon in the rule setup. If you have specific criteria for the organization of your mail, it's useful. You can also define additional actions, such as marking emails as read or forwarding them to another email address.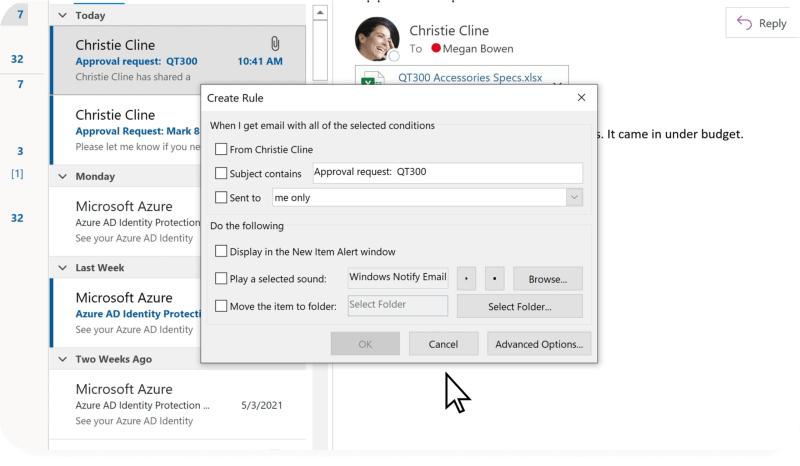 Step 5: Specify conditions and actions
Select conditions on which this rule is triggered and actions that will be followed in the Create Rule dialog box when it appears. You can activate this rule on message by sending an email from a certain sender address, and you may select to add these messages to the chosen folder rules in Outlook. Make sure you carefully select conditions best suited to your requirements, depending on the sender address, special keywords, or other criteria.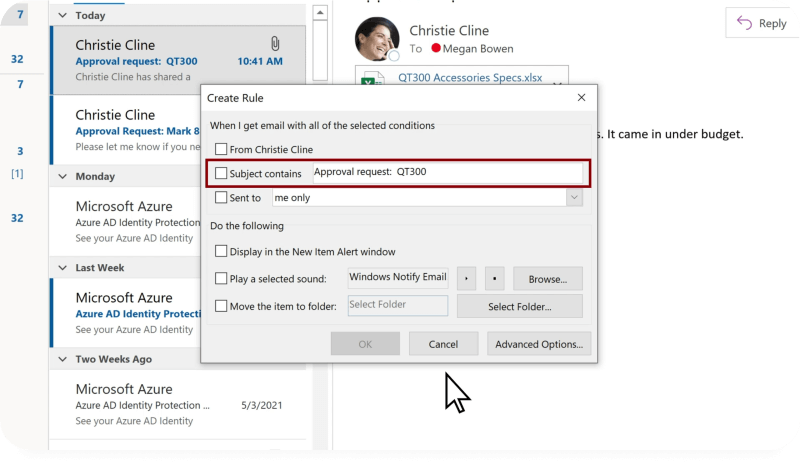 Step 6: Save your rule
Click OK to create the rule once you define your conditions and actions. Outlook will automatically apply this rule to incoming emails meeting your specified criteria. Your rules filter emails and allow you to sort incoming emails precisely and accurately.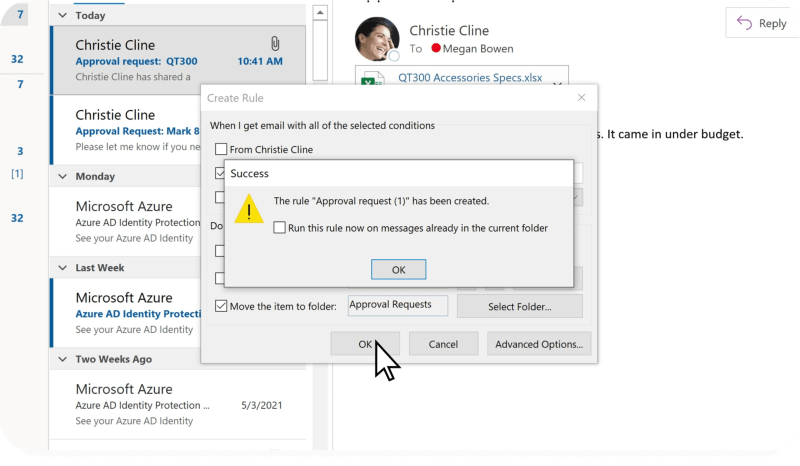 How to set up rules in Outlook from a template
Common rules are predefined rules that cover typical email management scenarios. These rules can be a starting point for creating custom rules. In some cases, you may find using predefined rule templates more convenient.
Step 1: Go to the File tab
You can click on the File tab in Outlook. This is the place to set up your email account settings and rules.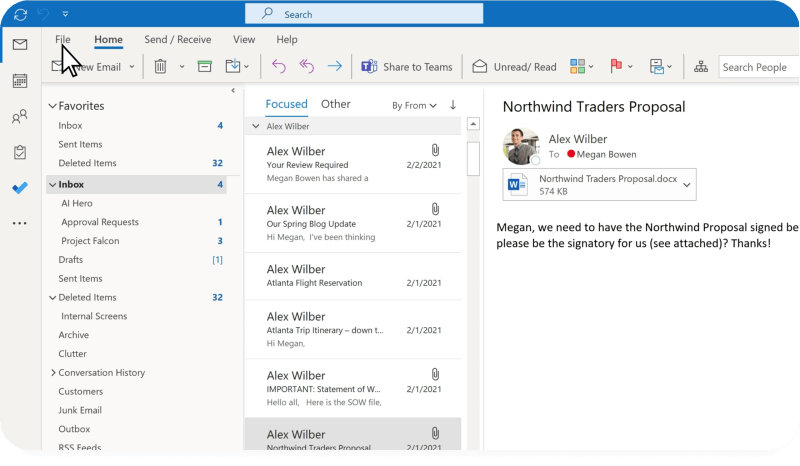 Step 2: Select Manage Rules & Alerts
This opens the Rules and Alerts dialog, which is your rule management center. You can set up rule options in this dialog box, including import and export rules.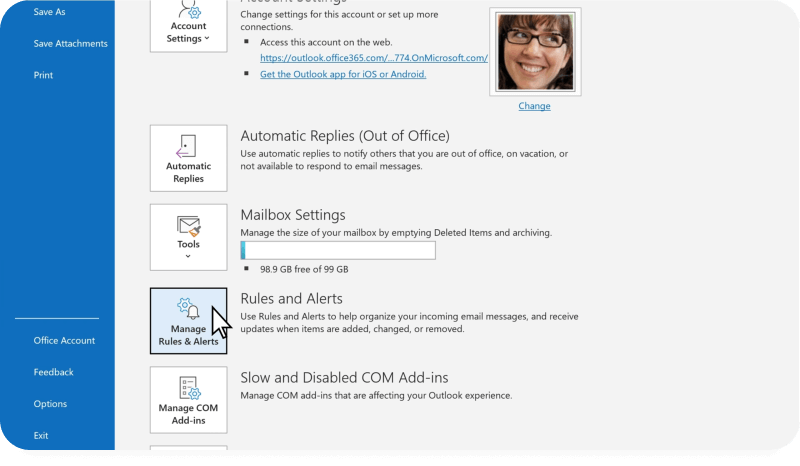 Step 3: Select Import Rules to be imported
Click on Options in the Rules and Alerts dialog box. This option allows you to import a list of rule templates as a starting point for your custom rules.
Step 4: Customize the imported rule
You can select your template or import an existing rule file. If you want to set this rule up according to your preferences, press Next after selecting the rule and following the wizard. To ensure a seamless automatic process, please check whether your email settings are compatible with the rule configuration.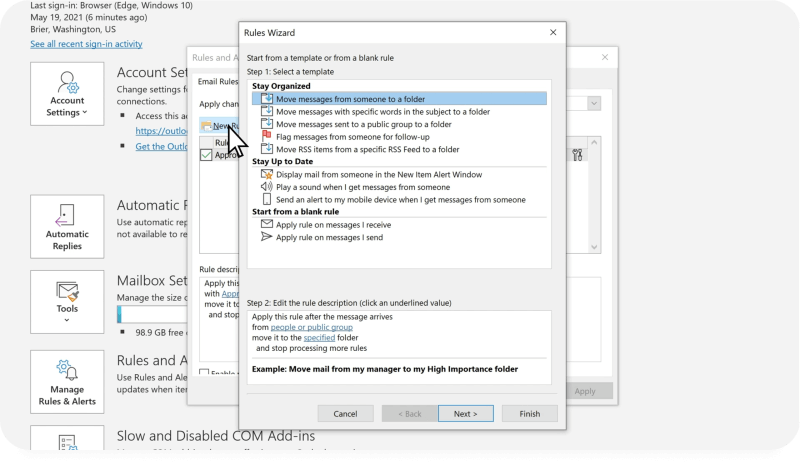 Step 5: Save the new rule
Click the Finish button to create the rule after you customize it. Outlook will now add this rule per email to your current set of rules.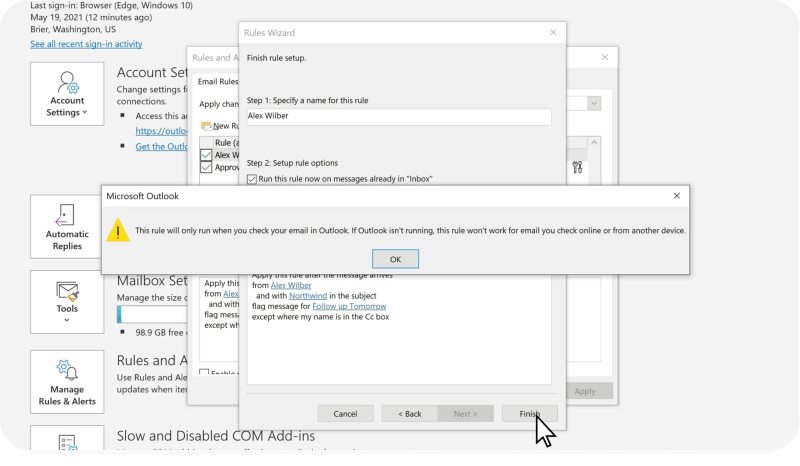 Managing your rules in Outlook
Edit rules in Outlook
To make changes to an existing rule:
Go to the File tab in Outlook.
Select Manage Rules & Alerts.
Click the Edit button in the Rules and Alerts dialog box if you want to edit a rule. This opens the possibility of modifying the rule. Use checkboxes to enable or disable rules. This flexibility allows you to turn specific rules on or off based on your current email management needs.
The advanced options for rule editing provide flexibility in fine-tuning your rule configurations. Use the table of contents when managing your rules. It provides an overview of all your rules, making it easy to select, edit, or delete them as needed.
Delete Outlook rules
If you no longer need a specific rule:
Select the rule you want to delete in the Rules and Alerts dialog box.
Click Delete. Outlook will prompt you to confirm the deletion. Once confirmed, the rule will be removed from your list of active rules (delete Outlook rules).
Keep an eye on the icon associated with each rule for quick identification and management.
Export an Outlook rule
To share a rule with others or back it up:
Select the rule you want to export in the Rules and Alerts dialog box.
Click Options and then select Export Rules. Follow the wizard to save the rule to a file (export an Outlook rule). Define specific actions on email that your rules will take on incoming emails.
Import an Outlook rule
To import a rule that you've previously exported:
In the Rules and Alerts dialog box, go to the Options tab.
Choose import rules and select the rule file that you want to import. Follow the wizard to complete the import an Outlook rule.
The import process may open an additional window for you to manage the rule import process.
How to apply rules in Outlook
When you create and modify your rules, Outlook will use them in incoming email that meets the conditions for which they are intended.
Outlook will review a new email when it arrives, checking whether any rules need to be applied. It looks at the conditions that you set out in your rules. If an incoming email matches the conditions of a rule, Outlook will execute the actions associated with that rule. For example, it may move the email to a specific folder, flag it as important, or forward it to another email address.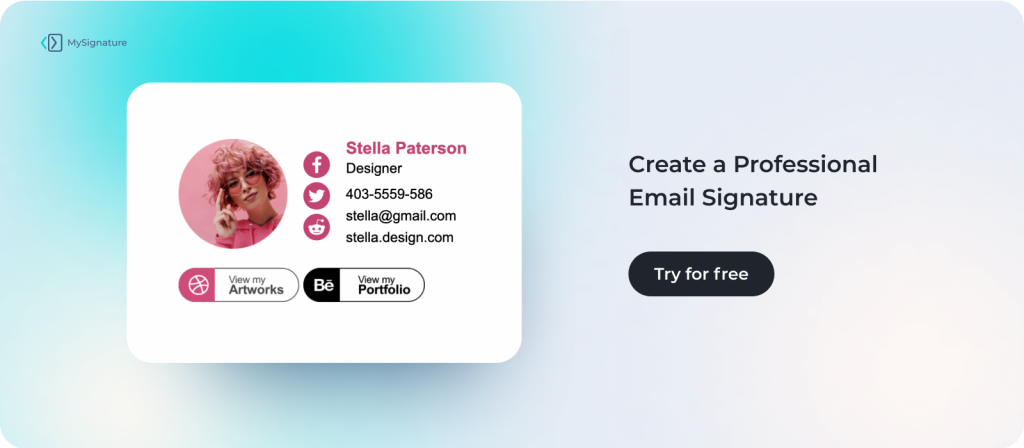 For emails that are already in your inbox, you can also manually apply the rules. Click the Rules button on the home page and choose your desired rule from a list of rules that are available. Select an email or message to which you wish to apply this rule.
Thanks to the Guide on Setting and Managing Outlook Rules, you will have complete control of your email inbox, improved organization, and saved valuable time you would otherwise spend dealing with mail management tasks. Outlook rules are an effective way of optimizing email productivity, whether the sender's name or address indicates mail for further investigation or uses a variety of actions on each message.
FAQ
Where are Outlook inbox rules stored?
Outlook rules are stored on the email server, ensuring they are applied consistently, regardless of the device (desktop version or mobile device) and client you use to access your email.
Do I need to edit my Outlook rules when I reorganize file structure?
If you reorganize your current folders or change your email account settings, reviewing and updating your Outlook rules is a good practice to ensure they remain effective.
Is there an Outlook rule for spam?
While Outlook provides built-in spam filtering, you can create rules to move suspected spam emails to a designated folder for further review.
Are Outlook rules case-sensitive?
Outlook rules are not case-sensitive, so that they will apply equally to uppercase and lowercase text.
How many specific words can be put in one rule in Outlook?
You can include multiple specific words or phrases within a single rule in Outlook, making it versatile for various filtering and organization needs.
Can I use wildcards in Outlook rules?
Yes, you can use wildcards in Outlook rules to create flexible conditions for matching emails based on patterns or partial text (wildcards in Outlook rules).
What are the differences between client-side vs. server-side rules in Outlook?
Your Outlook client executes client-side rules, while server-side rules are processed on the email server. Server-side rules are typically more reliable, as they apply even when your Outlook client is not running (differences between client-side vs. server-side rules in Outlook).
Can I change rules in Outlook after creating them?
Yes, you can modify or edit existing rules in Outlook. Simply go to "Manage Rules & Alerts," select the rule you want to change, and click "Change Rule." You can then adjust the rule criteria or actions.
Can I manage rules for multiple email accounts in Outlook?
Yes, Outlook allows you to manage rules for multiple email accounts. You can create separate rules for each account or apply rules to specific accounts based on your preferences.
What options are available under "Additional Rule Options" in Outlook?
"Additional Rule Options" in Outlook include advanced settings that allow you to refine and customize your rules further. These options can help you create more complex rules to receive only correct emails.
In conclusion, knowing how to set up a rule in Outlook can significantly boost your email productivity and organization. Mastering Outlook rules and leveraging their capabilities can transform your email management experience, maintain a well-organized inbox, and enhance your overall productivity.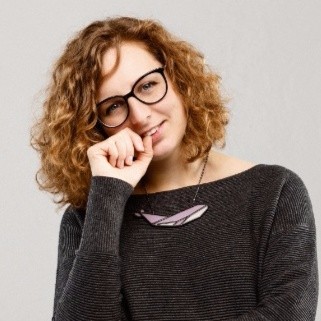 Helga Zabalkanska
Helga is a CMO at MySignature and digital marketer with 7+ years of experience. Having worked in numerous industries she has a deep understanding of various markets and a variety of tools as well as growth hacking techniques that can boost marketing activity in a particular sphere.