Email overload is a problem that impacts the vast majority of modern professionals. In fact, the average professional spends as much as 28% of their time reading and answering emails. That amounts to a staggering 2.6 hours!
The good news is that leading email providers like Outlook understand this and have developed a range of solutions for making email management more efficient. Knowing the right tools and approaches can allow you to create an effective system for getting more done in much less time.
In this comprehensive guide, let's look at some of the most impactful tips for organizing Outlook Email in 2023. From taking advantage of the powerful Rules feature to groundbreaking AI technology, Outlook has much to offer for users who want an email experience customized to their needs.
[ Article navigation ]
Best Practices for Organizing Outlook Email in 2023

11 Powerful tips for organizing your Outlook email

Enhance your Outlook features using Email Signatures

Additional tools for Outlook

How to use AI tools for Outlook

FAQ
11 Powerful tips for organizing your Outlook email
Outlook has been around for a long time. Many of its loyal users still remember using Outlook 2007, Outlook 2010, and other desktop versions available on Windows and Mac devices. Today, Outlook Mail 365 has evolved into a powerful cloud-based solution with various features like the Outlook filter, automatic rules, multiple email accounts, and more.
Let's explore all the amazing Outlook for Windows and Outlook for Mac features for organizing email better than ever before.
Free up your inbox using automatic rules
Dealing with unwanted emails is a never-ending challenge. But while you can filter some messages to the spam folder and unsubscribe from lists you don't want to be on, other emails are not as easy to get rid of. Low-priority emails from coworkers, notification messages, and threads with multiple people are just a few examples of the types of emails you may not want to see at the top of your inbox every day.
And that's why Outlook offers its Rules feature, which allows you to set rules about how emails that meet set criteria should be handled.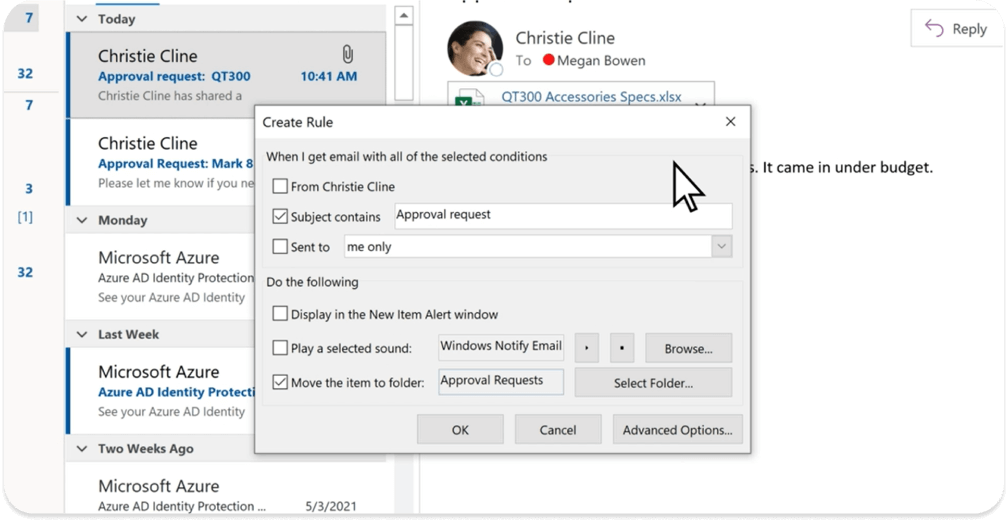 You can create an automation rule that either filters messages from a specific sender or emails that contain keywords in the subject line. Then, you can decide what happens to the emails, designating a specific folder or even deciding that you want them to be automatically deleted.
Use flags to set reminders
On the other end of the spectrum, you have emails that are extremely important and can't be missed. And with these types of emails, the flags functionality can be a helpful way to ensure you don't miss an important action you need to take.
You can mark an email with a flag to let yourself know that an email needs attention immediately or soon. These flags will not only make the email stand out in your inbox but will also make it appear throughout your Outlook Mail apps, such as in your To-Do Bar and your Tasks.
The flags function can also be used when sending emails. If you want to let the recipient know that the email is urgent and important, you can set a flag for them as well.
Organize your emails threads using the Conversation View
One of the worst aspects of email communication is that it can get messy. When you have multiple people replying in numerous email chains, finding bits of information can become, if not impossible, then at least very frustrating and time-consuming.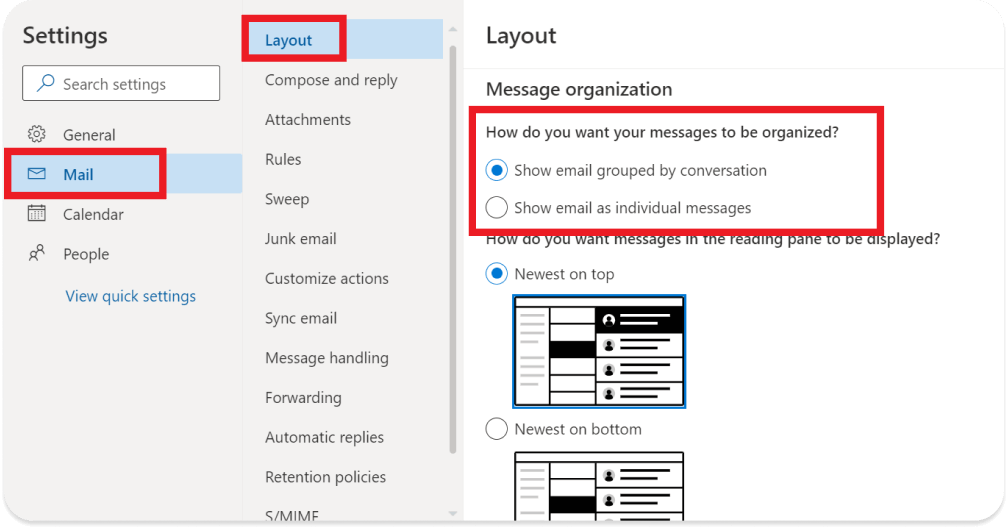 source: Franklin University
And that's where Outlook's Conversation View can be a great alternative. By going to the View tab and clicking Show as Conversations, you can get Outlook to group all the messages from the same conversations together, no matter when they were sent. You can also get more detail into individual threads, achieve clarity in your inbox, and find important information much faster.
Utilize the Focused Inbox feature
Not all emails are created equal. But unfortunately, without a way to filter your emails, you will usually have to sort through many unimportant emails before you can get to the ones that matter.
The good news is that Outlook offers a simple and easy-to-use option for quickly separating your most important emails and senders from the ones that don't require a lot of attention. Using the Focused Inbox feature, you can group all the emails into either Focused or Other, allowing you to see the most important emails when you check your inbox.
To enable the feature, select the Focused Inbox button in the View tab in your Outlook account. Outlook will start sorting your emails based on your behavior, but you can also mark individual emails or senders by right-clicking on the email and selecting "Move to Focused" or "Move to Other."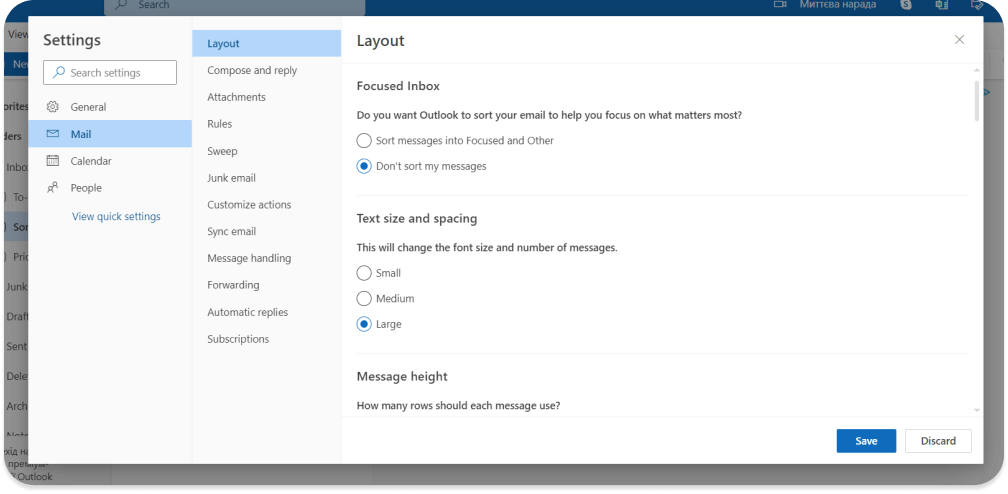 Even though Outlook may occasionally miscategorize an email, as you mark more emails, you will eventually have a neat and automatic system for ensuring that every email you receive gets grouped according to your priorities.
Learn how to create folders in Outlook 365
If you want complete control of your inbox and have a large volume of emails you receive daily, your best option might be to figure out how to group emails in Outlook using relevant folder ideas. When you use folders in Outlook, you can take your inbox organization to the next level and never have to worry about forgetting an email or sorting through unimportant messages.
Organizing Outlook email folders can eventually give you the ability to spend the most time on emails that matter, never miss an important action you need to perform, and allow you to regularly review emails that may offer opportunities in the future.
But what types of folders should you create?
Well, here are a few of the most useful options:
Priority Inbox. For emails that you need to see and respond to immediately, you can use the Priority Inbox folder. When you only have a few minutes to check your inbox, you don't want to waste time figuring out how to find a folder in Outlook, which is why this should be the default folder you see first.



Follow-Up. Emails requiring you to follow up soon can be tricky to manage. It's easy for them to get lost in your inbox and be forgotten, even if you need to get an answer or get the recipient to take action. That's why having a Follow-Up email folder makes sense, as you can add reminders that prompt you to check if any emails need your attention at regular intervals.


To-Do. Some emails may not require instant attention but still have actions you must perform before a deadline. Whether it's reviewing documents, crafting an answer, or anything else, you can create a To-Do folder where the email becomes a task you need to complete.


Someday. Finally, there are emails that may not be urgent or high-priority, but that may still be useful or interesting sometime in the future. With the Someday folder, you are giving yourself a place to neatly store these emails, allowing yourself to review them occasionally, especially when you have some time.


Discover how to create and use categories in Outlook 365
If you need a more color-based method for quickly sorting and recognizing email groups, then the Categories function might work better.
In essence, categories are color-coded labels that help you assign colors to specific emails, adding categories such as Sales, Priority, Payments, Support, and others relevant to your situation. You can also use Categories to sort different projects, which is an excellent feature for freelancers or business owners juggling multiple clients at once.
Then, every time you receive an email from a recipient you've previously marked, you will immediately see the colors appear next to the email. You can also search by category to only display related messages.
Outlook folders vs. categories: using both for best results
By now, we've covered Folders and Categories, which are helpful ways to sort your emails independently. But they can actually be combined to enhance your email experience even further, providing both an instant way to recognize every email in your inbox and a convenient sorting method that helps keep your inbox clean and uncluttered.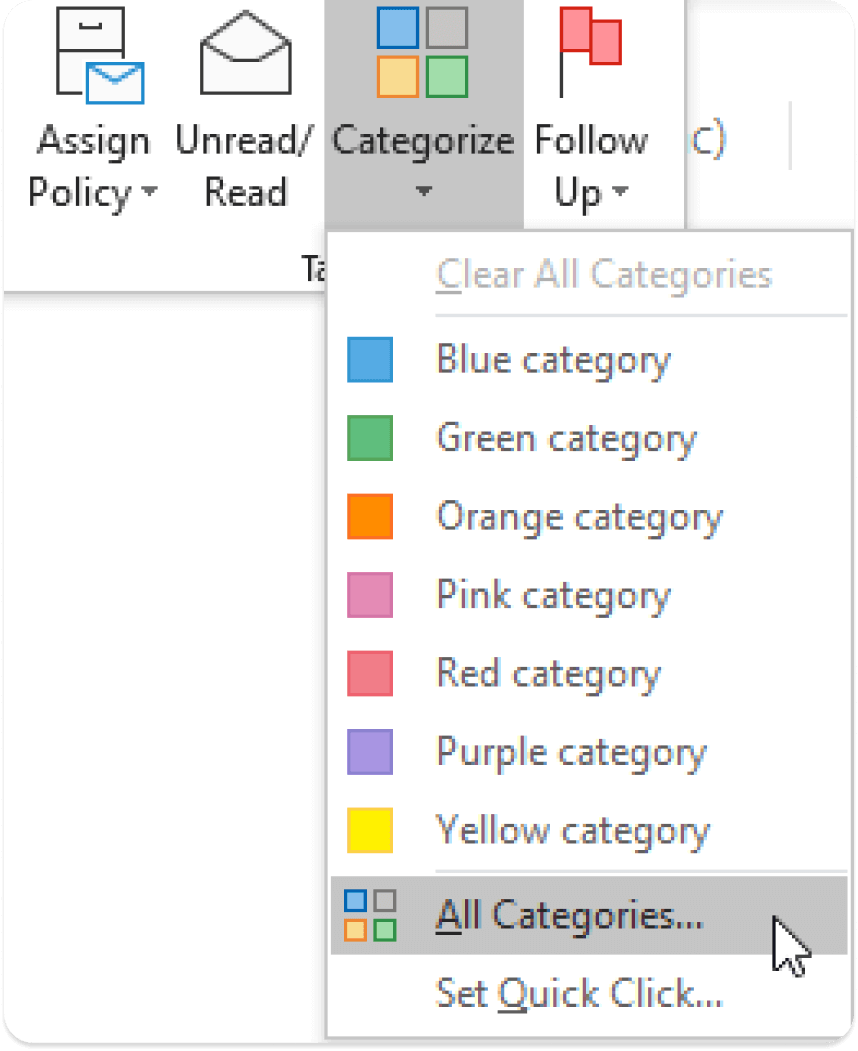 The best way to look at Folders is as your digital filing cabinet, where each email is sorted into a relevant folder, where you'll know exactly what actions you need to take, how urgent it is, and when you'll get to it. Meanwhile, the Categories function is a more visual sorting system, acting as a label for each document in a folder, which adds a further dimension that helps you navigate your inbox at a glance.
As mentioned before, you could use Categories to label different projects, which can help avoid confusion and ensure you're not mixing up clients as you reply and perform tasks. Meanwhile, the folders can help you plan your workday and prioritize your emails based on urgency and the type of action you need to take.
Stay on top of tasks with Outlook's Task List 
Outlook does a great job of providing an inbox that's not just convenient to use but also helps plan your day. As mentioned before, you can create a To-Do folder to add emails that don't require an immediate action but must be taken care of by a specific deadline.
But to ensure that you follow through and take care of the email on time, you can also use the built-in Task List function to set yourself a reminder with a specific date and time. Then, that item will be added to your Task List, where it will always be visible. What's more, you will also be prompted by a pop-up reminder when it's time to take care of the email.
To keep your Task List neat and useful, remove the emails you've already taken care of by checking the Mark Complete icon at the top of the page. 
Clean up your inbox
One of the biggest drawbacks of email is that a lot of redundant information gets repeated as quoted text. And if you work in a company that sends many emails, even a few days away from the computer can result in an inbox overflowing with email chains that can take hours to read.
To fix that, Outlook has developed a neat feature that helps you clean your inbox in just a few clicks. With the help of this feature, Outlook will automatically remove all redundant emails and text from the emails, such as quoted text that's already covered elsewhere. Then, you'll be left with only original messages, dramatically reducing the time you take to read through them.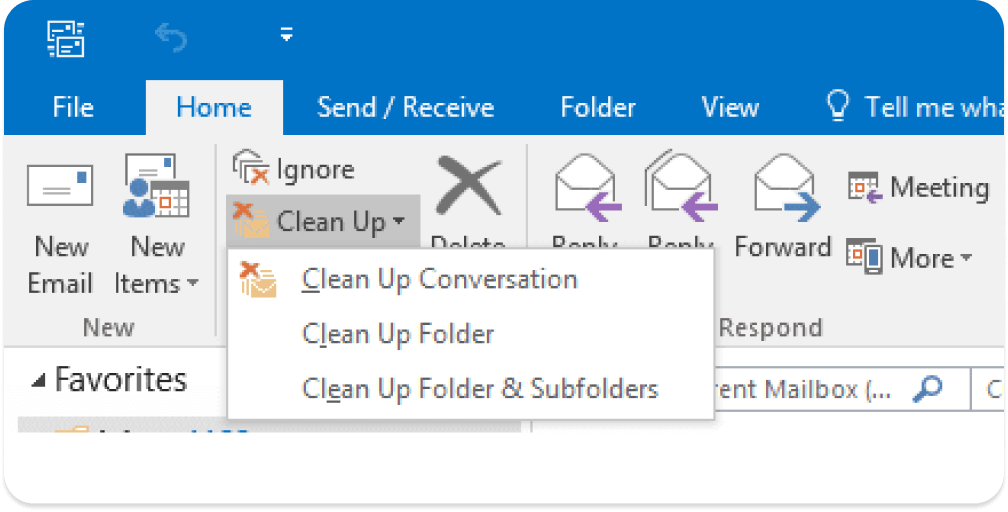 To use the feature, find the Clean Up button at the top of your Outlook navigation, and select Clean Up Folder. Then, it will prompt you to confirm that you want to delete all redundant messages in the current folder. Finally, Outlook will remove them, and you'll have an inbox that's much easier to sort through.
Organizing email inbox with multiple inboxes
Even though Outlook doesn't have a built-in unified inbox solution, there are a couple of ways to combine and view emails from multiple email accounts in one place.
One relatively simple workaround is to use Outlook's powerful search function, which allows you to use filters and commands to display precisely what you want to see. For example, if you want a quick way to see your unread messages in all your email accounts, you could select All Inboxes next to the search box, and then type in "isread:no" to display emails that have not been opened.
Another effective method is to use the Rules feature and manually create a Unified Inbox folder where all your emails from multiple accounts would be sent to. You'd just need to set specific rules for each inbox to ensure that all the emails you want to appear in the Unified Inbox folder actually end up there.
Organizing email with Outlook Rules on multiple devices
The Rules feature is an indispensable tool for creating a personalized email experience. But using it can get a bit more complicated when trying to get the rules you create to apply and appear on all your devices.
Namely, some users report that the rules they have created on a desktop app don't always transfer to the mobile app. To avoid these types of situations, it's important to understand how to set up rules in a way that works consistently on mobile, web-based, and desktop Outlook 365 apps.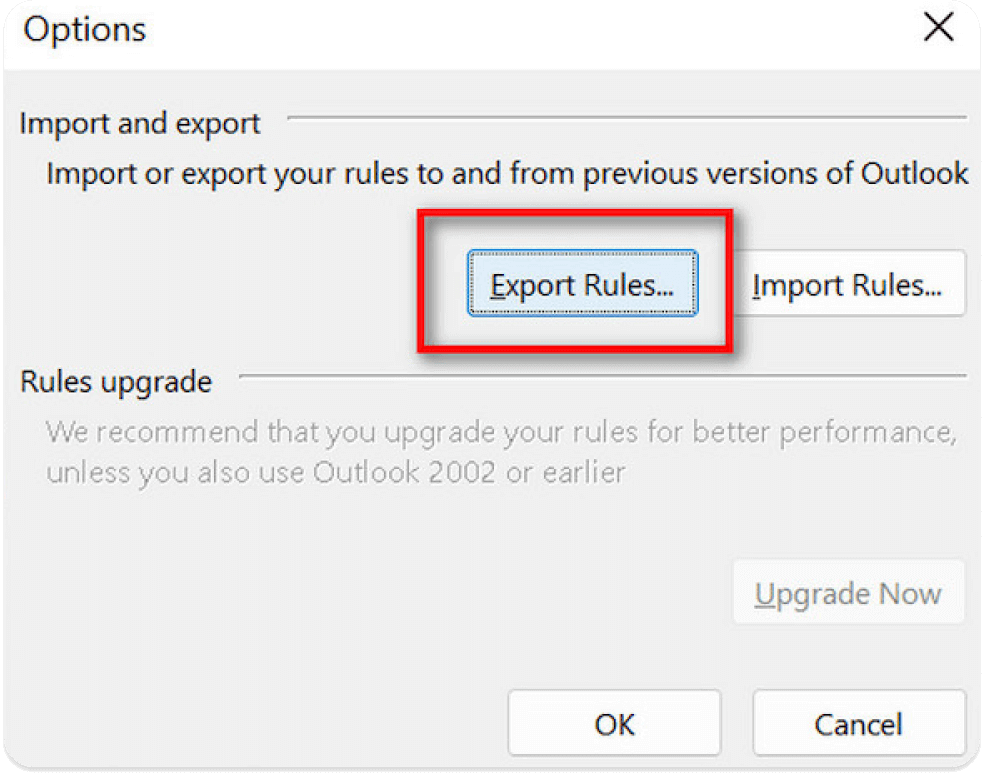 The main thing you should know is that for a rule to apply on all devices, it must be created on the server side, which means it needs to be applied before reaching your inbox. And while it may not be possible for all rules, there is a process you can follow to set up server-side rules in your Outlook account.
Enhance your Outlook features using Email Signatures
There are many ways to organize your Outlook account to boost productivity, prioritize the most important emails, and declutter your inbox. But on top of that, you must also consider how to boost the performance of every email you send out. 
And that's where MySignature can be an indispensable tool for supercharging your Outlook account and email efforts. It's a comprehensive email signature solution with built-in email tracking features that's easy to use with Outlook, allowing you to add a professional email signature to your Outlook account in seconds.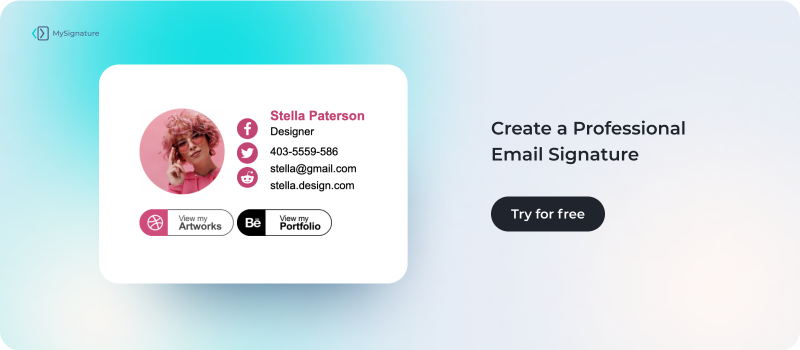 Additional tools for Outlook
In addition to the range of built-in features for organizing Outlook, there are also plenty of add-ins that can help boost productivity and save time. 
Grammarly. Checking your emails for grammatical mistakes can take a lot of time, which is why Grammarly can be so valuable. It integrates into Outlook and will automatically proofread every email so you can send it with confidence.


Text Lightning. If you regularly send replies that are virtually identical, Text Lightning is an excellent tool for creating a list of "canned responses" you can grab and paste in seconds.


Boomerang. Even with reminders, staying on top of scheduled replies or follow-ups can be a hassle. Boomerang solves the issue with powerful reply delay and email schedule features.

 



Dropbox for Outlook. If you need to share bigger files, Dropbox has an add-in for Outlook that will allow you to share large files without having to attach them to the email.
How to use AI tools for Outlook
The recent surge of AI solutions has not been missed by Microsoft, which is already adding interesting AI features to its range of products, including Outlook. And the possibilities of its recently-launched Copilot AI promise to make the life of Outlook users much easier.
For one thing, Copilot can quickly summarize the top new emails in your inbox, automatically providing an at-a-glance view of the conversations, details, and required actions. On a deeper level, it can also analyze large email threads, distilling the different viewpoints, main ideas, and questions that have yet to be answered.
Finally, it can craft relevant and succinct replies that match the context, provide the necessary info, and save you time. Copilot can even analyze data in an Excel file and create a summary according to your pre-defined parameters.
Frequently asked questions
What is Microsoft's email solution?
Microsoft's email solution is called Outlook. In this article, we've covered some of the main features you can use to enhance productivity and stay organized.
How to pin an email in Outlook?
In your Outlook inbox message list, hover over the message you want to pin. There, select the "Pin" icon to make it more visible. Remember to unpin the message once you complete the action you want to take.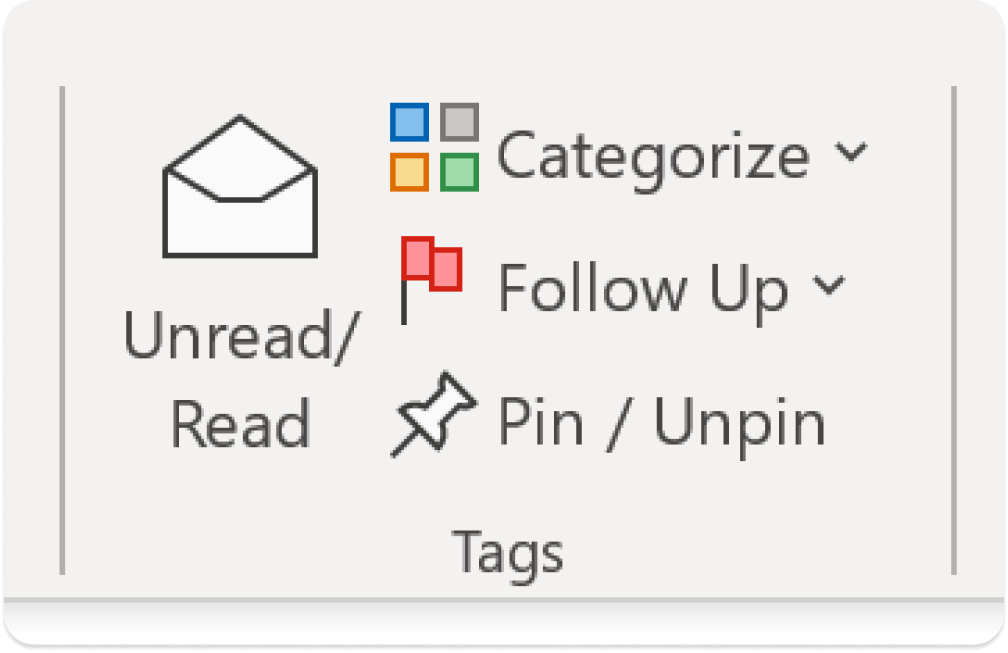 Outlook does not show the body of an email. What can I do?
One of the most common reasons why the body of an email may not appear is an antivirus add-in for Outlook. Try disabling your Outlook antivirus solution to see if it helps.
How to change Outlook view?
To change the view on Outlook, select the View tab, and click Change View on the left. There, you can choose Compact, Single, or Preview view. You can also select Manage Views to customize it according to your preferences.
How to fix Outlook Email View?
If you accidentally change your view and want to restore it, click on the View tab and select the Reset View option.
How do you organize emails by subject in Outlook?
If you want to sort your emails by subject, you will first need to assign different subject categories. Then, in the View tab, you'll be able to select Arrange By and select the Category you want to sort by.
How do I organize my Outlook inbox by date?
Outlook sorts emails by date by default. But if that's not the case, you can go to View, then Arrange By, and select the Date option.

How do you prioritize emails in Outlook?
The easiest way to mark an email as more important is to use Tags. Open the message you've received, find the Tags group on the Ribbon, choose the More option, and use the Importance drop-down to select the importance level.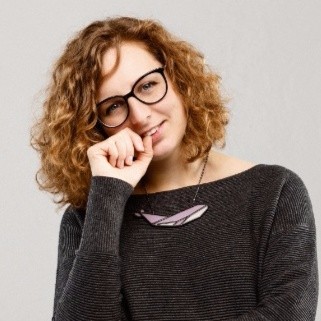 Helga Zabalkanska
Helga is a CMO at MySignature and digital marketer with 7+ years of experience. Having worked in numerous industries she has a deep understanding of various markets and a variety of tools as well as growth hacking techniques that can boost marketing activity in a particular sphere.