The average office worker receives over 120 and sends 40 emails per day. However, experts say that many professionals still don't follow business email etiquette rules and often find themselves in awkward situations. Of course, there are many ways to write an email, but by knowing email etiquette basics, we can avoid confusion, missed opportunities, and miscommunication.
What is email etiquette for business?
Email etiquette is observance and communication of the generally accepted norms of grammar, politeness, and sense when sending electronic messages. Following the rules for email etiquette is especially important for business people, job seekers, and those whose communications need to make an impression.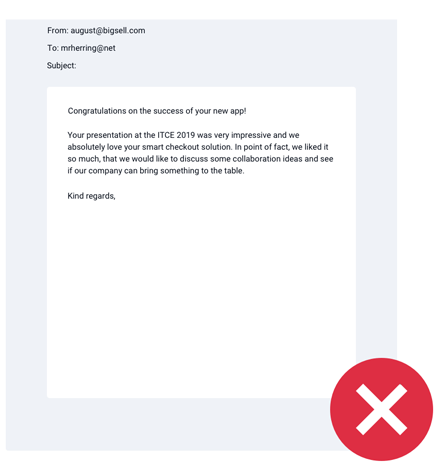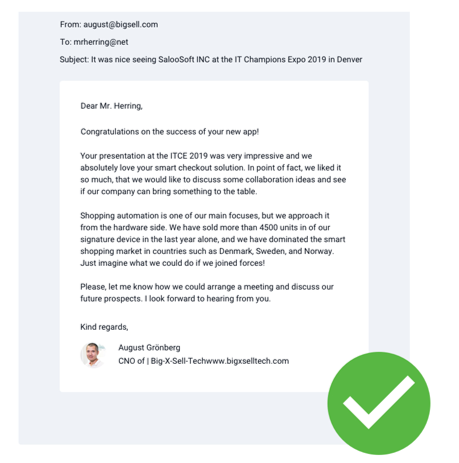 source: Tidio
Business email etiquette rules and tips
Now, let's talk about how you can perfect your email etiquette. Below are the most common rules to follow. 
Research about your recipient before emailing
Before getting in touch with your recipient, do some research to personalize the message you will send. For example, no one would be pleased to see "Dear Sir or Madam" instead of their name in the greeting, mainly when their email address contains the name.

Also, be aware that people from different cultures speak and write differently, and you must be prepared for it. Those differences might be related to word choice, tone, and response times. For example, the Japanese might find it impolite if you introduce yourself via email without the involvement of a mutually respected third party.
Include a relevant subject line
People usually decide whether to open an email based on the subject line. Also, you need to understand that you aren't the only one sending information to your recipients. That is why your subject line isn't something you can take lightly. You need to make every effort to get the recipient to open your email.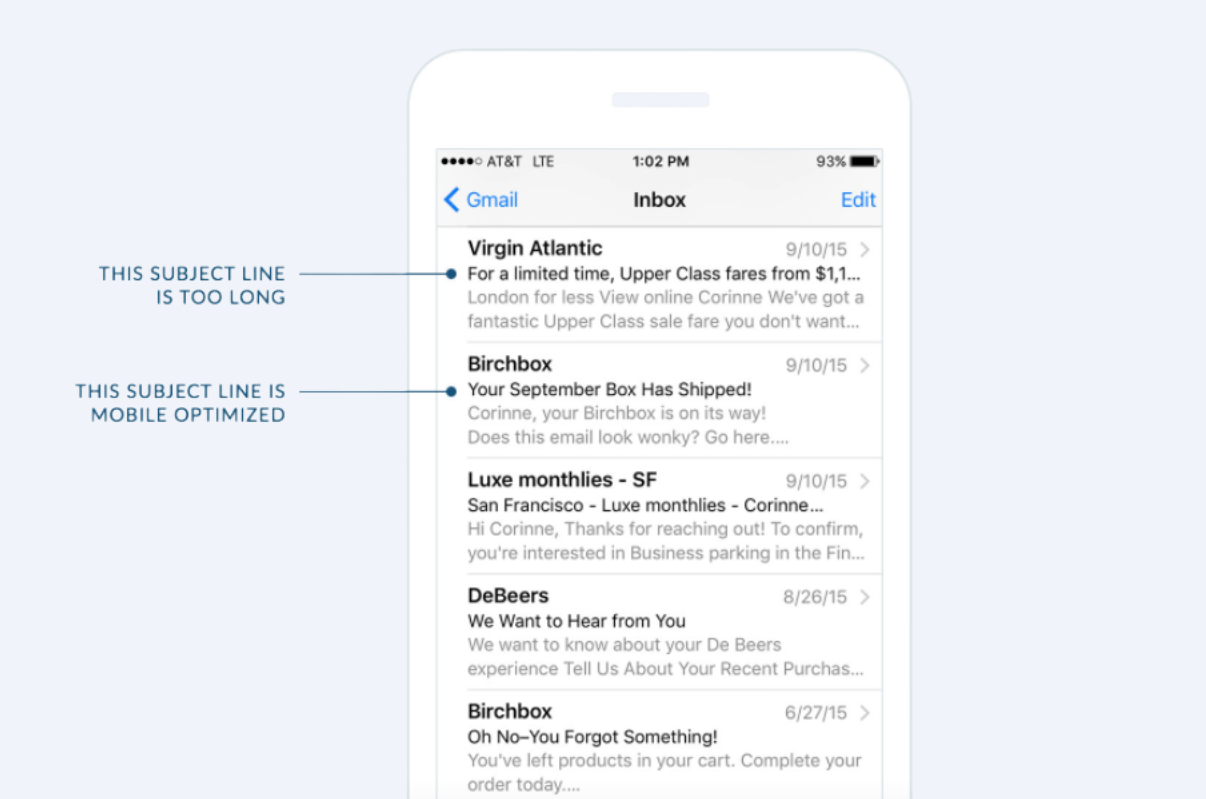 source: Popupsmart
However, keep in mind that lying or including misleading information isn't the best option. Tricking the recipient into opening your email with a deceptive subject will ruin your reputation.
Remember, people want the subject line to tell them what the message is all about. So make sure there is no disconnect between the subject and the email content. 
Here are some good examples: "Meeting date changed," "Suggestions for the report," " 55-point checklist for growing your audience on Instagram quickly."
Use professional introduction
There are plenty of situations where you may need to introduce yourself by email. These include writing to new contacts, potential employers, customers, and partners. In all cases, you need to sound confident and competent.
If you want to make a good first impression on your contact, it is better to avoid such laid-back expressions like, "Hey folks," or "Hi guys." Instead, when it comes to introductions, use your first name (or it can be both the first and last names) with some background info in the opening sentences of your email. For example, "Dear Mr. Jackson, My name is Cynthia Nixon, PR Director. I was referred to you by Ms. xxx." 
Use a business email address
When you receive a new email, you probably check who the sender is. And if the message came from [email protected], chances are you won't take it seriously even if there is something valuable for you inside. Just received an email from [email protected]? Well, that would make a big difference.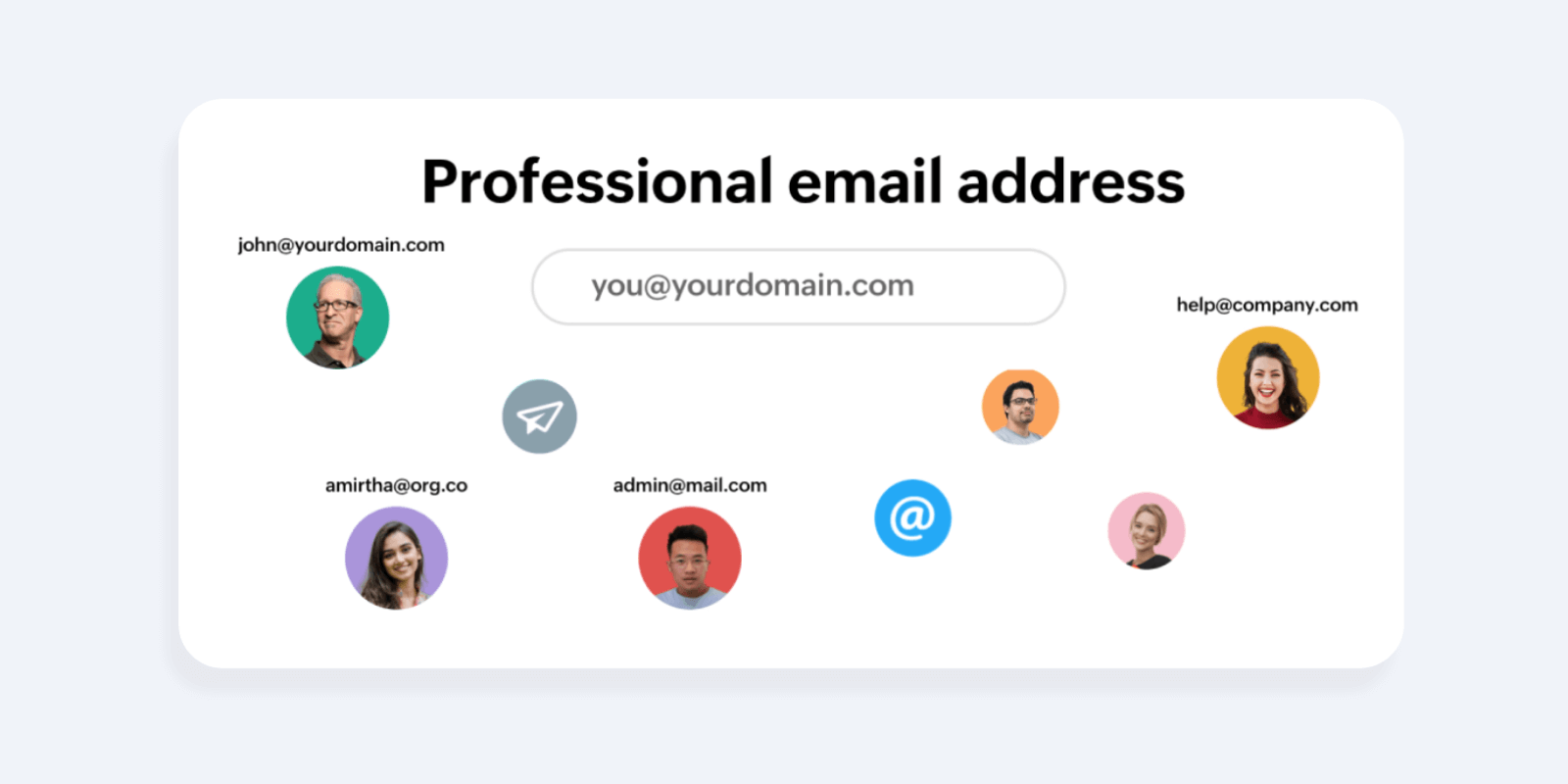 source: Zoho
Hearing a person speaking in-person vs. reading a message on a screen can come off very differently. When sending business emails, it is better to avoid dry humor, sarcasm, or irony. This can lead to misinterpretation because the recipient can't hear your tone of voice or see your facial expressions. Always be polite with unknown people, no matter who they are.
Try to limit your email to one topic per message. And keep it as short as possible. Maybe the recipient won't read it on a typical PC screen, and it will take them ages to scroll down.
Pay attention to your font type and size
Keep your favorite lilac Comic Sans for your cousin's birthday. When it comes to business correspondence, it is always better to use classic fonts, colors, and sizes. This will make your emails easy to read for other people. The best fonts are 10- or 12- point Arial, Times New Roman, Verdana, and Calibri. As for color, black is the safest choice.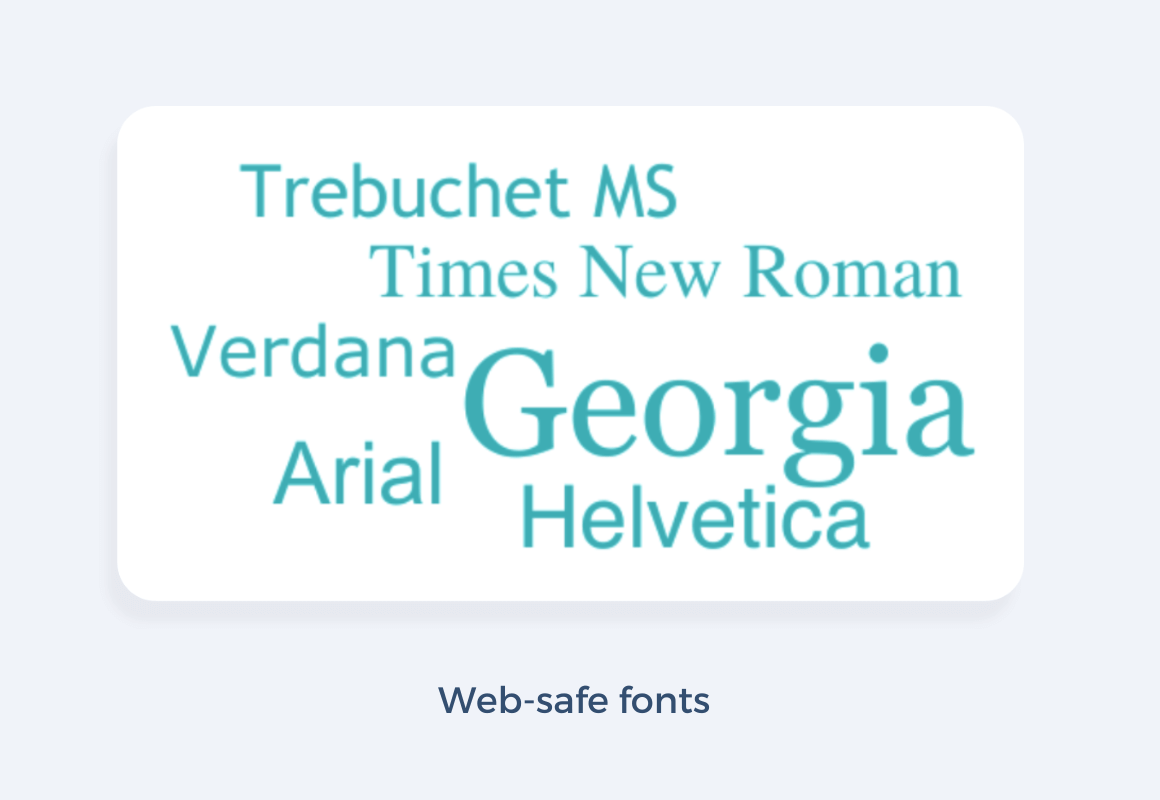 source: GetResponse
Use proper closing in your email
When the recipient finishes reading your email, they should find two things at the bottom. The first one is a sign-off followed by your name. For example,
"Best regards,
Marta"
And the second one is a professional email signature.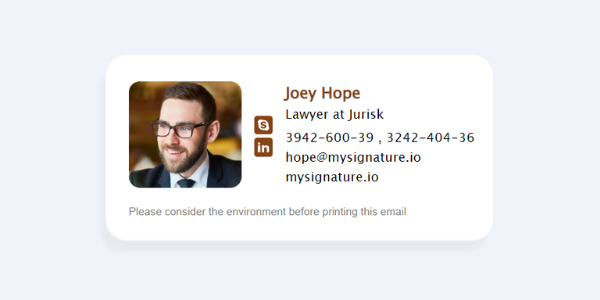 Include a professional email signature
Now, when you manage to hold the reader's attention until the end of your email, provide them with essential information about you. A professional email signature can include of your name, company name, contact details, website, photo, and any social networks.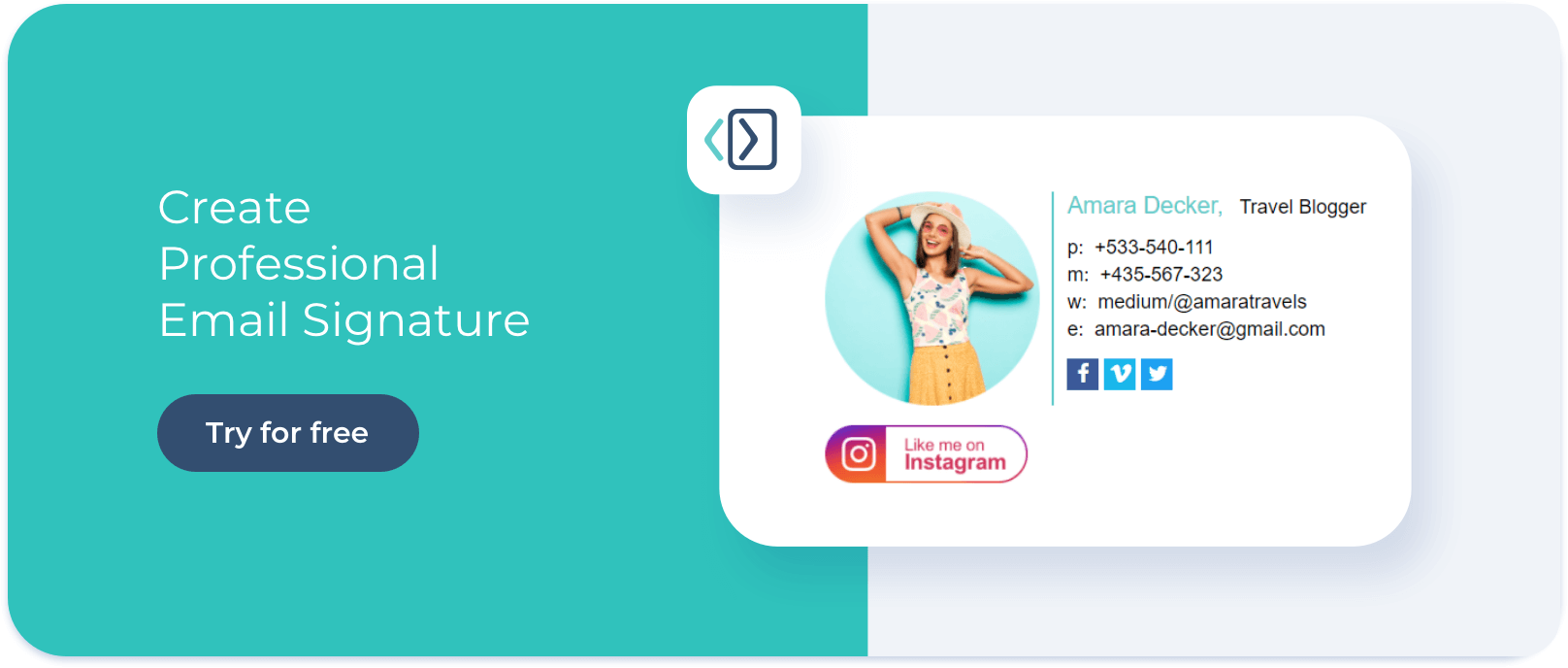 Proofread every email you send
Don't hope that your email mistakes will go unnoticed by the recipients. Always use good grammar and punctuation and check your spelling. But don't rely on spell-checkers only. Proofread your email a few times, preferably aloud, before clicking the "Send" button. 
Try to reply fast and to all emails
It's not always easy to reply to every email you receive, but you should do that, as it serves as good email etiquette in business. Also, don't make your recipients wait longer than 24 hours.
Keep confidential information secret
Keep in mind that whatever you write can be forwarded to others. So, to be safe, don't discuss sensitive information in emails, such as someone's tax information or details of the huge transactions.
Always mention attachments in your email. If you are going to attach something large, it is better to ask permission (heavy attachments can clog the recipient's inbox). Also, don't send more than two attachments in one email because Internet Service Providers (ISPs) may mark your email as spam before the recipient even gets to open it. On top of that, many companies have a limit on the size of incoming emails. So, it is better to use links (Google Drive, Onedrive, Sharepoint, etc.)
Use out-of-office replies
If you are going to be away from your email for longer than a few days, you need to use an out-of-office automatic reply. Otherwise, people may think you are impolite and even rude because of not getting back to them for so long.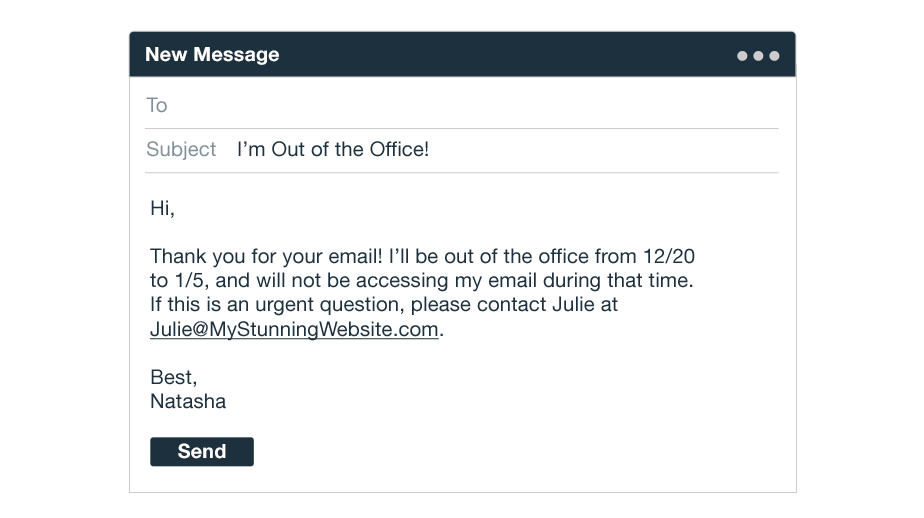 source: Wix
Email etiquette basic mistakes you should avoid
We hope you find our business email etiquette tips useful, but don't relax yet. We have compiled a list of the most common email mistakes below. Don't let them cost you a valuable connection. 
Don't use informal salutations
Salutations like "Hey folks," "Yo man," or "Hey bro" are a big no-no in professional emails, even if the recipient seems to be very friendly. Instead, using "Hi" or "Hello" with a name is better. For example, "Hi Carrie." Also, when addressing a larger group, you can use common email etiquette greetings such as "Dear all" or "Hi team." Or, if you are going to contact two recipients, you can use two names. For instance, "Hello Luke and John." 
Avoid humor, jargon, slang, or shortcuts
The tone you think you use in your emails may not be what the recipient perceives. Choose your words carefully. 
Don't forward every email
Always think twice before forwarding. Some emails aren't intended to be forwarded (private or sensitive information).
BCC (it is when a recipient can be kept hidden from other addressees) can lead to a seriously awkward situation. It is shady to lead someone to believe they are the only recipient when they are not. So it is very dishonest, especially when discussing email etiquette at work. If you absolutely must do that, use the "Forward" button.
Don't be angry, rude, or negative
Never email people in a negative or rude form. If you have bad news, use objective words to say about that. Also, you can always keep the news for live communication.
You may use some emojis in your emails (such as a nice smiley face, but remember that they look unprofessional and can't take away the sting of a hurtful message. Also, pay attention that many emojis look completely different on different devices and platforms.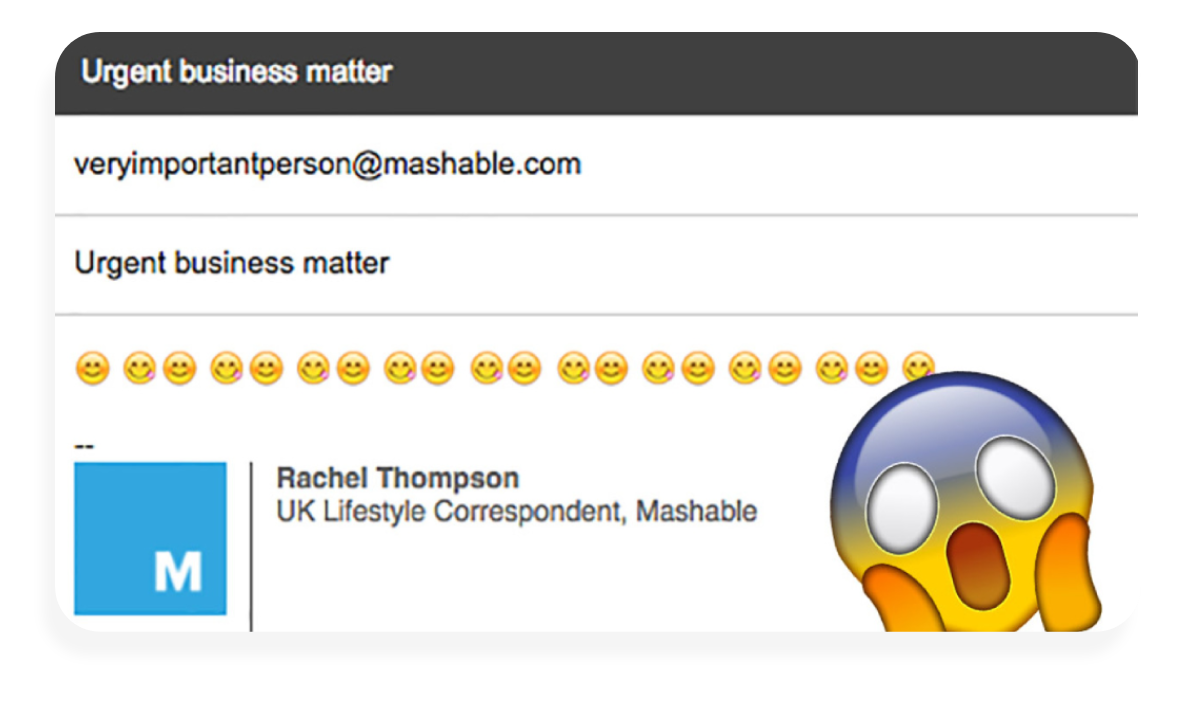 Don't use a lot of exclamation points and CAPS
Avoid typing in all CAPITALS. IT MIGHT SEEM AS IF YOU ARE SHOUTING. Also, be careful with exclamation marks if you don't want to look unprofessional and too emotional for business.
Don't add "Sent from my phone"
Many people think it is an excuse to be lazy and not delete it before answering. It is always better to use a professional email signature.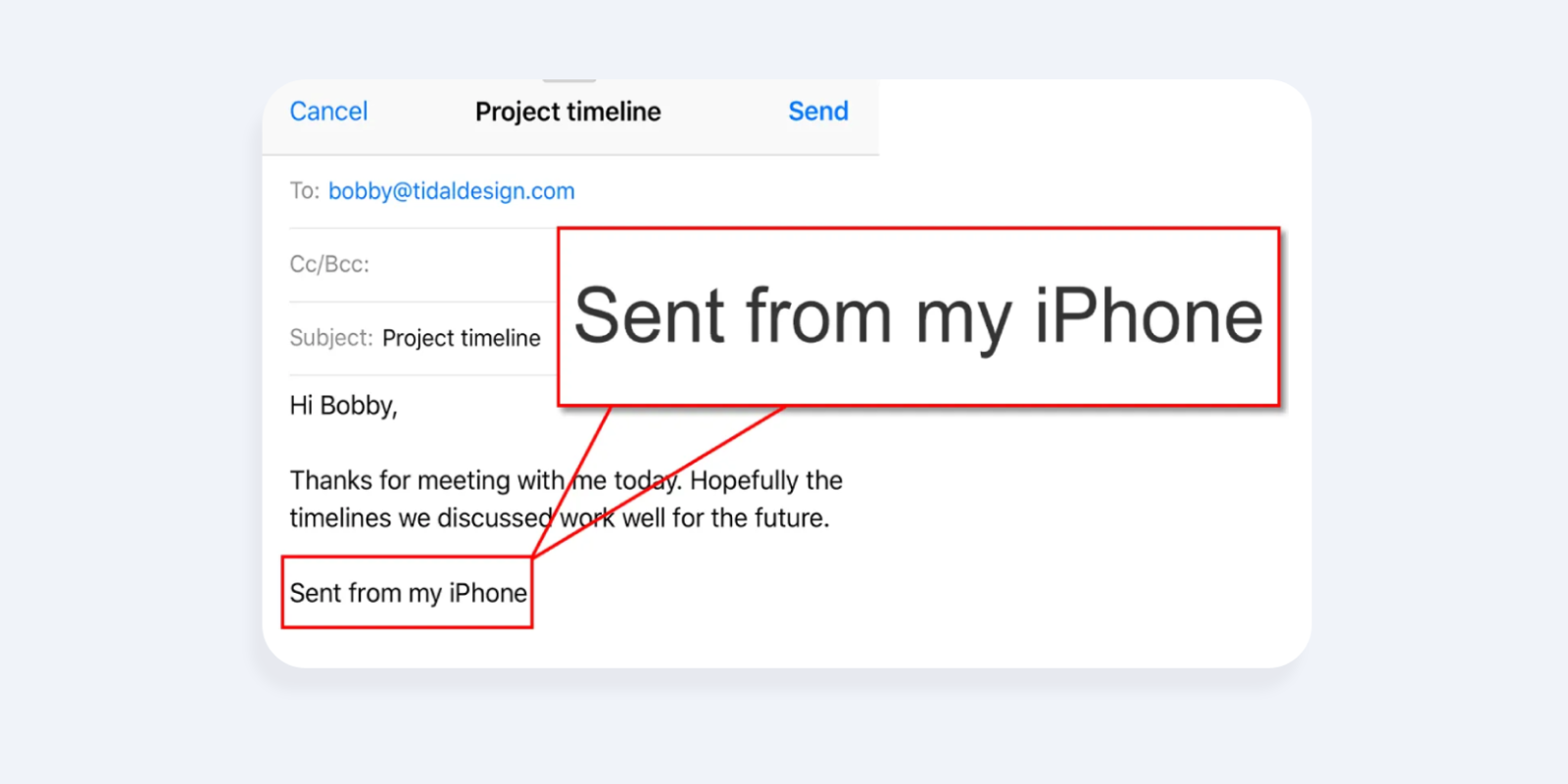 Conclusion
Many people, at some point, send emails in haste or don't care much about email's influence on their reputation. However, such haste and carelessness might result in poor grammar, inappropriate humor or sarcasm, unclear requests, negative tone of the email, and more. That doesn't make you look professional in the eyes of recipients. 
This article gathered the best email etiquette rules for business that every professional should follow. Once you use them correctly in your everyday email communication and get no reply, at least you know it is not because of your poor email etiquette.
Ostap
Ostap is a marketing professional (PMM) with 5+ years of experience in the software industry (B2B and B2C). Having worked with email marketing products and services, Ostap has a deep understanding of various email marketing strategies and solutions.