The perfect and brilliant email signature design is important for the final messaging results. It may be decisive, making the first, basic impression about your honored company and the author. Upon opening the letter, the recipient notices your visual brand immediately, catching the general mood and ambiance of the business.
Therefore, it invites the special emotions, communications and cooperation. And the best, easy way to express your creativity and personality, professional approach is the right logo and email signature colors selection.
Meanwhile, if you are not a professional artist or designer, this task may be challenging or daunting for you. Being a marketing expert or an executive director, you certainly use the words proficiently, communicating the relevant information, using the appropriate narrative style. But what about the colors? How to select the most suitable ones, mix them properly, create a colorful harmony? Just use the professional templates, consider the color transfer by the displays of various devices, start experimentation, and get top email signature design results.
So how to choose colors for the email signature like a pro?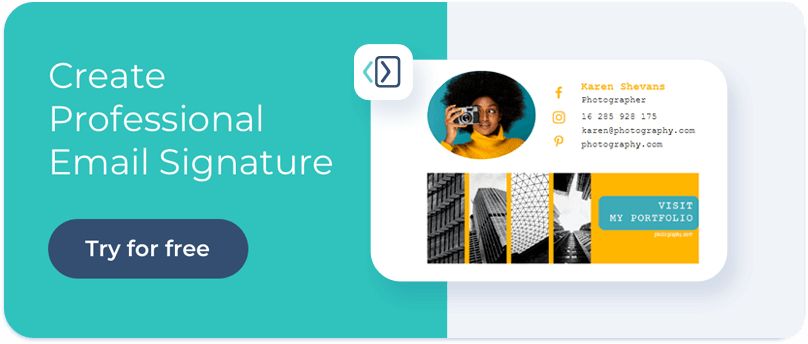 The Basics of Colors Perception
Taking into account the email content, focusing on your messaging purpose, select the right colors to communicate your mood, the company mission and the necessary call to action. The shades and tones you select can make the recipients feel secure, vigorous or inspired.
The basic colors commonly speak for the certain concepts: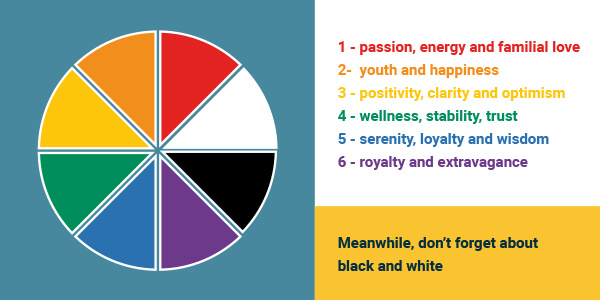 red – passion, energy and familial love;
orange – youth and happiness;
yellow – positivity, clarity and optimism;
green – wellness, stability, trust and environmental awareness;
blue – serenity, loyalty and wisdom;
purple – royalty and extravagance; the mix of energy and stability.
Blue color represents stability, reliability and coldness. It is commonly associated with water and suitable for branding financial services, electronics, ventilation, various water and sea products, fresheners, etc. However, this color is cold, known as an appetite suppressant, so isn't recommended for the foodstuffs and food-related products.
Yellow symbolizes sunshine and happiness. It is commonly associated with joy, intellect and positivity, being bright and warm. Widely used in street signs or gas tubes, it represents caution. This color is attention-grabbing and playful. It may be used to depict cheerfulness and fun. Therefore, it is perfectly used for children products, taxi cabs, construction equipment, case studies, fast services and champagne.
But it may have a disturbing effect, being too bright for an email signature. So, try not to overuse it, adding only several bright logo details. Combination of yellow and black is classical, looking rich and suitable for multiple business purposes and various events. Combining this color with violet is congenial only for the seasonal, Easter greetings, looking festive and too bright for daily routine.
Red is the color to stimulate activity and hunger. It is perfect to grab the reader's attention, symbolizing passion or danger. Thus, red is typical for fast food products and companies, restaurants and nightclubs. It is also associated with masculine energy and Christmas, being essential for the seasonal greetings and invitations to holiday events. However, in business letters, it is to be used in moderation as it may be perceived as aggressive and tiring.
Green is commonly associated with nature, wellness, money and harmony. Additionally, it symbolizes fertility, growth and safety. Thus, it is perfectly used in branding of prestigious products, food-related items, health and financial services. It can symbolize natural and organic products, communicate trust and wisdom. However, in business letters, green color should not be plentiful, as it can be associated with materialistic, selfish and indifferent approach.
Orange color is also infrequent in business correspondence, being positive, a great appetizer, but too bright for official letters.
Purple is more typical, as it is associated with perfect sophistication and luxury. It is used to highlight your creativity, high social status or power.
Meanwhile, don't forget about black and white. These colors are always appropriate, being the most elegant and formal.
White is associated with purity, perfection and safety. Black denotes power and authority. Together these two basic colors make a great combination, generally accepted and essential for every email signature.
Color Combinations and Palette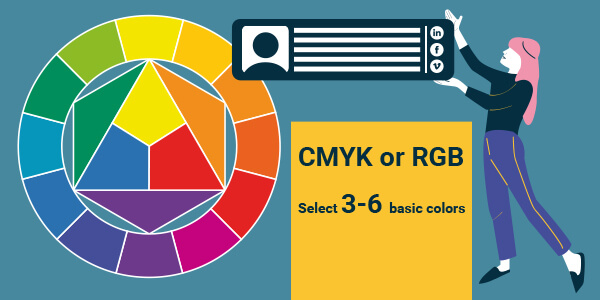 Commonly, when you start creating a bright and unique email signature, the company logo already exists. Its colors are to be basic for all images and fonts, while neutral tones should be prevalent.
So, open the color wheel or palette and pick the shades you prefer, using CMYK or RGB value as the basic one. Select 3-6 basic colors, thinking into account their harmony and your messaging purpose.
For example, when you are a photographer, select the hues that don't collide with the photos; sending Christmas cards you may make your email colorful. In other cases, try to make your signature elegant, well-balanced and decent. And remember about color correction, especially if you add different images to your messages.
The Color Schemes
The spectrum of the tints that is represented by the color wheel can be perfectly used for mixing the colors and creating the email design. Initially, the set of hues that is called color scheme is developed. Professional designers do this job from scratch, solving the certain task or meeting the valued customers' requirements.
Being a beginner in design, you can use the ready-made templates, customizing them, according to your business purposes and needs. Thus, to start with, follow the harmonious color combinations, using the helpful color wheel and geometric relationship of the shades.
The basic schemes are:
Complimentary (based on opposite colors, like yellow and purple, green and red);

Monochromatic (that follows several values of the same, basic, hue, for instance, grey);

Analogous (using 3 adjacent colors);

Triadic (picking out several evenly spaced or complimentary tints).

Split compliments scheme that uses the tertiary, adjacent colors, is quite common for the business letters.
Upon selecting the color palette, focus on the primary email signature elements that are the author's or the company name, brand or logo, accentuate it by several bright touches. Make your signature legible, meaningful, harmonious and impressive.
Modern Color Trends
Whereas the official emails are basically neutral and modest by colors, bright hues lovers get unique opportunities nowadays. The most fashionable tints now are:
dumped (bubble gum) pink;
neutral metallic;
ultraviolet;
pastels;
black.
The beautiful color gradients are used to create a semi-flat signature or email header design. Even the combination of several bright colors, for example, yellow, blue and red is acceptable this year, but for the special purposes, for example, for the theatre bill designing or for the fashion show invitation.
So, use the design basics and modern trends to create your perfect and unique email signature.
Related articles:
Ostap
Ostap is a marketing professional (PMM) with 5+ years of experience in the software industry (B2B and B2C). Having worked with email marketing products and services, Ostap has a deep understanding of various email marketing strategies and solutions.