One formal email template + one informal email template + the neutral one. This is a standard toolbox of every HR specialist. On the one hand, it is much easier to have templates because very often HR managers are overworked and have no time. On the other hand, such an approach to email communication can't be effective.
People are different. Alex may find your email interesting, and he will respond right away. But for Amanda, it may look horrible, and she won't even open it because the subject line seems to be written by a robot. You see how it works?
However, there is a thing that can remain the same in every email sent by the HR manager. No matter if you reach out some candidate, write to your colleague, or need to contact a partner or supplier, you can finish your email each time in the same way. An email signature designed professionally is a universal element which does not require constant modifications.
The value of a professional email signature for HR managers
The primary responsibility of every HR manager is to find great talents and make sure people they hire feel comfortable in the workspace. While dealing with already hired people may be easy, looking for candidates is a real challenge.
Human resources specialists need to find or elaborate a smart way to display the company's benefits, showcase how they differ from other similar organizations, promote vacancies, and present the company culture effectively. The email signature is one of the smart ways to achieve this goal.
Company culture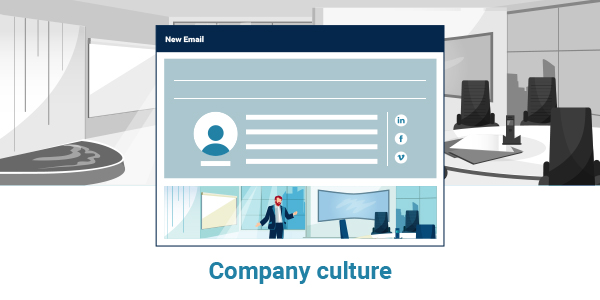 While many online email signature generators make it possible to add clickable banners into the email signature, you can use this chance to showcase your company culture.
Sure thing, every HR manager has a folder where they store all materials connected to the corporate life. Choose the latest video footage of the office, CEO interview, or just some festive corporate event, and add a link to this video to the email signature. This way the candidate (or any other recipient) will be able to analyze your company values without having to search for it on their own.
Open positions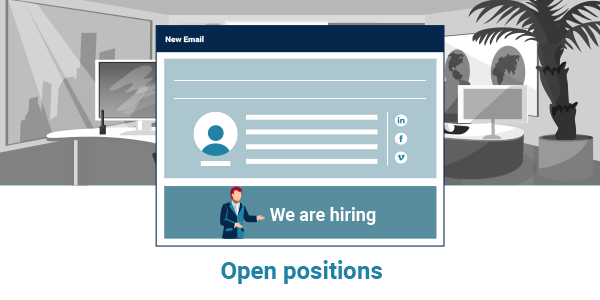 You see, banners do magic. You can add the link to any source you need to promote and track its effectiveness easily. Just like in the situation with the company culture, you can create a striking banner with the words like "We are hiring" and insert the link to your career website if you have such or to the webpage where you collect all your vacancies.
By directing email recipients to some webpage, you have to be 100% sure it contains all the information you want to deliver. Moreover, it has to be developed in a way that attracts people that is to have appealing colors, be well-structured and intuitive. Otherwise, you won't achieve the goal, because recipients will simply leave the page right after opening it.
General recognition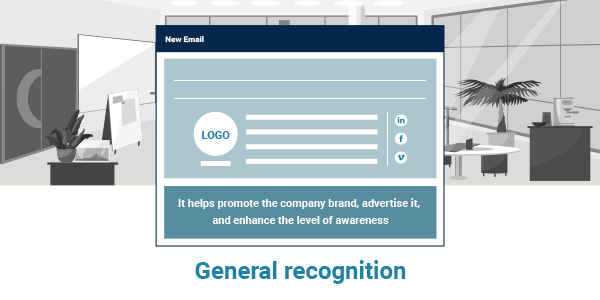 Any email signature looks much better with visual elements such as personal photos, logos, or some other images. The role of an HR manager is to represent the company they are working for. That is why personal photos do not fit in this situation. The logo is a different matter. It helps promote the company brand, advertise it, and enhance the level of awareness.
The email signature with a logo not only looks professional but also attracts the recipient's attention and affects their decision whether to respond. Even if people do not read your emails, once they see the logo, they understand who is reaching them out.
Recommendations for creating a good email signature for HR managers
These tips may help not only the Human Resources specialists but just everyone who is going to generate a compelling email signature.
Less means better. Do not include two phone numbers, all social media sources, mailing addresses, and your spouse's email.
Images are powerful. To benefit from an email signature, insert a logo or banner. But do not design the whole signature as an image.
Fonts matter. Based on the tone of voice of your company, choose correct fonts for your email signature.
Select the right colors. Make sure your email signature has corporate colors. It may look confusing when your signature is red and blue while the logo of your company is entirely yellow.
Mobile version. When generating the email signature, make sure it looks appropriately on mobile devices because the majority of people read emails on the go.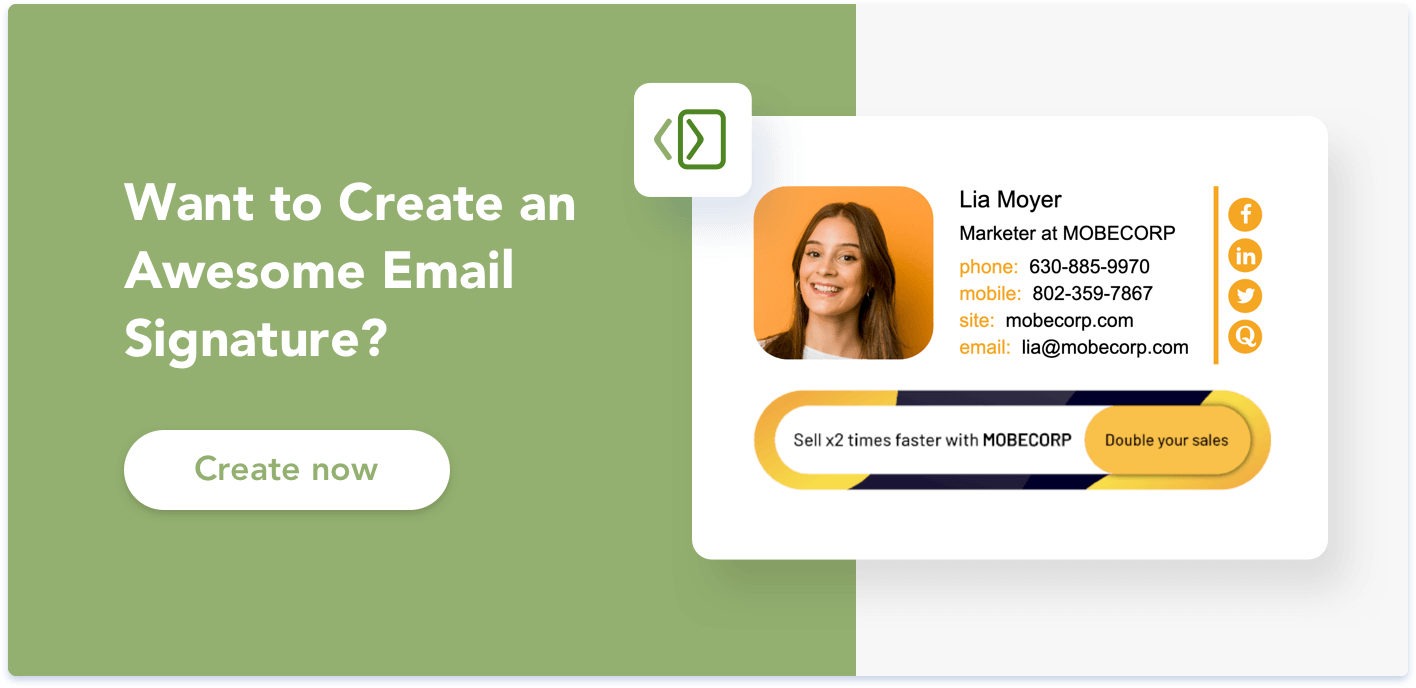 MySignature is the best-in-class free email signature generator. Due to the customer-centric approach we embrace and simple functionality, our users can create professional email signatures easily on their own.
Explore More Email Signature Templates Categories
Email signature for students
Email signature for CEO
Email signature for job seeker
Maria
Maria is a professional content writer at MySignature. She has strong skills in Content Marketing, Email Marketing, SMM, and SEO.