You can end your email either with a usual sign-off or an email signature. Both options are good if you write them correctly. However, whether you write a formal or informal email, you should always try to finish it politely to get a recipient on your side and make the email warmer. I have collected some tips for ending emails occasionally in this blog post.
The importance of email signature and sign-off
85% of communication in the office goes via email, and a typical employee sends approximately 15,000 emails a year. It is already well-known that compared to all marketing channels, the highest open rate can be achieved through emails.
Sure thing, we are talking about business emails. If you reach out to some close friend, the email closing doesn't bear any power. You already know the person and can anticipate their reaction. It is a warm email. While most business emails are cold, each element, including the closing, may be crucial for building relationships with the recipient.
Formal, informal, and appreciation email sign-off
If you write to a person you do not know, your manager, or someone in a high position, your email and the sign-off should be formal. The following variations are applicable: regards, best regards, warm regards, best, respectfully, yours truly, cordially, looking forward to your reply, looking forward to hearing from you, sincerely, sincerely yours, faithfully.
You can stick to a friendly tone if you know the person well. A casual, informal email closing will work even if you email your colleague. In this case, choose something from the list: good luck, talk soon, cheers, best of luck, hope this helps, have a good weekend, much appreciation, appreciate it.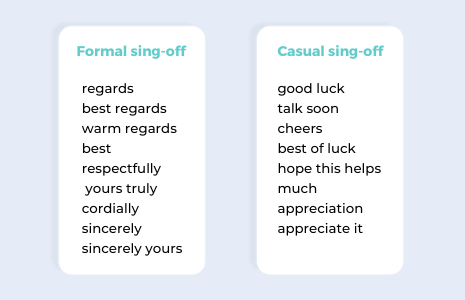 There might be situations when you have to reply to an email where someone offers you something. Or if you need to ask for a favor or thank someone for helping you, use any of the following appreciation closings: thanks for everything, thanks, thank you in advance, thank you, thanks so much, thank you for your help, thank you for consideration, with gratitude, thanks so much, can't thank you enough.
An interesting fact is that emails that end with different "thank you" variations have the highest response rate. Bloomberg reported that emails with such sign-offs as thanks in advance, thanks, and thank you are responded to by 65% of recipients. Kind regards, regards, cheers, or simply best have the 50-55% response rate.
Effective email signature templates
You can write a usual sign-off in seconds, but it might not be as effective for business as a professionally created email signature. On the other hand, a well-designed email signature is eye-catching and makes the recipient remember you and the message you deliver.
Here are the basic templates you can use for your email signature.
Name + title and company [logo] + any contact info
This pattern suits internal email communication in the workplace. It helps your colleagues to identify who reaches them out quickly.



Name [photo] + title and company + phone + link
Such a template works well if you need to promote something: your blog, new book, some event, or anything else.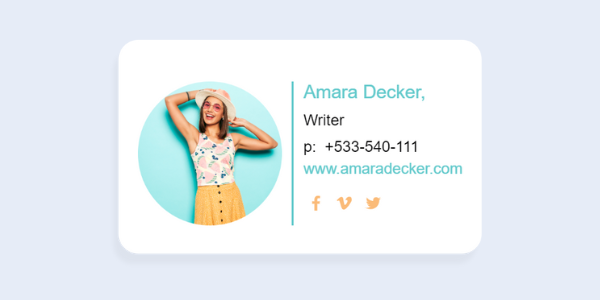 Name [your photo] + title and company + phone + skype (or any other contact info)
This one is perfect for sales reps and support managers. Adding your photo helps personalize the email and creates the feeling of face-to-face communication with the client.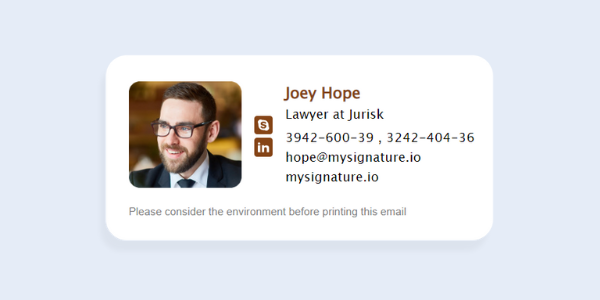 Name [your photo] + occupation + phone + skype + link to your portfolio
This template is suitable for you if you want a new job. Make sure to include the link to your portfolio.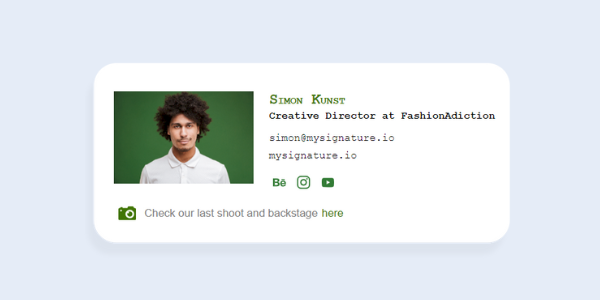 Name + phone + skype
A universal email template that may suit any situation.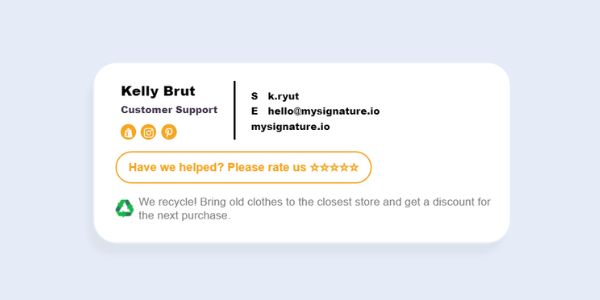 With MySignature, you can create any of the previously mentioned email signatures. They will look amazing because you have a chance to choose from a majority of professional templates, adjust colors, and add any custom elements based on your requirements.
Maria
Maria is a professional content writer at MySignature. She has strong skills in Content Marketing, Email Marketing, SMM, and SEO.