In business, first impressions matter. In fact, they can often set the tone for the entire relationship with customers, colleagues, and business partners.
Just like you want to maintain a professional image in person, you must also do the same when writing emails. And that's why having a professional business email address is an indispensable part of being taken seriously and getting people to respond.
But what is a business email address? What advantages does it offer? And how can you create business emails that represent your company well?
Let's explore everything you need to know in this business email best practice guide.
[ Article navigation ]
How to Create a Business Email: Step-by-Step Guide
What is a business email address?
Benefits of having a business email
How to Create a Business Email
Use Your Hosting or Domain Service Provider
Use a business email provider
Set up a private email server
How to create a free business email address
Tips for using a business email account

How to end a business email
Enhance your business email account with MySignature
What is a business email address?
A business email address is a type of email address that uses a custom domain name instead of the default one offered by an email client. Typically, the custom domain name is the same as the website of the company or organization that a person represents.
Another common feature of business email is its enhanced functionality designed to improve productivity, increase security, and help collaborate with other employees on your team. This range of business email tools can become a central part of your day-to-day operations, and providers like Google or Microsoft have robust business email solutions that integrate with a long list of apps and tools.
Business email addresses are typically used exclusively for business communications, which is why they must reflect the company well and be professional. Many people will tend to distrust or even ignore emails coming from a personal email account, as it can make it harder to understand who the email is for and who that person is representing.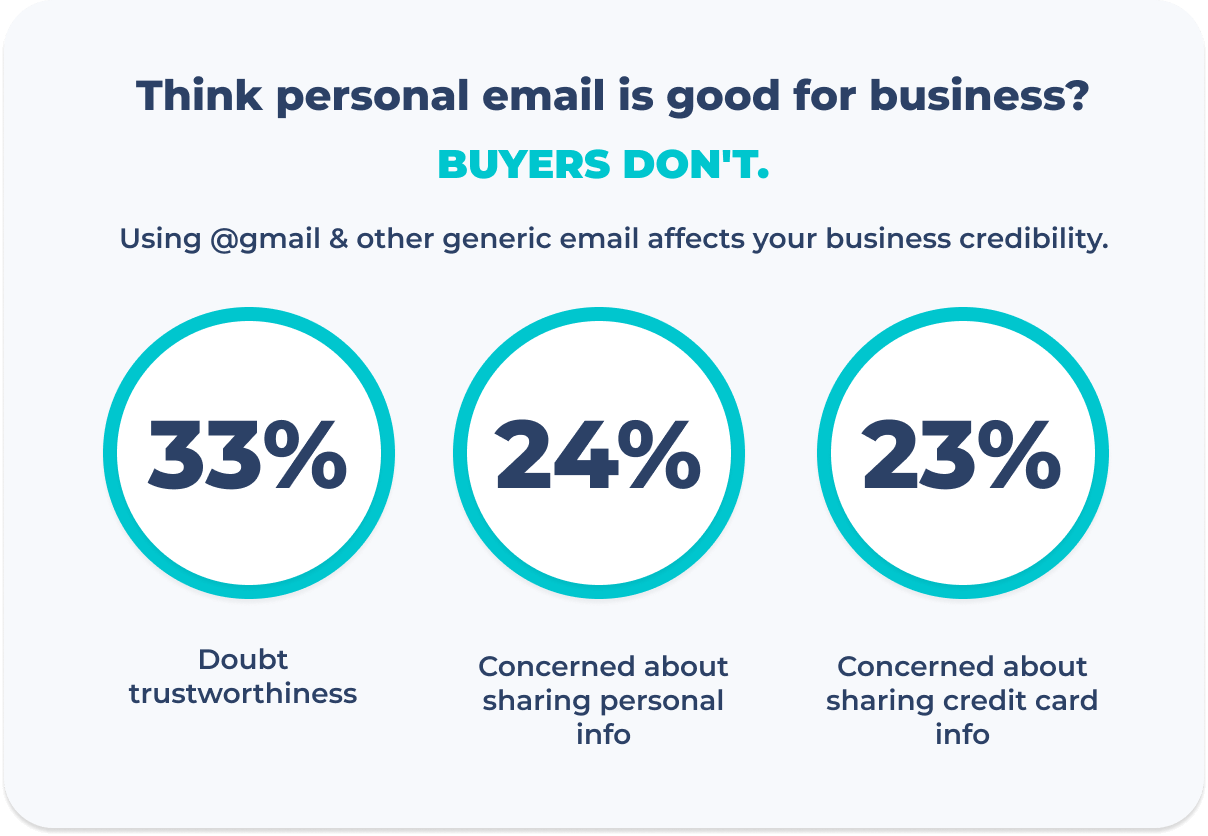 source: Small Business Trends
Therefore, a company email can serve as a way to establish credibility and provide more context to the recipient, making it more likely for them to respond. At the same time, having a professional company email address instead of using a personal Gmail account helps strengthen your brand identity and recognition, which can have positive long-term effects as well.
But how do business email address examples from generic email accounts from Gmail or Microsoft Outlook?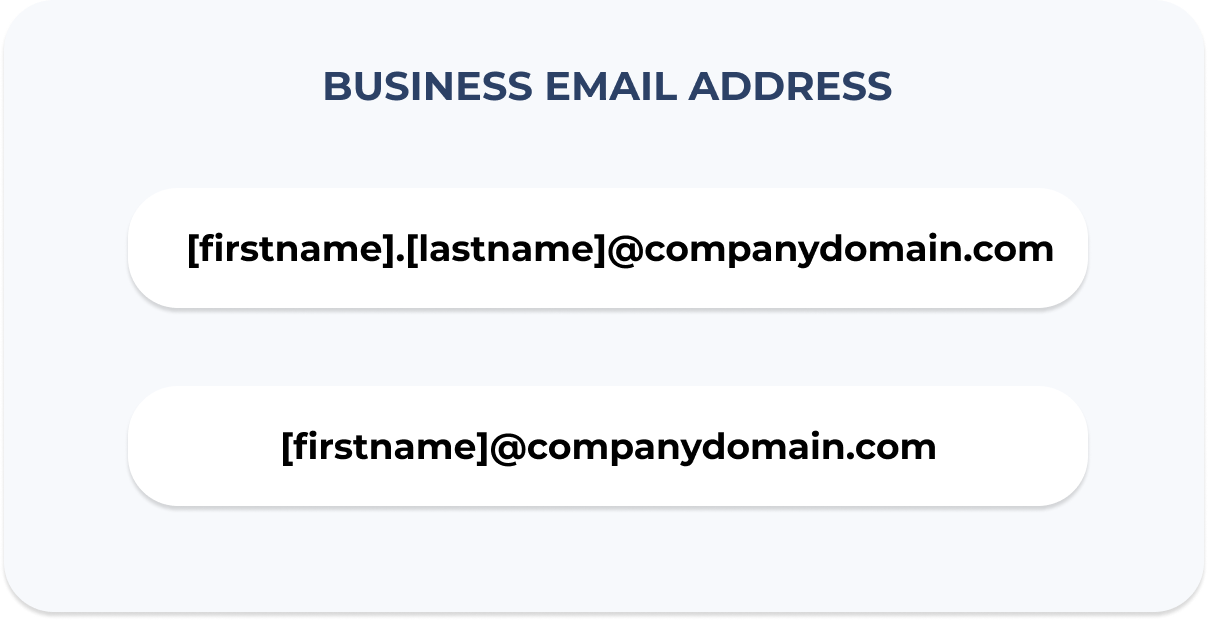 Well, if you look at a typical personal email, it has a name or a nickname, ending in a typical email client domain such as @gmail.com. Meanwhile, a business email address will have a much more consistent format. Common options include [firstname].[lastname]@companydomain.com or [firstname]@companydomain.com.
Benefits of having a business email
Having a business email is not just an essential part of being taken seriously. Something as seemingly simple as having a professional company email address can have far-reaching benefits that help you achieve your business goals and improve communication.
Here are some of the main advantages of using professional email addresses below.
Instant credibility. Whether it's a prospect, a client, or a business partner, people are generally busy and don't have the time to read every email. That's why you must establish credibility as soon as possible to avoid your email ending up in the junk folder. At the very minimum, having an email address with your business domain shows that you take your business seriously and are willing to invest the little amount it takes to make your emails more professional. And on top of that, it's a sort of authentication that lets email service providers know that it's a business communication.

Better Security. Your business data is one of your most critical assets. And email communication is a big part of it. When you use professional business email solutions, you can also take advantage of more robust security features, such as a better spam filter, virus protection, and data encryption.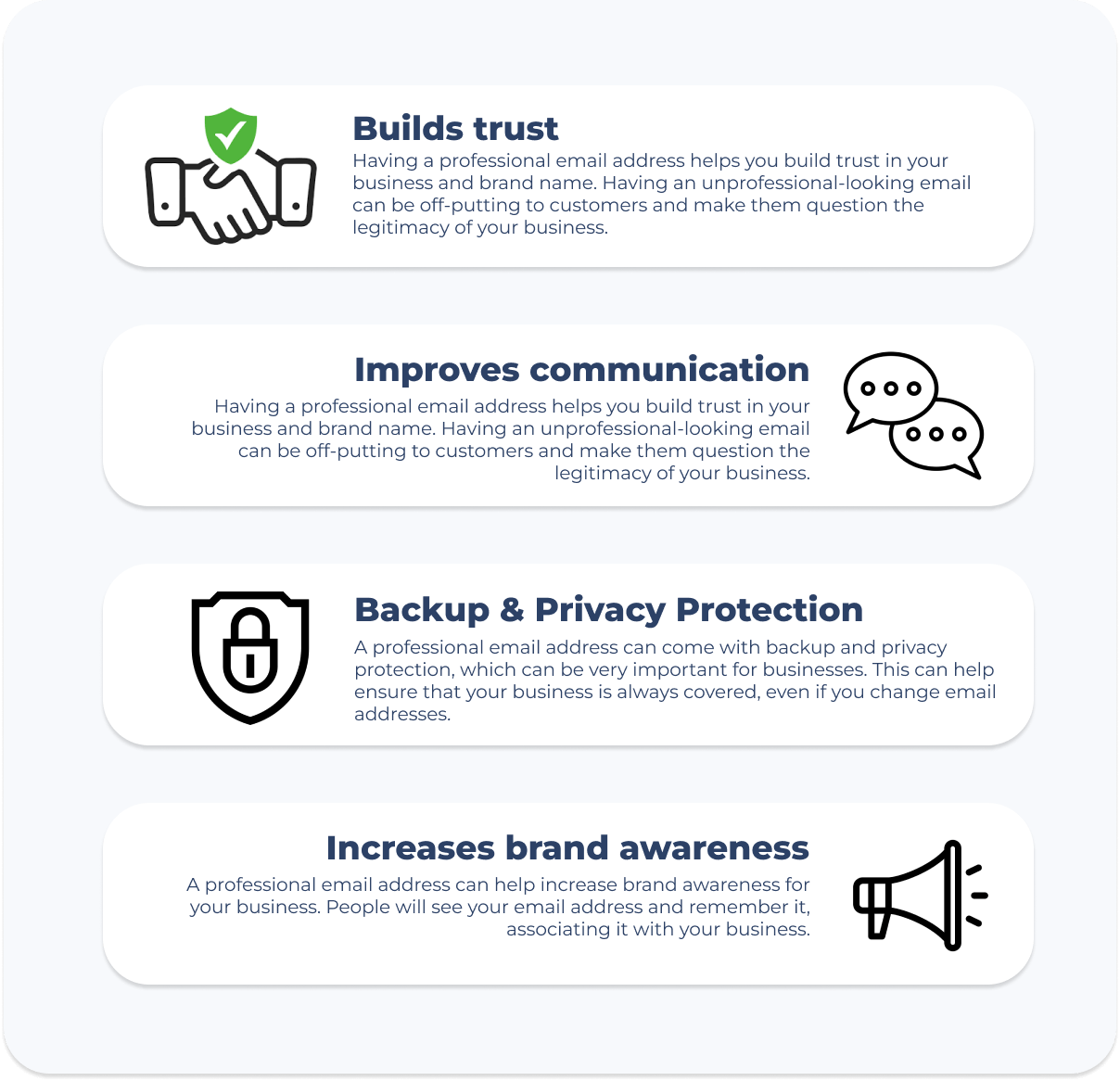 source: Bigrock
Track performance. Many email for business providers offer tracking features that allow you to track performance and gain insights about your emails. As you discover which emails are getting opened and which links are getting clicked, you can become better at anticipating the needs of your customers and getting them to take action.
How to Create a Business Email
If you're an entrepreneur or a business owner, having a business email is not really optional. But figuring out how to make a business email that's safe and has the features you want is not easy. Today, there's a wide range of solutions and options for you to choose from, and it may not be entirely clear how they differ or why one option is better.
To help you figure out how to get a business email, let's look at your options for setting up an email address with "@companyname" at the end.
If you already have a website and a domain name, your provider likely offers a custom business email address as part of their services via cPanel. And while it may not be the most robust or feature-rich solution, the appeal of using your hosting for email is that it's very easy to set up and relatively inexpensive.
When you use cPanel webmail, you can set your email account up in minutes straight from the dashboard without needing technical skills. And in many cases, you can create a custom email account for no additional cost as part of your hosting package or get it for a very low price.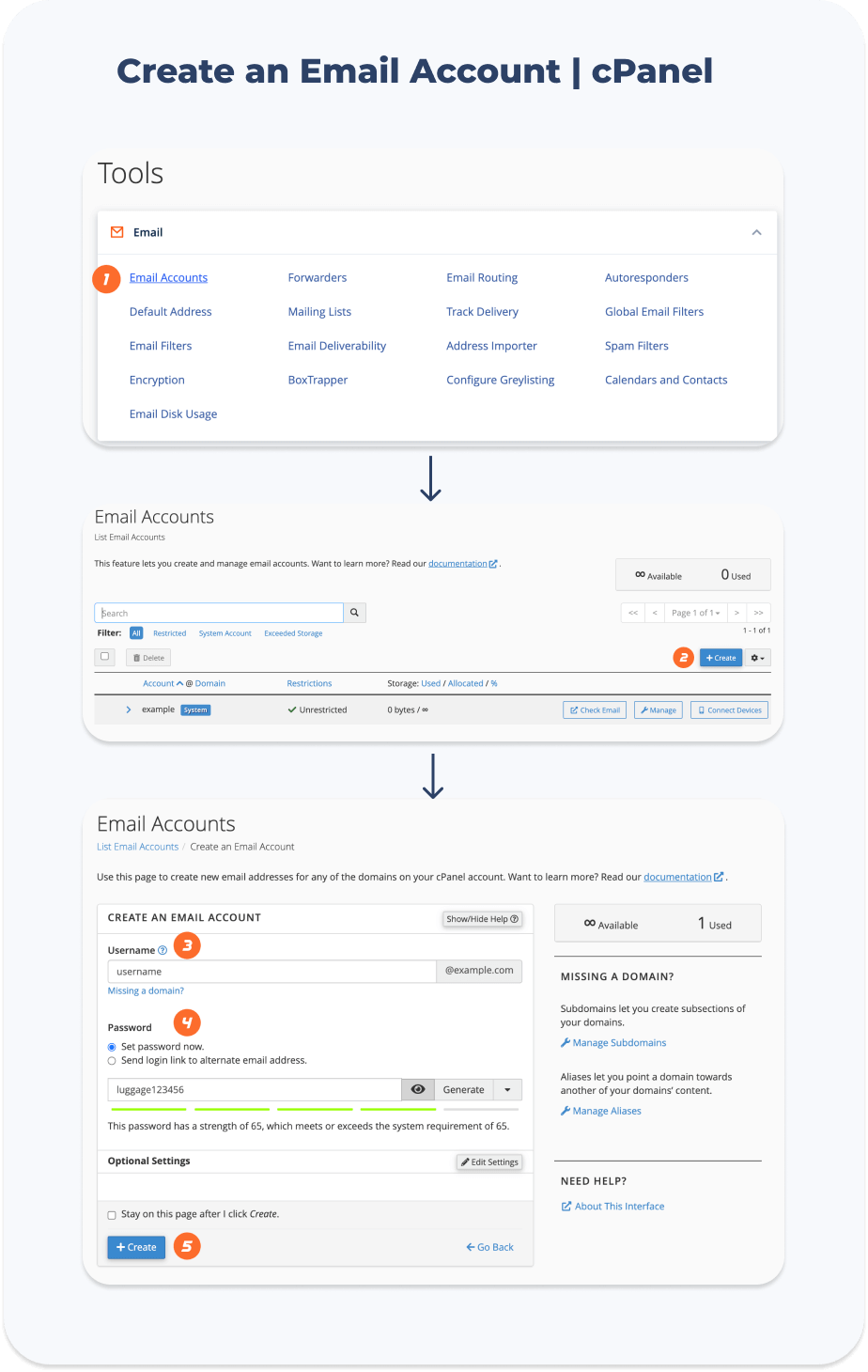 However, although cPanel is a trusted webmail platform, it doesn't have the robust security features offered by some of the leading business email providers. And if you run into issues, you will have to rely on your hosting provider's support, which may not be as responsive or helpful.
Since email is such an essential part of business communication, it's no surprise that there are comprehensive professional email solutions catering to different needs and budgets. These solutions range from simple tools for managing your inbox to robust solutions that integrate with various business tools and simplify team communication.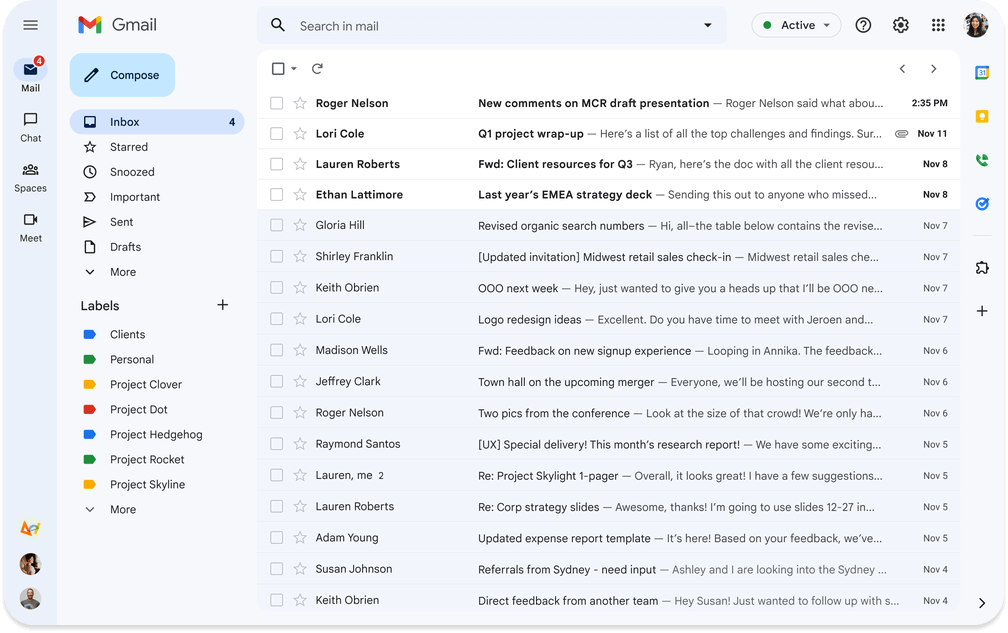 Two of the most popular options are Google Workspace and Microsoft 365, both offering email management, calendar functionality, video conferencing, email forwarding, custom domain support, advanced security, spam protection, automatic backup, and access to built-in tools and third-party integrations.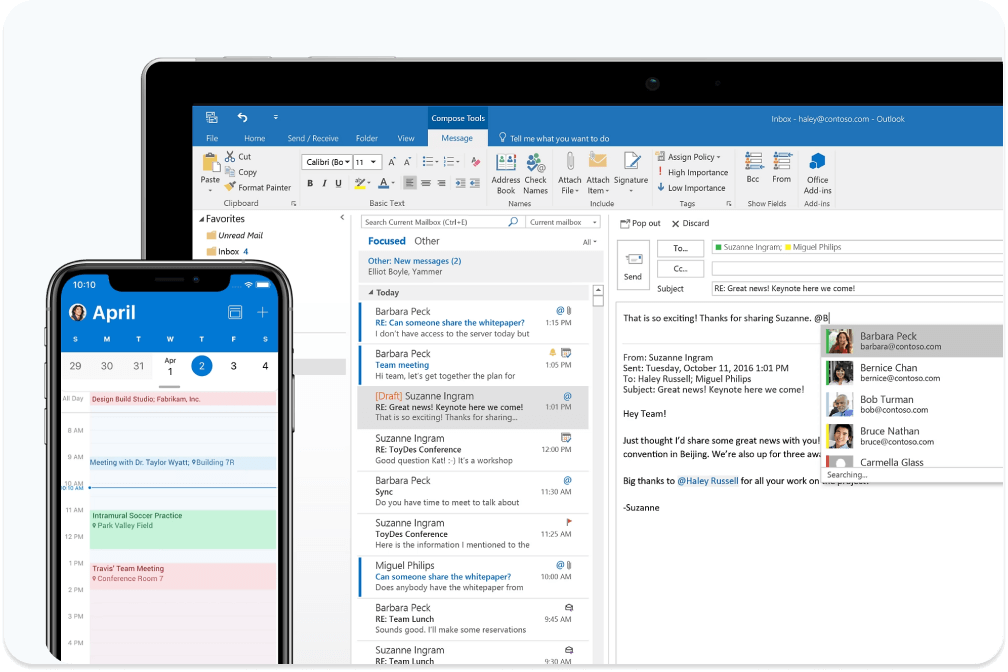 Other solutions, like Zoho Mail or ProtonMail, focus on creating a convenient business email solution while also offering advanced privacy and security features, which many business users care about.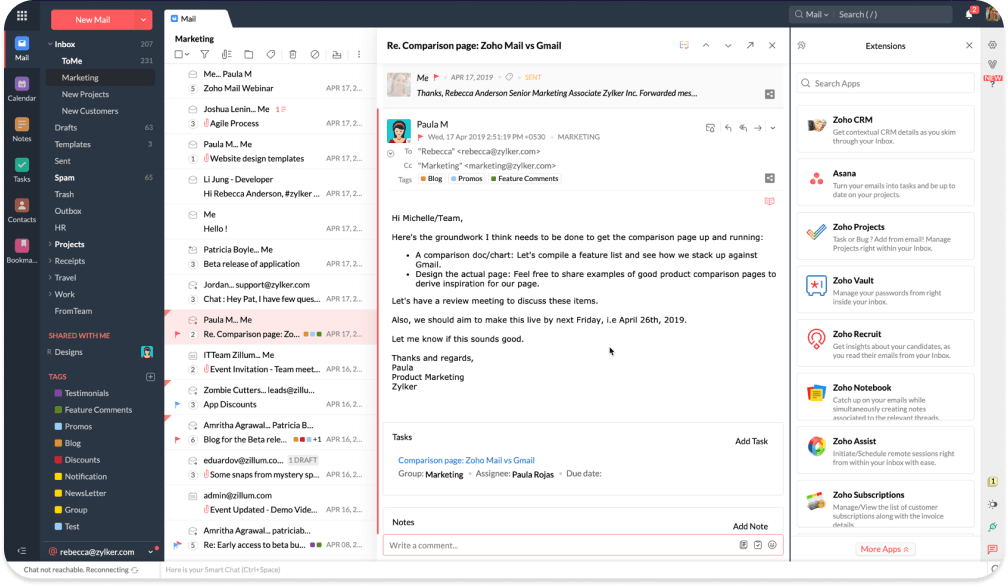 Using a business email solution can be an easy way to set up a custom domain email. And on top of that, you can take advantage of a suite of business tools that can help boost productivity and make communication easier. However, most of these providers are not free, so you will need to pay a monthly fee for every user you want to add.
The third and most complex option for creating a business email is to set up your own private email server. This way, you would forgo the need to use any service providers, gaining complete control of how your email looks, what features it has, and who sees your messages.
The main advantage of setting up your server is that it gives you complete control over who accesses your emails and data. No matter how secure an email provider is, the data still goes through the ESP's server, which means that, theoretically, third parties can access the data. But when you use your own servers, the data remains in your own hands, which not only protects against leaks but also ensures it won't be used for targeted ads or machine learning algorithms.
The most significant issues with using a private email server are the complexity of the setup and a more challenging time ensuring everything is working correctly. As you can imagine, this type of project requires technical knowledge and experience to set up correctly and will also require constant monitoring to ensure that everything is working. And those are big issues, especially when you consider just how easy and convenient it is to use a service like Google Workspace, where you can get set up very quickly.
How to create a free business email address
When figuring out how to create a business email, budget can be a significant concern. And unfortunately, most professional email providers only have paid plans, which can quickly add up if you're a small business or just getting started.gmail account
Luckily, there are options you can use if you're on a tight budget but want a professional email address that you can use for outreach or talking with customers. While they may not offer as much functionality and have some limitations, they can provide an easy-to-setup option for getting your business website domain at the end of your email address, which is crucial for being taken seriously.
If you have a website, a simple option to consider is to check if your hosting provider offers a free business email address through the cPanel. It's relatively easy to set up through the hosting control panel and can be an excellent option for setting up an email address with @company name without paying a fee every month, or at least paying very little.
Another method is to use email hosting providers like GMX or Zoho Mail, which provide limited free plans that you can use to connect your business domain and use it as your email address extension.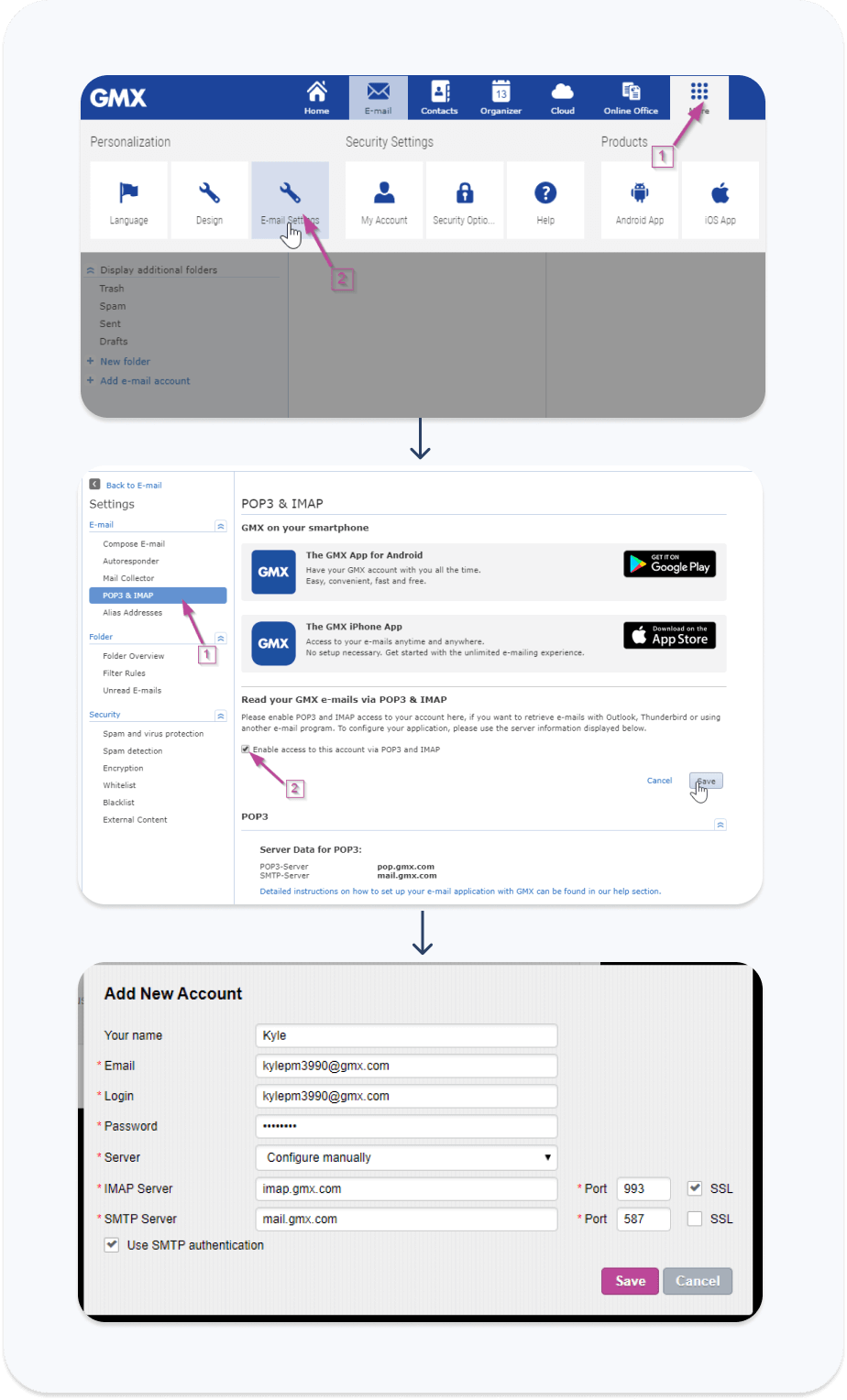 source: Privatemail
While you won't be able to use most of the more robust features and will need to get by with limited email storage space, they can work for getting started and boosting your email communications until you can invest in a better alternative.
You may be wondering if you can just use Google services to create a business email. So, is Google business email free? Unfortunately, Google only offers Gmail as a free email version, and you have to pay for a Google Workspace account if you want to add a custom domain.
Tips for using a business email account
Once you have chosen the best option in your situation and have set up a business email, the next important step is figuring out how to maximize your newly-created account for business growth and productivity.
Here are a few helpful tips to get the most out of your business email:
Maintain a professional tone. A big part of successful email communication is maintaining the right tone. Avoid slang or informal language, sticking to a clear structure your recipients will understand.

Prioritize good subject lines. Subject lines are an often-neglected part of business emails, but they can play a vital role in whether your emails get opened and read. But what is a good business email subject line? Ideally, you want to make sure that your subject line is specific and encompasses the key idea of your email.

Use a professional signature. Even though your business email address will provide hints about who you are and what company you represent, it's still important to have a professional email signature that will allow you to provide additional ways to reach out, give more context about your business, and even showcase your best offers. Using MySignature, you can set up a beautiful-looking email signature in minutes, even with no prior experience.
How to end a business email
How you end an email can set the tone for the entire communication and determine your email's effectiveness. And that's why it's essential to be deliberate in how you sign off, utilizing the space below the body of the email to provide relevant information and get the recipient to take action.
First, make sure you use an appropriate sign-off, such as "Best Regards" or "Sincerely." If you are more familiar with the person you're emailing, it may also be okay to use "Cheers" or "Thanks."
Then, combine your name, job title, company details, additional contact information such as your phone number, social media profiles, and anything else you determine to be relevant in a beautiful email signature design. Tools like MySignature make this process a breeze, allowing you to choose from hundreds of templates you can customize to fit your needs and situation.
If you want to make your email signature for a business owner more personal, you can also use a photo. Adding a face to an email can help create a stronger connection with the recipient and increase the likelihood of them responding. And that can help to have a personal and meaningful conversation that drives results.
Enhance your business email account with MySignature
Having a domain-based email address is just part of professional communication. You also need to make sure that every detail in your email is a good representation of you and your company. And that's where a comprehensive solution like MySignature can be an indispensable asset.
Using MySignature, you can create professional email signatures that instantly boost your credibility and provide all the relevant information your email recipient could need. It even offers features like professional-looking banners to showcase your offers and built-in email tracking that lets you know whether your emails are opened and read.
When you install the MySignature Chrome extension, you get a suite of features to integrate seamlessly with your Gmail user account.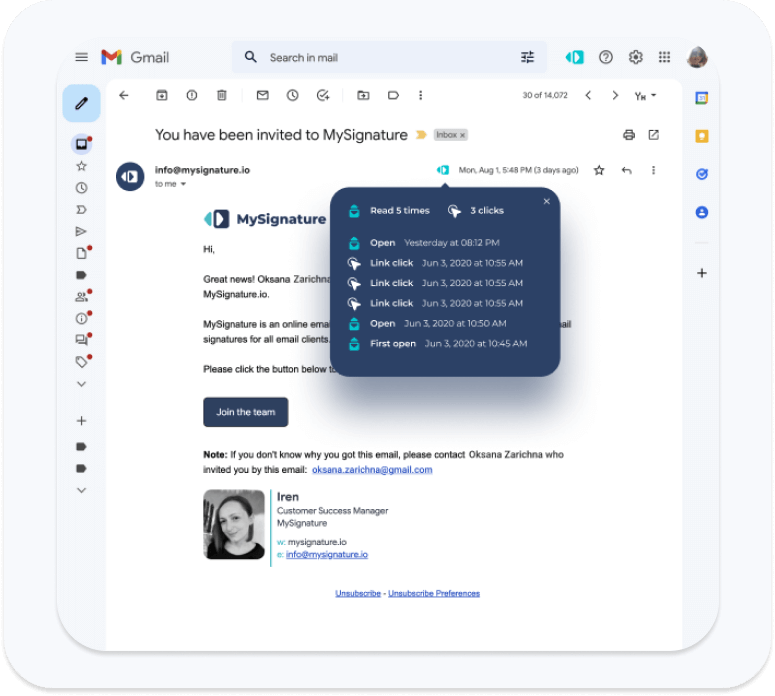 For example, you can create and update your email signature without manual work, enjoy unlimited email tracking with every email you send, and choose from the gallery of banners you can add in seconds.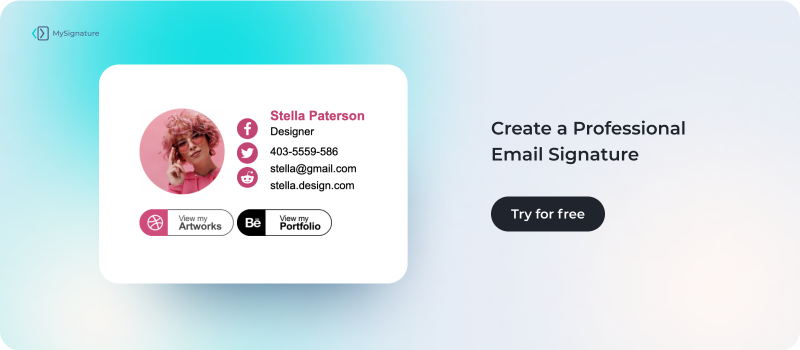 Frequently asked questions
Can I get a free business email without registering a domain?
Unfortunately, you must own an existing domain name to add it to your email accounts. Luckily, there are many domain registrar service providers that offer domains for an affordable price, allowing you to get a corner of the web for your business.
What do I do if my email name is taken?
The great thing about using a custom domain extension for your email is that the email name you want will always be available. The key is finding an available domain name and buying it. If a domain name you want is taken as well, you can go through the domain registrar menu and select a different option, or the same name with a different extension.
Info@ email addresses used to be very popular with businesses, and many still use them today. But they're not really the best option because they can be a bit impersonal. Instead, something like hello@ or letstalk@ is much more conversational.
Should my business email be my name?
If you're using a domain extension for your email address, going with your first name and last name combo for the email name is always a good option. Using just the first name also works well.
Where can I get a free business email address?
If you're trying to figure out how to get a business email, free options are available. If you have a website, you may be able to get free business email accounts through your web hosting. Some business email providers, like Zoho Mail, offer limited paid plans that allow you to add a custom domain. But since getting a free domain name is not possible, you would still get the domain name separately.
What email address should I use for my business?
A good typical business email address could be [firstname].[lastname]@[businessname.com].
How do I choose a professional email address?
When choosing a professional email address, aim for clarity, be concise, and try to make it easy to memorize. The good news is that it's one of the tasks you only need to do once.
Do I need hosting for email?
Even though email must be hosted somewhere, you don't need to buy a hosting service yourself. Instead, you can use a business email service provider like Google Workspace, Outlook 365, or Zoho Mail.
What is the cheapest way to get a business email?
The cheapest way to get a business email is to create one on cPanel through your hosting provider or use a free plan from services like Zoho Mail.
What kind of email should I use for my business?
If you want to be taken seriously, you can't just make a new Gmail account and use it for business communication. Instead, buy a domain name and use an email hosting service to create a custom email address, such as [firstname]@[yourdomain.com].
Are You Ready to Create Your Email Signature?
MySignature makes creating a professional email signature quick and easy. It allows users to add images and links to their signatures, so you can incorporate relevant branding, contact information, or other details in your signature without having to manually code HTML or create a complicated signature design.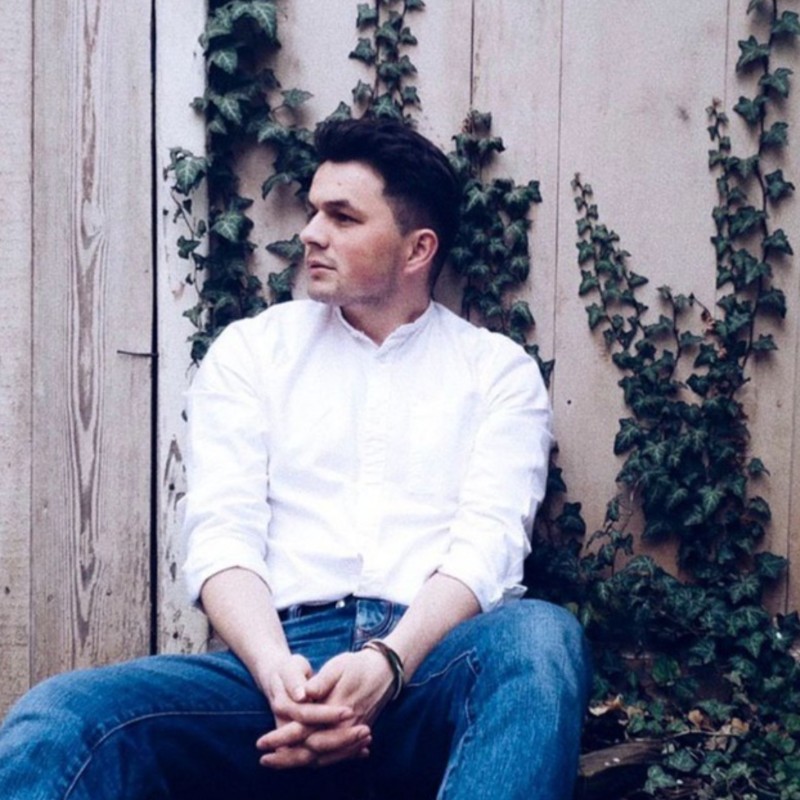 Vasyl Holiney
Vasyl is a Product Marketing Manager at MySignature with experience in SEO and Growth. He has been featured on HubSpot, The Next Web, ActiveCampaign, and other well-known marketing blogs.