You've sent an email out to your subscribers promising them the world. Unfortunately, you've received little to no reaction from your grand declaration.
Should you just give up? Move on? Rethink your entire marketing strategy?
Absolutely not.
While tactics like SEO and social media marketing are important pieces of the puzzle, email marketing has never gone out of style.
But you have to know what you're doing. One email is not the end of your outreach efforts. Follow up emails have been proven to work. Studies show that nearly 80% of prospects will say no up to four times before saying yes. On top of that, it has been proven that following up just one time can increase conversion rates by up to 22%.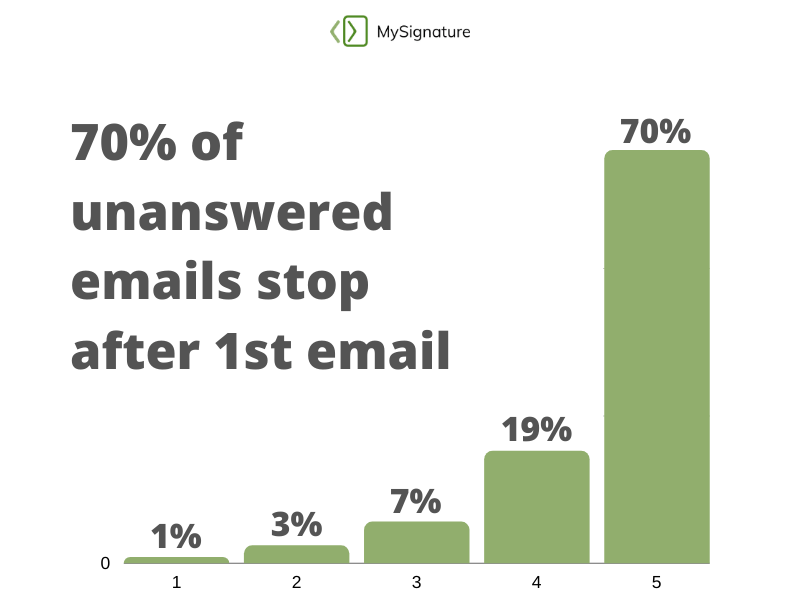 data source: mailshake
But you have to know what you're doing. Here are five follow up email strategies that could increase your open rates and, ultimately, conversions.
1. Wait The Right Amount of Time Before Sending a Follow-Up
Is there a proper amount of time that you should wait before sending a follow-up email?
Typically, if someone hasn't opened your email on the day that it was sent, it's not likely that they're going to open it at all.
Most recipients open an email and reply to it on the day that it was sent. So if you send your email on a Monday morning and you don't have a lot of responses by Tuesday morning, chances are that you shouldn't start holding your breath.
Typically, this is where a lot of salespeople throw in the towel. More than 70% of sales professionals will give up if people don't respond to their first email.
It's generally considered a best practice to wait two to three days before sending your first follow up message. With every subsequent outreach after that, extend the time period by a few days. So if you waited three days for your first follow up, wait for five more for the third, seven for the fourth, and so on and so forth.
Stelti Efti, the CEO of Close.io, came up with a formula for sending follow up emails, which can be viewed in the image below.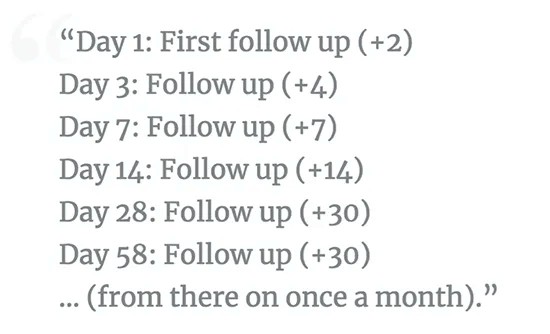 image source: woodpecker
Of course, every audience is different, so it's going to take some trial and error to find the best consistency for your prospects. The key is to provide them with gentle reminders without becoming a nuisance. If you annoy your audience with follow-up emails, they're going to reject your messaging out of spite and unsubscribe.
2. Optimize Your Subject Line
Your open rate will live and die on the subject line. It's the equivalent of a book with an intriguing cover design. If the cover and title of the book pull you in, you're going to open the book and start reading.
Of course, it's a lot harder to pull people in with a line of text than it is with an illustrated book cover. So, you're going to have to work a lot harder to generate interest.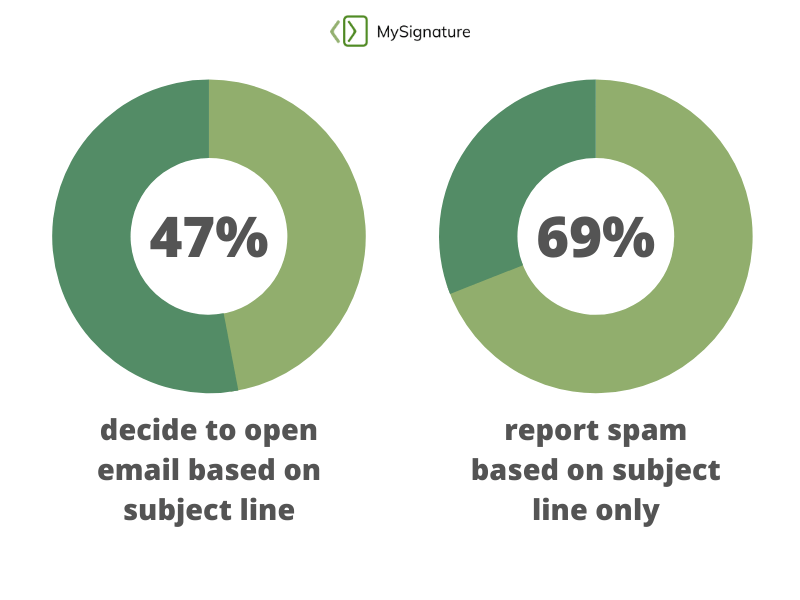 data source: optinmonster
A whopping 47% of email recipients use your subject line as the basis for whether or not they're going to open your email. That means you have to put some serious thought into how you're wording it.
If at all possible, personalize your subject line. A lot of third-party email marketing services give you this option and will pull a recipient's first name from their contact information and apply it to the email that they receive.
You're also going to want to provide key information in the subject line and tell your prospect exactly what they can expect to find in the email. The reason for this is that you want to avoid being labeled as spam or clickbait.
So, if you're offering a new service or a product, mention it. If you're trying to get them to take a short survey, make sure you're letting them know right from the get-go.
Another good bet is to ask a question that goes along with the subject of your email. This should be a question that your target demographic would ask. A great way to determine what your audience is asking is to do a Google search for your industry or product and check the "People Also Ask" section.
Just make sure that you're providing a clear and complete answer to that question in the email.
3. Use Video Content
If you let it be known that your follow up email is more than just a wall of text, you've got more of a chance of getting someone to open it. Consider using video content to generate more interest, like product animation explainers.
People enjoy video content, and the average person retains more of what they watch in a video than what they read on a page.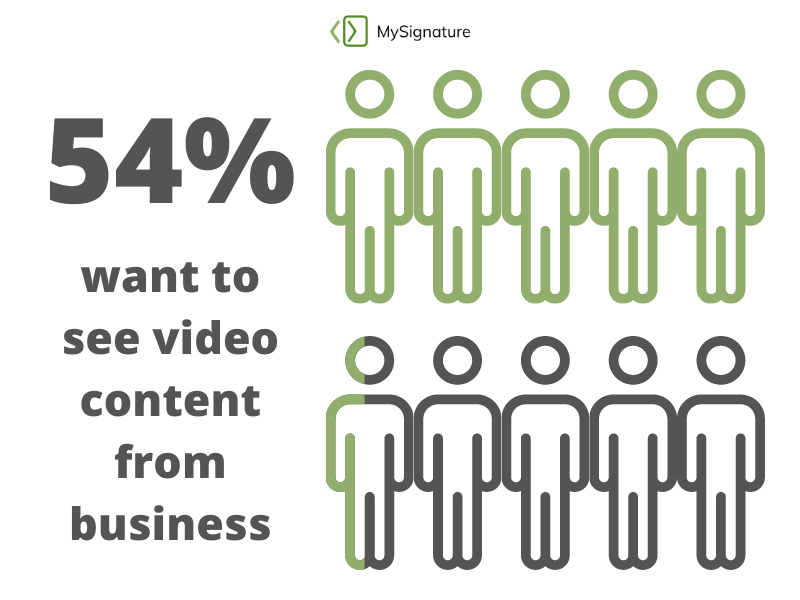 data source: mailshake
Remember, the quality of your content is indicative of the quality of your organization. So don't make anything look bush league or spammy.
Let's say that you have a stellar new product or service that you're touting. Let the prospect know in your subject line that there is a video inside and touch on what that video is.
Perhaps you're selling weight loss supplements. You're following up with prospects who have requested information on your product in the past but haven't made a purchase. You could say something like "Watch This Incredible Video Of A Woman's 100 lb Weight Loss" or "This Video Shows You How (Product Name) Can Help You Lose 100 lbs"
You've touched on a pain point for your target audience. They want to lose weight. You've also given them a strong sense of what is within the email. They know that there's a video inside that shows a woman's dramatic 100 lb weight loss.
Their curiosity should be sparked, which means they should click open the email. Once they're inside, they'll find a beautifully edited video showcasing an emotional story that they can become invested in.
The first step to making them believe in the content of your email video is getting them to open that follow up email.
4. Provide Context and Value
There are two factors that contribute to a strong open rate for follow up emails. They are context and value.
It's important to provide context when following up because your prospect might not remember your original message. Try to reference something from an earlier interaction. Even if they don't specifically remember, the fact that there's a clear history might cause them to open the message and see what it has to say.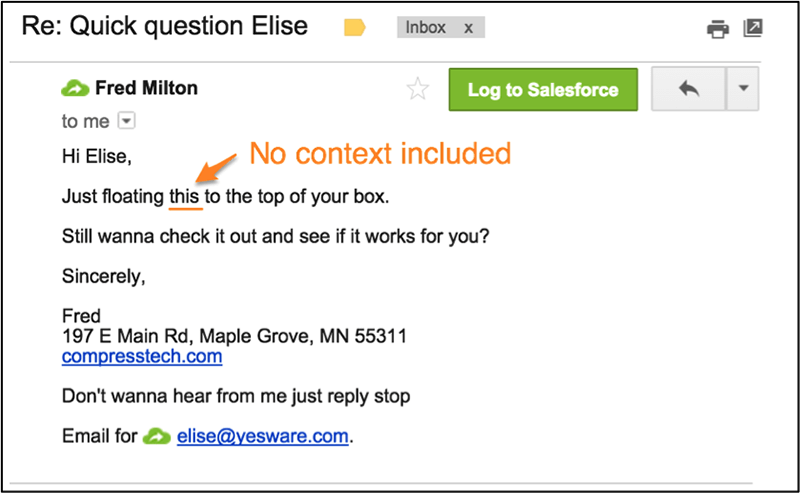 Make sure that you're using language like "I wanted to follow up on the email I sent you a few days ago regarding..." to give them some of that much-needed context. It might even help to have that context in the subject line of your email.
You also want to ensure that there is value injected into your email to promote engagement and, ultimately, conversion.
When you reach out to just touch base with a prospect, it can be seen as a waste of time. However, if you double down and prove the value of your message, they will open the email and respond.
Perhaps you're giving away a free gift with a new purchase, or you're offering them some kind of exclusive discount. If the value is high in quality and relevant to their interests or needs, your email goes from meaningless junk mail to an asset worthy of attention.
5. Have a Strong Call to Action
Doubling up on instilling value, you should also include a strong call to action which lets the prospect know how they can collect on what you're offering in that follow up email.
A subject line along the lines of "Respond to this email and receive a free $25 Amazon Gift Card"  has a strong call to action coupled with a value statement. That's the kind of email someone is going to want to open.
In the actual body of your email, make sure that you leave the conversation open to elicit a response. Something as simple as "I look forward to hearing back from you," can go a long way toward generating a response from a prospect.
Moreso, however, you need to let them know how they can collect on the value or offer that you're following up about.
Do they have to respond to the email? Is there a link for them to click on, like in the example below from SEO company Loganix?

image source: loganix
Perhaps you're trying to get them to set an appointment. Include a calendar link with a message saying "Click here to schedule an appointment."
A call to action can be an extremely powerful tool in getting prospects to open follow up emails and take action.
Conclusion
Email marketing cannot be ignored, even in today's advanced digital marketing world. But reaching out one time is seldom enough.
By following up on your emails, and following up the right way, you can increase your open rate, boost your conversions, and generate more profitable actions from your intended audience.
Author's Bio

Bethany Santos Content Writer at Wordable
Bethany is a former HR Officer who later found her specialty in digital marketing. With a keen interest in content optimization and market behavior, she's become a walking database for industry news.
Bethany Santos
Bethany Santos is content writer at Wordable. She is a former HR Officer who later found her specialty in digital marketing. With a keen interest in content optimization and market behavior, she's become a walking database for industry news.