The decade dawns with the increasing demand for even more digital skills. One of them is content marketing and management. While there are diverse yet all interwoven aspects of marketing, the importance of content marketing cannot be overemphasized.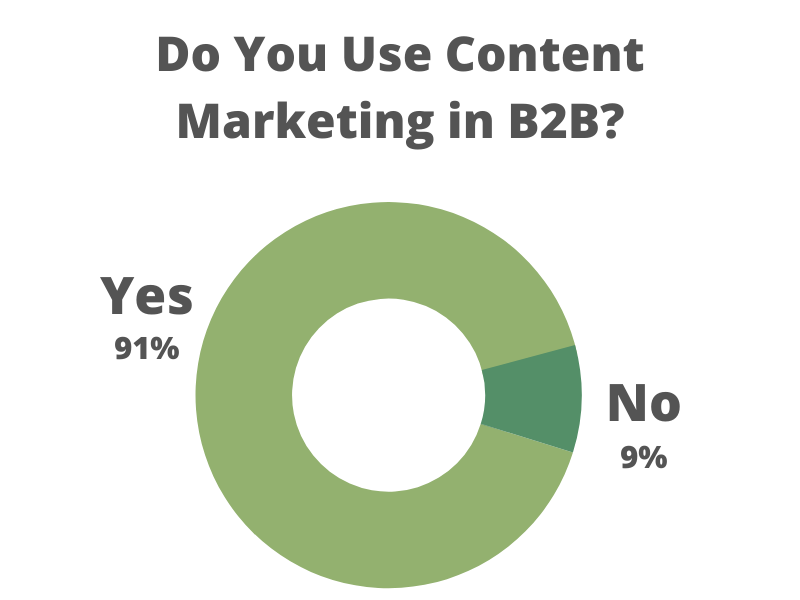 data source: ndash
The entire internet is saturated with content in all its forms. From articles to blog posts, product descriptions, translations, captions, and so much more, which is just written content. Marketers need a form of content to push a product, incite purchases, and cultivate engagement. Hence, content marketing isn't just a part of the advertising niche. It is the heart of it.
With that said, in content marketing campaigns, it is important to synchronize the right tools following a particular brand's portfolio and goals. Thus, the knowledge and proper utilization of such tools are tantamount to the success of any content marketer. Otherwise, it could create havoc to businesses and brands.
Now, there's a plethora of plausible digital software one could use for content marketing management. They belong to different categories that we are going to describe below.
Tools for content marketing management
It may seem simple on paper but there's a lot of ground to cover in content marketing.
The described tools will get you halfway through the journey. Each of them handles specific areas of content marketing. And while some handle just one aspect, others are all-encompassing.
Here are some of these tools broken down into their respective categories.
Planning and project management
Before any content is curated, one needs to set a plan in motion and some may require learning project management courses. This plan is inclusive of schedules, calendars, plausible productivity charts, and so much more.
Thus, the best 2023 content marketing management tools concerning planning and project management are: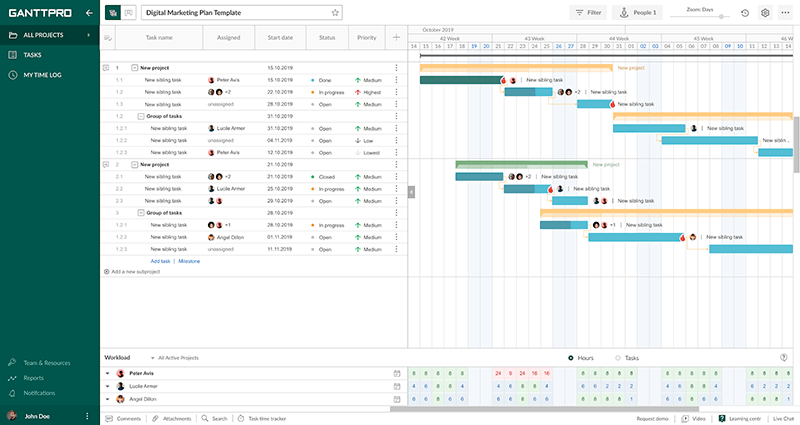 GanttPRO is an online project management software based on Gantt charts. It easily allows working on tasks, managing teams and resources as well as project and personal calendars. With GanttPRO, you will never miss a deadline and always stay on track of your content marketing project progress.
To gain access to the tool, a monthly subscription of $15 is required per individual. However, if you're working in teams, there are more affordable packages for groups of 5, 10, and 15 persons.
GanttPRO comes with a 14-day free trial where all the features are available for use.
What really distinguishes GanttPRO from other project management tools and contributes to its greatness are its user-friendly interface and robust project planning features like export, sharing, baseline, etc.
GanttPRO is rated 4.7/5 on both G2 and Capterra.
Pros: It's a very efficient and intuitive software. There's a real-time chat-based service support system.
Cons: This software is light on integrations.
GanttPRO is a good choice for content management because it helps users track, manage, and optimize their plans and schedules without any extra training.
2. Xtensio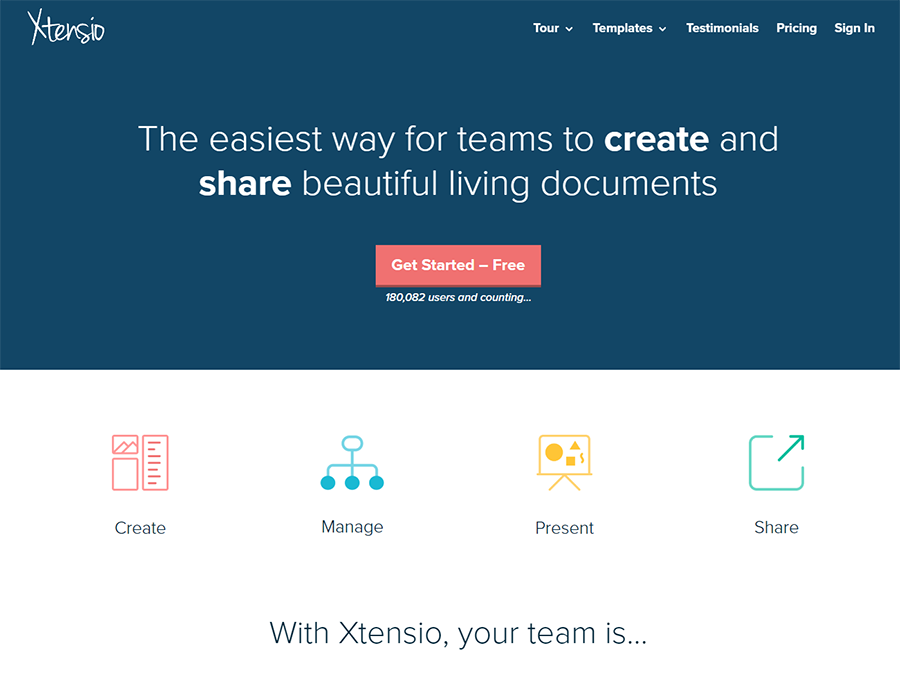 Xtensio is a very flexible platform that allows teams to create, collaborate, share and manage business documents and presentations. Building smarter documents and streamlining workflows are made easy with its drag-and-drop and inline editing features.
Xtensio starts at $0 forever up to $15 per month for an individual account. Businesses can enjoy Xtensio starting with its Pro account at $50 per month for 2 users.
Xtensio is rated 4.5/5 both on G2 and Capterra.
Pros: Flexibility to share folios as live web links, digital slideshow presentations or exportable PDF/PNGs
Cons: Not all folios can be kept if account is downgraded to the free plan
Xtensio is the easiest way for teams to turn business goals into reality.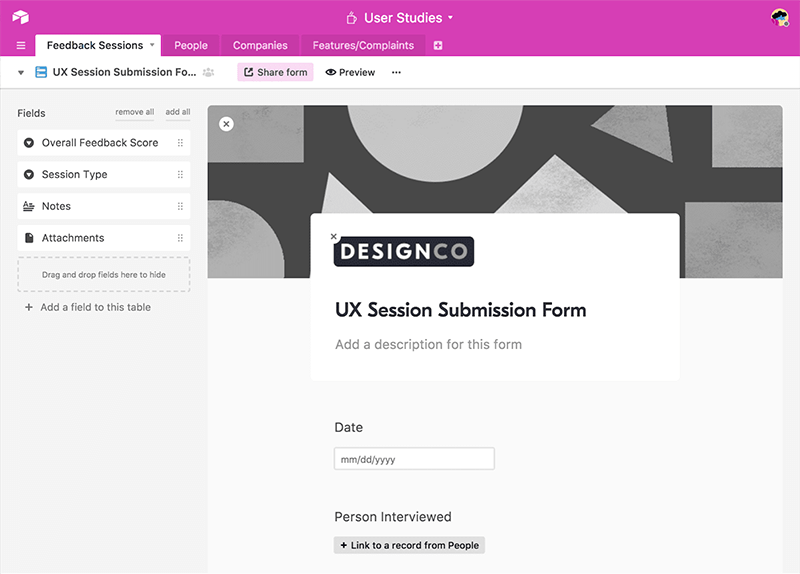 This project management software can be a little bit complicated. However, users can get a lot of use from it.
Airtable has a $0/month pricing option but it only gives access to its essential features. There's also a $10 and $20/month plan for individuals and an enterprise plan for corporations.
The software is mostly used for its editorial calendars, growth experiments, as well as writer and influencer management. Airtable is a distinguished software that helps writers optimize their use of keywords and tags for maximum traffic/ranking.
Airtable has a user rating of 4.6 on G2 and 4.7/5 on Capterra.
Pros: It has an email integration feature and it aids data synchronization. Users can also save and share their views or export them from Airtable to Google Sheets and other tools.
Cons: Can be difficult to use for first time users. Limited automation features.
This software should be used for content marketing management because it simplifies activities and it's an all-in-one collaboration tool.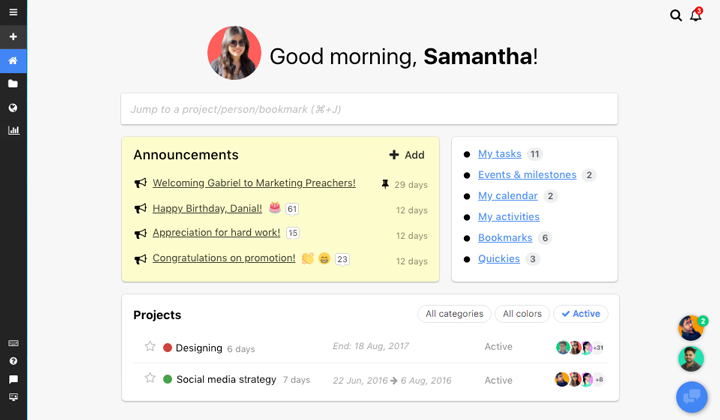 ProofHub is an all-in-one software for content marketing teams that brings together all the aspects of task management and team collaboration. It helps teams stay in ultimate control of their tasks, projects, clients, and communications with its powerful features.  
Its simple no per user pricing makes it a standout option for growing teams. The Ultimate Control plan, with unlimited users and projects, is available at $89 per month. 
ProofHub's easy-to-use interface makes onboarding easy. Features like online proofing, a dedicated space for real-time collaborations, and an in-built chat app make it a great software for content marketing teams to work together more efficiently. 
ProofHub is rated 4.4 on G2 and 4.3 on Capterra. 
Pros: Easy to use with flexible task management features, powerful online collaboration features, and no per user fee.
Cons: Limited number of app integrations.
ProofHub should be used for content management because it gives a central space for planning, collaboration, and keeping everything organized so that teams can stay connected and work productively. 
Competitor research
Knowing those specific keywords or features that drive traffic to your competitor's site is vital in content marketing. It gives you much-needed insight when curating your next content.
These are some tools that can help you with SEO competitor research.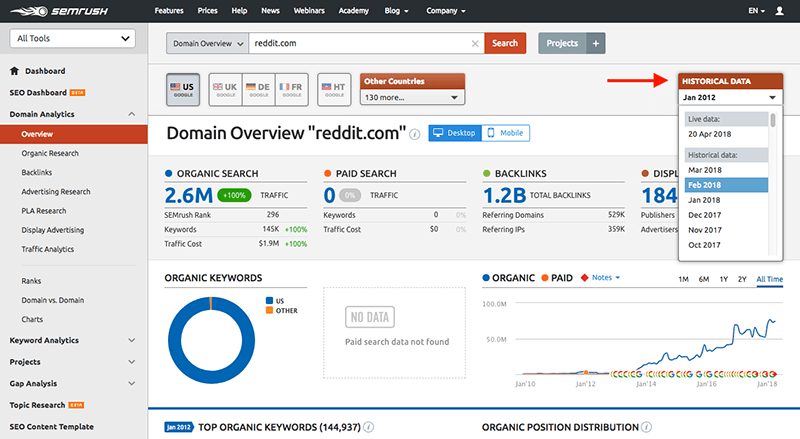 SemRUSH is an all-in-one marketing kit. It gives you a perspective concerning search marketing. It provides detailed answers to questions like 'what keywords are competitor X riding on'. And arms you with similar ammunition to outrank them.
SemRUSH is a pricier content marketing management tool and although there's a "Try Free' option, its lowest plan costs $99.95. Other plans even go up to $200 and $400/month.
What exactly does this tool offer that's worth $400/month? Well, SemRUSH does way more than just domain and keyword analysis. This tool gives users unlimited access to crawl pages, check mobile rankings, and so many other features.
But what distinguishes this software is its ability to highlight sublime information of any URL based on their keywords.
This tool has a 4.6 user satisfaction rating on Capterra and a 4.7/5 on G2.
Pros: Provides detailed information on how to make your content rank high on search engines.
Cons: The price may be an issue.
SemRUSH is a must-have for content writers, marketers, and management experts because it offers priceless information that can streamline your blog's, brand's or company's marketing success.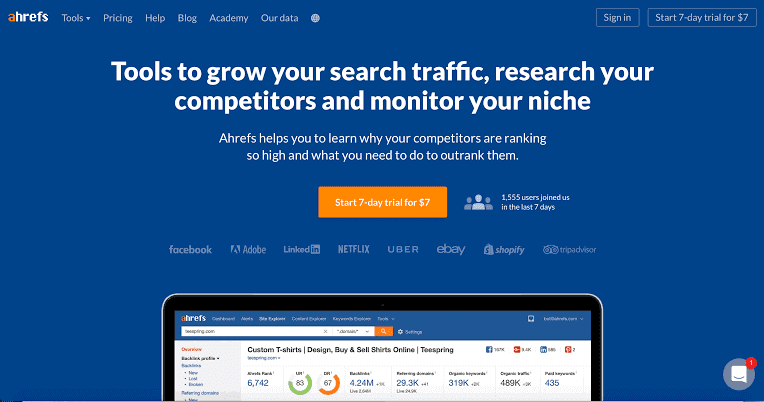 Once you are on their homepage, you immediately realize what Ahrefs is really about. The software is primarily designed to help you outrank your competitors.
With this tool, you can track the mobile ranking of any URL, update frequencies, organic keyword analysis, etc.
Ahrefs offers a 7-day $7 trial but its monthly plans go from $99 to $999.
What distinguishes this tool is its backlink indexes, ranking indexes, and site audits.
The software is rated 4.8/5 on Capterra and 4.6/5 on G2.
Pros: New features are added regularly to increase user satisfaction.
Cons: It is pricy.
Ahrefs is highly recommended for content marketing management because it helps users gain insight when researching what keywords to use, backlinks to gain, etc. before they write a piece of content.
Social media tools
Content marketing has to do with social media and tools that increase visibility on diverse social media platforms are highly coveted in this niche.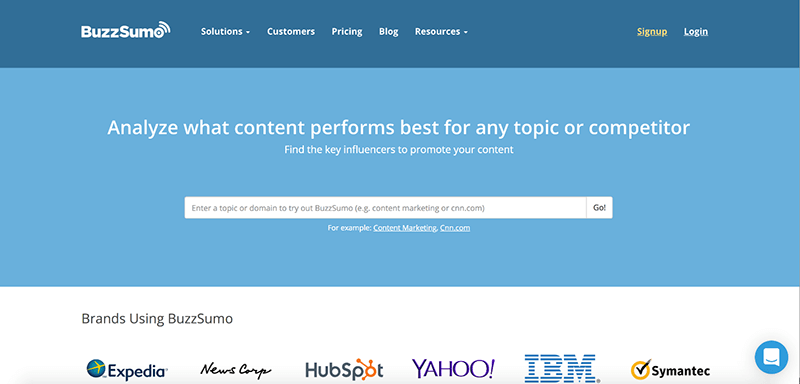 Buzzsumo helps you find out the kinds of content that receive the most visibility or engagement in your industry. It also connects you to vital influencers in your industry who can help promote your content.
It costs $99, $179, $299, and $499/month, depending on the plan. Although there is a free trial.
This tool features unlimited searches, monitoring alerts, competitor analysis, question analyzers, social shares, Facebook analyzers, exports, content/influencer reports, and so much more.
On Capterra, it has 4.5/5 stars and on G2 – 4.5/5.
Pros: Easy to use for both novice and expert digital marketers.
Cons: It is expensive. Some features need to be improved upon.
Buzzsumo should be used by content marketing managers because it gives much-needed insights on topics that are likely to trend on different platforms.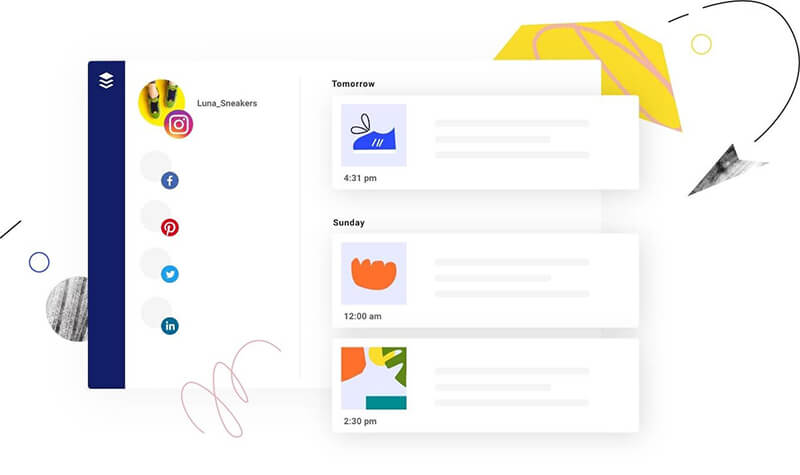 This software helps in driving engagement on social media content. Buffer helps plan and schedule your proposed content, analyses plausible results, and engages with your audience too.
The tool has features for post scheduling, analytics, automated publishing, and of course, content management. However, the best part is that it has a multi-account management feature to oversee all your numerous social media accounts.
Buffer comes with a 7-day free trial after which users can decide to get on either the $15, $65 or $99/month plan.
Buffer has a Capterra rating of 4.5/5 while G2 shows it as 4.3/5.
Pros: Its pricing is flexible.
Cons: Issues with scheduling on Instagram.
Buffer is a worthy tool for content marketing management as it helps you gain exposure, authentic audiences, etc.
Email marketing
Email marketing is very efficient in increasing publicity for one's brand or business. For success in email marketing, these tools should be indulged.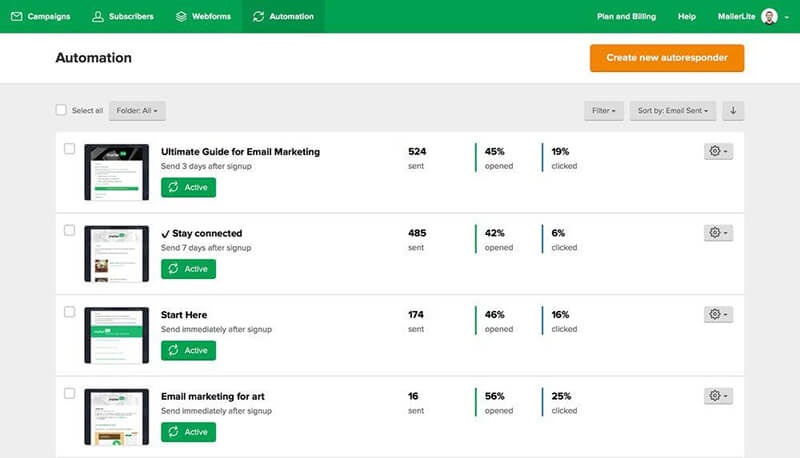 This software is an email marketing service provider. It allows users to design and customize their email campaigns, track results, and manage their subscribers.
MailerLite offers all the diverse metrics required for email marketing and email tracking. It is also a free emailing newsletter software that is simple and potent and is even helpful in creating landing pages. You can check the full MailerLite review here. Users can also create pop-ups, and surveys.
The tool offers its premium features for free in its 14-day trial. Otherwise, users can get on the $10, $15, $30, and $50 monthly plans.
MailerLite is rated 4.5/5 on Capterra and the rating on G2 is 4.6/5.
Pros: You can create PDF brochures that can be exported to other apps. It's very budget-friendly.
Cons: It isn't Outlook compatible.
This software is highly recommended for not just content marketing managers but anyone in need to push a product/service through emails.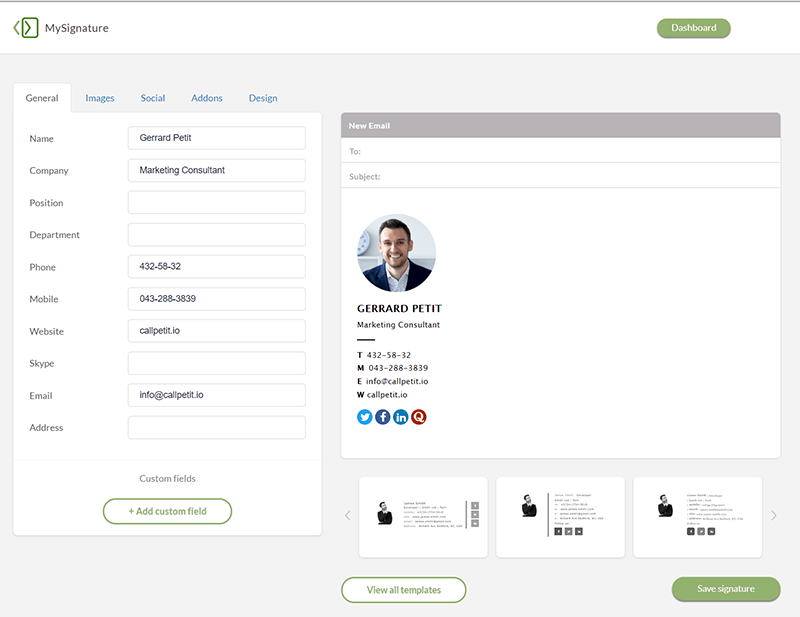 MySignature is a generator software that provides its users with professional signatures for their formal and informal emails.
With features like email analytics, signature templates, HTML support, and social media icons, the crowned jewel is its centralized management feature.
This software offers a free tool with limited features and Pro plan for individuals and businesses that start from 4$ per month.
The application has a G2 rating of 4.5/5. It's not rated on Capterra.
Pros: It supports Gmail, Outlook, and Apple mails. It is very affordable too.
Cons: It doesn't have predesigned signature banners.
This software gives its users their very own professional stamp on their content.
Graphics and video
Content marketing management isn't just purely about blog posts or articles. It also resonates within the graphics and video groups as well.
Great videos need even greater creating and editing tools and these tools satisfy the content marketing management expectations.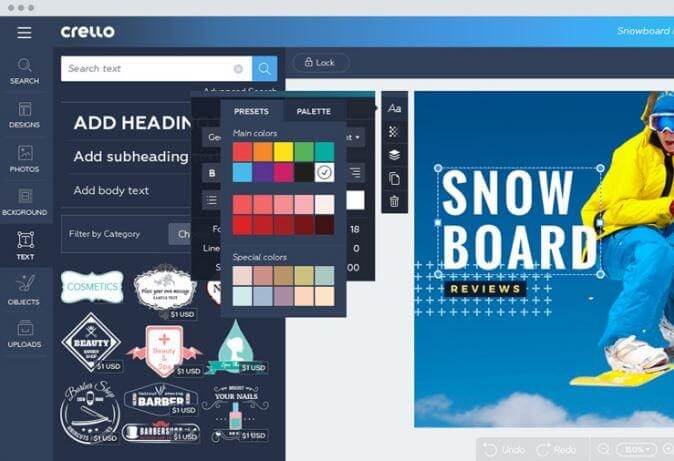 Crello is an online tool that is used for creating visual content in the form of videos or graphic designs with a plethora of its pre-designed templates. Visual content can be posted on social media or even left in print form. This online tool permits users to upload their fonts and images which is great.
Crello offers a 30-day free trial and users get to pay a minimum of $7.99/month to use cool features like its customizable templates, media/library, or its search/filter option.
Crello is rated 4.6/5 on Capterra and 4.5/5 on G2.
Pros: Unlimited templates to create visual content.
Cons: Transfer from desktop to app isn't possible.
What's great about Crello is that you can create professional visual content without having any inherent skills.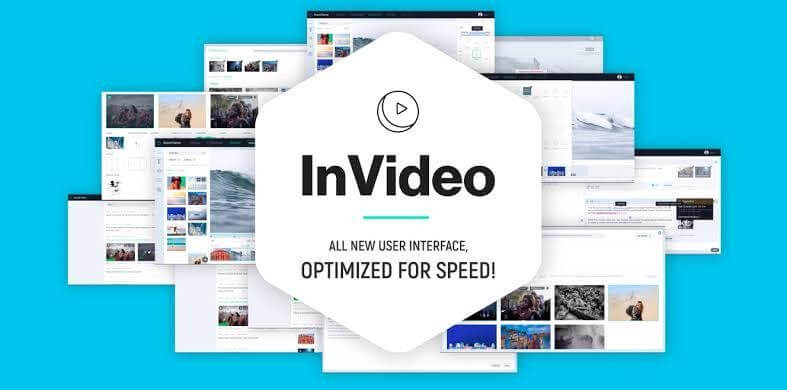 This online tool helps in transforming content into great videos. It's ideal for different professions.
Although there's a free trial, it costs $29/month to access their extensive range of features. They include audio tools, text and brand overlay, video capture, speed adjustment, social sharing, etc. But the winning feature which this tool supports is HD resolution.
InVideo is so great that it's rated 4.8/5 on both Capterra and G2.
Pros: It's all-inclusive and it increases quality video production.
Cons: There's no tool to justify text.
Great visual content captures the audience's attention and with the tools like InVideo, you will do it professionally.
Grammar check
In written content, correct grammar and communication is important. Readers need clarity when reading content and thus, tools that help in spell-checking, rephrasing and eliminating errors help increase readability and engagement.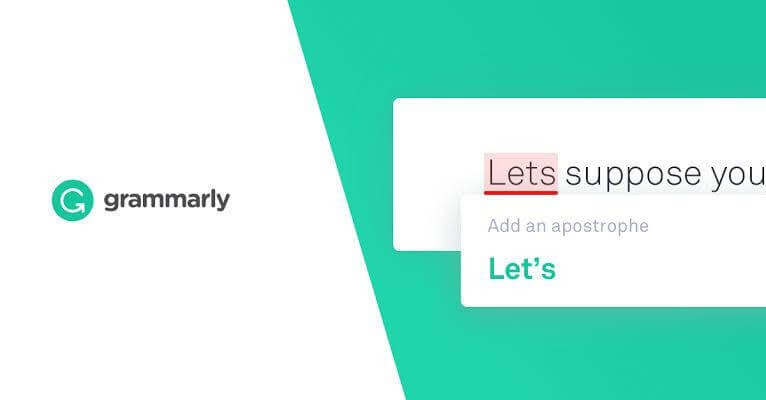 Grammarly does it all. At your command, it corrects grammatical errors, punctuations, spellings, or misused words.
This tool offers proofreading features like contextual speller, spell check, text editor, grammar check, etc. Also, it has productivity features.
Grammarly's plagiarism detector is what distinguishes it from others.
The tool is known to be free for users with a Chrome browser. However, there's a $15/month charge if you use Grammarly Business.
Grammarly is rated 4.7/5 on Capterra and 4.6/5 on G2.
Pros: It's fast, easy to use, and mostly free.
Cons: It isn't 100% effective.
Grammarly should be used by content marketing managers because it streamlines text readability and enhances clarity.
Andrew Stepanov
Andrew is a content writer and communication specialist at GanttPRO. He has strong marketing and copywriting skills.