When building your brand's online image, every little detail counts. Even as little as your email signature. Many businesses don't pay enough attention to creating professional email signatures. Meanwhile, adding something as basic as a link to your website to your email footer can already make a huge difference. In a small case study by
Templafy
, the researchers studied the impact that including a link to a company's website has on website visits and the bounce rate. Using UTM links and Google Analytics, and with only 50 emails reviewed, they were able to identify that:
The bounce rate of people visiting a website through an email signature dropped to 41% compared to the average of 77.6%. It shows that twice as many people visited the website via the link in an email signature than via other ways of accessing this website.
It is reported that website visitors stayed 3X times longer after accessing it through the link in an email signature.
The overall time spent browsing the website by people who entered it through a link in an email signature was longer than the average time spent by an average visitor.
These results show how much you can achieve with something as little and seemingly unnoticeable as an email signature.
More Reasons to Make Email Signature Professional
These numbers are convincing enough but there's more to making professional
email signatures
in terms of benefits for your business:
Brand recognition. In some cases, your email is the first means of communication between you and your potential client. Thus, your email signature also becomes your business card. So, why shouldn't you give it as much thought as your actual business card?
Consistency in brand representation. Logos, slogans, website, and social media presence are important parts of creating a consistent brand identity. A professional email signature shouldn't be excluded from this list, as it plays an important role in representing your business via a crucial medium, an email.
A quick way of communicating the important stuff. An email signature may contain more features than just a name, position, and company name. Disclaimers, notifications, and informative links can give the addressee all important information to get acquainted with your company's standards.
All these benefits contribute to the success of your business, not to mention that your emails will look more professional and therefore will attract the attention you need. A proper email signature can help an owner of a small startup to get noticed by the big clients. But what's behind the proper email signature? What makes it look professional? Let's take a look at the basic types of professional email signatures and what each of them represents.
Emails with Non-Branded Email Signatures
This
email signature
contains no banners, CTAs, or links. It is short and includes typical information, such as:
First name
Last name
Job position
Company
Contact details
One of the components above can be omitted. For instance, if there's a name of your company in an email address, you can skip it in your email signature. Although it is better not to do it for the purpose of better brand recognition. Emails typically look like this:

making the text of the email look more pronounced and eye-catching
it is not too distracting, given that you provide only basic information
the email loads faster as there are no additional banners or other images that take some time to load
Tip: Although this is an acceptable variant of a professional business signature, it can be hardly noticeable. If you decide to go for this basic email signature, try to provide all contact information and highlight your email signature with a color that stands out (as shown in the picture above).
Emails with Branded Signatures
A basic email signature can be turned into a more professional-looking one after adding your company's logo. This is a common practice to increase brand awareness: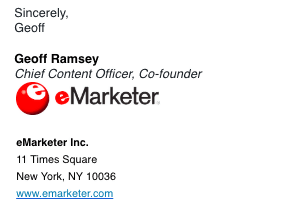 When introducing yourself to a new client via email, an email signature with your company's logo makes a strong first impression.
The more visual your email signature is, the more memorable your company becomes. Logos are the point of identification. The more they appear in your communication with clients, the more visible your business gets.
Using your logo everywhere, including your email signature, gives you a solid chance to stand out and separate yourself from the competition.
One of the most important benefits of including your company's logo in the email signature is that it fosters brand loyalty. According to the research made by the international real estate company
Flatfy
, it takes 10 seconds to form a first impression of a brand's logo. However, starting to recognize the logo takes about 7 impressions. This means that the more your logo appears in the basic forms of communication, such as email, the more your brand gets recognized, which contributes to brand loyalty. If you are a solo entrepreneur, a branded email signature is a must for you. While you are not limited by any restrictions, you can be as visual as you want with your email signature, as long as it contributes to better recognition of your brand. Here's a good example of a creative branded email signature: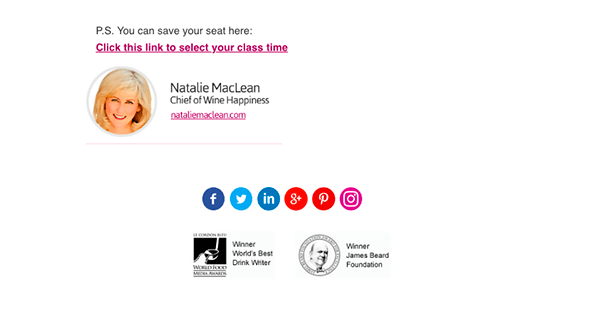 Emails with Promotional Links and CTAs
It is very popular to promote your business through CTAs, inviting people to visit your website or share their feedback. But this is not just the feature for the social media and your website. Promotional links and CTAs can be included in your email signature as well. Here's how both of them look like in one email: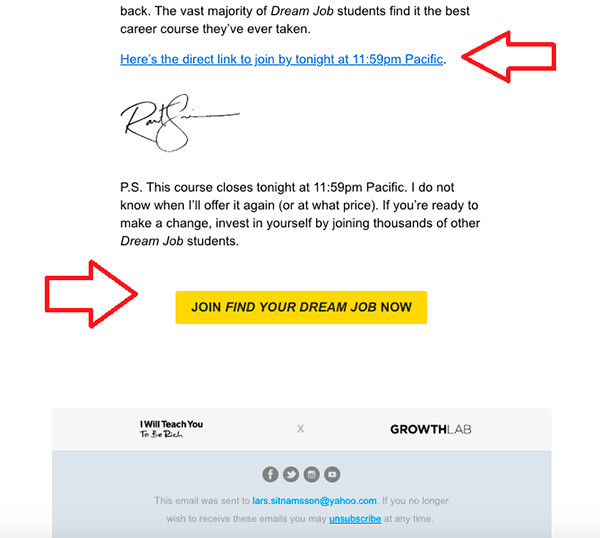 Make the link inbound rather than include it separately. The picture above has a very good example of including a promotional link by attaching it as a hyperlink to the text. This way you can save space to include something more in your email signature.
Keep your email CTA simple. It should be short, concise, and connected to your company's activities.
Action words help. If you sell products to clients, use strong action words to encourage them. Including the expressions that your customers are familiar with will trigger the right reaction.
CTAs and promo links in email signatures do not lead your email directly to spam as long as your links aren't broken. Moreover, such signatures should be changed frequently as they are relevant only when you have a particular offer. Other than that, emails with CTAs are a great way to make your email signature look more professional.
Bottom Line
It is common to overlook the importance of the email signature. Nevertheless, it is one of the most important details that make your business look more professional and successful. Incorporate the practice of creating proper email signatures for every employee in your company, including yourself, and you'll definitely get more attention and recognition.
Helga
Helga is a CMO at MySignature and digital marketer with 7+ years of experience. Having worked in numerous industries she has a deep understanding of various markets and a variety of tools as well as growth hacking techniques that can boost marketing activity in a particular sphere.