Whether you're a public person or live an ordinary life, personality is a trademark. It determines how other people treat you and to a large degree - how you succeed in career or relationships. As such, personal brand is an asset that you should take care of and build up. In this article, we're going to uncover common mistakes that can damage it and a few practical personal brand tips.
Not being who you really are
Although brands are the ultimate subjects of marketing efforts, providing them with counterfeiting attributes is a hopeless strategy in the long-term perspective. Today's world is extremely open - social platforms, like Facebook or Instagram, blur the borders between private and public life, so one can't hide an awl in a bag anymore. Millennials, who form a prevailing part of global purchasing power as of 2023, are very skeptical of fakes. Furthermore, 84% claim that traditional marketing pushes them away - they simply don't trust ads.
Consumers want to see a human face standing behind a product or service, and worldwide trends - body positivity, natural beauty, diversity, showing imperfections, discussing mental disorders - reflect the fairness of this statement. So now, successful personal branding is all about showcasing real life and not pretending to be someone else.
Not taking personal branding seriously
Once you enter public space, e.g become a YouTube blogger, politician, or Instagram influencer, you have to be mindful of what to say and display.
Recent years have shown how extremely adverse a punishment for misconduct can be - from celebs' public "persecutions" for accidental remarks to the Cancel culture. A single incautious phrase in an interview or Twitter and the reputation is ruined - just recall cases with JK Rowling, John Galliano, and many others.
When you develop a personal brand, communication at all levels and PR shall be a well-thought strategy - not an uncontrolled chatting with subscribers or press.
Not having a personal branding strategy
The personal brand includes inner and outer self features, and one cannot be separated from the other. To create a consistent and profitable brand, you need to use an integrated approach:
determine what level of visibility you're going to build (niche/industry expert, the boy/girl next door, a global superstar, etc.)

define the target audience

and develop a strategy.
The latter includes:
top-priority communication channels

your raisin or something that differentiates you from thousands of other brands; for example, a lifestyle, deep expertise, or outstanding achievements.

content plan - overall agenda, topics covered, contents, timecodes

networking with opinion makers

- at the beginning of personal brand development, you may want to be promoted by influencers.
Not generating your own content
Popular YouYube channels have 1,000+ videos, and online magazines, blogs, and educational platforms produce millions of articles daily. Unless you can overproduce this amount of content, you need to develop deep expertise in some specific topic and become a very niche expert to be heard.
Say, the goal is to reserve a "cooking guru" title for you. But there already are hundreds of all-exhaustive cookery videos, tutorials, lectures from recognized aces in the industry, like Gordon Ramsay or Jamie Oliver. A way out may be - to focus on some exact recipes, like pies with potatoes, and 100% cover the topic with unique and high-quality content. After you get a considerable number of followers, you can expand the expertise, however, staying close to the core topic.
Not being consistent with personal branding
The problems arise when one tries to please everyone and targets a broad audience. In reality, this is a "lose-lose" strategy:
no one will be completely satisfied with your personal brand

the audience you obtain will be miscellaneous, and it will be difficult to prosper its reaction to the content and attract advertisers.
To succeed with self-promoting, stay consistent and focused - decide on a single line of conduct and follow it. Even though a few adjustments may be required in the future, the central part of the personal brand identity should be untouched. After all, this is exactly what the public admires you for.
Buying contact lists
To reach out to the audience, you first need contacts. A simple way to get them is to purchase pre-collected email or phone databases. But this is a dangerous enterprise because you may get faked or broken data, and a bundle of unpleasant consequences as a result - from vain expenses to GDPR violations and punishments for spam.
Collecting contacts by own means isn't that difficult, and there are many affordable tools, like Snov.io or Hunter.io, that do all the job..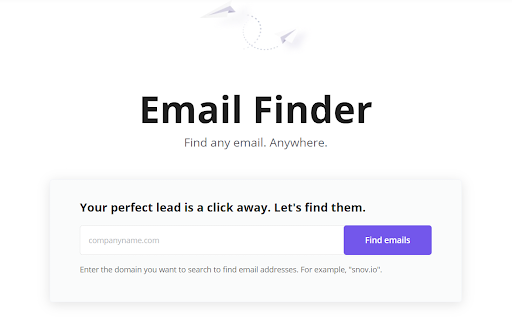 "One can automate contacts' collection by using special tools, like Snov.io", source
All you have to do is upload a list of website URLs or companies' names to the email searching tool, and it'll start scraping information from the Web. Then - the software will automatically launch verification, so, ultimately, you'll get a clean list of contacts - without temporary, broken, misspelled, catch-all, and other troublesome email addresses.
Using default email signatures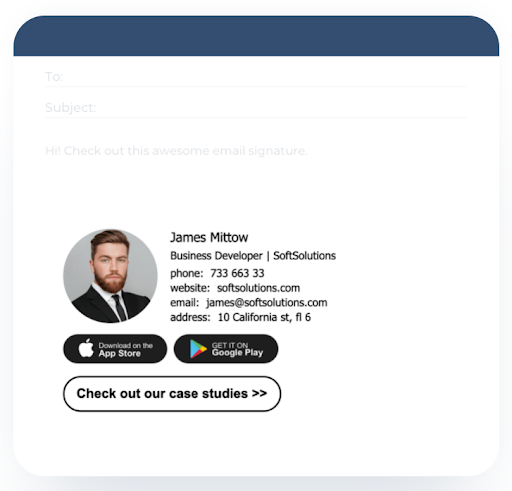 "Add a little bit of branding to the ordinary email signature", source
Tiny details do make a difference. One of the personal brand tips to consider is adding a unique signature for email correspondences that includes a good-looking photo, proper text, colors, and fonts. Signatures are not just common courtesy: if designed right, they would express the overall brand voice. Besides, you don't necessarily need to hire a designer to make them - there are many signature generators, like Mysignature.io, that create high-quality email signatures in seconds.
Choosing quantity over quality
Amounts allow earning more, but only under the condition that scaling-up doesn't affect the quality of what you say or produce. Sometimes, it's better to choose to be a Ferrari and make only 9,000 cars per year than to become a low-grade car manufacturer with millions of unclaimed vehicles. If you can't afford to deliver high-quality content twice a week or so, step aside and keep the frequency that won't injure your reputation.
Promising but not delivering
This is the worst behavioral model you can choose unless the goal is to be known as a thoughtless person. Dishonesty may lead to bad consequences, especially for public persons or ones who work in Services. For example, lawyers are punished with disciplinary action if they lack integrity - disregard industry ethics or misled clients.
Inaccuracy is a vague issue, in particular, in Politics. Hillary Clinton, for instance, says she sometimes takes "public" opinion even though it may contradict her "private" opinion. Unfulfilled words may cover up positive motives, but this is a philosophical matter - whether the white lie exists. So for developing a personal brand - always follow up words with actions.
Doing everything yourself
To get things done quality, you have to delegate. One can't be an expert in all fields - from managing human resources to marketing. Now, the quality standards for content are so high that even a small commercial requires a team of professionals.
If you start building your personal brand and look forward to its long-term development, consider hiring:
SMM manager - responsible for handling Instagram and other social platforms

designer - will create a branding book and/or visuals for personal profiles, publications, website, etc

digital marketer - will set up marketing automation

accountant - will handle document flow, pay salaries and taxes.
These may be full-time or part-time employees, depending on the scope of work and resources you have. You may also apply for SEO, copywriting, video production, and other services at some point.
Not analyzing your results
If you build a career as an influencer, measure your performance and evolution with criteria from this checklist:
For blog:
the number of people who visit your website directly from Google SERP

total number of unique visitors & comparison over time

bounce rate

articles that got the lengthiest user sessions

conversions for a selected period.
For YouTube channel:
views

average view duration

likes

estimated revenue

audience segmentation, and others.
You also need to learn from your mistakes and see what others do. To analyze influencers' presence and reputation, use special tools like Mediatoolkit, Sprout Social, Zoho Social, etc.
Not improving yourself daily
Remember Lewis Carroll's famous phrase from "Alice's Adventures in Wonderland"? - "..here we must run as fast as we can, just to stay in place. And if you wish to go anywhere you must run twice as fast as that." This is wholly true for building a personal brand because as the market, peers, and target audience change, you shall do the same.
One of the ways is to keep an eye on trending topics - globally and in your niche. As such, you can be agile and timely adjust the content so that it doesn't seem out-of-date. Try the following tools:
Google Trends

BuzzFeed

Twitter's "Explore tab"

YouTube trends

Pinterest's monthly trending reports.
Ignoring personal branding in messenger
In a rush for social shares or likes, many stop paying enough attention to a "down-to-earth" yet no less impactful visual component of a personal brand, that is - a messenger profile. Ask yourself a few questions:
does my headline fit my brand identity?
does my current profile photo or avatar fit my "motto"?
do I use standard response templates? if not - shall I establish them?
And if you don't have an answer for some - proceed to edits.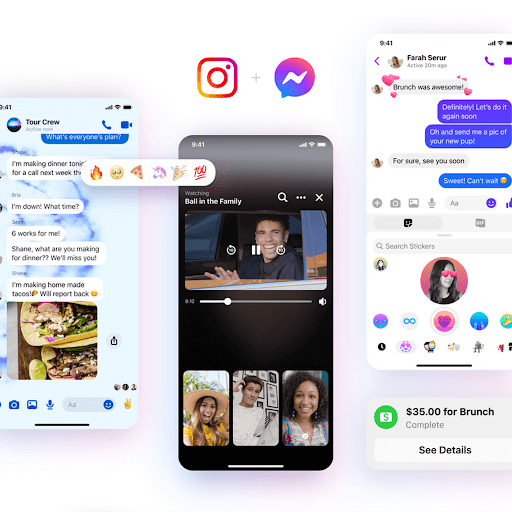 "Use chat features to show your unique identity to messengers' users", source
Not sharing your story
The audience adores people who are wide open and sincere, and the best way to become such a persona is to share real-life stories. This seems simple, but in fact - being exposed to the crowd requires courage and caution. To avoid getting into trouble, before telling a story, put it down on paper, read aloud, and assume how it looks to be. Also, avoid mentioning other people's names, unless you received approval to do so, and use disclaimers for uncertain facts, especially if they relate to life and health.
A good idea is to test the story on a small audience, before announcing it to the world. This may be a friend, soulmate, or mentor. Not only can you make a trial run of a speech this way - a vis-a-vis can provide you with worthy feedback and advice.
Not showing yourself as an expert
Noone likes dilettantes, so an essential part of a personal brand is proven expertise. This is a closed-loop, in a way - the more your opinion is respected, the more people listen to you; and the broader your audience becomes, the faster your professional reputation improves.
If you have a personal website, showcase obtained experience and knowledge in the form of certificates' badges, or testimonials from educators or clients. You can also apply for membership in respectful professional associations or certifications/degrees that are relevant to your industry, e.g. AWS Certification or MBA programs.
You're not clear on your purpose and goals
A trial to sit on two chairs simultaneously will result in you falling down from both. For example, the goal to earn money fast voids the purpose to become a well-respected person (in most cases). Or - the aim to film the highest quality videos on acute social topics makes the goal to get lucrative advertising contracts almost unachievable. So, before you proceed to brand-building tactics - you have to prioritize and decide on the overall strategy.
Not doing personal branding with videos
Perception of a video involves not only vision but also hearing, that's why films are more effective in terms of memorableness. People do like commercials - almost ⅔ of consumers prefer watching videos rather than reading a text, and more than 500 million hours are spent on YouTube every single day. Making a 3-minute self-presentation in the form of a helpful tutorial may bring you way more recognition than dozens of published articles.
Focusing just on making money
A few invest time and cash in personal brands just for fun - the majority expects to get some benefits, e.g. money or promotion. But the irony is that the more commercial you become, the less connected and "close-knit" you will be with the audience. People understand you're making money on them, but they don't want to be treated as a bargaining chip for advertisers. And if they do feel so, your popularity will fall sharply right away. So, always stick to a balance between the pursuit of money and the value you give.
The personal brand starts with the very first photo on Instagram or Tweet. Remember that the Internet is a huge data-storing system, and you can't control how your person-related information circulates in it or eliminate what leaked to the Web once. To establish a strong and beneficial self-profile, you need to think strategically about what to say and how, and avoid typical mistakes that we've covered earlier.
Ostap
Ostap is a marketing professional (PMM) with 5+ years of experience in the software industry (B2B and B2C). Having worked with email marketing products and services, Ostap has a deep understanding of various email marketing strategies and solutions.