It commonly seems not obligatory, as a thank-you-letter doesn't make people buy your products or visit your company website. Meanwhile, being polite and grateful is necessary to build a good relationship with the people around you. Therefore, when a person has helped you or did anything beyond their responsibilities for you, it's easy to say "Thank you" by writing a short but perfect letter.
What is an Appreciation Letter?
A thank-you email is a highly formal letter written in standard situations to express your appreciation and gratitude. It is frequently used in official communication, helping you look professional, polite, and sincere. In addition, it plays a great part in personal and business communication, making a positive impression on your respondents and improving their personal feeling and attitude toward your activities and personality.
According to a recent study by the Harvard Medical School, grateful people commonly feel happier. Noticing the positive things and expressing appreciation benefit your health and well-being, making you optimistic and relish great experiences.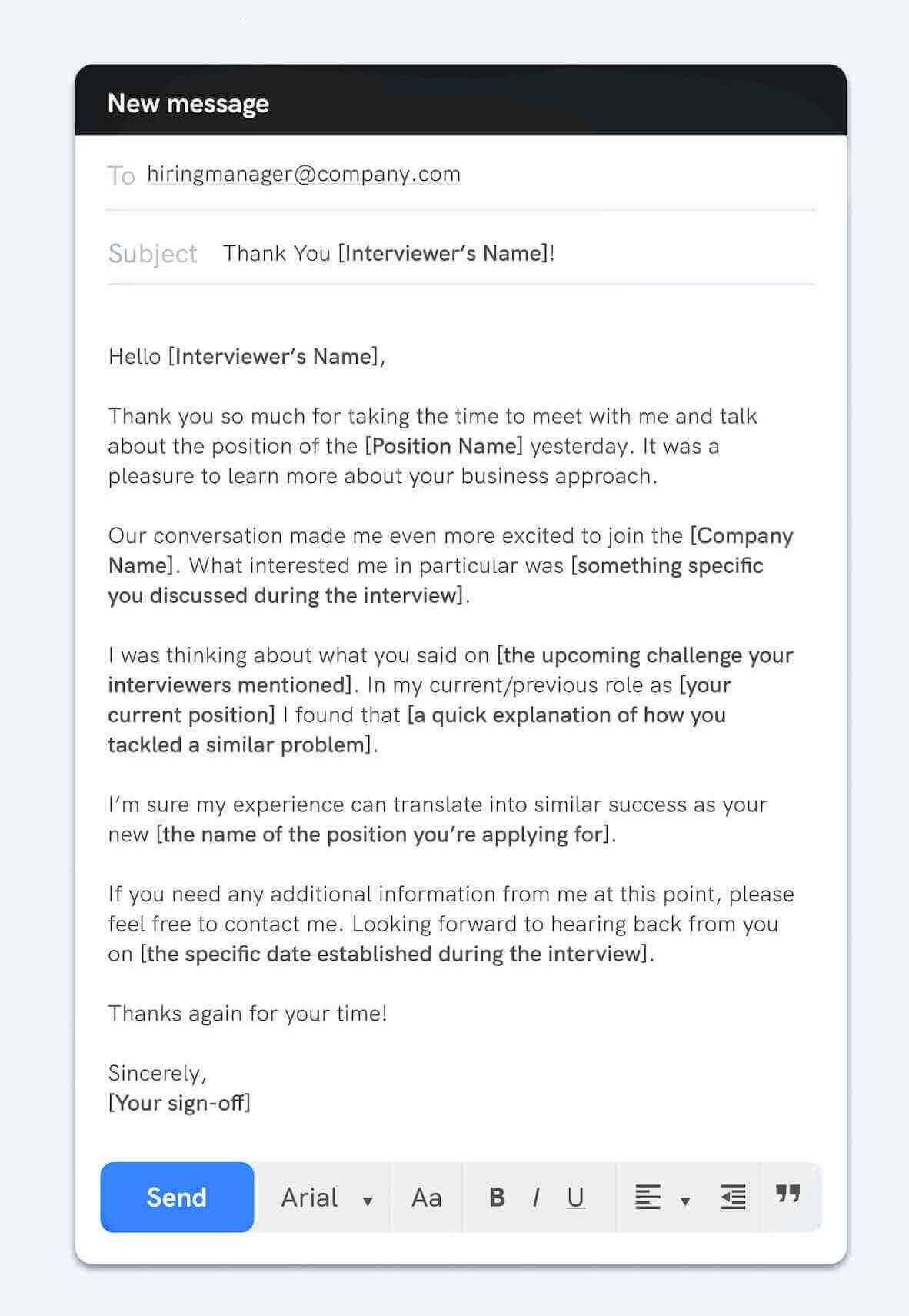 Being formal and official, the letters are still quite good for the readers, motivating them to do good deeds and encouraging them to work diligently and achieve professional and personal goals. The appreciation letter shows that their efforts are not unnoticed, not vain, making them feel safe and energetic.
Basic Thank-You-Letter Types
Two main types of appreciation letters exist business and personal ones. Business messages are essential in various situations such as an interview, resignation, an order, or a donation. These letters are sent to show you are kind, familiar with etiquette, and reliable.
They have strict format and structure requirements, but they still are to be personalized according to the situations and the readers. Of course, some human touches are desirable. However, the letter is to be extremely short and professional.
A business thank-you-letters may be addressed to your:
colleague;

boss;

employee;

customer;

teacher;

volunteer;

business partner.
They are written to thank for the certain actions or efforts, for example, for support and performing some part of your working load during your vacations, a meeting or an interview, good job done during an exhibition, great customer service, etc.
An event or situation requires certain formal wording and phrases. Therefore, it's advisable to use ready-made templates that are proven and generally accepted. However, it's beneficial and necessary to customize them, adapting for the specified events, and add some personal touches. As in any email, it's essential to consider the reader's views, beliefs, position, and age.
Personal appreciation letters are sent to your relatives or friends when you feel gratitude or due to some family events. For example, they are written to thank you for the gifts, support during your move your neighbors have given, a party organized by your mother or grandmamma, and multiple other reasons.
These letters are not as formal as business ones, allowing some intimate and sincere expressions. However, these emails are to be short, not exceeding one page.
Essential Appreciation Letter Parts
A thank-you letter is to be sincere, simple, and short. It certainly includes the basic parts, such as:
greeting;

body;

closing;

professional email signature.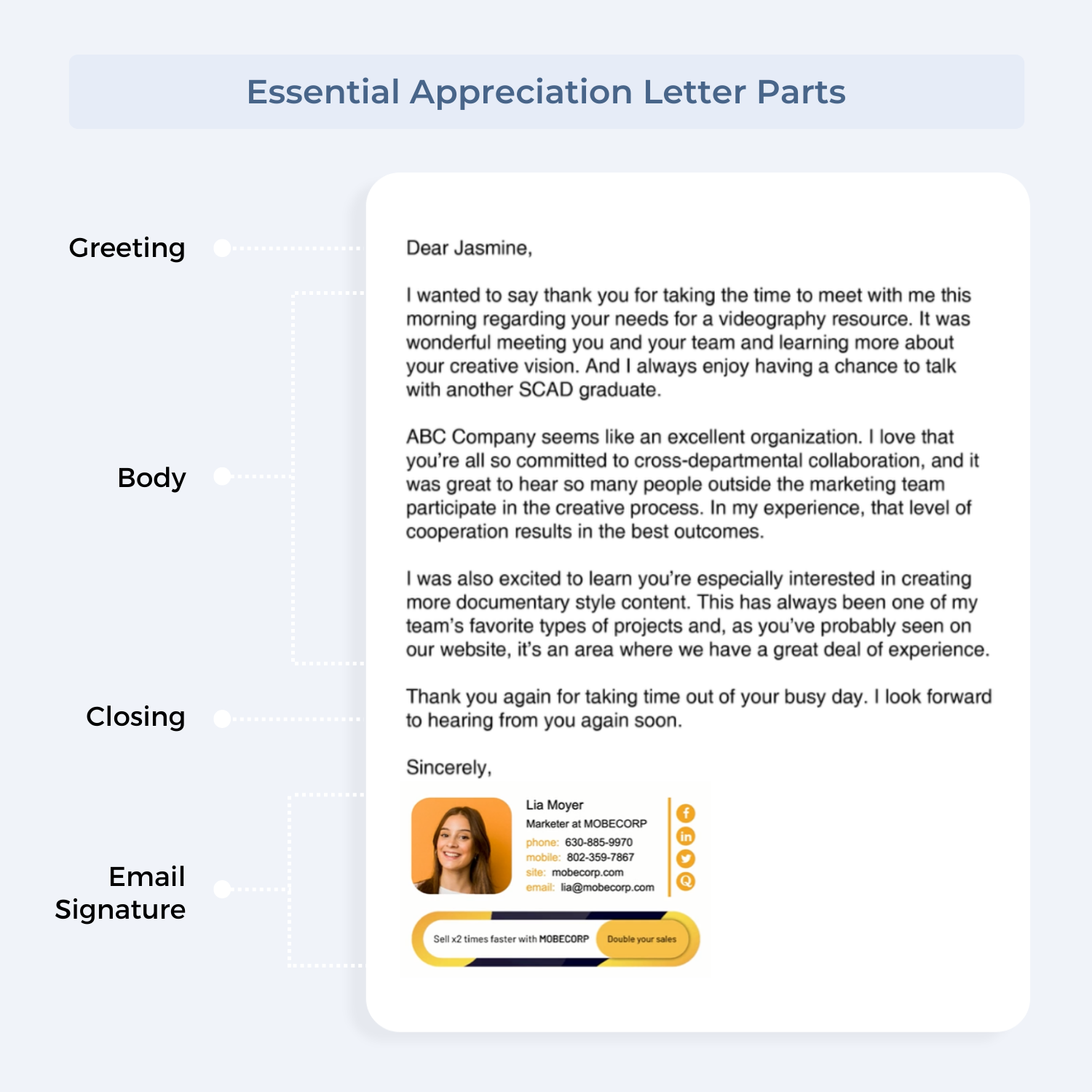 According to the official mailing format, the author's and recipient's names and positions are specified on the letter top. The subject and the date are also essential.
Greeting
Now it's the time for the greeting. It's completely different for business and personal messages. Commonly, you are to address a stranger in a business letter as "Dear Mr/ Mrs.____,."
For personal letters, the first name is the best. However, it's an amazing choice for multiple occasions. When somebody greets you by your name, you feel that the email author remembers you and notices your efforts; you are powerful and important. Thus, "Dear____(name)" greeting type is preferable for an appreciation letter, as it triggers positive emotions.
Body
The message text is to include the reason for writing the letter. Express your gratitude, refer to the special event, the meeting, or the gift received, and explain why the help or support is so important and which reader's actions were so useful and efficient. Add some personal details, reminding about the conversation or the situation.
Details are essential to highlight that you pay great and sincere attention to the recipients, their efforts, and their support. Meanwhile, they are not to be abundant or intricate.
Closing
Thank again and finish the letter. You can only mention your name if you address your friend or a neighbor. A professional, attractive signature is a must for business letters, including the appreciation ones.
It is to contain all the basic contacts and details, your company logo, and a link to the website, making a positive impression on the reader. In addition, an informative, properly designed signature highlights your official status and company image, showing that you are reliable and responsible.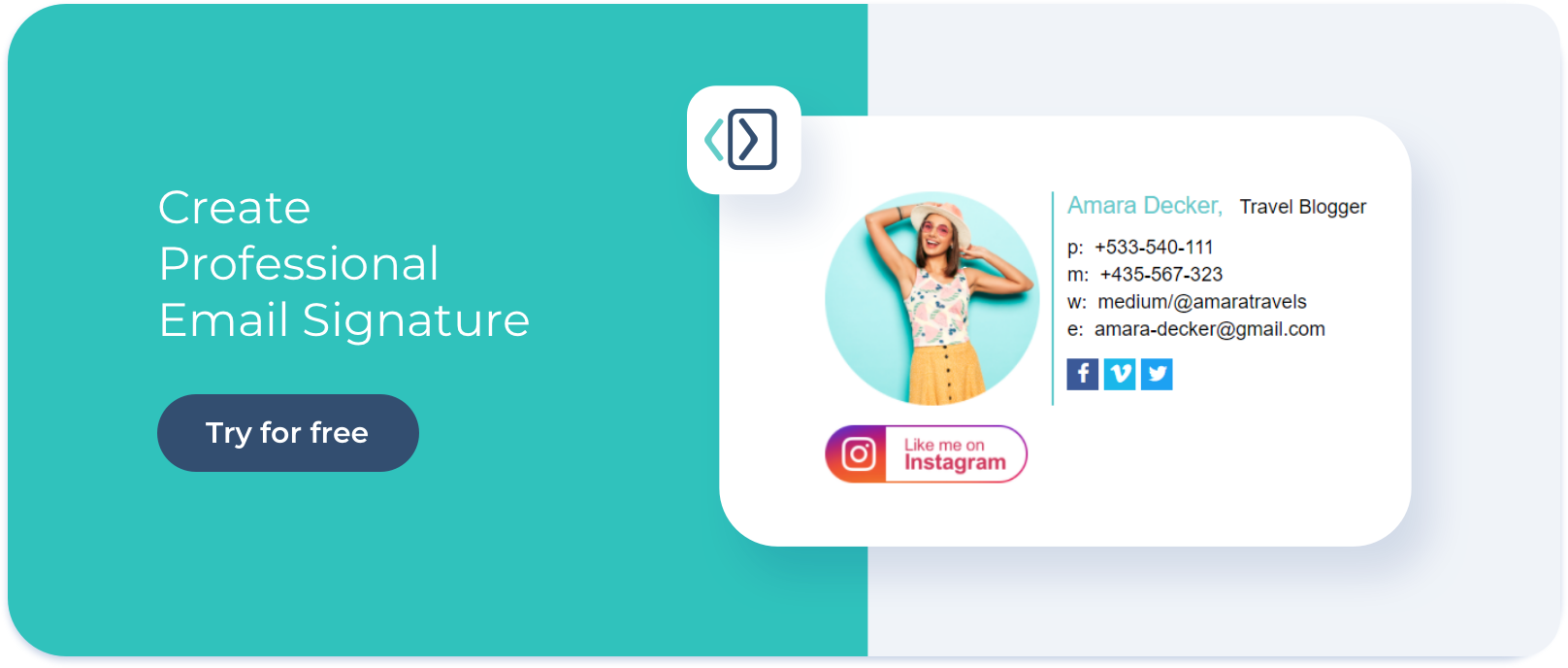 Thus, expressing gratitude to somebody important to you, be sincere and laconic. Try to make a positive and strong impression using the proper mailing style and format. Mention the reader's achievements and contribution to the business.
Make the necessary amendments and check the letter for mistakes and misprints. Then, open it on various devices, ensure it is readable and accessible, and confirm sending.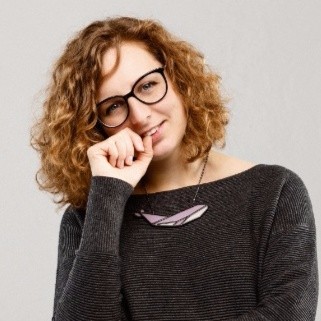 Helga Zabalkanska
Helga is a CMO at MySignature and digital marketer with 7+ years of experience. Having worked in numerous industries she has a deep understanding of various markets and a variety of tools as well as growth hacking techniques that can boost marketing activity in a particular sphere.