Branding has become more vital than ever in today's digital business environment.
No longer do companies have to compete only with their local area. They have global competition, and so they need to establish a memorable brand to stand out from others.
But branding isn't just limited to companies. In the age of the Internet, every individual has an opportunity to build a brand around themselves.
In other words, people can now build personal brands with ease.
But personal brands aren't just for companies where the entrepreneur is the only employee. Even large brands employing hundreds can incorporate personal branding into their sales strategy.
In this article, we'll cover several ways to do just that for both sole proprietor entrepreneurs and bigger brands. But first, let's review the definition of personal branding and its benefits.
What is Personal Branding?
Personal branding involves consciously creating a public persona — effectively a brand — around an individual instead of a company. The result is a personal brand.
To create a personal brand, a company (or even an individual) attempts to position a person as an authority and increase their credibility. In doing so, you can humanize your brand and connect more closely with customers.
One of the most prominent personal brands is Gary Vaynerchuk, more commonly referred to as Gary Vee (which is part of his personal brand).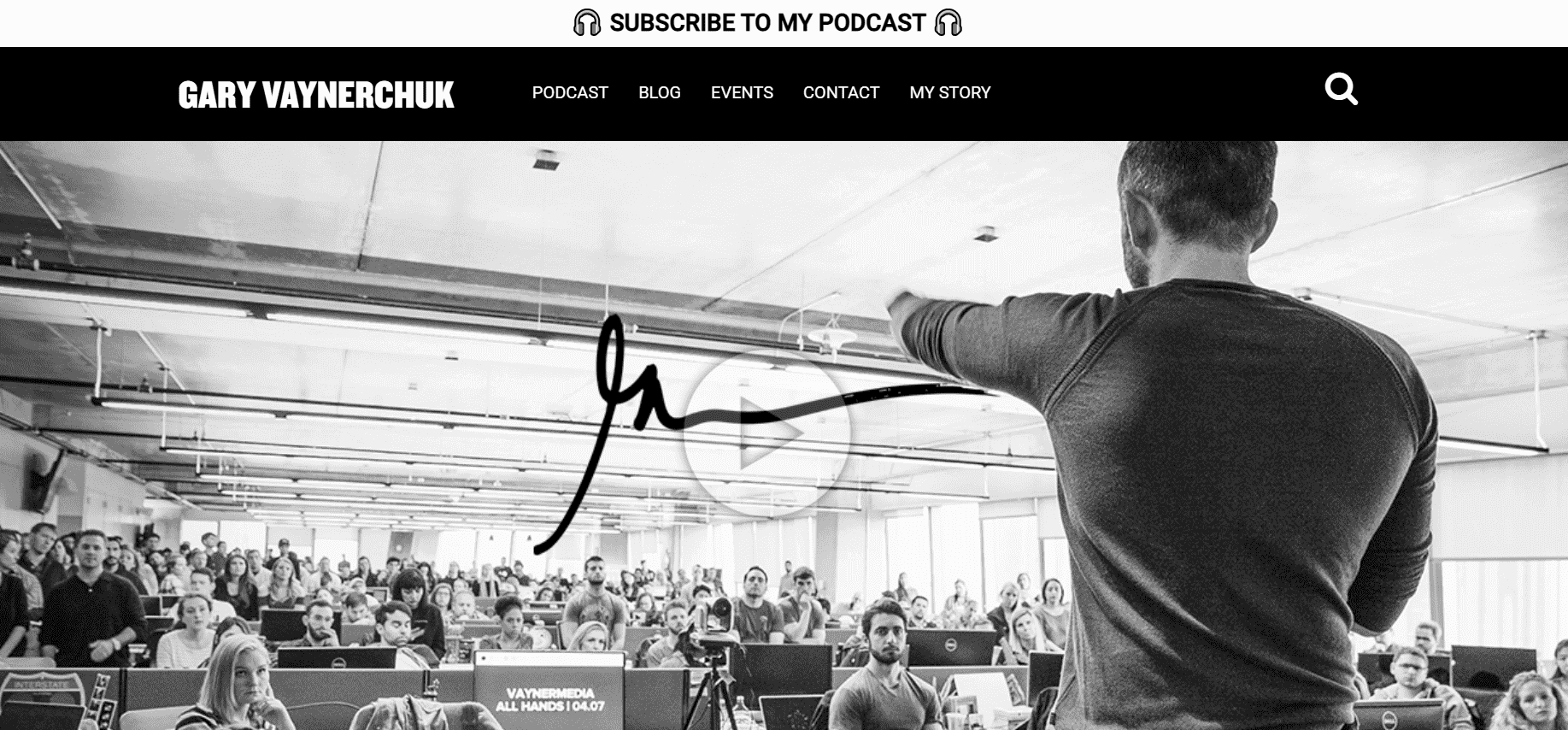 source: Gary Vaynerchuk
Gary Vee runs several businesses, from lifestyle brands to a media agency and more.
However, he's built up his personal brand to a point where it benefits these businesses. For example, people know his name and digital marketing expertise, so big-name clients are more likely to work with his advertising agency.
Plus, he can monetize his personal brand — effectively creating another business.
Benefits of a Strong Personal Brand
Here are some benefits to building and maintaining a strong personal brand.
Builds Trust and Expertise
One of personal branding's primary benefits is that it builds trust and expertise. By consistently creating content in a particular niche, you build authority among that niche's audience.
Eventually, people may begin to recognize you in person, especially at industry events. This can help you generate more business, which leads directly to the next benefit.
Strengthens Your Business
Your personal brand is distinct from your business's brand. At the same time, growing a personal brand can attract new customers to your business's brand and vice-versa.
Back to the Gary Vee example: Gary Vee is one of the top names in the digital marketing world, thanks to his personal branding efforts. Huge brands looking for digital marketing and advertising services have VaynerMedia (his agency) at the top of their minds.
On the flip side, clients that discover VaynerMedia first will soon learn about Gary Vee. They may start paying attention to Gary's personal brand, growing his audience even more.
It's Humanizing
Ultimately, consumers prefer interacting with other humans than they do with brands. If a brand can humanize itself, it becomes more attractive to consumers — and it's easier to build long-term relationships with those consumers.
Personal brands are inherently "human" because they're based around people, not organizations. A personal brand makes it easy to make genuine connections with customers and build those long-term profitable relationships.
Differentiation
It's hard to stand out amongst a sea of online competition.
That's what a personal brand is for.
Your personal brand sets you apart from your competition, making you more memorable to your potential customers. Thus, when presented with several choices, they're more likely to choose your business.
For example, the online tutoring market is quite competitive in most subjects. Online tutors have to somehow stand out among tens of thousands of other individuals vying for tutoring work.
If a tutor creates a personal brand, they can make themselves known as the tutor for something specific.
Perhaps they could build a brand around making math fun and humorous, for example. That'll attract a distinct audience: students who dislike math but need to improve their math grades.
Partnership Opportunities
Building up your personal brand opens plenty of doors to partnership opportunities with other brands. As your name becomes known, other professionals in your industry may want to work together on joint products or ventures.
These partnerships grant you access to a brand new audience, yet reduce the amount of work you have to do — meaning more profits for you.
Ways to Implement Personal Branding Into Your Sales Strategy
Now that you understand the benefits of personal branding, let's explore some ways you can incorporate it into your sales strategy.
1. Your Website Copy
First and foremost, your website is a prime spot for personal branding.
After all, your website is the online "home base" for your company. It should be heavy on personal branding where possible.
Check out this headline and web copy from Somnifix as an excellent example of branding.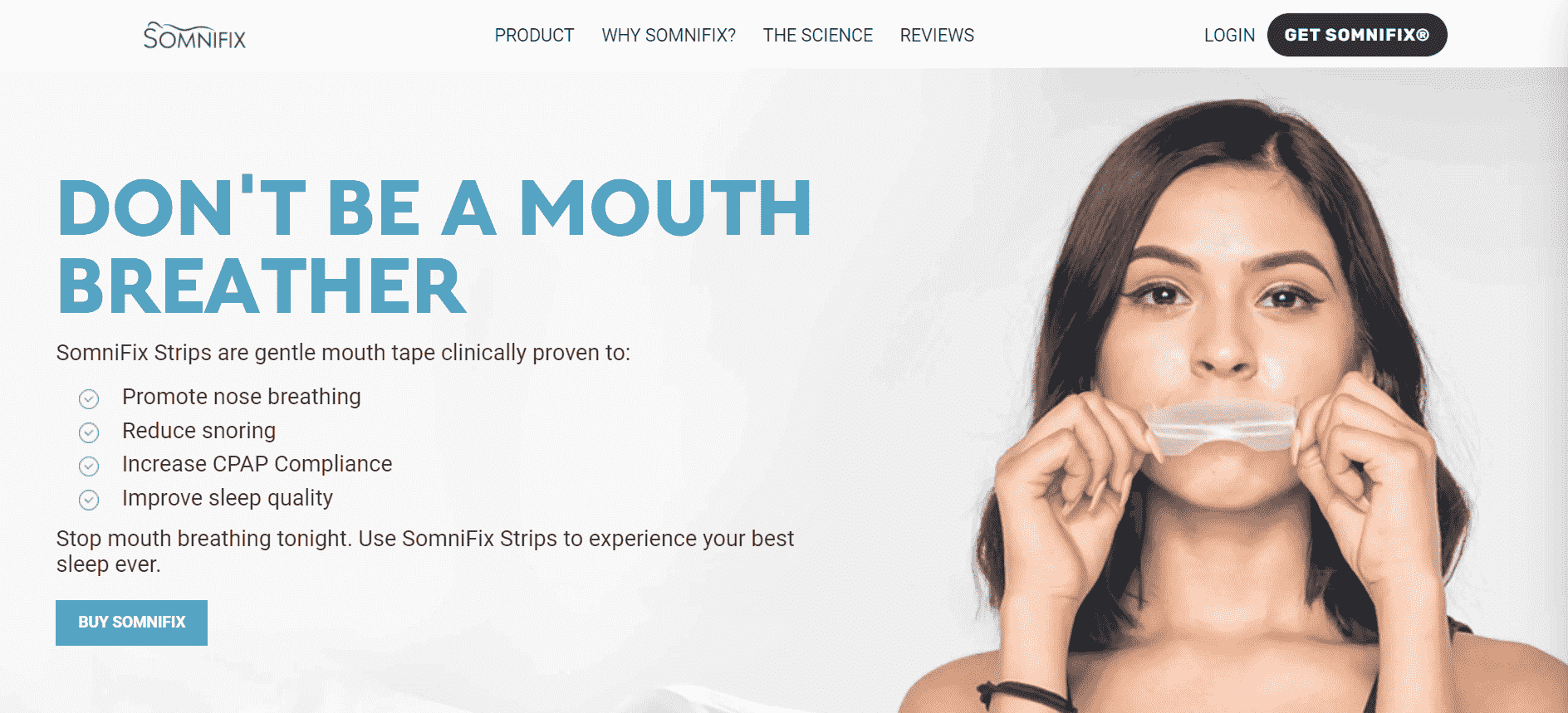 source: Somnifix
Just look at that "Don't be a mouth breather" headline. It's a playful, almost-insulting statement that grabs the reader's attention and shows some personality. 
It manages to call out a problem the target audience has in a comedic and relatable way. Immediately after, it shows how Somnifix addresses this problem, all in a casual tone.
2. Your Content
Content is a place where you have free reign to show off your expertise, making it an excellent spot to use your personal brand to make sales.
Readers will consistently see helpful information and excellent thought leadership content from the same personal brand, growing their trust in said brand over time and leading to an eventual purchase or two.
That's also why you should write in the first person as much as possible when creating content. You want the audience to get to know you and apply your voice to the brand. 
Now, this goes beyond written content, such as blogs. Video content offers even more opportunities to inject personal branding. Members of your audience go beyond simply reading a person's writing — they get to hear their voice and see their facial expressions on video.
Look no further than YouTube for examples of video content. Plenty of big personal brands have significant followings on YouTube. For example, Neil Patel's YouTube channel — where Neil himself hands out all sorts of tips and tricks on SEO and digital marketing — has nearly 850,000 subscribers. 
Given that the average viewer remembers about 95% of a video's message, people who stumble across Neil Patel on YouTube (and need what he sells) are quite likely to head over to his website at some point in the future.
You might also like: "How to Use Content Marketing to Build Your Personal Brand"
3. Your Social Media
Your social media accounts are where your personal brand can truly shine.
About 58% of consumers check out a brand's social media before ever reaching their website. By filling your social media content with your personal brand, you'll attract the types of people you want as customers.
It starts with your bio. Make sure your bio clearly defines who you are and what you stand for. Of course, do so with a bit of personality. Place links to your other social media accounts in each bio, as well as your website and any other marketing channels. Check on these every so often to ensure they're up to date.
From there, you can share content from your website's blog. 
You should share helpful content from other authoritative sources in your industry too, as this will enhance your credibility. Additionally, this can get you noticed by other brands in the industry. This could lead to lucrative partnerships down the road.
At some point, people will begin commenting on or replying to content on your social media channels. If you can, respond to and interact with them.
4. Your Email Marketing
One grave mistake many brands make is having their email marketing sound "corporate." 
You've likely heard that the average person sees thousands of marketing messages per day. They're inundated with advertising already.
On top of that, email is a very personal medium. If they see yet another message that sounds like an ad, they may just ignore it.
Their email provider may simply move your emails to the recipient's spam or trash automatically if it appears too "salesy."
You could see much better results by getting some personal branding in your email marketing.
One way to implement personal branding is to have emails "come from" an individual within the company, such as a senior employee, an executive, or even the founder.
Personalizing emails like this makes recipients feel as if they're having a one-on-one conversation with a person, instead of getting a company email blast — even if they know it's a mass email.
Take a look at this "welcome" email from Gilisports as an example.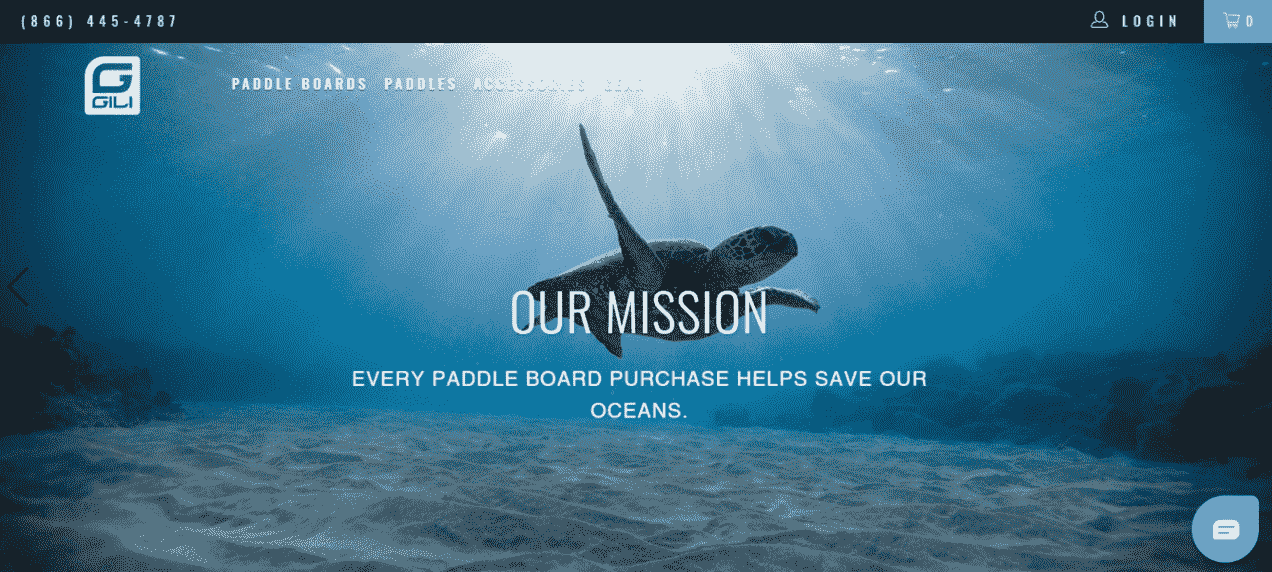 source: Gilisports
See how it seems like the head of the company is writing a personal message directly to the subscriber? This is a welcome email in an autoresponder sequence — and subscribers may know that — but it still injects the company's personal brand.
Also, notice how they called Jay the "Chief Paddler," not "CEO." This further adds personality and character to the email while aligning with the products Gilisports sells.
Now, your email signature offers yet another opportunity to slide in some personal branding — especially if you use email signature software to do it on autopilot.
Look at the bottom of this same Gilisports welcome email to see some personal branding in action.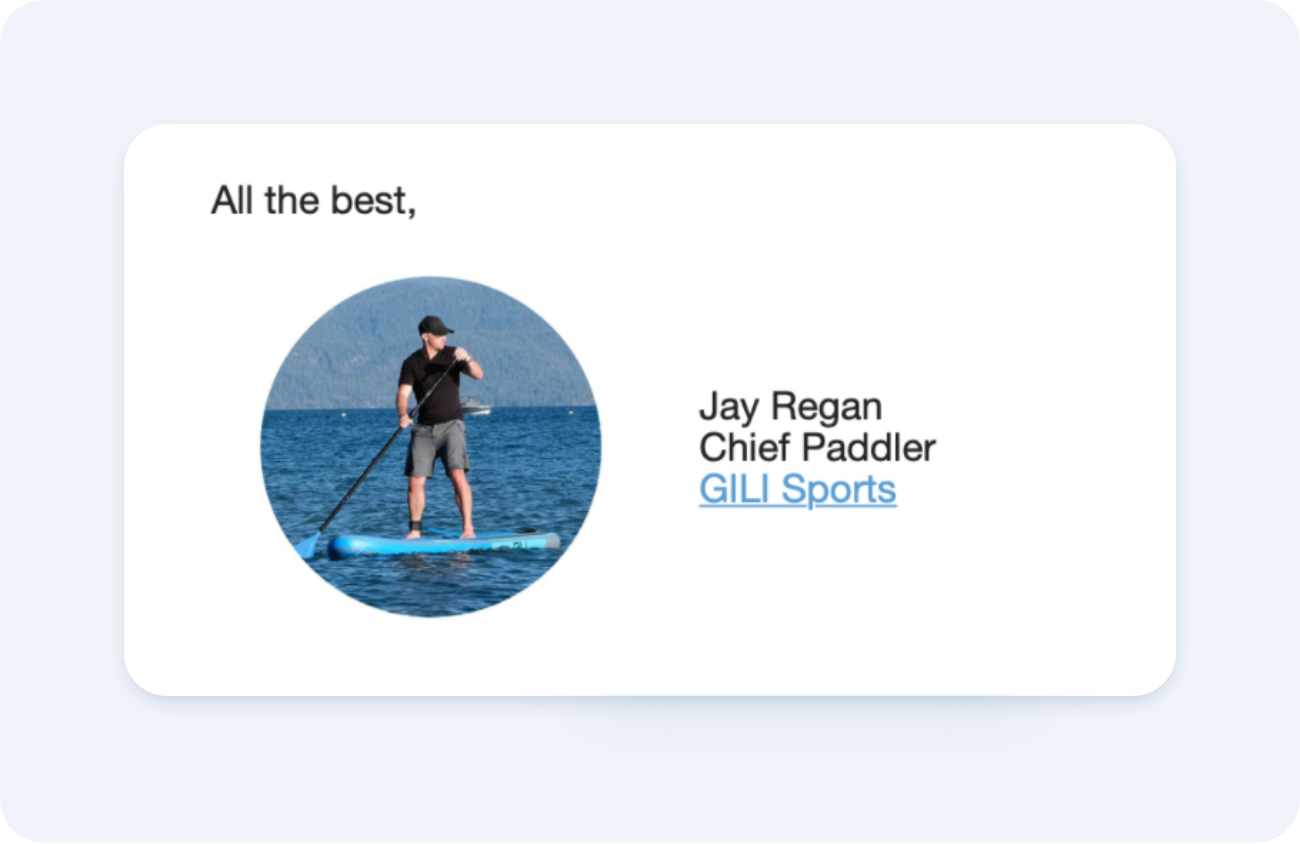 There's no generic company brand logo. Nope — it's a picture of Jay, the "Chief Paddler" himself, out there paddling. You can use email signature software to sign every email this way, maintaining your branding across every email.
5. Your Order Forms
Personal branding isn't limited to exciting stuff like email and content. Items as mundane as your sales order forms could use some personalization. There's no need for them to be stiff and boring.
By injecting your personal brand into these, you can build a sales process with a consistent voice across every step that your customers grow to love and expect.
This will further differentiate you from the competition and keep your brand at the top of the customer's mind.
Sell More With a Personal Brand
Few companies need personal branding, per se, but using personal branding in your sales strategy is an effective way to build your authority, tighten the bond with your audience, open up partnership opportunities, and boost revenue.
Just remember to be authentic in your personal branding. In a world where consumers are constantly bombarded with advertising and marketing messages, merely being genuine could be the difference you need to succeed.
Ostap
Ostap is a marketing professional (PMM) with 5+ years of experience in the software industry (B2B and B2C). Having worked with email marketing products and services, Ostap has a deep understanding of various email marketing strategies and solutions.