We spend much time to create an interesting subject line to the email to grab the recipient's attention; less time to write the main message; and when it comes to finishing it we get tired and lose steam. This way our email looks unbalanced. If the recipient opens it and reads to the end, they notice that the writer's concern about the email fades down with each sentence. Based on this, the recipient forms the opinion about you or your brand.
In order to make people love your emails, you have to work equally hard at its every part. You can simply cope with the subject line and the text without any additional tools. However, if you want the email signature to look professional, well-designed and eye-catching, you can't go without a free email signature generator.
Why to use the email signature creator?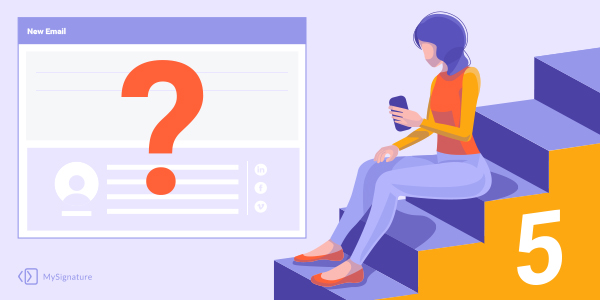 Sure thing, you can write some signature by yourself, add it in the account settings and each email you send will be accompanied by it. This normally suits day-to-day communication with friends or even colleagues.
When the email is targeted at your partner, client, potential investor or some other important person whose decisions really matter to you, this simple email signature does not suit anymore. It shows that you grudge the time to properly prepare the email and can lead to no response. This is why, it is essential to create professional email signatures in order to build trust and display your respect to the recipient.
How to design a perfect email signature?
If you aren't a programmer or professional designer, it won't be easy to create an email signature without any technical knowledge or useful tools. MySignature can help each and every who are not technically educated. In a few minutes you will get a well-designed email signature without any coding. Here is how you can do that in 5 easy steps.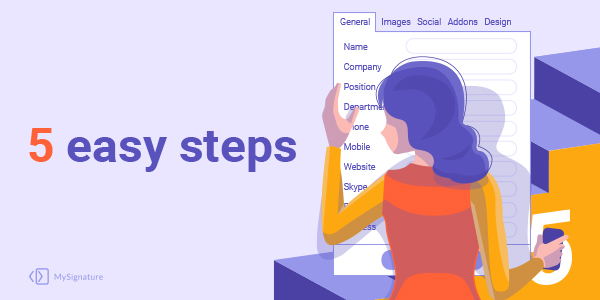 Step 1
To start your experience with MySignature, you have to be registered. If you already have an account, you can proceed with filling out the form of your email signature by going to the Dashboard and clicking the New Signature button.
In the General section of the form, you are offered to provide the information you need to include in your email signature. It is your name, company and your position, department, phone number, website, skype, email, and address.
Tip. Do not insert too much information in your email signature. Add only the most valuable details. Three-four lines is a perfect length. Moreover, do not add your home phone number or address, no one needs it.
Step 2
Move to the Images section to insert a logo or a banner into your email signature. If you use the account for personal correspondence, you can add your photo. If you create a signature for your corporate account, you can add the logo of your company. This way all your emails will be personalized and will promote the brand of your organization.
Tip. If you want to add a banner to your email signature, again, do not overstuff it with information. It should look professional and make the recipient take a correct action. If it includes two or three messages – like ad about the upcoming conference and seasonal discounts – the person can easily get confused and close the email without clicking the banner.
Step 3
Social media plays an important role in promoting your product or your company brand. With MySignature, you can easily embed your social media resources to the email signature. Simply insert the links in the fields in the Social section and choose the corresponding icons.
Tip. Do not add your personal social media links unless you use the email for personal purposes. If you create a professional email signature for corporate correspondence, insert the links only to your company's pages.
Step 4
Once you have finished with all previous steps, you can choose the email signature design. The MySignature library includes multiple unique templates, you only have to select the one that you like the most. You can click on every template and preview your email signature on the right.
Tip. When deciding on the design of your signature, choose the colors that will reflect your brand identity.
Step 5
In the end, you have to check if everything you have written is correct and click on the Copy to clipboard button. Or you can copy the HTML code if your email client requires it.
Tip. Voila! Your email signature is ready. Enjoy your communication.
Maria
Maria is a professional content writer at MySignature. She has strong skills in Content Marketing, Email Marketing, SMM, and SEO.