Digital marketing and online marketing is all around us nowadays and with good reason, seeing as it's cost-effective and it's a really contemporary way with billions of features and opportunities to help you get your brand's name "out there".
So, you've got your email marketing and marketing automation platforms, you've got your online forms and your online form design game is strong, you've even got some social media influencers helping you out with getting viral.
But do you have a lead gen game that is stellar? And is there a landing page to support your marketing strategies?
Wait a minute… Do you even need a landing page?
According to Dell: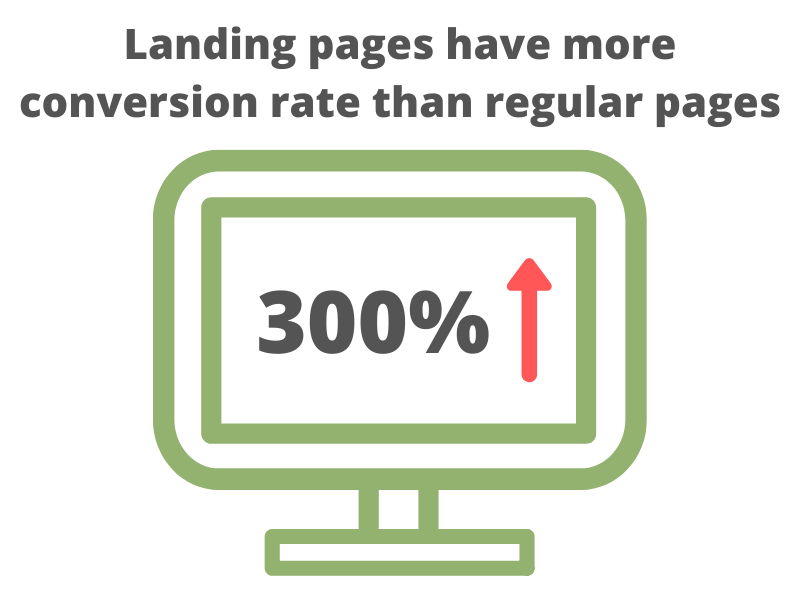 data source: sprout24
Read on to see how you'll make landing pages work for you. Ready?
Define "Landing Page"
A landing page is one of the best tools that can help with pretty much any and all goals a brand may set.
Landing pages are standalone pages on the web that are there for one single thing and one alone: To help your brand convert in every way possible.
So, when you're making a landing page, the first thing to remember is that it's not there to inform prospects about your brand or let them know where and how to contact you to "find out more". It's there to just lead them to action with beautiful visuals and powerful CTAs that will be describing what the prospects should do.
So, you can use one of those little fellas to gather more subscribers - usually in exchange for a little freebie - make a purchase or perhaps complete a registration or get a quote of… Well, something!
The Main Trends of 2022
Of course, it's not like landing pages come with zero trends and it's not like this tool hasn't evolved over the years.
For example, some time ago - a long time ago actually, by tech standards - above the fold action was the only action. Let me tell you why.
If you wanted your brand's information to get out there, you couldn't utilize the entire space of the page and you couldn't put a whole lot of things on it, mainly because it wouldn't load.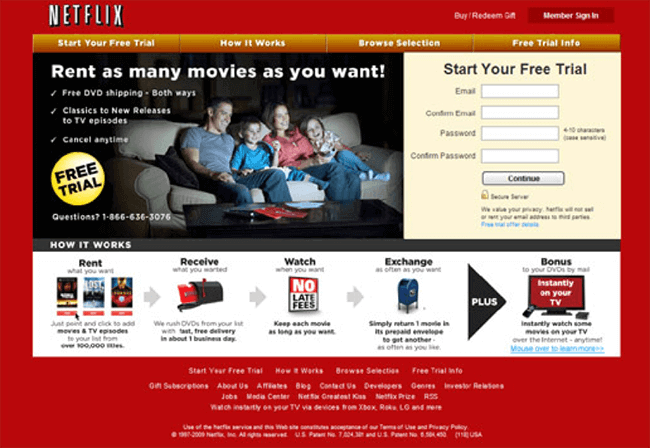 source: netflix
Since the Internet was a scary little invention back then and sometimes it worked, but it didn't work more often than not. Marketers needed to make sure that all of their landing page's info would be visible even if the page didn't completely load. And this was how above-the-fold was invented. It used to be a necessity and now it's mainly a trend.
But let's see a thing or two on today's trends and how they're going to shape your landing page game in 2022.
In Terms of Content
So, you'll need your headlines to be focused on the exact message you want to portray, aka the reason behind the creation of your landing page.
So, what kind of benefits is your brand here to give? How can it turn prospects into the best version of themselves?
Make sure to point to those when you start creating your landing page's copy.
Think about what you'd like to see on a page if you were the visitor or customer. If you clicked on a link that took you to a landing page, what would you expect to see there, when it comes to copy?
Would you look for the brand's name? Would you try and find an offer or some bullet points that would explain things more thoroughly?
Whatever that is, make sure to provide it, seeing as most prospects don't just sit there reading a landing page. They'll just run through the content and that's it. You need to be clear, concise and keep things interesting and upbeat.
Oh, and of course, I couldn't forget the CTAs.
Your landing page's content needs to revolve around what you need a prospect to do when they're on there looking around. Therefore, you'll create your content around your CTA, as this is the button that will point to the action you need prospects to take.
The CTA button should have an actionable verb. "Sign up", "Take the offer", "Be part of the group", all these are acceptable and actually showcase the prospect what needs to be done.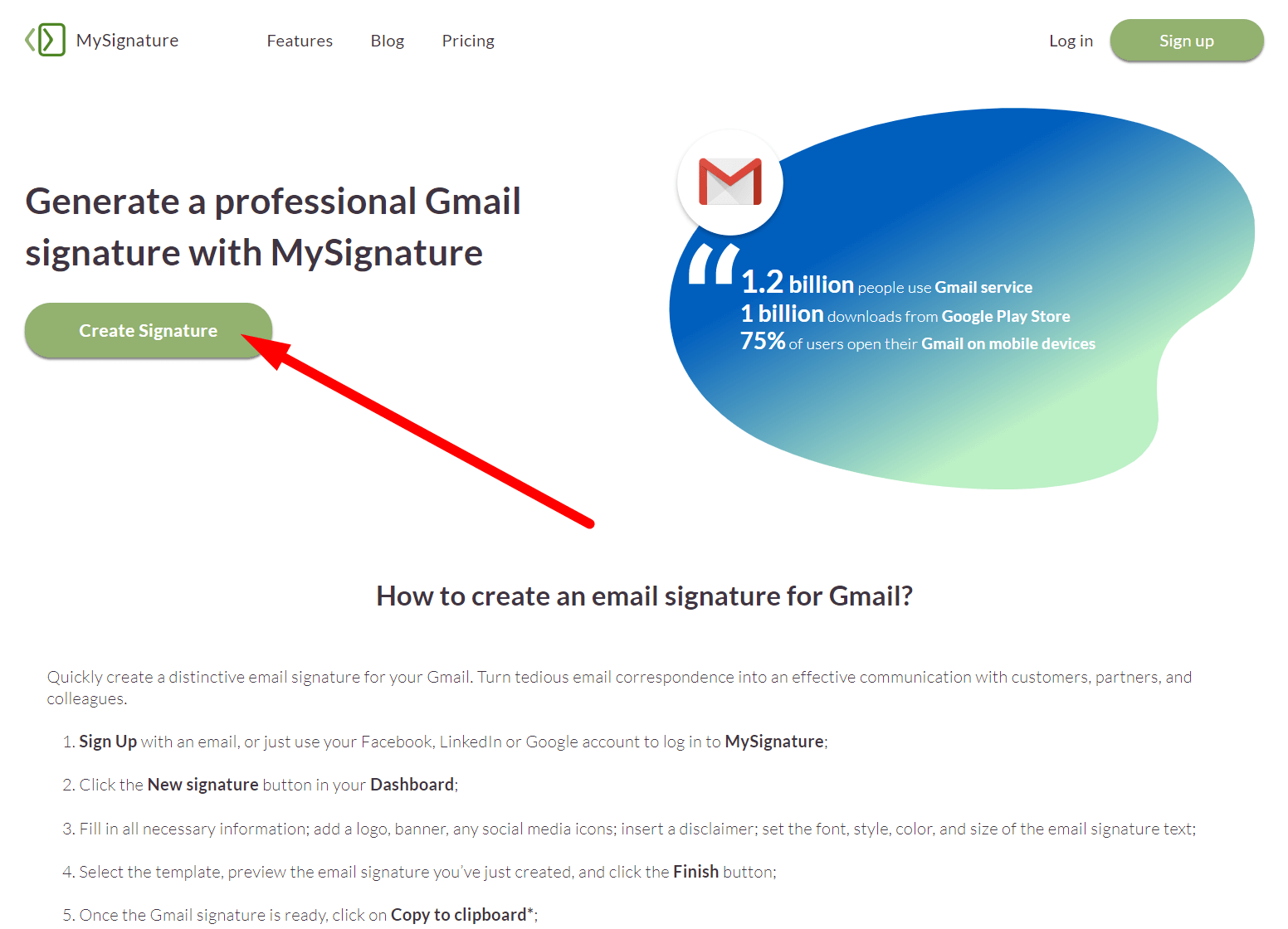 source: mysignature
In Terms of Links and Information
Does not giving out all information sound counter-intuitive? Does not giving links to more sections sound silly?
Well, you might as well try it on your landing page and see what could happen to your conversion.
Landing page is not for giving more information and showing how talented your copywriters are; keep that for your website. A landing page is there to tell prospects exactly what they need to hear.
Is your landing page meant to inform and grab the lead by giving out free music streaming? This is all your prospect needs to know for now. Extra information can bore prospects and show them the door, more or less.
But let me tell you something about links now. Maybe you'll think that you need to link the information instead of writing every little piece. This could work in an alternate universe, where a landing page's purpose would be to inform and not convert by upping sales or bringing in leads (or both).
Each link is an invitation for your prospects to get away from your landing page and no amount of fantastic CTAs or actionable verbs could ever solve that.
The reason is fairly simple: The links are interactive elements and interaction is the best form of learning, so long as it's used correctly.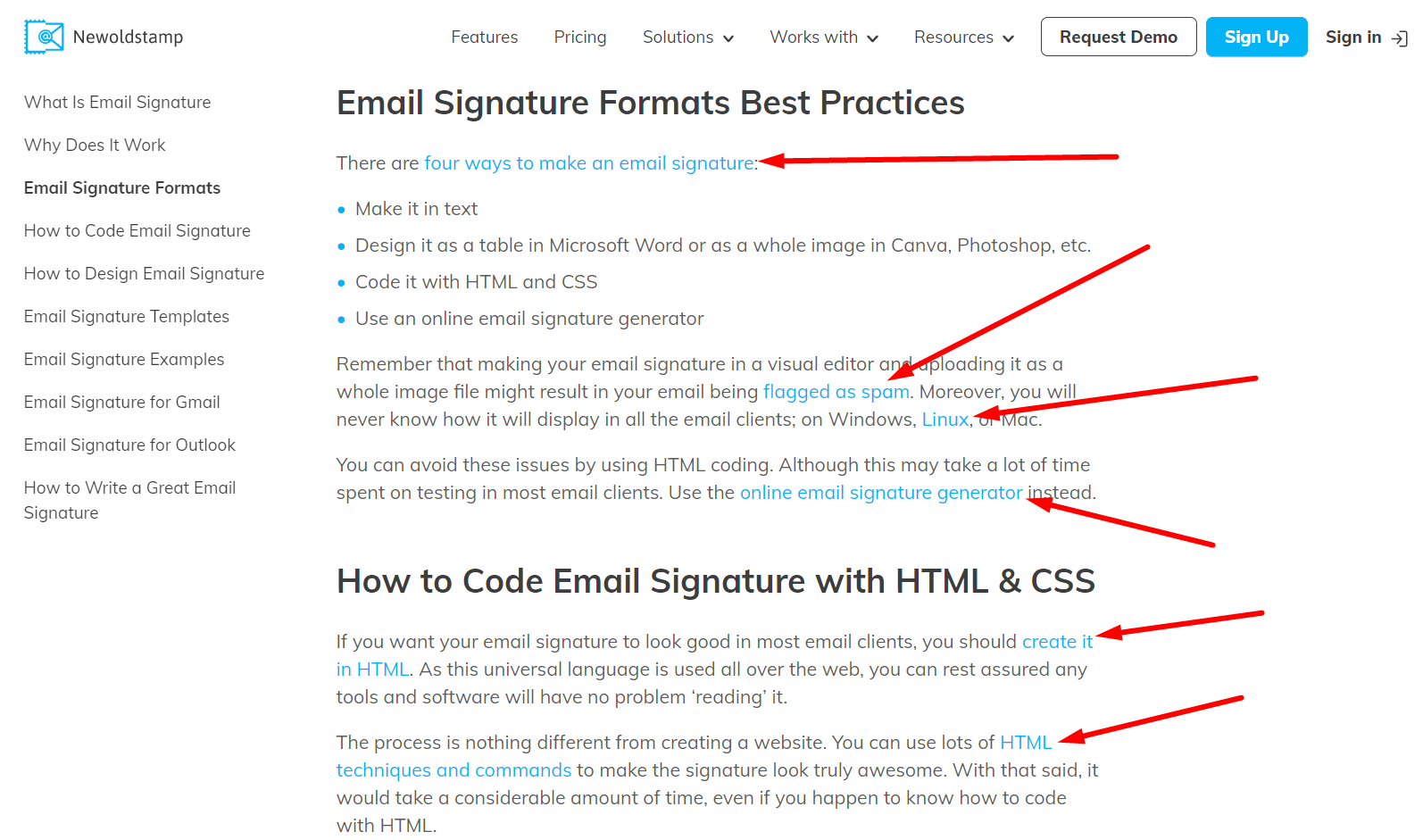 source: newoldstamp
At this stage, you don't need prospects to interact with anything that can redirect them to another page and, therefore, away from your own landing page. Of course, this doesn't mean that you need to trap them on there. Provide a homepage link to help the ones that want out, without making them hit the back button.
In Terms of Interactive Elements
As I mentioned above, when it comes to interactivity, it is certain that you can't go wrong. People learn by clicking this or that.
So, make sure that you give them something to interact with, that is going to help make your point and not break it.
In other words, don't redirect prospects away from your page. Rather, have them interact with elements on this landing page of yours.
For example, use videos, the most cost-effective interactive element and the most successful, if there ever was any. The prospects will hit play and hitting play will pique their interest, whether the video is there to explain what it is that you're doing and what your industry is, or is there to showcase value through a testimonial.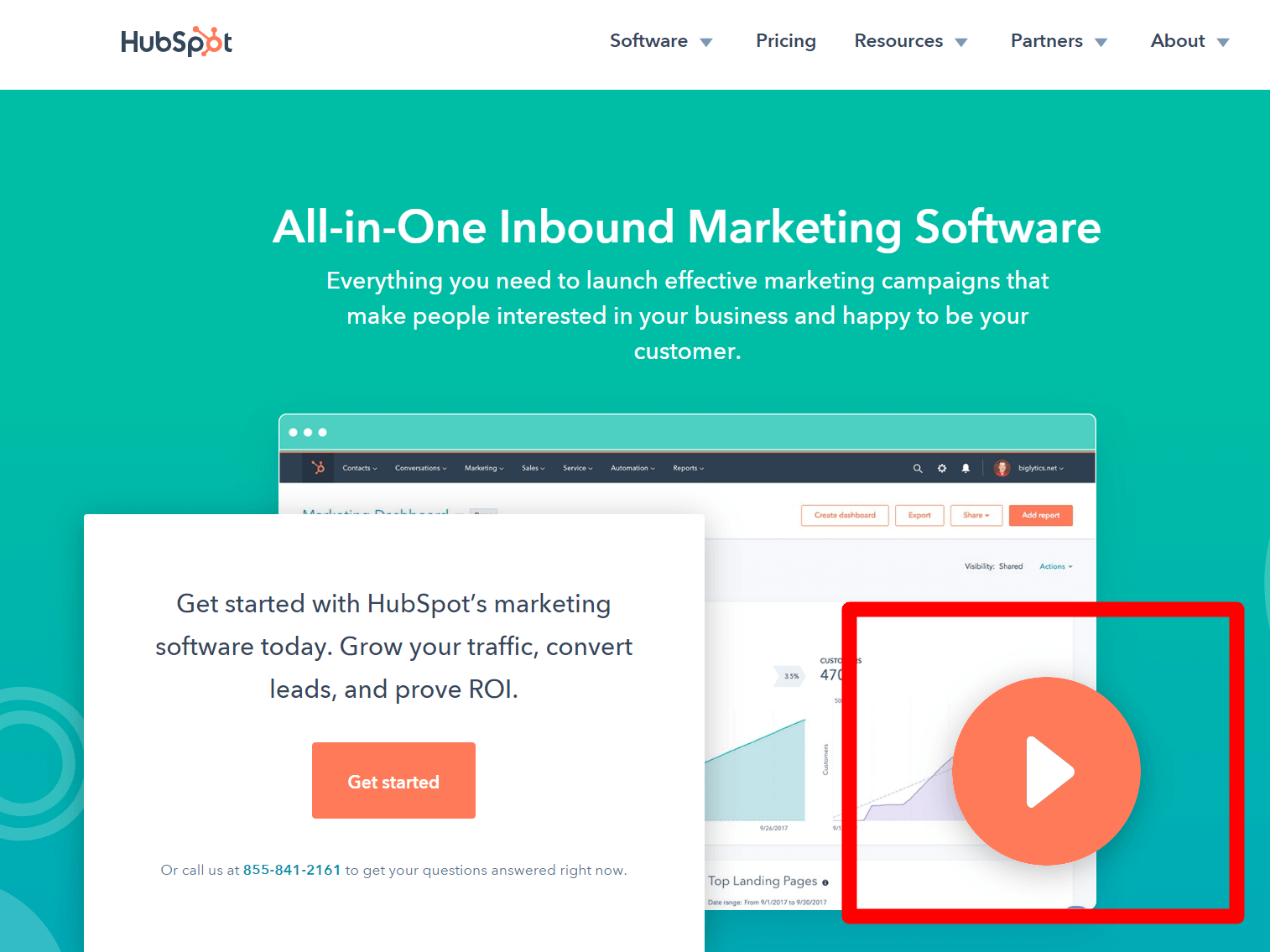 source: hubspot
Interaction has an added benefit as well, apart from creating memorable experiences on the landing page and converting. It is a great SEO strategy.
The more time a prospect spends on your page, the better for you and your conversion, seeing as time spent on page tricks search engines into thinking that your content is valuable. If you have a good time spent on page and great keyword targeting, then it won't take long for your page to rank.
Oh and if you're not convinced about SEO, what I mentioned above is only one of the main reasons for you to practice it.
Conclusion
Landing pages are a fantastic way to get more prospects to sign up and more signups to purchase something from your website.
And they're not even too complicated, so long as you know what you're doing and avoid a blunder or two that could be coming your way. The most common blunder I've come across is the useless links if I'm honest.
Avoid what needs to be avoided, be truthful to your brand's tone and always, always A/B test!
Téa Liarokapi
Téa Liarokapi is a content writer working for email marketing software company Moosend and an obsessive writer in general. In her free time, she tries to find new ways to stuff more books in her bookcase and content ideas-and cats-to play with.