Wait, wait, email signature? Does it need design? Why, it's just the info about sender!
You don't need design if you send some informal email to your colleague or friend a hundred times per day. If there's the only case when you communicate with people via Gmail (or other), then skip this article. But if you have other reasons to use your mailbox, read on.
Consider email signature not only as a part of acknowledging your identity but as a vital supplement to your marketing campaign. Even if you are not running one. Attracting reader's attention to your services and creating a positive image of yourself are a kind of marketing as well, even if you don't mean it intentionally. Email signature design is an easy and free method to build brand loyalty and earn points to your karma.
6 Tips for the Best Email Signature Design
You don't need to be a designer to create something attractive with your signature. Just follow these easy tips and you'll have it done.
1. Don't Write Too Much About Yourself
Remember, important info only! That's not an autobiography; mail signature design must be plain and readable so that a person could contact you in the most convenient way. If you are hard to reach via Skype, don't mention it; if your business is more focused on Instagram, include your profile info. No need to provide the whole list of your contacts if you are not available on most of them. And it looks clumsy after all.
That's a bad one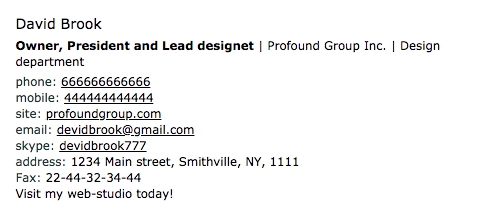 3. Color Is Good; Rainbow Is Not
Best mail signature design has three colors maximum. The palette should be balanced, and your brand coloristics (if you have one) should be reflected in the signature. If your logo is white-black, or you don't have brand colors, then unleash your imagination. But within the following limits: your signature should not be overwhelming or distracting; you aim to attract attention and emphasize the essentials and not freak out a reader. Here's what I mean: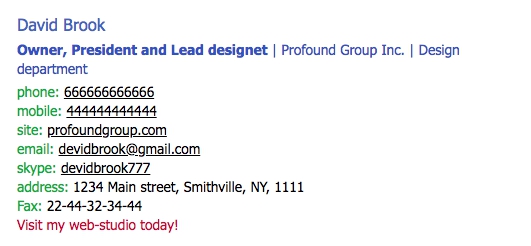 Which one looks better for you?

3. White Space
Organize the info with spaces between separate pieces of your contacts. But if you have quite a few lines to add, it may be not an option. In the case of small area available, the good idea is to use graphic dividers or glyph dividers (vertical bars). This way, the signature email design will stay clear, and info will be digestible. If you make graphic dividers colorful, stick to the tip two about the color palette.
4. Type Hierarchy Is Significant
Different size of type will help to direct the reader's eye to the most important things first. Your name should be on the top of the hierarchy (it's a signature after all). Organize all the other things according to their importance - for the reader, not for yourself. I.e., your position is, by all means, essential, but your reader's first necessity is your name and the way to contact you.
5. Social Media Icons Are Today's Trend
Many businesses these days move to Facebook, Instagram and personal blogs rather than traditional websites or brick-and-mortar locations, or at least combine these options. Social media has become a popular and very effective way to find your customer, build brand identity, communicate with the audience and offer a perfect match to the right person.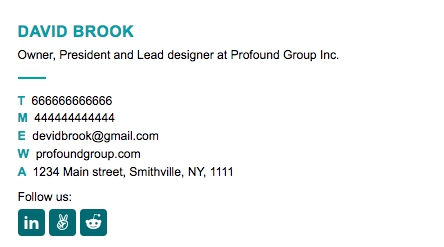 So all online email signature design services suggest adding a few social media icons and make them clickable. You don't need all of them, only the ones you use for your business. The bad idea is to add personal profiles or links to empty pages. You can use one or several colors for your social media icons, but don't forget about tip 2 of this article.
Icons are colorful but everything else is black, and it looks nice and eye-catching.
6. Advertise Yourself
Email footer design may also include a banner. It can be a link to your latest news, discounts, special offers, some useful tips, etc. Except for the obvious goal of redirecting your readers to your website, blog, etc., banners can help you track the activity, readers' interests and click rate, therefore improving your marketing strategy. You can design your banner using online design tools like Fotor or any other.
Where to Look for Email Signature Design Inspiration?
You can browse through the websites that offer email signature generation. One more option to look for email signature design ideas in Pinterest. You'll find quite a bunch of excellent examples and choose something to your liking. If you are not fond of immediate solutions, then check out some web design pages and study current trends in creating websites or various web elements.
If you are too busy (or too lazy) to concern yourself with the design of your signature, there is a nice option for you. Websites like MySignature offer email signature design templates created by professionals. Just type your info, pick up a photo or logo, choose the model that fits your requirements - are here you go, your killer signature is ready. By the way, professional templates are a good choice if you are to create a company email signature design - this way you'll have one style for all your employees.
Was this article helpful? Try to create your email signature using our tips and check it out!
Ostap
Ostap is a marketing professional (PMM) with 5+ years of experience in the software industry (B2B and B2C). Having worked with email marketing products and services, Ostap has a deep understanding of various email marketing strategies and solutions.