You just finished a job interview. Now what? You can either take a deep breath and patiently wait for a response, or take some extra steps to increase your chances of getting the position. No, don't run to delete pictures of yourself drinking alcohol with friends acting wild and crazy. You should have done this before you even start job hunting. One of the most underutilized tools that jobseekers often ignore is a thank-you email.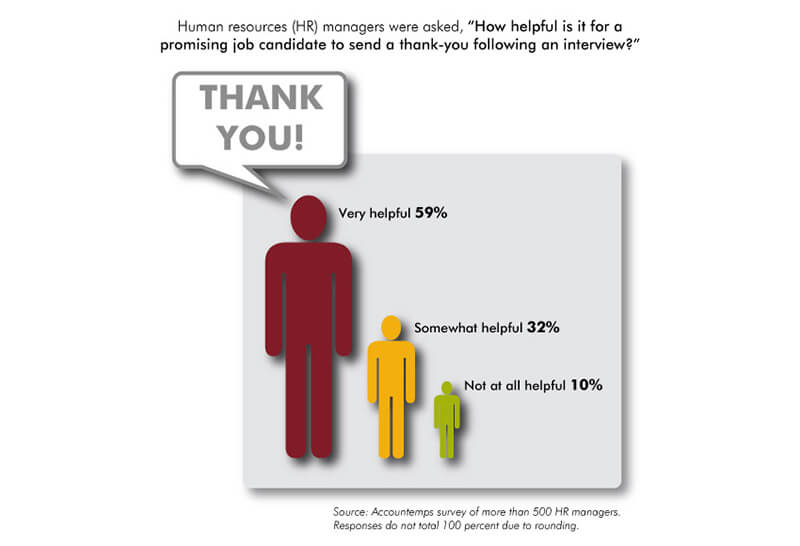 Why do you need to send thanks email after interviews?
Sending a well-crafted and timely thank-you note after an interview should be an essential part of your job-hunting strategy. Firstly, you can add to your positive first impression. And secondly, you can reaffirm your interest in the position. Furthermore, according to surveys, most people don't send thank-you letters after being interviewed, but HR managers find such emails necessary and helpful for reaching the final hiring decision.
If you are not convinced yet, see a few more reasons to write a thank-you email after a job interview.
You might also like: "What to Write in an Email When Sending a Resume: 8 Email Templates"
It shows your interest
If you reach out to the interviewers, you show that the meeting didn't make you lose your interest, no matter how it went.
You look professional
Sending a good thank-you letter after a job interview puts you ahead of over half of the competition. You'll look more professional and committed in comparison to those who kept silent.
You can ask or add something
This is an excellent opportunity to add something in case you forgot to mention some of your experience, or didn't ask an essential thing.
It makes the interview look successful
If you write a thank-you email after the interview, the employers feel it was successful for both sides, as you add some kind of completion.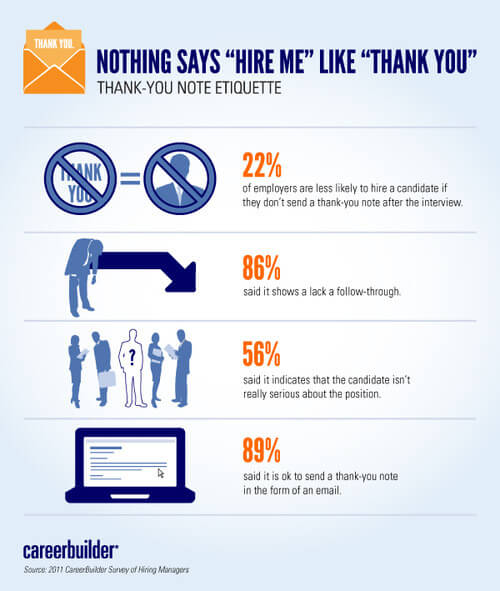 So, if you want to know how to write a thank-you email after the interview, keep reading this article.
You might also like: "How To Write a Good Appreciation Letter."
What to include in a thank-you email after the interview
There are multiple ways you can write a thank-you email. And while there is no single correct way to do it, there are several important tips and tricks you can use while drafting your letter.
Add a short and clear subject line
For example: "Thank you for your time."
Make sure to add a recipient's name
Keep it personalized. For example, you can add the recipient's name in a subject line: "Thank you for your time, Amanda." Or you can begin your email with a personalized greeting such as  "Hello Amanda."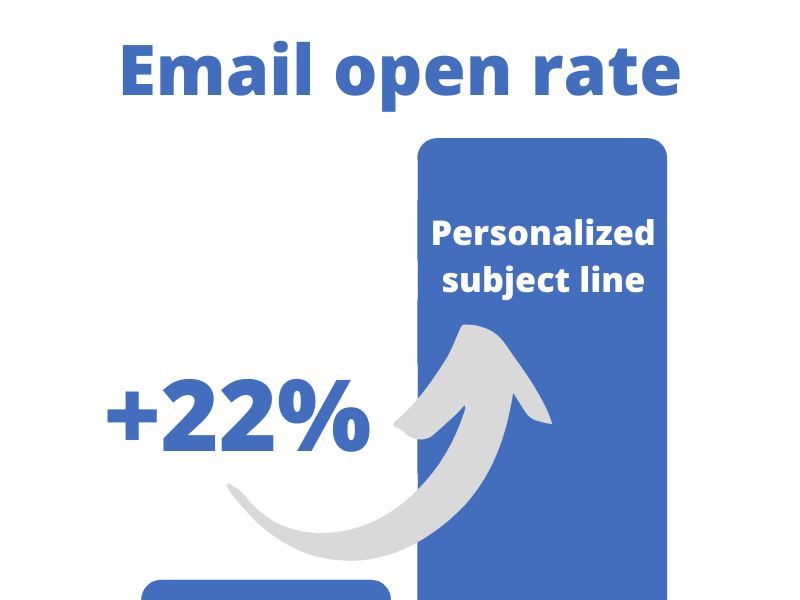 Start the body with a "thank you" part
Whatever you want to add, make sure you thank them first. For instance: "Thank you so much for taking the time to talk with me yesterday."
Add why you are interested in the job
Once again, say that you are enthusiastic and thrilled to work for the company. For example: "I am very excited about the opportunity to join the ABC sales department."
Mention something specific that you discussed in the interview
We recommend you to mention something specific you talked about during the interview to make it clear that your letter is not just a copy-paste routine. For instance: "I am particularly interested in the launch of your new software."
Tell them you can help with any additional details
Ask if they need to know something else about you. They might have also forgotten to ask something. For example: "Please do not hesitate to contact me if you have any questions/concerns."
Add a professional email signature
Close your thank-you note with a professional email signature that has all the essential contact information to help them get in touch with you easier. The email signature will also allow you to add your photo, a link to your social media accounts, online portfolio, etc.
Tips on making a great email after the interview
Here are some additional thank-you note tips you should consider.
Send it to everyone you've talked with
Ideally, you should send your thank-you note to everybody you met in the interview.  This might be a recruiter, hiring manager, potential colleague, etc. If you don't have their contact details yet, use Google. If you spoke to many different people (ten and more), you might want to save your time by sending one note to the main interviewer with a couple of the main players CC'd.

Be respectful but brief
It's ok to add some friendly stuff, but don't make the email too long.
Always proofread
Carefully proofread your letter before sending it to your potential employer to avoid looking unprofessional.
Follow-up patiently
Consider sending a second follow-up if you haven't heard back, but keep in mind that it's impolite to spam your interviewers with tons of questions if they didn't respond immediately. Wait at least a week before the second follow up.
Use only one way of connection
If you send an email, there is no need to use social media or phone to say thank you there as well. That would be disturbing.
Samples of a thank-you email after the interview
Alright. Enough theory. Let's look at some thank-you email after interview examples.
---
If the interview was good and you just want to say thank you and confirm your interest in the position, use the example #1.
Hello, Kelly,
Thank you for taking the time to speak with me today about the creative copywriter position at ABC.
It was a huge pleasure meeting with you and the team. I also appreciate you sharing your experience and tips.
After our conversation, I am confident that my previous experience and skills in Germanistic are an excellent match for this position. I am truly thrilled about the possibility of joining your awesome team, and I am looking forward to hearing from you soon.
If you need any further information, please feel free to contact me by email or phone.
Thank you and best regards,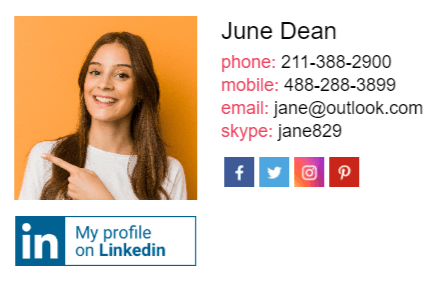 ---
When you feel you should add something, use the example #2.
Hello Jim,
Thank you so much for meeting with me on Wednesday and discussing the A&R job opportunity at XYZ.
I am really interested in the position and believe my six years' experience in talent management and artist relations would be valuable as your music company enters the European market.
At the interview, you mentioned that your team faced some issues with audio engineering, and I wanted to offer you a couple of ideas as I also served as chief engineer for ABC back in 2017. Please find attached a short guide addressing the issues.
I am looking forward to hearing from you about the next steps in the interview process. Please do not hesitate to contact me if there is anything else I can provide to assist in the decision-making process.
Thanks again for the great conversation!
Sincerely,

---
Example #3 is a follow-up after no response.
Hello David,
Just wanted to make sure you saw my email in regard to the marketing assistant position that we discussed on Monday. I am so thrilled about the opportunity and wanted to check whether there have been any updates on your side in the hiring process. Please let me know when you get a chance. Thank you!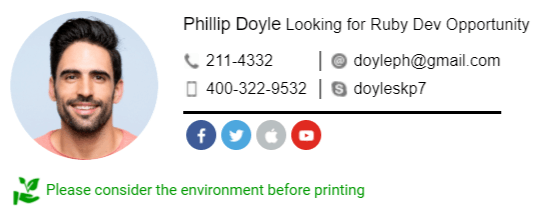 Conclusion
If you want to look professional and leave a lasting impression with potential employers, take the time to send the post-interview thank-you email. When writing your thank-you note, keep these essential things in mind:
Create a clear subject line;
Keep the body of your letter brief and to-the-point;
Personalize it;
Say thank you for their time and attention;
Confirm you are interested in the job;
Add something specific that you talked about in the interview;
Offer to provide any additional information they might need;
Check your grammar;
Be patient and follow up wisely;
Include a professional email signature.
Nick
Nick is a professional content marketer and writer at MySignature. He has been working in digital marketing for more than 5 years.