Running a YouTube channel is one of the best ways to make money online.
With over 2.2 million users, the platform has become a staple place for content creators to generate a steady earning. In fact, teenage YouTubers such as Summer McKeen and Nicole Rafiee consider making videos on the platform as their primary source of income.
But it's not easy to stand out when there are millions of other YouTubers creating content every day. A great way to thrive in this competitive landscape is to build an incredible personal brand, making you unique and easily distinguishable.
In this article, we'll cover what a personal brand is, explain how it can benefit your channel, and show seven tips and tricks to make sure your channel stands out.
What is Personal Branding?
Personal branding is different from a personal brand.
The former refers to promoting oneself to build a personal brand, which according to branding expert, Marty Neumeier, is people's perception of you.
Meanwhile, a personal brand is out of your control. You can help shape it through personal branding such as your personality, mission statement, color palette, and tone of voice.
That said, it's important to maintain a consistent look and feel throughout all online channels to build a strong personal brand. This includes your YouTube channel, website, social media, all the way to your email signature.
Benefits of Personal Branding
Personal branding is key to standing out in a competitive market. Not only will it make you more memorable, but it will also help you become:
Recognizable

Authoritative and credible

Valuable

Advertisement-worthy

Influential
With such powerful advantages, a strong personal brand can be a great way to influence an audience and generate rewarding pay.
That is due to the fact that 84% of the public has lost trust in conventional advertising. Instead, they prefer to make purchasing decisions based on user-generated content from everyday people and influencers.
This caused a major reshuffling in the way businesses market their products, and why influencer marketing has become so successful in recent years.
How to Build Personal Brand Through YouTube
We'll take a look at seven insightful tips and tricks to help you build a personal brand on YouTube.
1. Pick a Niche
When starting a YouTube channel, it's critical to pick a niche – a particular topic around which your content will revolve. A niche provides clarity on how to move forward with your channel and sets the foundation to create a solid personal brand.
A niche also helps your channel grow, as people interested in the subject can find you using relevant search queries.
In fact, the YouTube Creator Academy has a dedicated lesson to finding a niche for your channel.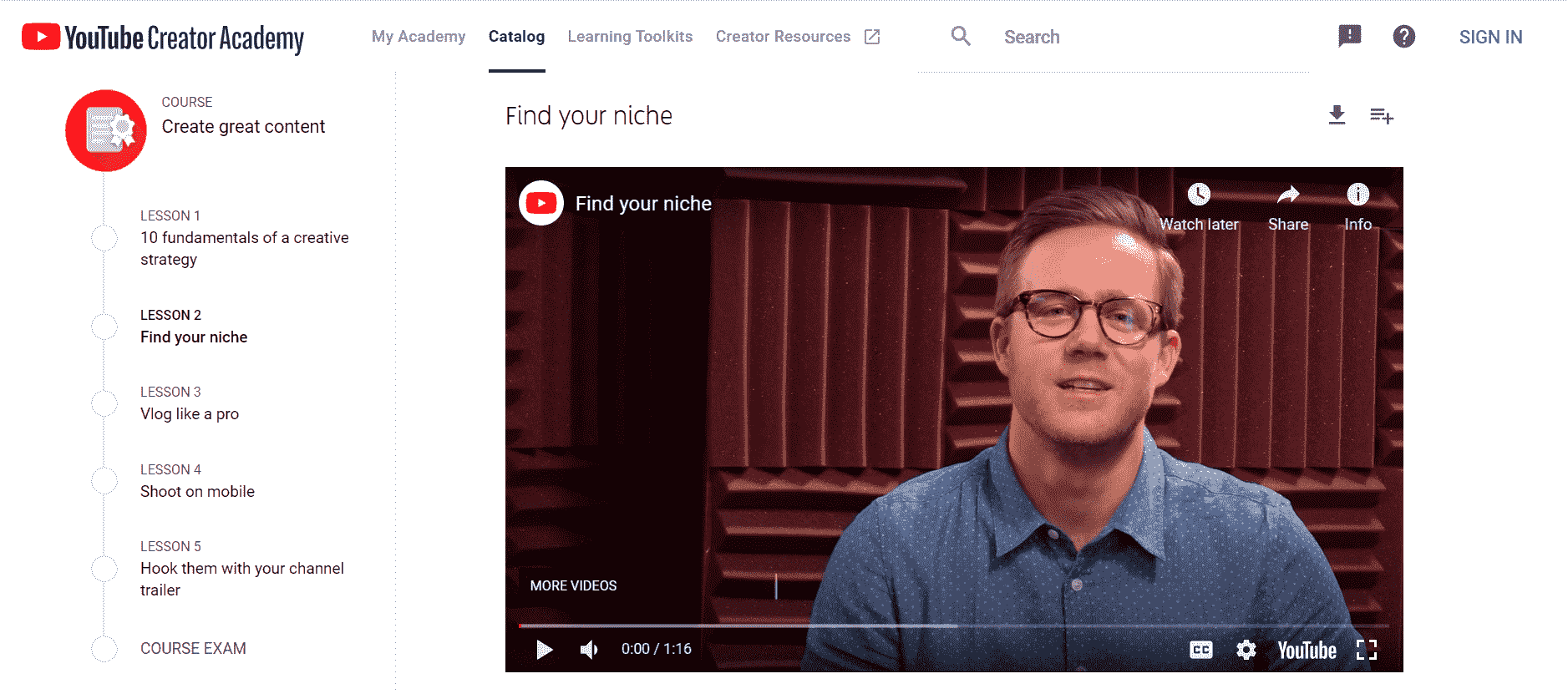 As viewers browse your channel further, they can then decide whether your content is what they are looking for. If yes, you're well on your way to building a solid community and strong personal brand.
To define your niche, consider making a list of several topics you're interested in. It can stem from hobbies, fields you're professionally good at, or subjects you regularly research about.
From there, narrow down your choices by choosing a proven profitable niche. Meaning, choose a niche with an audience, so it has the potential to generate income in the long run.
Some of the most popular and lucrative niches on YouTube to date include finance, gaming, and fashion, and beauty.
Once you've narrowed down your options, define your purpose and create clarity by answering the following questions:
Who is your target audience? Who are you trying to reach on YouTube?

What is your value proposition? What kind of content are you posting?

How can your content help people?
By answering these questions, you'll have clarity on how to move forward with your personal brand on YouTube. It'll help you find your unique tone and voice and understand the type of videos you should produce.
When done correctly, you can stand out from the crowd and start gaining a loyal following in no time.
2. Select Representative Elements
After picking a niche and understanding the type of content you want to make, it's time to choose the right elements to support and enhance your branding on YouTube.
It starts with deciding on the visual aspect of your channel, such as:
Color scheme

Font choice

Logo, icons, and graphics
Taking care of your channel's visuals will create a strong personal brand and help differentiate you from others in the same niche. This, in turn, will help viewers recognize you just by looking at your video thumbnail.
Let's take a look at a few examples of strong personal brands on YouTube.
Muchelle B is a great example of using a distinguishable color scheme. She uses a consistent color palette throughout her YouTube channel, from profile pictures to video thumbnails.

In contrast to Muchelle's pastel colors, Rachel Aust's channel uses contrasting colors with black as the dominant color.

While both YouTubers are lifestyle vloggers, each has its own unique style. This distinction is what makes each channel recognizable due to strong personal branding.
Aside from your color palette, your font choice also plays a part in shaping your brand.
For instance, Oh No Nina uses handwritten fonts to represent her playful internet personality. This is a great practice to help viewers know what to expect from your video content before viewing it.
Nina often uses playful icons on her video thumbnails, like heart graphics, to further enhance her brand.
Another great channel that uses graphics is the kid's product review channel, Ryan's World. The channel also includes a crop out of Ryan and the logo in each video to further establish strong branding.
Doctor Mike is another excellent example of a solid personal brand on YouTube. His channel features a highly recognizable logo of his name designed with a stethoscope, which is representative of his field.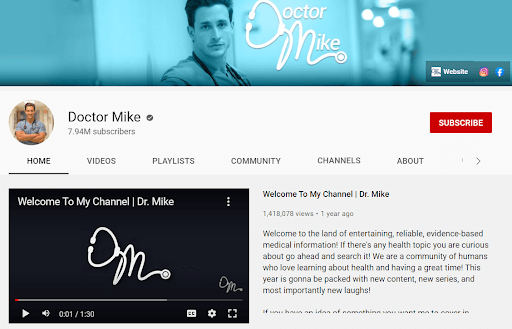 That is a great way to build authority and strong personal branding as a professional doctor if you choose to start a channel based on your profession.
3. Stay Consistent with Uploads
Another excellent personal branding strategy is to upload YouTube videos consistently.
If you're starting from scratch, find an upload time that works well with your schedule. It's important to ask the following question: how much time do you have?
But if you've established yourself and gained a few hundred subscribers, consider assessing your analytics to find the best time to post new video content.
The Audience tab on your Analytics page will give insight into the time and days when your viewers are most active on YouTube.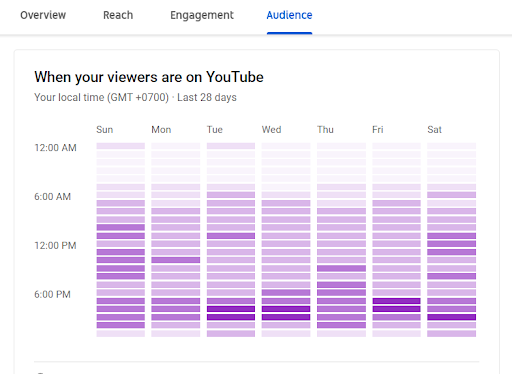 Assuming YouTube is a side hustle you're trying out, try committing to posting one video per week. In a year, that'll amount to up to 52 videos.
Staying consistent with uploads is a great way to gain exposure, which is necessary when building a strong personal brand as it is about how people perceive you.
In addition, it's a great practice to include your upload schedule on your channel banner, so the audience knows when to expect new videos. Popular YouTubers who do this include Jackie Aina, Tom Bilyeu, and Marisa Peer.

Aside from increasing your channel's visibility to reach a wider audience, a consistent upload time also helps you build authority and credibility in the long run.
That said, it's vital to focus on content value instead of production. Meaning, get past your limitations, such as equipment or editing skills. It's okay if you only have your smartphone to shoot and edit.
As you're consistently posting videos, ask for feedback. Look at the comments and approach your audience, such as neighbors, Facebook community, or online groups. This is important to build a positive personal brand and maintain a relationship with your audience.
4. Brand Your Channel
Now that you have clarity about your niche, channel's visuals, as well as your upload time – it's time to brand your channel.
As you would with any other social media page, you can customize your channel's look and information through the following elements:
Profile picture. Also called the channel icon, this is the image that represents your channel. It will then appear in multiple places – next to your videos, comments, and user search results.
You're free to use a logo or a portrait of yourself. However, make sure the profile picture is reflective of your brand. For instance, if your channel is about entertainment, make sure to smile and use relevant colors to portray the message.
Channel banner. We briefly touched on this in the previous section, where you would add your upload schedule.
But essentially, your channel banner is a powerful area to share important information and messages about your channel concisely.
Aside from including an upload schedule, it's also common to feature a tagline to describe what your channel is about.
For example, Alex Cattoni's channel banner says, "hot copywriting and marketing tips to ignite your business." This concise description provides clarity for viewers, helping them decide whether the channel is for them or not.

Links to your socials. On your banner, it's possible to link to essential channels such as your own website and social media platforms.
You can also customize the copy for your website link to entice people to click. For example, Alex Cattoni writes "Free Gift: Hot Offer Checklist," and Video Influencers says "Free YouTube Masterclass."
About page. This is where you further describe your channel. This description will show next to your profile picture on user search results.
When crafting a description for your About page, make sure to focus on your audience – introduce yourself and explain how your channel can bring value to their lives.
Additionally, those visiting your About page are already interested in your content, so make sure to include contact information for business inquiries to encourage brands and other content creators to reach out.
5. Feature a Channel Trailer
A channel trailer or video spotlight is the main video that viewers see when visiting your channel.
You can display different videos to different audiences depending on whether they are subscribed to your channel or not.
For those who aren't subscribed to your channel, it's best to show a channel trailer – a video introducing what your channel is about. Matthey Hussey and Doctor Mike are great examples of this.
That said, it's best to keep a channel trailer under two minutes so potential subscribers can understand what your content is about right away.
To create a concise yet engaging channel trailer, consider covering the following points:
Highlight what you focus on

Explain what viewers can expect from your channel

Encourage people to subscribe
For returning subscribers, try adding a featured video to showcase your latest or best content, which is a great practice to increase views and watch time anytime a returning subscriber visits your homepage.
Additionally, you can change or remove the featured video at any time.
6. Make Playlists and Sections
Playlists and sections are a great way to increase your watch time.
A playlist is a collection of videos to help channel owners categorize their content. Videos will play in order, one after the other, potentially resulting in an increased view count.
Great examples of YouTube channels using playlists include Anthony Padilla and Bridget Teyler.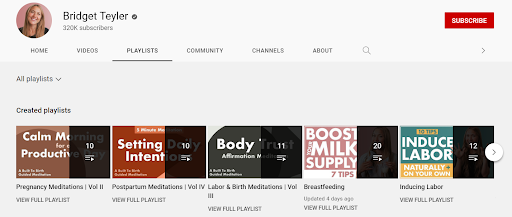 It's best practice to add all of your video content to its appropriate playlist so they remain discoverable and relevant at all times.
On the other hand, sections allow you to customize what viewers see when they land on your channel homepage.
They help brand your channel by showcasing the types of formats, series, and topics you do on your channel.
You can choose to feature videos, playlists, and even channels.
With videos, you're able to choose from a list that will pre-populate the videos for you.
For instance, the "uploads" option will automatically add any new video that you publicly upload to your channel. Meanwhile, "popular uploads" will automatically showcase your top 12 videos with the highest views.
Ali Abdaal is an excellent example for featuring video sections:
With playlists, you're able to display a carousel of videos based on three different settings: single playlists, multiple playlists, and created playlists.
"Single playlists" will display a carousel of videos you've added to that playlist, showing the most recently added video first.
And "multiple playlists" will allow you to group multiple playlists under one section while allowing you to customize the section title.
Thomas Frank is a great example of showcasing multiple playlists:

In addition, Thomas also makes a great example of showcasing his other channels and collaborators to further communicate his personal brand.

Once you have enough videos, make sure to create playlists and sections to build a strong personal brand.
7. Collaborate with Relevant Channels
Collaborating with relevant channels contributes to building a strong personal brand. It further sets the type of industry or fields your channel is in.
In addition, collaborations also grow your channel. They encourage you to connect with other content creators and reach new viewers.
When looking for a potential collaborator, make sure they align with your niche and audiences' interest.
For example, a YouTube content creator who focuses on guitar tutorials might be a perfect collaboration for a channel about songwriting.
Though these channels offer different kinds of content, the audience aligns through a mutual interest in music.
To set your channel up for collaboration, make sure to establish an audience first, even a small one. Not only will this help with pitching, but it also helps you understand which videos your viewers enjoy most and guide your collaboration choices.
Often, creators think they can only collaborate with channels that have a similar number of subscribers, but YouTube's Creator Academy says otherwise. It's possible to collaborate with other creators with a much larger audience.
To do so, make sure you understand and communicate the advantages you could bring to potential collaborators. Try offering one or more of the following perks:
Skills.

Skills can vary from singing to their guitar covers to offering live 3D interior designing for their apartment.

Resources.

This includes technical gear such as high-quality cameras and other equipment.

Access.

Consider offering unique access to interesting shooting locations or interesting people.
To further establish yourself as a professional brand when sending out email pitches, make sure to use a branded email signature.
Consider showcasing a high-quality photo, along with other contact details in a proper color palette to appear credible and trustworthy.
Try out an email signature generator like Mysignature.io to help with the task.

Conclusion
Building a robust personal brand can set your YouTube channel apart from others in similar niches. When done right, it can lead you to long-term success, connect you with content creators, help to collaborate with sponsors and advertisers, and build a community with your audience.
However, before you begin your YouTube journey, it's vital that you build a strong personal brand. Here's the recap on how to do that:
Pick a niche

Decide on your visual elements

Stay consistent with uploads

Brand your channel with a profile picture, channel banner, and link to social channels

Feature a channel trailer

Make playlists and sections

Collaborate with relevant channels
Now that you know how to build an incredible personal brand on YouTube, all that's left to do is start implementing these tips and get ready to stand out from the crowd. Best of luck!
Jessica A Paulson
A little girl with big dreams who likes reading and writing. A proud part of SDK Marketing.