Information provided in the visual form is 600,000 times faster processed by people than usual text. What is more, only 20% of data in a text is retained by readers, while pictures can make people remember 80% of what they saw. Take into account this statistics when deciding whether to add an image to your email signature or not.
What are the benefits of an image in your email signature?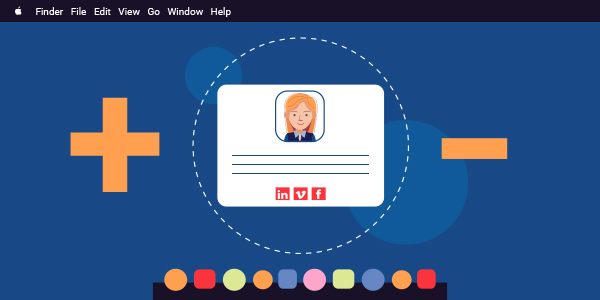 In general, a picture in the email signature grabs attention, makes the recipient notice the main message you deliver, and eventually leads to the sale or any other action your email is targeted at. Due to the nature of human perception, images do magic.
Personalization.
The picture of yourself in the email signature helps build intimacy and creates some connection between the writer and the reader. Not only well-written text can influence the recipient's decision to click or buy, but also a visual contact in the form of a picture builds trust and accompanies a reader to the desired action.
Brand recognition.
A well-designed logo inserted into the email signature significantly contributes to the brand recognition. Even if the recipient opened your email but just scrolled it down without reading, in the end, they see the picture which sticks to their memory much better.
Selling power.
Clickable banners designed in a proper way direct recipients to the right place and make them buy/subscribe/try for free, etc. Your task here is to choose the right links and put effort into the preparation of the target web-pages so that the banner couldn't lose its selling power. All elements should be developed in the best way possible.
How to embed an image into your email signature on Mac?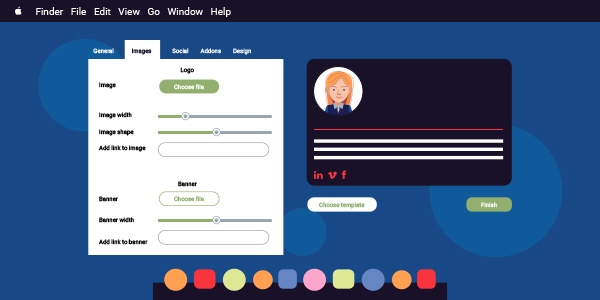 There is no quite a difference between the process of adding an image to your email signature on Mac or Windows. What really matters is the email client you use. Whether it is Gmail, Outlook, Apple Mail, Thunderbird, or Yahoo mail, MySignature free email generator is compatible with all of them. This means no matter which client you use, you can quickly and seamlessly customize your email signature with any image.
Now we are going to consider a few easy steps. They are general and can differ a bit if applied to different clients on your Mac.
When creating an email signature with MySignature, indicate all necessary details and go to the Images tab;
On the Images tab, you have the choice: you can select to add a logo or a banner (or both);
Click on the Choose file button and upload the picture;
On the right, you will see how the image will look like in combination with the text of your email signature. If you do not like the view, you can adjust the size and shape of the uploaded image;
To make the image clickable, insert the needed links into the corresponding fields in the Images tab;
To finish the process, go to other tabs of the email signature editor like Social, Addons and Design to add other important information, insert social media icons and choose the template;
Click the Finish button if you like all elements of the email signature you've just created. Then, you will see the list of all available email clients. Choose the one you need for your Mac, and you will be provided with detailed instruction of what you need to do next;
Put simply, you just have to copy the email signature and paste it into a corresponding section in the Settings of your email client. Sometimes it is required to use the HTML code which is also available at the bottom of the page.
What can be advertised through the banner in the email signature?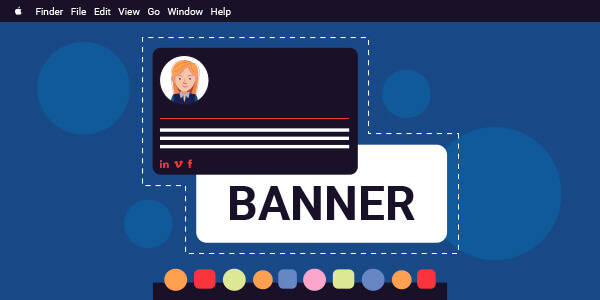 Adding a clickable banner to your email signature on Mac is an excellent chance to promote anything you need. Just remember that it has to be professionally designed and make recipients believe you or your brand. So, here are some of the most wide-spread use cases when you may need a banner:
New product launch or new feature release. Clicking on the banner the recipient will be offered to watch the demo, tutorial how to use a new feature, of new pricing plans;
New content distribution. If you have added a new section to your corporate blog, you can insert a link to some article into the banner to faster promote this new blog category;
Upcoming offline or online events. Banner is a perfect way to inform your clients about some future events without indicating this information in the email body and directly forcing them to buy tickets;
Greetings on holidays. A brightly colored banner with the warm greeting words will definitely make the recipient smile. It is not easy to cause emotions and banners can help overcome this difficulty;
Testimonials of your clients. Choose the most positive feedback about your service or product and create a beautiful banner design. This may work well with follow-up emails to potential clients.
*By the way, you can read in more details which font will work best for each of this use cases in our recently published blog post.
Related articles:
Maria
Maria is a professional content writer at MySignature. She has strong skills in Content Marketing, Email Marketing, SMM, and SEO.