The advent of social media and other technological advances has played a major role in marketing strategies for businesses. It almost seems like email marketing is a thing of the past. Is it true?
Well, not yet!
According to Smart Insights, email marketing is still the number 1 choice for marketers, with 35% of surveyed businesses sticking up for it.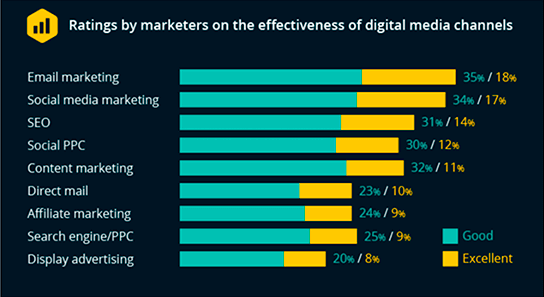 source: medium
According to a survey by McKinsey, email is a significantly better way to acquire new consumers, as compared to Facebook and Twitter.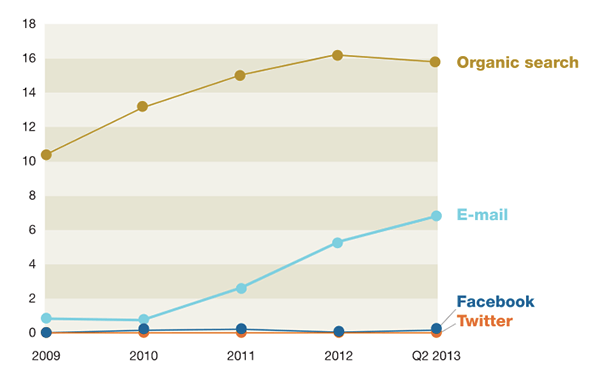 source: mckinsey
It generates around 40 times more leads than Facebook and Twitter combined.
How to use automated email marketing?
Right now, automated email marketing is the most popular. Quite simply, it means sending out emails at predefined times (drip-feed emails) or in case of a trigger (trigger-based emails). It aims to engage the customer in a concerted manner.
Drip-feed Emails
Drip-feed emails deliver consecutive messages based on a previously specified time-frame. It can be business-related or even personal. If used properly, this can supplement your revenue by a huge margin.
In businesses, these emails are usually used to target the subscribers of your website or newsletter, and take them further along the sales funnel, increasingly towards a purchase.
These emails are pre-written according to the target you want to achieve, so there is no need to write them one after another. That's why it's a big part of automated email campaigns.
Here is a simple infographic outlining how these emails work.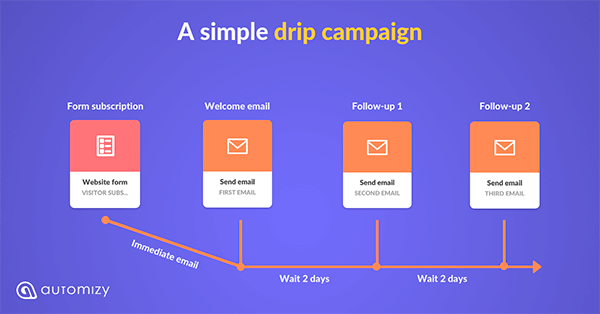 source: automizy
And yes, they are highly effective.
According to a study, you can nurture your leads and increase your clicks up to 3 times. And here are a few statistics that simply cannot be ignored.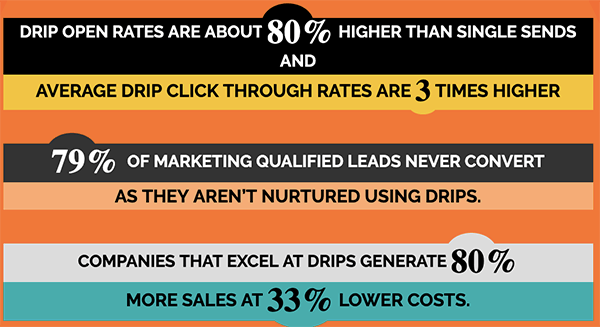 source: martech.zone
Send out trigger emails
These emails are sent at the instance of the occurrence of a particular event or date. In the business world, it can further be used in case of certain behavior, birthdays, meeting invites, or work anniversaries.
They are some of the most common automated emails and are a very important part of any automated email marketing campaign.
Its main USP is you don't have to sit and create email content every time you need to send a mail; it is simply triggered. It's also called behavioral marketing automation.
This is because it allows marketers to send emails based on the behavior and personality of the target lead, and hence can be made more personalized.
Presently, only 25% of marketers use triggered emails. It accounts for a low percentage of overall email volume, at around 2.6%.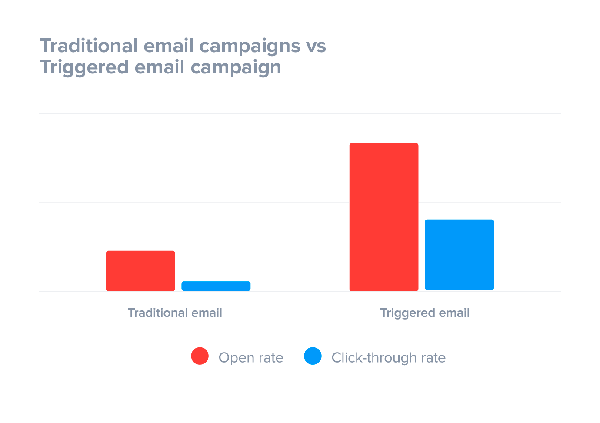 source: superoffice
However, they are responsible for around 20% of revenue generated through email marketing.
The benefits of an automated email marketing campaign cannot be denied.
In fact, automated emails have a 70.5% higher open rate than regular emails.
Targeted email list
269 billion emails are sent every day. 90% of adults in the US use emails every day. Clearly, the competition is intense.
Why should the consumer listen to you?
You have got to make your leads listen to you. So the first step in building an automated email marketing campaign is to ensure that you have something to offer your leads and prospective customers that they will value. Thus, apart from the right product, you also need the right audience.
And the data says you're in the right platform to promote your products to leads.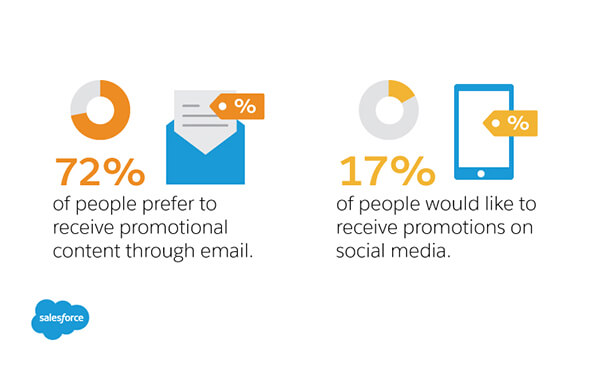 source: salesforce
You can also use a technique called the exit-intent popups. These try to provide relevant offers to people who visit your website but don't subscribe.
They can detect user behavior and offer the features that they want as they are about to leave. It's a useful technique that can supplement your lead conversion rates.
This is exactly how SnackNation manages to add 1200 segmented leads every week.
Know your core audience
Here, as you start sending out your newsletters, you begin to get a better picture of who your customers are and what they need.
As your campaign gets underway, you will gather more and more information about who you should most effectively pursue.
It's a good practice to leverage Google Analytics and Facebook Insights and get to know who your real customers are, based on statistics like demographics, location, and the number of visits per day to your page.
Here's a perfect example of how Google Analytics is used: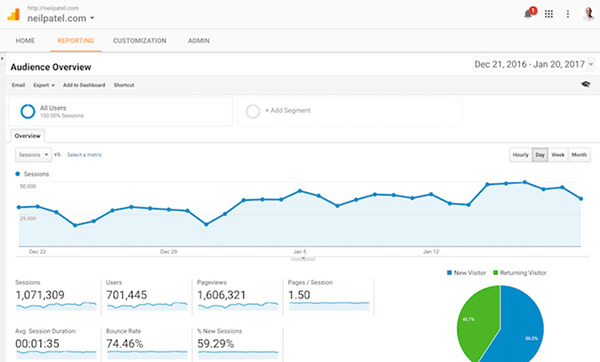 source: neilpatel
Over time, you will get to develop a core customer base, who need exactly what you provide. It saves time, money, and effort on your part.
Personalization is the key
This is a feature that every automated email marketing campaign simply must-have.
You have got to be different from your competition, and one of the best ways is the personalization of your emails.
More and more emails without personalization are ending up in spam. Personalization is your opportunity to catch the eye of the lead, get into their inbox and pique their interest.
More and more companies are doing it, and they are taking the personalization levels a notch higher. By working together with their browsing history, preferences, choices, recently bought and frequently searched items, and setting up first-name conversation terms, the dynamics are constantly changing.
And there are numbers to prove it. A <ahref="https://www.experian.com/blogs/marketing-forward/" target="_blank" rel="nofollow noopener noreferrer">study found that birthday emails (personalized) tend to generate 342% more revenue per email than normal promotional emails. HubSpot found that personalized CTA's perform 202% better than normal CTA's.
And it doesn't stop at that. Personalized emails have a CTR of 8%.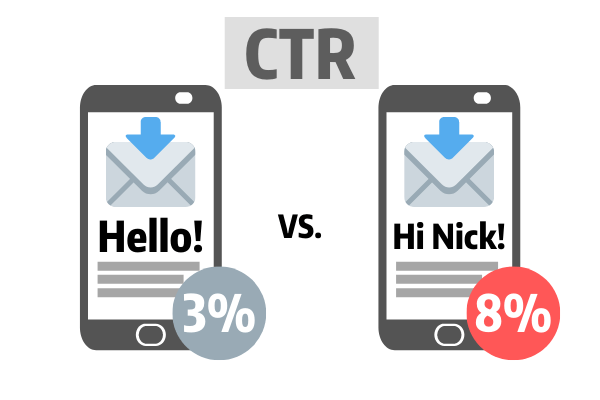 And according to Capterra, personalized emails are up to 18 times more effective in revenue generation. In short, $38 in revenue for every $1 spent. Staggering.
Customized landing page
When you take care of a problem, you've got to think it through entirely. Even the slightest snag may derail your plans.
That's why sometimes even great email marketing campaigns may fail due to a sub-standard landing page. Which is why linking your emails to a user-friendly landing page customized to serve the lead is a great idea.
You can directly engage the customer without having to go through a flurry of steps. The design, content, and Call to Action (CTAs) of the landing page can go a long way in influencing the lead in a positive way for your business.
Here is an example of an email, showcasing its offers.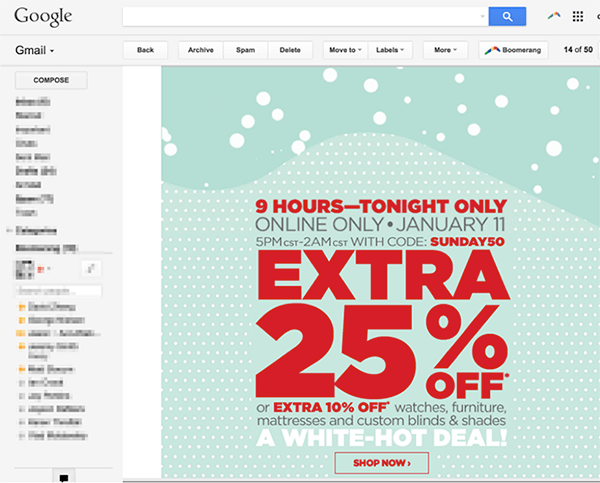 source: unbounce
And on clicking the email, it takes you to this customized landing page, highlighting the offers, codes, and other details.
This is a good example of a customized landing page linked to an email campaign.
A great subject line
For an automated email marketing to be successful, the first thing you need to ensure is that the customer opens your email. That they don't go straight to spam, and merits a few minutes of their time.
The lead doesn't know what's the email about. Maybe it has great value-addition for them, but they will never know that unless they open it.
And this is where the importance of a great subject line lies. The subject line must be crisp, concise, to-the-point, and must reveal a glimpse of the value on offer. The length becomes even more important since, in a mobile, the characters of a subject line displayed are even less.
A study by Campaign Monitor has shown that the optimum length of a subject line is between 41-50 characters.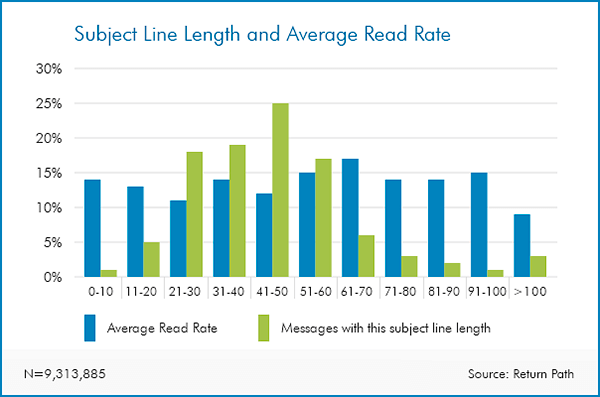 source: optinmonster
Apart from this, a few other tricks have shown good results as well:
Don't be unnecessarily clever or witty
Stick to the point
Personalization touch (for example, addressing by the recipient's first name)
No spam keywords
Make sure content is exactly what sells
Don't write long texts in your email campaigns. You better get to the point fast. Follow a particular protocol when writing content.
According to Optinmonster, some great ways to provide good content are:
Keep paragraphs short
Keep sentences short
Keep one main idea per paragraph
Include lots of bullets
Add pictures for facilitation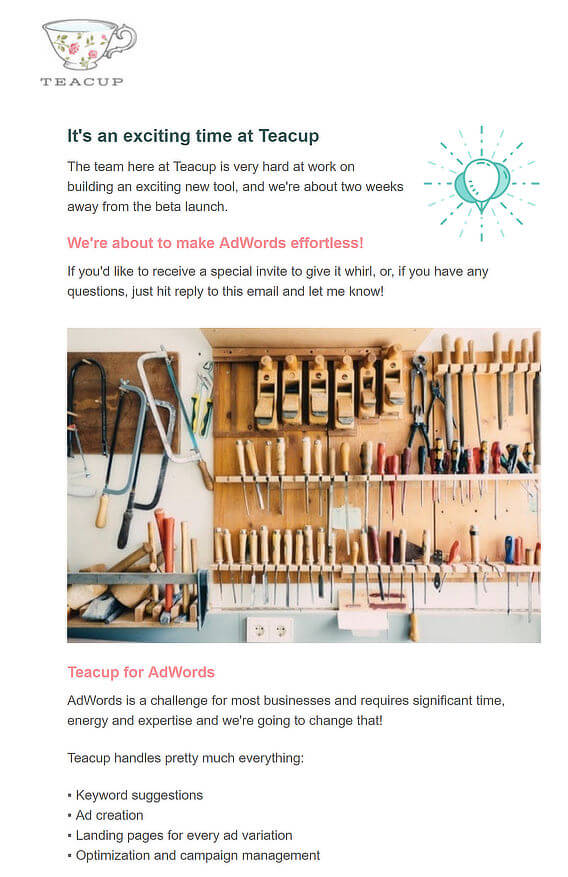 source: optinmonster
Make sure the content isn't too lengthy. You want the leads reading the entire email.
According to Litmus Email Analytics, the average person spends less than 12 seconds reading an email. So essentially, you've got only 12 seconds to get your point across.
Wrap Up
Automated email marketing campaigns are becoming more and more popular. Their benefits are being recognized pretty late, but 'Better late than never!'
Many companies have adopted it but most are still grappling with strategic implementation decisions.
Automated emails result in a better click-through-rate (CTR) than regular broadcast emails, better lead generation results, and more.
On top of that, they account for more revenue than manual emails. With all the benefits along with a higher conversion rate, the future of email marketing is clearly automated.
However, with just 51% of surveyed companies having an automated email marketing strategy, more holistic and industry-wide approach is necessary.
So, follow through the automated email marketing tips mentioned above to kickstart your email campaign today.
Automate today - don't postpone anymore.
Sheejo George
Sheejo is a Marketing Specialist with over 3 years of experience. He has a very good understanding of SEO, Email Marketing and Amazon Advertising.