Does email marketing matter to authors? Can you sell more books with email marketing?
Well, if you are reading this article, chances are that you are wondering whether email marketing matters to you as an author and whether you can use it to sell more books. Either way, you are not lost. This is perhaps the right place you've just come to.
In this article, you will learn what email marketing is, where to get started, and how to get subscribers, etc.
Keep reading.
Email marketing is a powerful tool any marketer should not miss in their toolkit, and because you are selling books, you are a marketer too.
What is email marketing?
Email marketing is the process of promoting your offers via email. There are two ways authors can use email marketing to promote their books.
As an author, you can create your own email list from scratch
Or
Pay other people, so that you can use their email lists.
There are no differences regardless of the method you choose since they all achieve one common goal - to promote your books to your readers via email.
Social media reach is declining each new day hence making email marketing an important tool for connecting authors with their readers. It's a great tool for essay writers, internet marketers, authors, etc.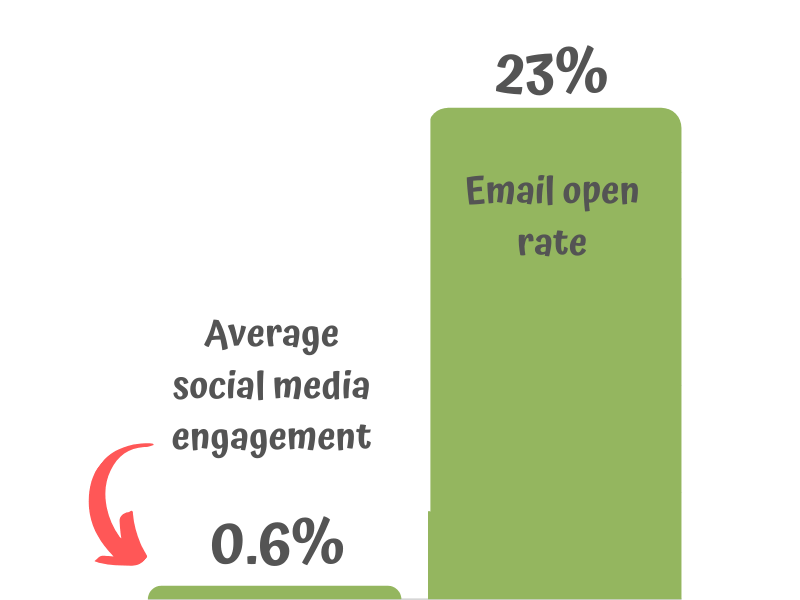 data source: optinmonster
Your email list is your valuable asset
No matter what happens in the online world, your email list will always be your valuable asset. You will always reach your readers via email anytime you want, even if Google changes their algorithm.
Email marketing is also cost-effective and easy to do.
Email marketing vs. social media - which one reigns?
Think about it: How many times have you posted an update on social media or published a post and got no clicks? Just thousands of times.
Also, when you are on social media and you have 100 followers, if you post an update, you can expect only a few followers to see the post you published. But if you want many people to see it, you have to pay to increase your reach.
With search engines, you can expect to be swept by an update anytime and your blog posts won't appear anywhere in the search results.
But for email marketing, once you send emails to your readers, you can expect it to get clicks as long as you follow the right email marketing principles.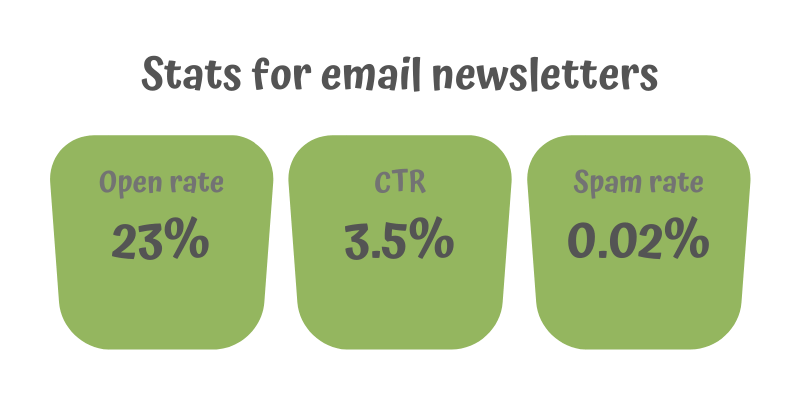 data source: smartinsights
Where to get started building your email list
Before you can start building an email/subscriber list, you must sign up with an email service provider and you also need a blog or website.
There are tons of email service providers out there, but you need to choose the one that works best for you.
Once your website is up and running, and you've registered with an email service provider, you can start collecting email addresses by placing a sign-up form at strategic places on your site.
A good platform to create your site is WordPress.
Information to collect when gathering email addresses
Your email service provider will allow you to put signup forms on your site using certain plugins or give you a code you can embed in your website.
Here is the thing: No one wants to give out all their information to a stranger. For this reason, you need to know what information you want to collect that readers will not hesitate to give out.
In your sign up form, ask your readers to enter their email address and first name.
Note that if you ask them too much information, they will just navigate away from your sign up forms.
Just collect the important data you can use when sending emails to them in the future.
How to get email subscribers
Creating an email list is one thing and getting people to subscribe is another. If you don't approach the process in the right way, you will end up with no subscribers even after putting all the effort to create your website.
The good thing about authors, unlike other marketers, is that they already have the content (their books).
Here are some tips to help you get subscribers quickly.
1. Host contests or giveaways
You can either use free eBooks or physical copies of your titles to run giveaways.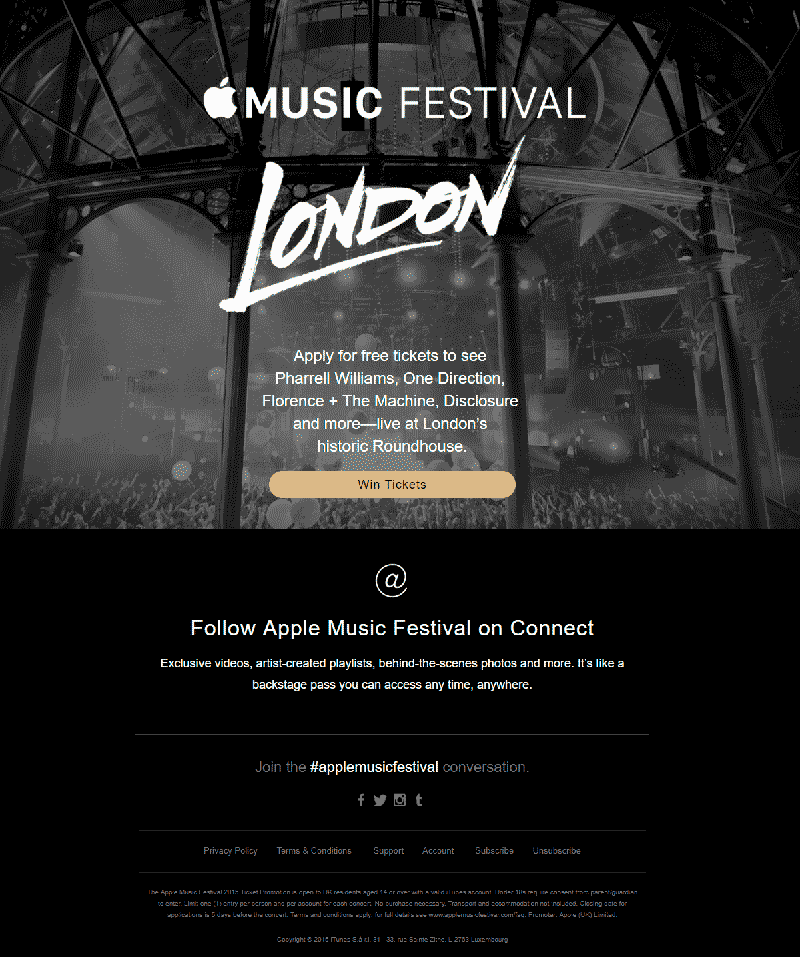 source: apple
As a rule, the price in your giveaway should not chess your target reader away. Giving away a Kindle is certainly more interesting than just a book.
Ideally, the price in your giveaway should be attractive to your target readers.
2. Take advantage of pop-up forms on your website
You can build a landing page and collect emails but you can also implement a pop-up sign up form that asks a reader to subscribe to your email list after reading the content on your site.
After all, if someone has been reading your content for about 10 minutes, the chances of them subscribing to your email list once a pop-up appears are high.
3. Use social Media advertising
Paid advertising, especially on social media, is also another fantastic way to get people to subscribe to your email list. Note that this is a costly approach.
4. Include a link at the end of your eBooks
You can include a link to your email list signup forms or email signatures.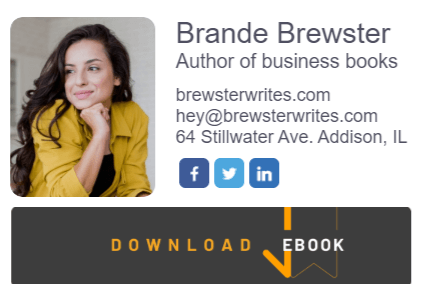 Let's say you have written an eBook. At the end, you can include a link that takes the reader to your email list sign up form.
5. Don't buy subscribers
A purchased email list is good for nothing. After all, if a person didn't personally sign up to your email list, how do you expect them to engage with you?
Work hard to create and grow your email list to get genuine subscribers.
6. Send emails to people in your email list only
If somebody took the effort to subscribe to your email list, then rest assured they have allowed you to send them messages. But if they didn't, don't send them any messages via email unless you have their permission. If you send emails to people without their permission, expect it to be flagged as spam. And as an author, this means no one will know that you exist.
You have an email list. What's next?
Once you've created an email list, it's time to create an email campaign where you send messages to your subscribers to notify them of what you are working on or what's new for them.
When sending emails, observe the following elements:
Create an enticing subject line
Your subject is the first thing someone sees once an email lands on their inbox. Since you took the time to create an enticing cover of your book, make sure to do the same for your subject line.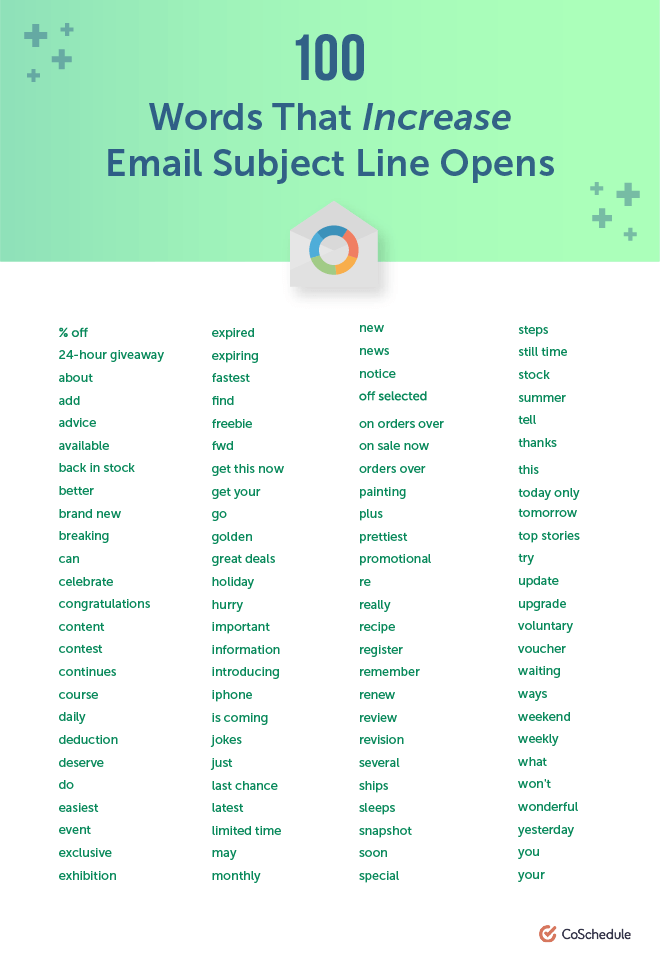 source: campaignmonitor
Make it as irresistible as possible. Give them a reason to click and read. Don't make it long. Keep it short and sweet, around 30 characters long.
Email body
Your email body also needs to be interesting and concise. People should be able to read your message on mobile as well.
Remember that these days people eye-scan content. To make your message scannable, use subheadings, bullets, and bold texts.
Test your email on mobile before sending it to your subscribers.
Keep important elements close to the top of your emails
Here is the thing: You want your readers to take action but you also don't want to make them wonder what action to take.
Keep everything visible immediately. If you want them to click a link, make sure the link is easy to spot. The same applies to buttons. Don't include buttons at the bottom of your emails. Your readers may not make it to the end of your email.
Avoid too many images
Images are attractive and pretty, however, if you have to include them, make sure they aren't taking too long to load. People have shorter attention span these days and if your message is full of images that take forever to load, recipients will just close or delete your messages right away.
You need to include book covers, but they must be in the appropriate format and not too large.
Final Thoughts
Email marketing is a powerful tool every author must not miss in their marketing toolkit. We hope this article will help you get started easy and sell your books with email marketing.
Ostap
Ostap is a marketing professional (PMM) with 5+ years of experience in the software industry (B2B and B2C). Having worked with email marketing products and services, Ostap has a deep understanding of various email marketing strategies and solutions.