For recent college graduates or new hires, it can be a challenge to write effective, professional emails. But this article will provide you with some email communication tips to help you improve the overall quality of your online correspondence, stand out, and be respected.
How young professionals should format their emails
The use of email in business has become so common that a lot of people don't always think about what they are sending. By just taking the extra time to apply proper email formatting, you can become a better business communicator. Here are the essential rules you need to know.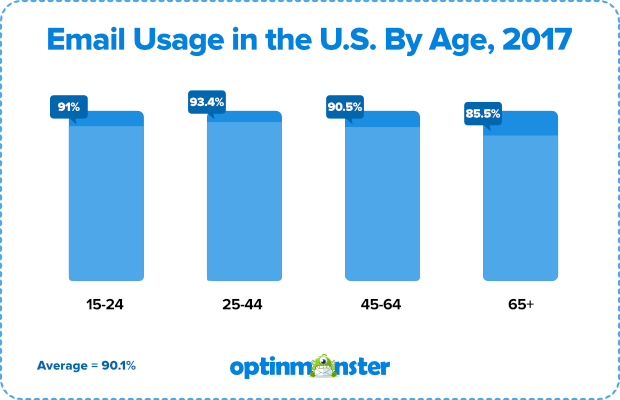 source: optinmonster
Send messages from a professional email address
If you work for a company, you most likely already have your company email address. But if you are self-employed, you probably use a personal email account. And if you want to be perceived as a professional, you should be careful when choosing that address.
Make sure it conveys your name so that the reader knows who is contacting them. Avoid using email addresses that aren't appropriate. Neither [email protected] nor cutelas[email protected] are any good no matter how cool or cute you are.
Always check the recipients
When you get in touch with multiple people using the same email template, you often just copy and paste the text. So don't forget to check if you address the correct person before you hit the "Send" button. Otherwise, you are risking to send an email to an important person using someone else's name. That's awkward, isn't it?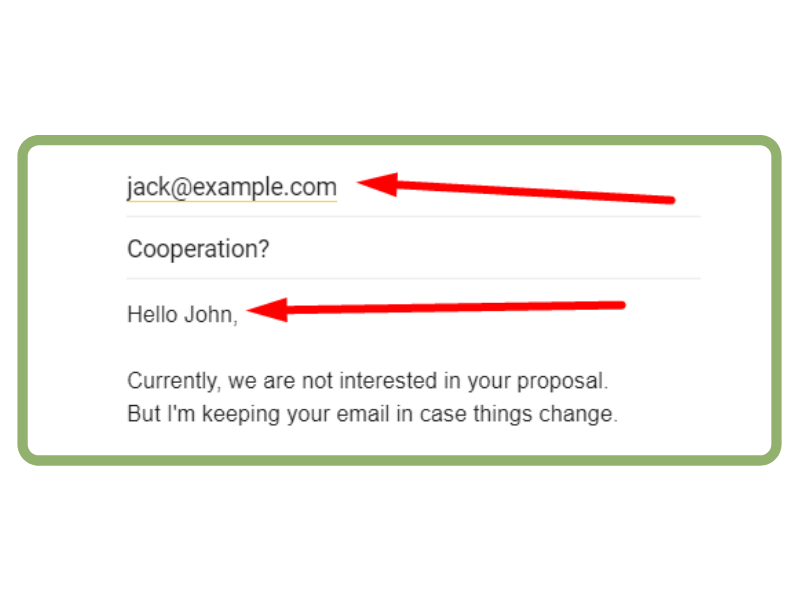 Make your subject line clear
Don't underestimate the importance of your email's subject line as most people decide whether to open the email or not based on its subject. If you leave it blank or write something generic like "Hey," or "Quick question," chances are you won't get any reply because the recipient has no clue what your message is about.
Always use an email signature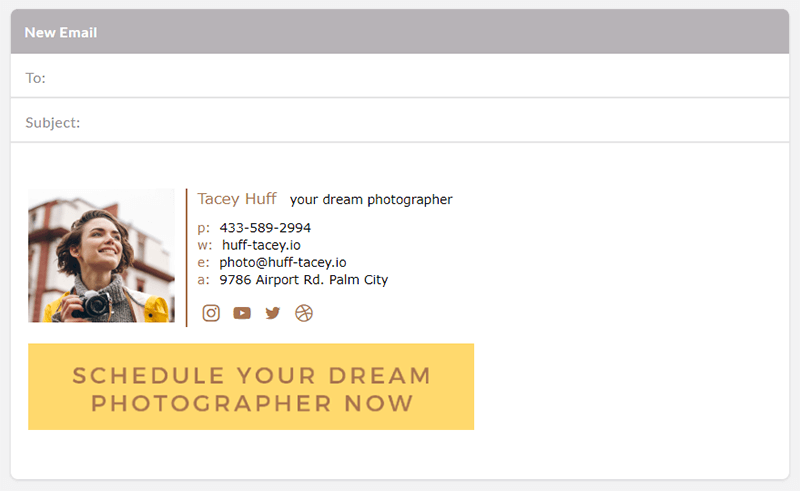 If you write business emails regularly, it is important to provide people on the other side of the screen with your contact information. By using an email signature (footer) for such purpose, you can be sure that nobody you communicate with has trouble reaching you. On top of that, email signatures make messages look more professional.
A good email footer includes your name and job title, along with your phone number, social media links, and any other relevant information.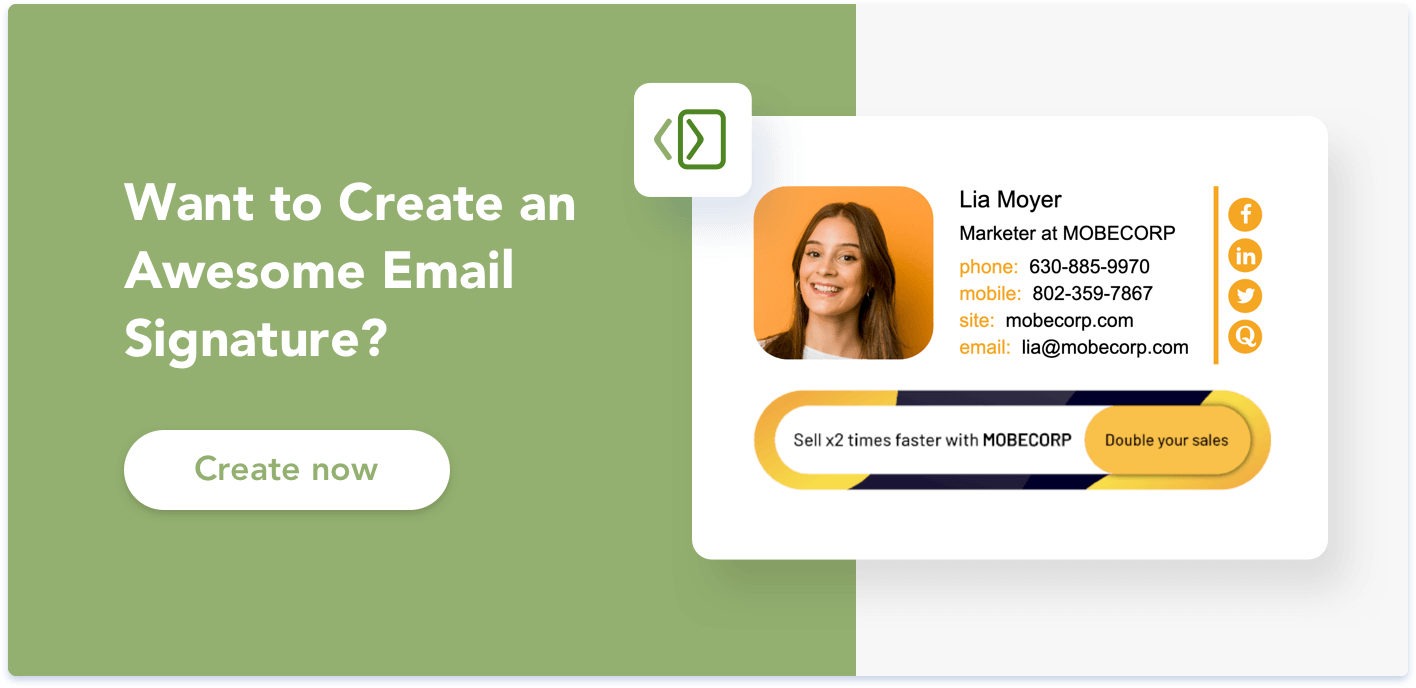 You might also like: "How to create an effective email signature design: tips and examples"
Greet recipients professionally
Address your recipient by the name when possible. Also, avoid using non-personalized greetings such as "Dear Sir or Madam" or "To whom it may concern." Casual greetings such as "Hey folks" might sound overly familiar. So let's stick to something like "Dear Mr/Ms +last name," "Dear + first name," "Hi + first name," "Hi," or "Hello."
Quick tip: Don't shorten anyone's name unless they allow you to do so. If the person goes by something shorter, i.e., Rob instead of Robert, they'll tell you.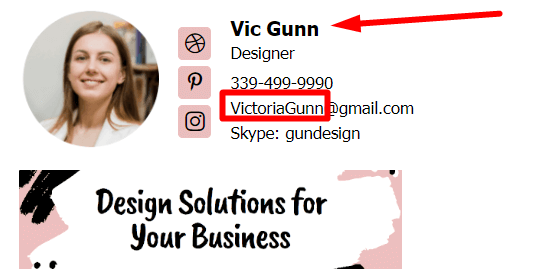 Clearly organize your thoughts
Make all your messages clear and easy to understand by correctly organizing them. Explain why you are writing, use paragraphs, and consider adding a call to action (CTA) in the end.
Be polite but to-the-point
Often, when someone is trying to be polite, they use less direct language. However, this practice of talking about multiple things like kids or weather before approaching one's real reason for the conversation takes much time. Also, we all are busy and rarely can afford reading long messages to the end.
Of course, if you are writing to someone you know well, or work in a casual environment, it might be appropriate to make some small talk. With other people, it would be enough to greet them appropriately, thank them for their input or contribution, and say "please" when asking for something.
Make your sentences short
Short sentences are easier to read.
Quick tip: If you feel that you need to include a lot of information in one email, it's probably better to schedule a phone call or a meeting instead.
Use exclamation points only when necessary
If you don't want to leave the impression of an overly emotional or immature person, you need to avoid excessive use of exclamation marks.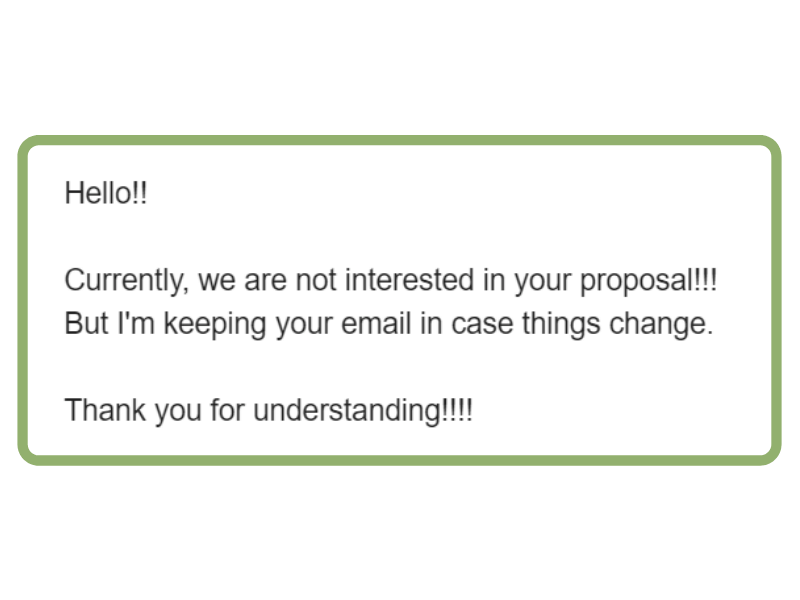 Avoid using fancy fonts
You might be a fan of various fancy fonts, but it's better to keep them classic when writing business emails. Consider using 10- or 12- point types such as Arial, Calibri, or Times New Roman. As for color, black is the safest option.
Use visual elements only when needed
There are multiple ways to make your mails stand out and attract your readers' attention. And those don't necessarily have to be images and GIFs.
A call to action is the best email ending
Use calls to action if you need to get your recipient to take the next step forward.
Add attachments wisely
Mention that you added the attachment to make it more noticeable and trustworthy. Consider adding a link instead of the attachment when possible.
Email writing tips to deliver a message and stand out
Now, let's see what you can do to make your emails sound professional.
If you want something, ask for it
For many young professionals, the thought of asking someone for help is fraught with discomfort. But every time you afraid of asking, remember that "a closed mouth don't get fed." And the faster you start asking, the sooner you start receiving.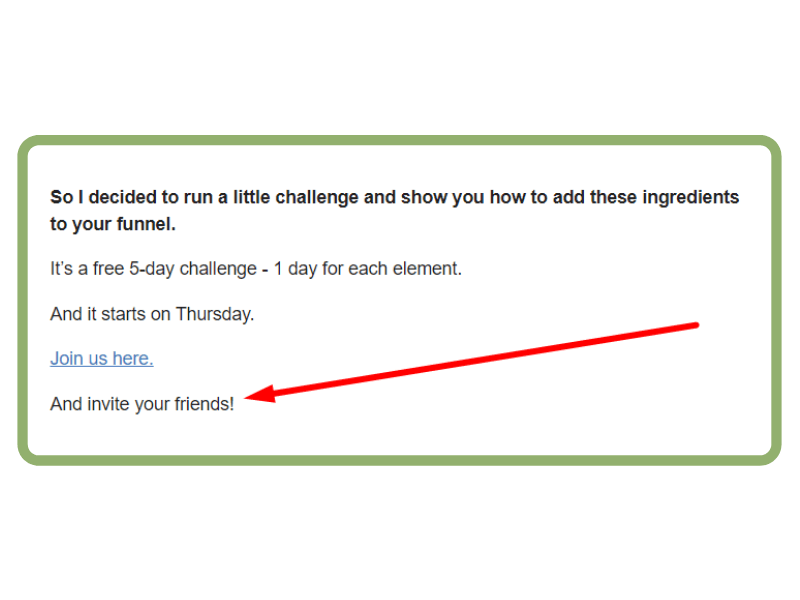 However, we must state that this shouldn't be abused.
Also, avoid beating around the bush and be as straightforward as possible. Saying "I'd love your feedback on my report by Monday" is much better than "Let me know what you think."
Double-check if your statements are unambiguous
To make sure everything is all right, we recommend you to re-read your email a few minutes after you finished it.
Remove probably negative sentences
Make sure you are clearly neutral in your statements. For example:
"If you fail to respond by OED Friday, we can't continue the project."  → "We'll continue the project only if you respond by OED Friday."
Don't waste your recipient's time
Email eats more time than we think. Just imagine, the average worker receives approximately 150 emails a day. Multiply that number by 30 days (it's 4,500 emails per month), and you'll realize that you can't waste yours and someone's time by your long-reads or unclear requests.
Write as when you speak
Writing a business email doesn't mean you must keep your language very formal. Try to make your writing sound like one person talking to another. For example, instead of writing: "Your request has been received," say: "We received your request."
Be objective and not emotional
For young professionals in business, it's often hard to find a balance between reason and emotions. That's why it is important to read your email back before hitting "Send" to make sure you have the content and tone just right.
Always work on your written communication skills
Repetition is the mother of learning. You will improve with each new email. Also, you can take a business-writing course or an online workshop.
Use "Reply all" cautiously
Before hitting the "Send" button, think if it is really required to reply to all the participants. Often, you can reply to the sender only.
Proofread whatever you send
We all make mistakes, but typos in a business email can reflect poorly on your professional image. So before you send your message, be sure to check for any misspelled words, grammar errors, and other issues.
Don't forget to double-check both individual names, company names, dates, times, and money amounts. Keep in mind that a typo in these areas could be embarrassing or perhaps even damaging for your business.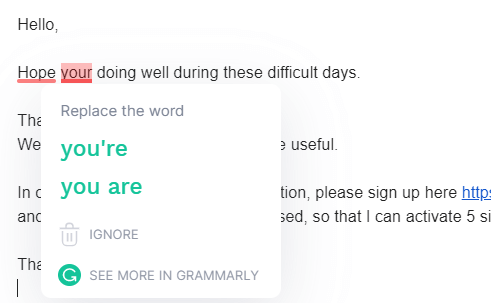 Add the recipient's email last
If you don't want to send an important message accidentally before you have finished composing and proofing it, it is better to enter the recipient's address only when the email is ready to be sent.
Don't email when you're in a bad mood
In case you are having a bad day, it's better to save your email as a draft and re-read it after your mood will go up.
Basic tips for email etiquette young businesspeople should follow
There are some more tips on creating the best business emails. Although some of you might feel that there are too many rules to follow, we can assure you that you'll get used to them with practice.
Be appropriate
We all communicate in many different ways, and if you only care how you prefer to exchange messages and not how your recipient prefers to do that, chances are you are going to have a pretty one-sided conversation.
Avoid too many follow-ups
If you need a response from someone, it's acceptable to follow up. But be sure to do it wisely. If you are expecting something from a colleague, you can wait for at least 24-48-hours before following them up. And if you are emailing someone cold, give them a week or two. Don't follow up too many times. Sometimes, it is better to set up a call or an appointment.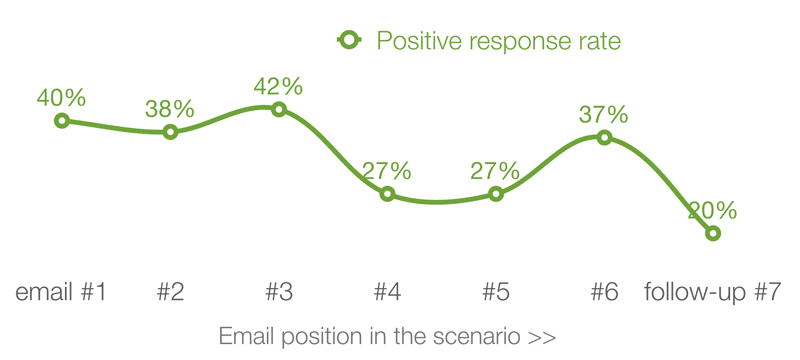 source: iko-system
Be careful with jokes
Some jokes won't translate well without the right tone or facial expressions. So, it is better to leave them out of business emails unless you know the recipient well.
Respect different cultures
Business email etiquette can vary from country to country. And while in certain countries, it is pretty acceptable to write in a friendly, casual manner, in other ones businesspeople expect to receive only highly formal letters.
Yes, it can be challenging to know how to address your partners or customers overseas, but there is always Google at your disposal.
Reply to all emails, even mistaken ones
It won't hurt you if you let the sender know that you are not the right contact. Who knows, maybe someday you will have to deal with that person.
Stick to business tone
By doing so, you can make sure that all your email correspondence presents you and your company in a positive light.
Be sensitive to sensitive data
Before you hit "Forward" on an email, double-check if there is no personal information or potentially sensitive data.
Related article: "Protect Sent Emails with a New Gmail Confidential Mode."
Check specific instructions from recipients
See if they asked to reply in some special way or contact someone else before hitting "Send."
Respond ASAP
Try to get back to your close or immediate team members within 12 hours. Emails from general work colleagues should be responded no later than within 12-24 hours. Reply to external emails whenever you have time, but it's best to keep it within 12-24 hours as well.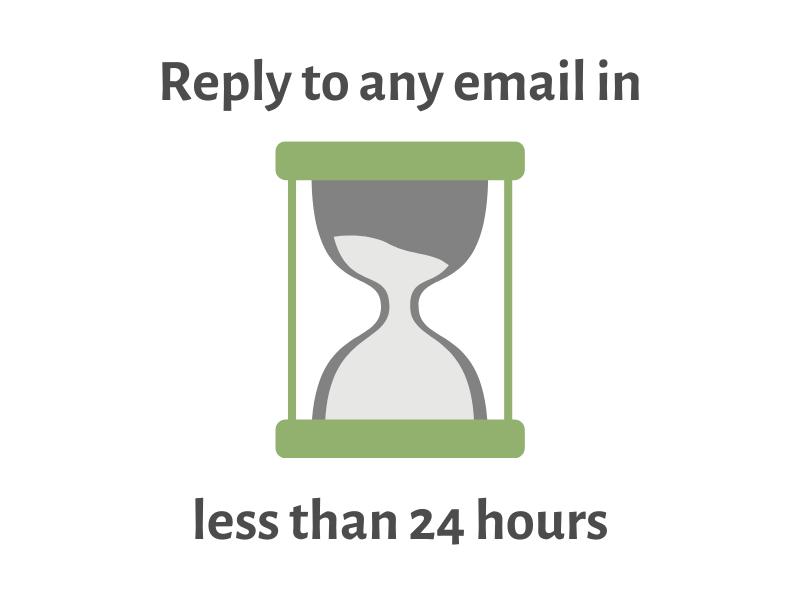 If you are very busy and have no time to write a proper response, consider emailing the person and letting them know that you received their message, providing an estimated time of when you think you'll be able to get back to them.
Why managing your email routine is important
Dealing with your professional email correspondence may take hours each day. But, it doesn't have to be that way. If you use the following email management tips, you can become more productive easily.
Create templates for similar situations
If you frequently answer the same questions or send out the same information to multiple people by email, you can save a lot of time by creating email templates. Hence, you won't need to write every message from scratch. Instead, you start with a well-thought-out email template and customize it to your needs.
Use email scheduling when needed
Sometimes, when you have the time to compose an email, it may not be the best time to send it. Here is when an email scheduling tool or email service provider feature can come in handy.
Follow your corporate email rules
Email plays an essential role in a company's communications. While we all try to work faster, we shouldn't forget to follow corporate email rules set by the company.
Add a vacation autoresponder
If you are going to be out of the office and won't be checking your email, it's a wise idea to let people know when they can expect your response.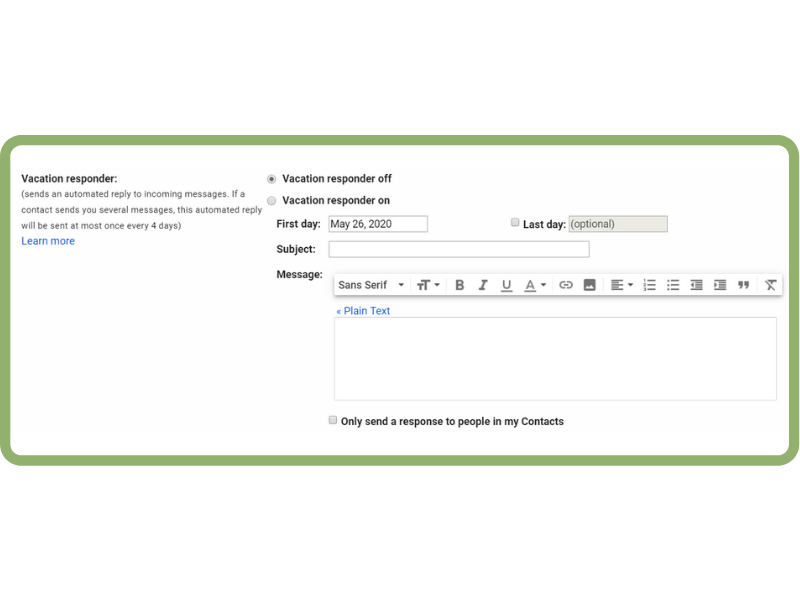 Use a task tool with your inbox
A lot of professional emails require some sort of action. As a busy professional, you probably can't get everything in your head. That's why we recommend you to connect a task tool to your inbox. By the way, many email clients provide built-in helpful task tools that turn your incoming emails into tasks.
Aggregate all inboxes
Make it easier for yourself to check your emails by combining multiple inboxes into one.
Add email checking activity to your daily routine
Be sure to check your email daily not to miss an opportunity, or not have enough time to meet a deadline.
You might also like: "Essential Tips To Manage Your Work Email."
Avoid these email mistakes as a young professional
Many young professionals face the situation when they need to write and respond to a lot of emails as soon as they start a new job. While it's easy to send a quick reply that contains a couple of words, it's critical to take the time to double-check longer emails.
Here are nine common mistakes you should avoid:
Using many email addresses
Adding an unclear subject line
Writing long ambiguous emails
Inserting too many visuals
Not using an email signature
Being afraid to ask for what you need
Writing in a light-headed way
Following-up without a schedule
Postponing email responses
Conclusion
Being new to the workforce doesn't mean you have to be limited by insecurity each time you click the "Send" button. After you apply these simple email tips and tricks to your writing, you should be able to send emails to anyone confidently.
Nick
Nick is a professional content marketer and writer at MySignature. He has been working in digital marketing for more than 5 years.