Multiple people work hard creating amazing, useful content every day. Students, copywriters, teachers, book authors, marketing experts and managers of small companies and large corporations, lawyers, doctors and accountants formalize the results of their important work in written form. So, let's make this job easy and enjoyable thanks to advanced, user-friendly writing apps?
Reasons to Use Helpful Writing Apps
The text, article or content sense and the meaning are incredibly important. Writing some blogs, reviews or analytical reports, you summarize the best knowledge or experience to help people be happier, healthier or more efficient in their daily activities.
Meanwhile, every story, novel, article or business letter is to be:
readable;
error-free;
well-formed;
professionally designed.
Only the perfect, easy-to-read emails, novels or reports will make the proper impression on the reader, hitting the author's targets that are sales increases or popularity.
However, we all definitely make some common grammar, punctuation or syntax mistakes, and proofreading may become a nightmare if the text are complex, long and task-oriented.
Fortunately, multiple beneficial writing apps exist nowadays. Some applications are designed for Mac OS that is stable, clean and convenient. Combined with iOS platform, it is used by more than one billion people worldwide.
Therefore, the native writing apps versions for the powerful, functional and intuitive Mac computers certainly exists. Herewith, we offer only the best ones for your attention, that are:
user-friendly;
feature-rich;
popular;
integrated;
task-oriented;
fast and efficient.
They are distraction-free, rich in essential productivity features, easy to integrate with various platforms such as WordPress, etc. Additionally, the innovative applications are designed for the specific context or text type formats such as novels, screenplays, business letters or marketing reports.
Check the suitable one and make your job enjoyable and easy, creating perfect, well-formed and easily readable texts.
Top Professional Writing Apps
1. Grammarly

Every experienced writer knows this perfect application. Grammarly is rich in the essential proofreading tools that help authors improve spelling, punctuation and grammar. Any typos, misprints or grammar mistakes are detected immediately, and you have just no chance to overlook them. Additionally, several writing styles are suggested to select: casual, business and creative. Too long or clogged sentences are highlighted and you get perfect suggestions how to rephrase them to the best advantage and readability.
The application is user-friendly. In 2018, it has got the great user experience award from FinancesOnline and the customers recognize it as the best grammar checker, using the software for educational, business and creative writing purposes.
2. Scrivener

Do you write long-form documents like theses, novels, scripts, analytical reports, product reviews or research paper? If so, Scrivener app is for you. The software solution if feature-rich, full of the perfect tools for writers.
Multiple formats such as PDF, Doc, HTML, ePub, Kindle are supported. Just import the document or the image to the application, edit it and export to any format you need.
Scrivener options are numerous and beneficial, including a binder, editor, outliner. So, if the app interface is occasionally called outdated, the functionality is rich and amazing.
3. Ulysses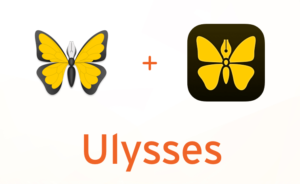 Looking for a pro writing app, turn your attention to Ulysses. This software solution is suitable for checking and organizing long content and short articles, occasional and everyday writing. It is rich and beneficial, writer-friendly tools, supporting multiple formats. Ulysses application stands out from the other solutions, as it:
has Markdown support;
enables direct publishing to Medium Account or WordPress;
offers beautiful themes to customize the interface look;
supports creating multi-hierarchal structures, including multiple folders and sub-folders.
Ulysses lets you focus on content and formatting, increasing writing productivity. The app interface is considered minimalistic, distraction-free, coming with the intuitive and clean workspace.
4. Draft
Draft is a lightweight, simple, distraction-free web application. It has some features of the above-mentioned apps, such as docs exporting, Markdown, direct publishing and supporting the popular Doc, HTML and ePub formats. Additionally, it is known for its unique options, such as:
video and audio files transcription;
cloud services syncing;
writing reports and targets;
version control;
auto-simplification;
presentations;
Draft lets separating writing and editing and inviting other writers to cooperate, checking the certain words or phrases.
5. Evernote

The web clipper is amazing, helping you organize your work, enhance productivity and bring everything together: notes, tables, checklists and audio recordings. Evernote is accepted as the best note-taking app, being innovative, flexible and user-friendly.
Quite naturally, it's convenient to have all files, images and clips in sync. Meanwhile, Evernote has some unique features, like:
sketches and text editing;
geolocation;
notes sharing;
markup and annotations;
documents and files storing.
Thus, the application is beneficial for writers and for managers, office workers and various companies' employees.
6. Readable.io

Making your letters, articles and reports easy-to-read and is essential when you want to attract customers or make a positive impression on the recipients. The text is to be readable; so, it's great to check it for long words and sentences. The style also matters. Sometimes, it's useful to count and analyze keywords, adverbs and adjectives, eliminating difficult or long words.
Reading ease is important for multiple professionals, for example, writers, marketing experts or lawyers. The readability-score calculation algorithm lets you achieve these goals fast and efficiently.
A lot of other good writing apps for Mac exist, for example, Apple Page, Writer and Edit Text. The versions for desktop devices and iPhones are available; the applications are feature-rich and user-friendly. Meanwhile, each of them is certainly designed for the special group of users (writers, studiers or managers) and the certain tasks solving. So, select the one that meets your writing needs and create clear, perfect content.
Additionally, writing letters, don't forget about the professional design and create attractive, informative and relevant email signatures.
Helga
Helga is a CMO at MySignature and digital marketer with 7+ years of experience. Having worked in numerous industries she has a deep understanding of various markets and a variety of tools as well as growth hacking techniques that can boost marketing activity in a particular sphere.