There is too much information out there. And if you want to keep the attention of your audience and help them understand what you mean, consider using infographic maker websites to transform masses of information into easy-to-read visuals.
To help you get started, we have created a list of the best infographic tools. Be smart and gain an advantage over your competitors!
Best infographic tools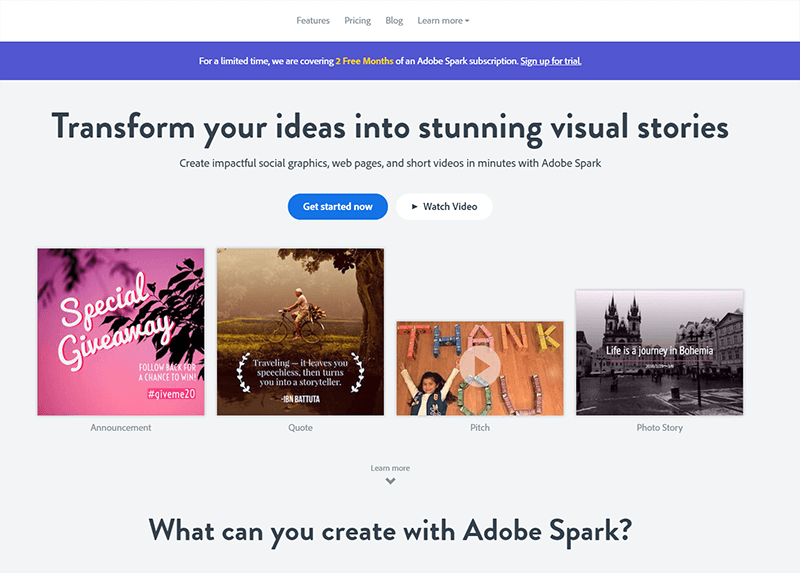 Adobe Spark simplifies the process of creating and editing graphics for Twitter, Pinterest, Facebook, Instagram. You can also create simple and clear web pages and videos.
The tool offers 10,000+ ready-made templates that are easy to modify. All you need to do is select the desired template and follow the tooltips. You can add your own background, choose a typeface, add an image, change the size of blocks, introduce an icon, and include your own logo (if you have one). The only serious downside of Adobe Spark is that a translucent Adobe logo remains on the finished images/videos when you use a free version.
Price: free or $9.99/month.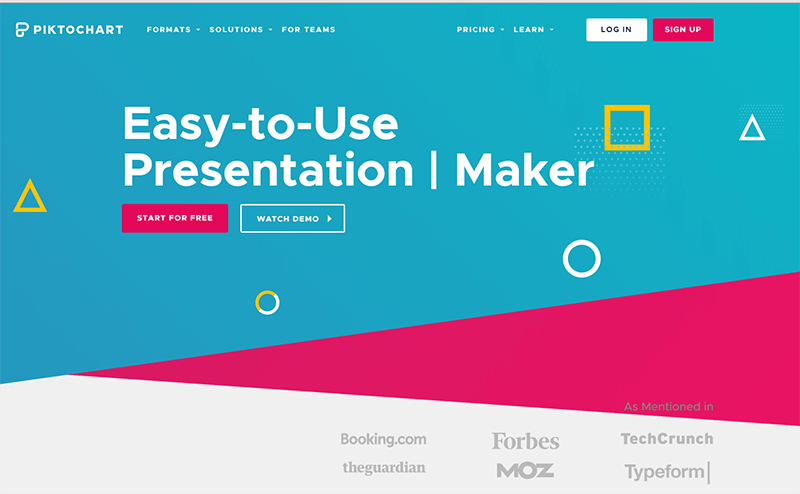 It is a fantastic service that allows creating infographics in just a few clicks. This infographic maker will save you time if you need to prepare a visual report on sales, demonstrate the advantages of the product, create an illustration, and more.
The greatest thing about Piktochart is that it can create beautiful infographics based on 20 rows from an Excel spreadsheet. On top of that, it belongs to those infographic creation tools that have an extremely intuitive interface even newbies can understand easily.
When it comes to the cons of Piktochart, there are two significant things you won't like. Firstly, just like Adobe Spark, Piktochart puts its logo on your infographics if you have a basic free version of the product. Secondly, most of the best templates are only available with the paid versions of the tool. While it might be worth it to pay for a few of them, keep in mind that you can still find something similar for free on Canva or Visme.
Price: There is a free version of Piktochart. You can also upgrade for extra features such as more image uploads, watermark removal, etc. by paying from $15/month to $29/month.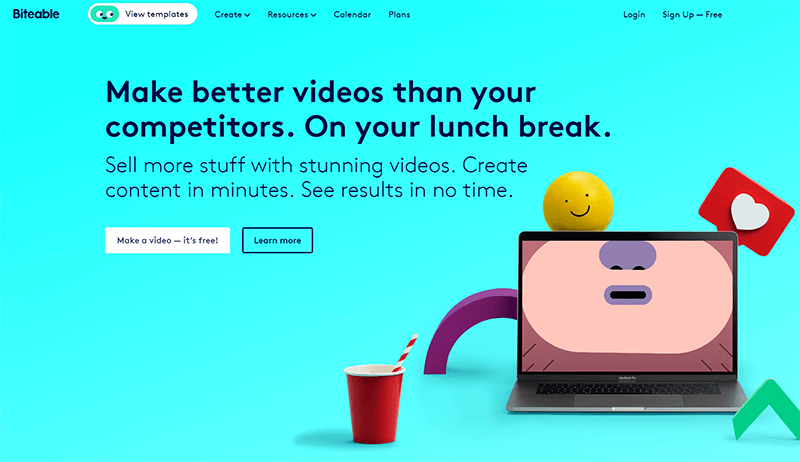 Biteable position themselves as the world's easiest service for creating animated videos. And it's hard to argue with that. Biteable's interface is very intuitive. Also, its library contains over 85k finished footages and hundreds of templates for simple video infographics. You can download the created video, post it on YouTube, or share it on social networks. You can use the service for free, but the logo of the resource will be visible on your video.
Price: You can try Biteable for free or unlock your potential by choosing a pro plan. Prices start at $19/per month.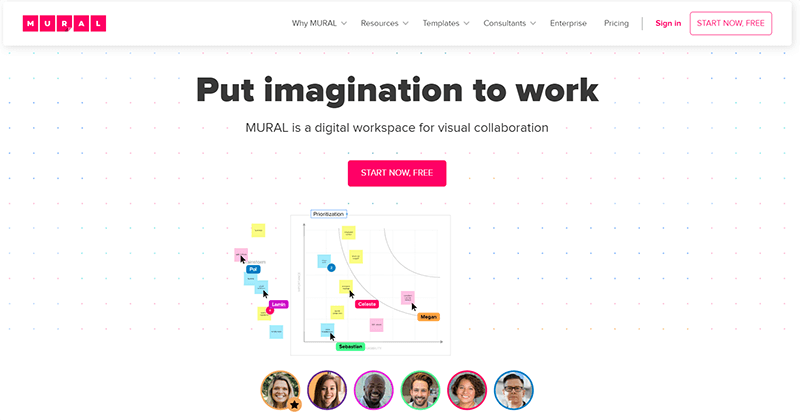 The service brings lots of design features online so that people can collaborate with their clients and colleagues around the world in an efficient way. With Mural, you can make great infographics, create artwork that doesn't need the use of other tools like Photoshop, and more.
Price: Prices for Mural start at $12/month. There is a 30-day free trial.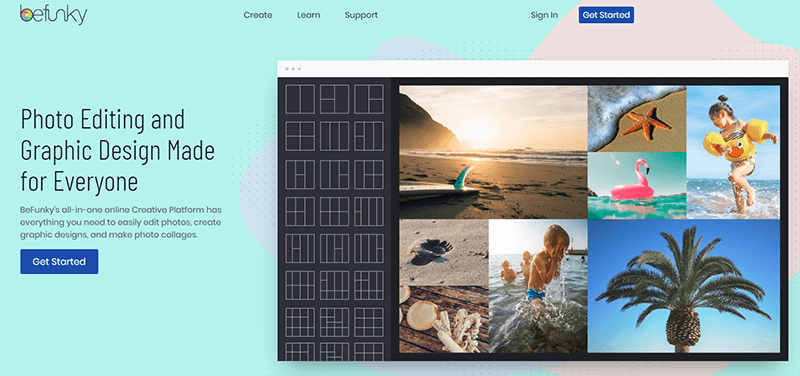 Create eye-catching, shareable infographics with BeFunky, which is an all-in-one solution (a photo editor, collage maker, and infographic tool). Simply choose a template you like, customize it with images & icons, and personalize the infographic by adjusting the text, colors, and layout. However, not all features are free to use.
Price: Prices for BeFunky start at $4.99/month. Or you can use a free limited version.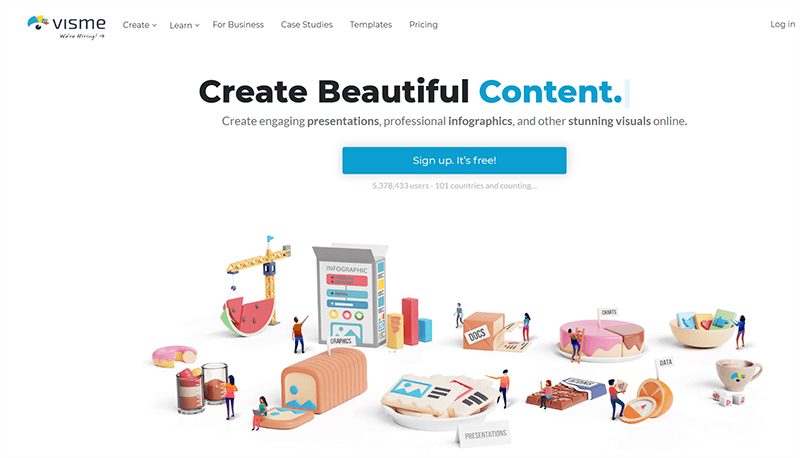 If you are looking for a good online tool to create presentations, slides, or even infographics that generate tons of traffic to your website, consider trying Visme. Of course, you may be happy with Canva or PowerPoint, but there are a few awesome features that distinguish Visme from others. Those are the ability to add video and audio to your graphics and the ability to track engagement on your content. You can embed various maps, polls, forms, and so on from third-party websites.
Price: You can enjoy a free version of Visme. A standard or full version will cost you $14 and $25/month, respectively. There are also special packages for students and teachers.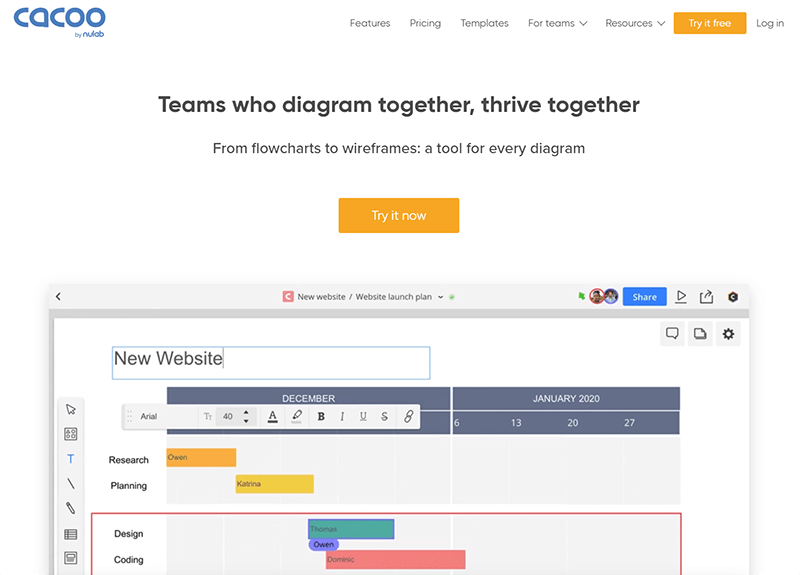 Cacoo is a convenient infographic maker, which major advantage is collaborative working. The tool allows teams to work on diagrams together online, in real-time. It also has a wide range of templates to choose from to help you create high-quality, beautiful visuals quickly and easily.
With Cacoo, you can even share your infographics with other people who don't have a Cacoo account. It is also possible to integrate the app with other productivity tools such as Adobe Creative Cloud, Dropbox, Google Drive,  Slack, and more.
Price: free or from $5/month.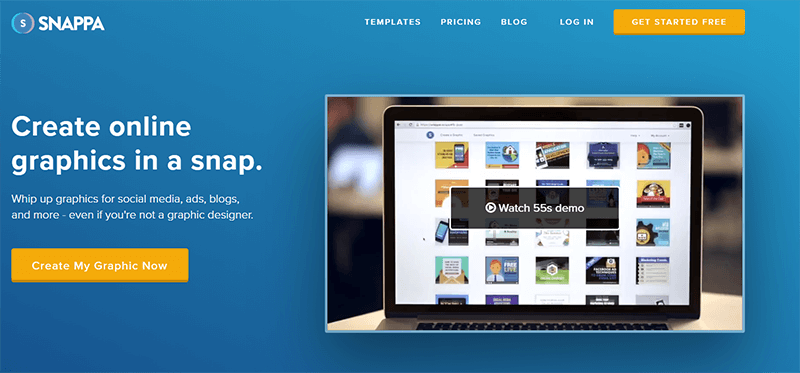 Snappa is a paid fully-featured graphic editor, but it lets you use its infographic maker for free. The tool is great for non-designers. Although with Snappa, you won't enjoy the kind of control offered by other apps on this list, the vendor promises you will be able to make a decent infographic in just ten minutes or so. The great thing about Snappa is that its preset templates are already optimized for social sharing on the web. Also, there are lots of royalty-free stock photos you can choose from.
Pay attention that the free version gives you only three downloads per month and two social accounts. However, you can upgrade anytime and enjoy unlimited downloads, various custom font uploads, and Buffer integration.
Price: free or from $10/month.
Canva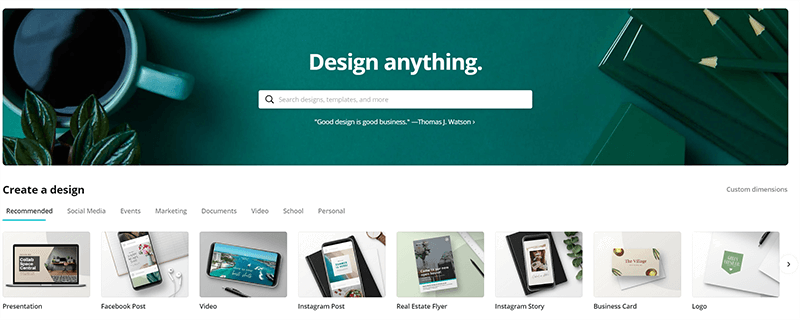 Canva saves time. To create graphics for your project, you don't need to come up with new color combinations or play with fonts. After signing up for the service, you can select a template, for example, for publication on Facebook, and enter your text. Designers already selected the best colors and illustrations for you.
Canva is user-friendly and clean. It has a library of about 1 million images, typefaces, icons, graphs, charts, and illustrations. But pay attention, if you are searching for a tool that can help you build an interactive infographic, Canva won't be the right option for you.
Price: Canva is free. But you can also upgrade for $12.95/month to access additional features such as team folders, saved colors, logos, and typefaces.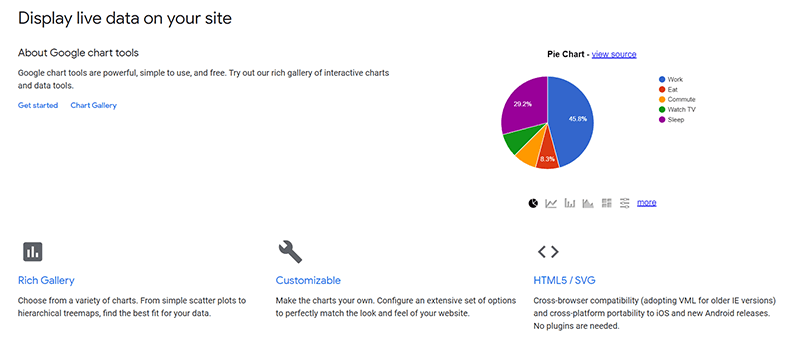 This set of Google tools enables users to display their data on their sites via simple yet attractive visualizations. It is possible to build both simple line charts and complex hierarchical maps. The best part about it is that you can use the tool for free.
Price: free.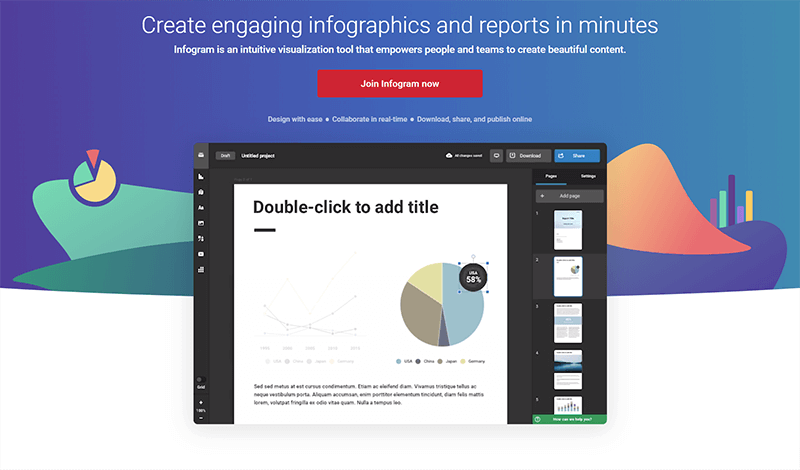 Infogram is similar to PiktoChart but includes more advanced features such as creating graphics for social networks, visuals for blogs, teasers for advertising, and animation. In Infogram, it is possible to connect your graphs and charts to live data sources like Dropbox or Google Sheets. Users can even search through public data from sources like the World Bank and the United Nations.
Just like many other infographic design tools from the list, a free version requires you to include the Infogram logo. Also, its basic package doesn't include rich text editing, meaning it's impossible to change the font style or size. So, if you want to create the most beautiful and colorful infographic, this service might not be your best bet.
Price: There is a free version of Infogram, but its functionality is pretty limited. Prices for advanced versions start at $25/month.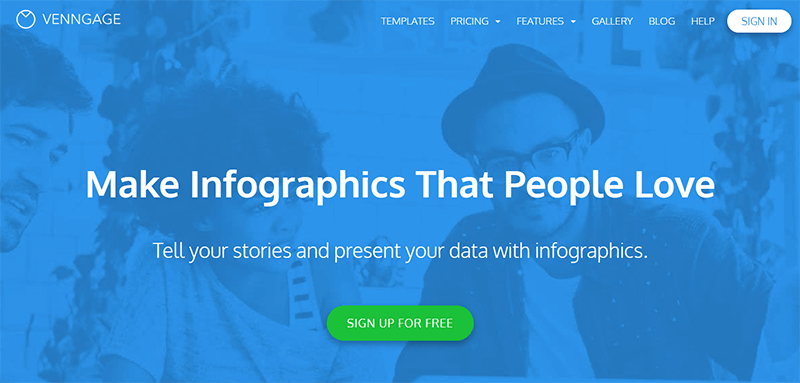 Venngage is a service for creating visual content: reports, posters, promotions, and infographics. You can use ready-made templates or develop your own ones. The free version has various templates, icons, and fonts, but as usually the premium account has many more features to offer.
The software provides new users with useful hints that disappear after saving the first design. You can choose from different categories of templates, which include infographics, presentations, reports, graphs, logos. They are also divided into subcategories such as informational infographics, real estate infographics, etc. This allows the user to get a specific solution to their problem faster.
Price: You can enjoy a free limited version of Venngage. Prices for pro plans start at $19/month. There are also special packages for educational institutions and non-profits.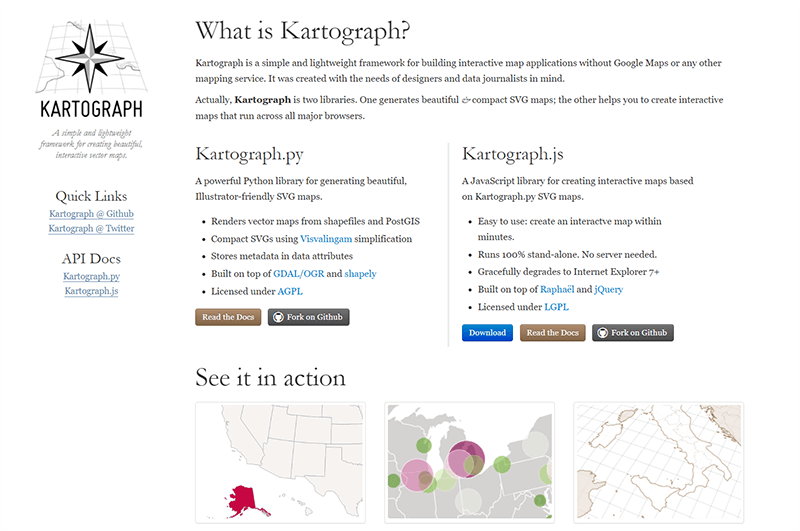 It is a free solution created for designers and data journalists to enable them to make illustrative and interactive maps easier. To use the tool, you don't need Google Maps or any other mapping service. Kartograph offers a wide range of map types to suit your needs.
Price: free.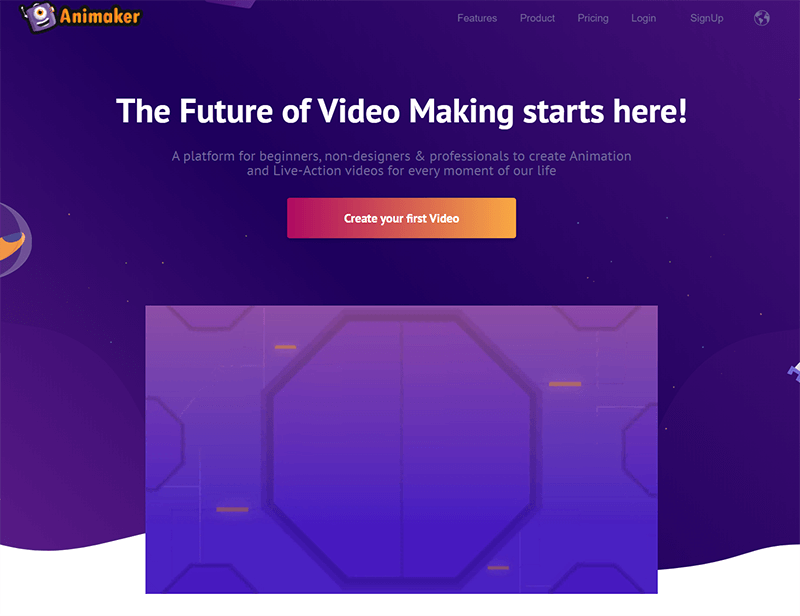 If you are looking to create something more engaging than static infographics, you need to try Animaker, a tool that creates video infographics.
It provides users with a variety of resources such as charts, icons, and maps to help them make even boring data much more attractive and comfortable to digest. With a free version, it is possible to create five two-minute videos per month. If you need more or longer video infographics, you will have to upgrade to one of three paid plans.
Price: free or from $12/month.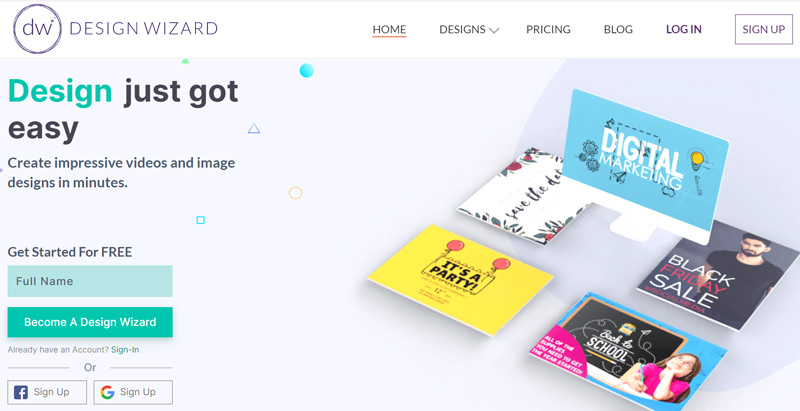 Design Wizard is a really unique content creation tool. It includes easy-to-use image and video editors, premium template libraries, and a free stock image and video website. Marketing just got easy. (And cheap!)
Price: free or from $9.99/mo.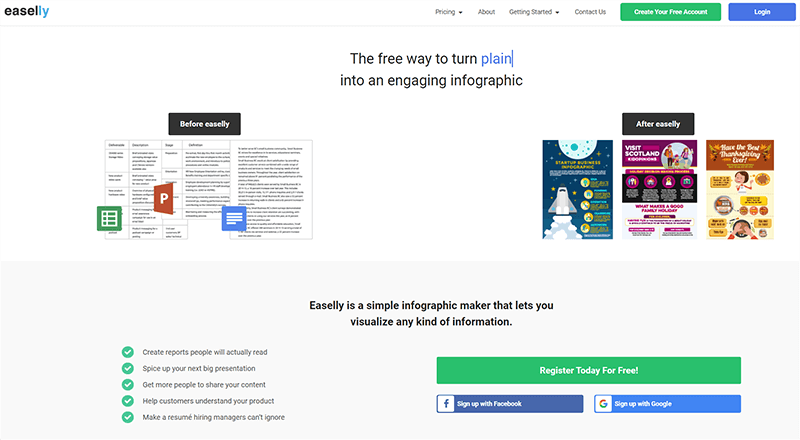 Easel.ly is a free way to turn your boring data, wordy content, or a complex process into an engaging infographic.
Using the tool, you will enjoy a huge library of things like shapes, arrows, and connector lines. Also, it is possible to customize the text with different typefaces, colors, styles, and sizes. You can even upload your own graphics and position them with one touch. Easel.ly is great for beginners because of its simple user interface. Plus, you can look for tips on creating infographics on the Easel.ly blog.
Be aware that Easel.ly may seem too "cartoonish" for you.
Price: free or from $2.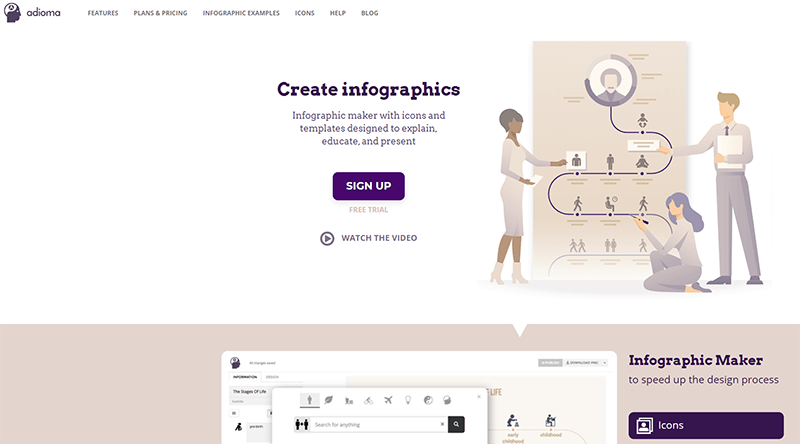 With this tool, you will be able to create infographics out of your textual data, using timelines, icons, and grids. It works as simple as that: Adioma takes your information and automatically follows the rules of information design to present it in a beautiful and clear way. However, the tool is a bit pricey.
Price: from $39/month.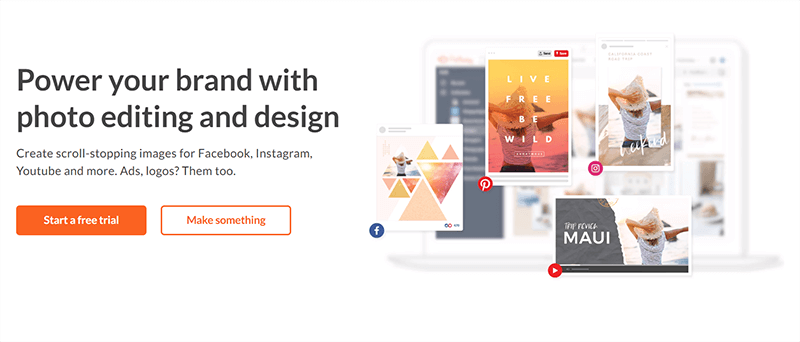 If you need your infographic maker online, check out PicMonkey. Basically, it is an image editor, but it has a section dedicated to designing infographics. You can choose from over 3,000 graphics, 200 fonts, and 100 textures.
You will also find a selection of helpful tutorials on how to make infographics tailored to sharing on social media or how to use grid theory to achieve an attractive design on the PickMonkey website.
Price: from $7.99.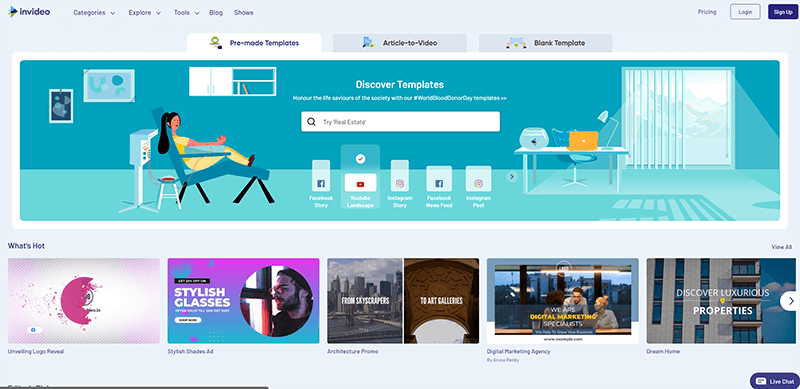 Invideo is a competitor of Animaker. Both can transform your content into awesome videos. But the first one is more cost-efficient.
Price: $20/month for 60 15 minute-videos.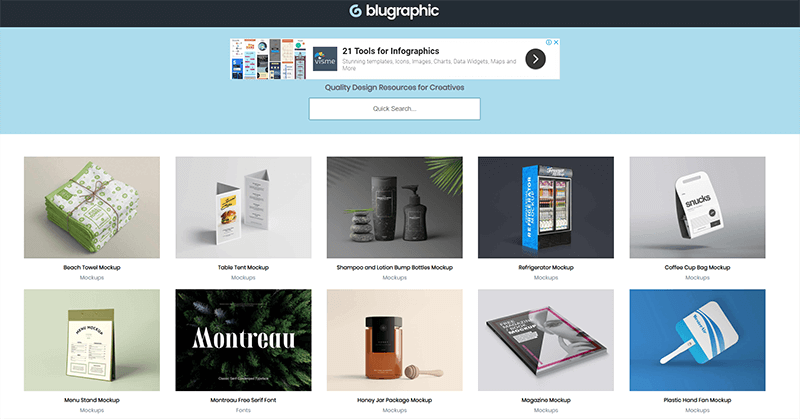 The platform collects a variety of design resources to make the life of designers easier. The resources include graphics, icons, mockups, templates, typefaces, and other cool things.
Price: free.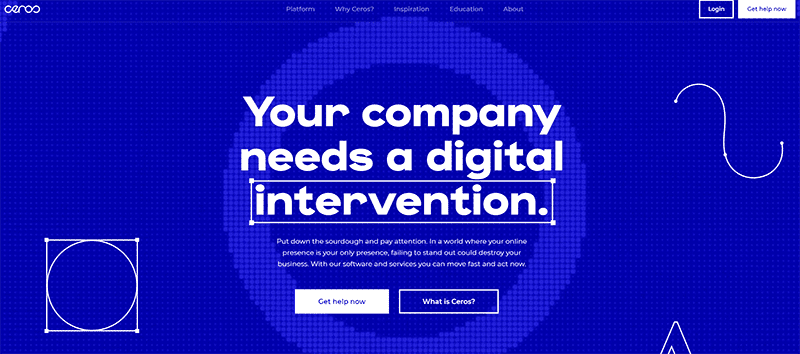 This platform stands apart from the others mentioned on the list. It is aimed at both designers and marketers working with brands, publishers, B2B companies, and more. Ceros offers a wide range of tools for creating rich and engaging content without any coding skills.
It is possible to connect it with apps from around the web such as Instagram, Facebook, Twitter, Wordpress, YouTube, Shopify, and many more.
When it comes to creating animated infographics, it's super easy. Simply insert your content and click to apply the desired animation and interaction effects. And voila, you are ready to publish your infographic.
Price: Contact Ceros for pricing information.
Tips for creating infographics that will be shared
Now, when you know more about the infographic making tools, let's move on to practice. Below are the four essential tips that will help you create infographics that people will share.
Tip #1: Create it for your targeted audience
If you think you came up with a great idea for an infographic, don't rush to bring it to life. Often, people try to choose something that is extremely popular, but they don't take into account the fact that it might be not relevant to their audience. So, before you start working on it, always remember that your infographic is for your audience.
Tip #2: Make a clean design
Don't overcomplicate your design. Make it easy to view. It's OK to leave a bit more space between blocks. The infographic will be longer but look cleaner.
Tip #3: Use less text
One of the main reasons infographics are so popular is because they provide complicated or boring content in a visual and easily digestible version. So, try to keep your text as tight and simple as possible.
Tip #4: Create a flow
One of the most common mistakes with infographics is that some of them look like a mess. And the viewer doesn't know where to begin. If you want to direct the reader's eye through your content, be sure to give a clear path for them to follow. It is possible to achieve this partially with the text itself or using arrows/numbers to tell the viewer where to read next.
Types of infographics
Still not sure how to pick the best infographic style to introduce your information? Below are the most common types of infographics to choose from.
Statistical infographics
As the name implies, this type of infographics is your option if you need to present statistics or survey results in a visually engaging way.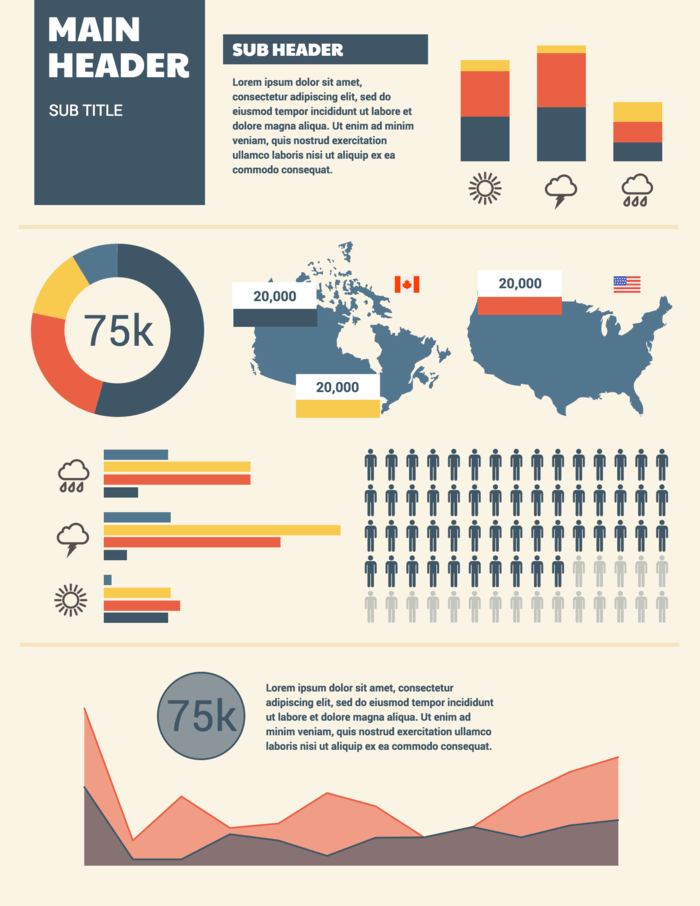 source: pinterest
Best practices to use: Consider writing descriptive titles that contextualize the data; Use contrasting colors or numbers to create the flow.
Informational
With informational infographic templates, you can easily present new information to your audience. This can be content from your blog articles, social media posts, and more.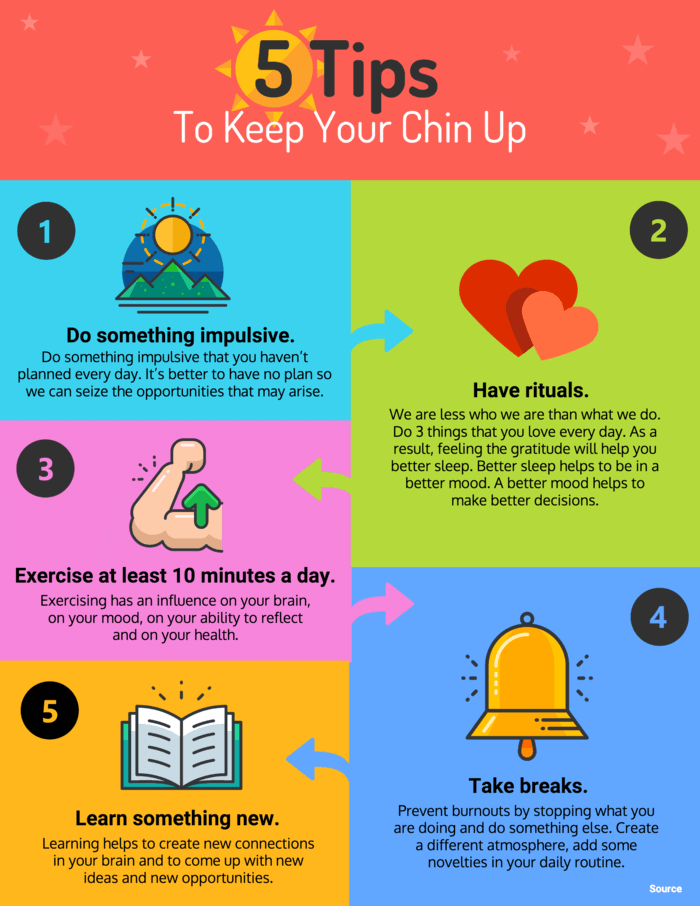 source: venngage
Best practices to use: Write descriptive headers when appropriate, so the information is clear; Use different colors for different sections to keep viewers engaged; Use icons, figures, and images to illustrate concepts.
Timeline
Working with important dates? Use the timeline type of infographics.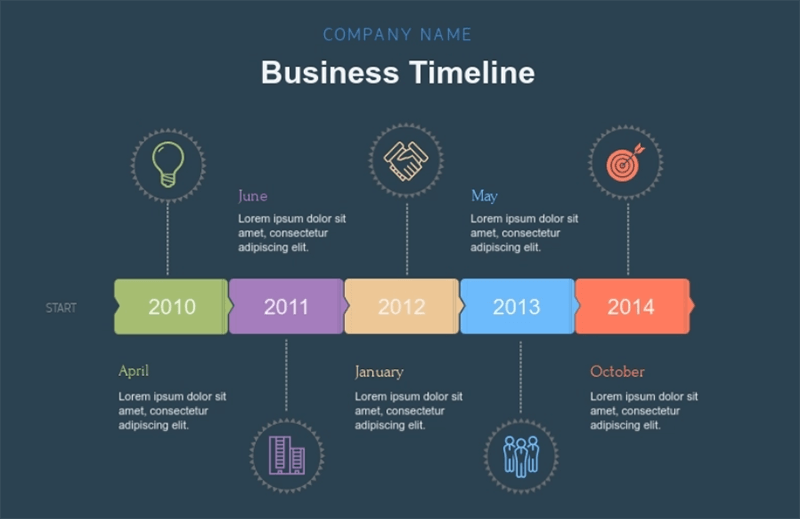 source: visme
Best practices to use: Illustrate each time point with an icon; Consider using a bold, contrasting typeface to highlight the year or name of every event.
Process
Use this type of infographics if you need to visualize a summary or overview of the steps in a certain process.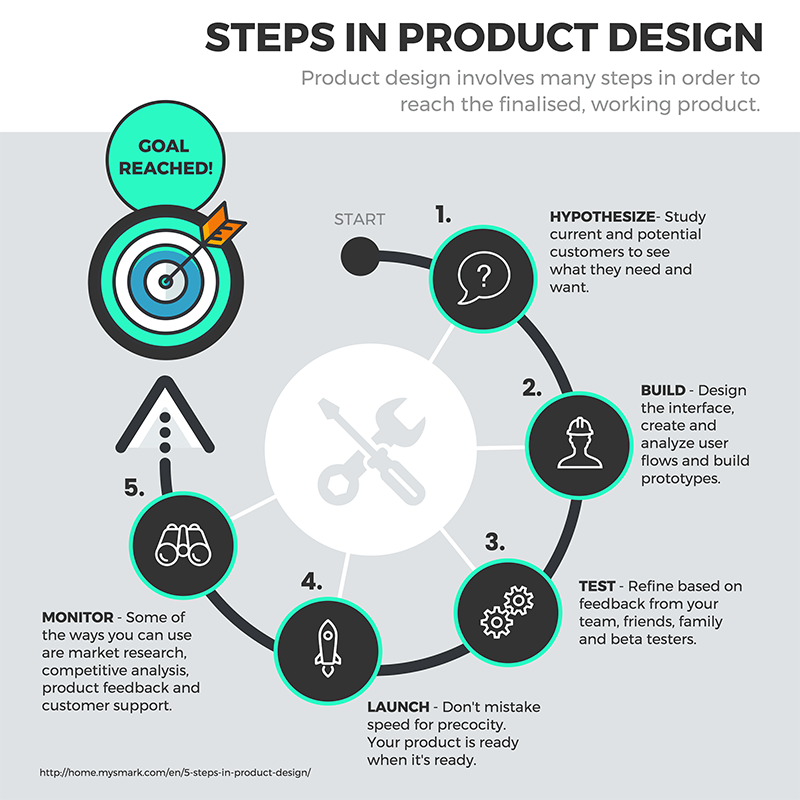 source: venngage
Best practices to use: Give the number to each step in your process to make it easier for your audience to follow; Use arrows for the same purpose.
Geographic
Geographic infographic templates are your best bet if you need to present your regional data.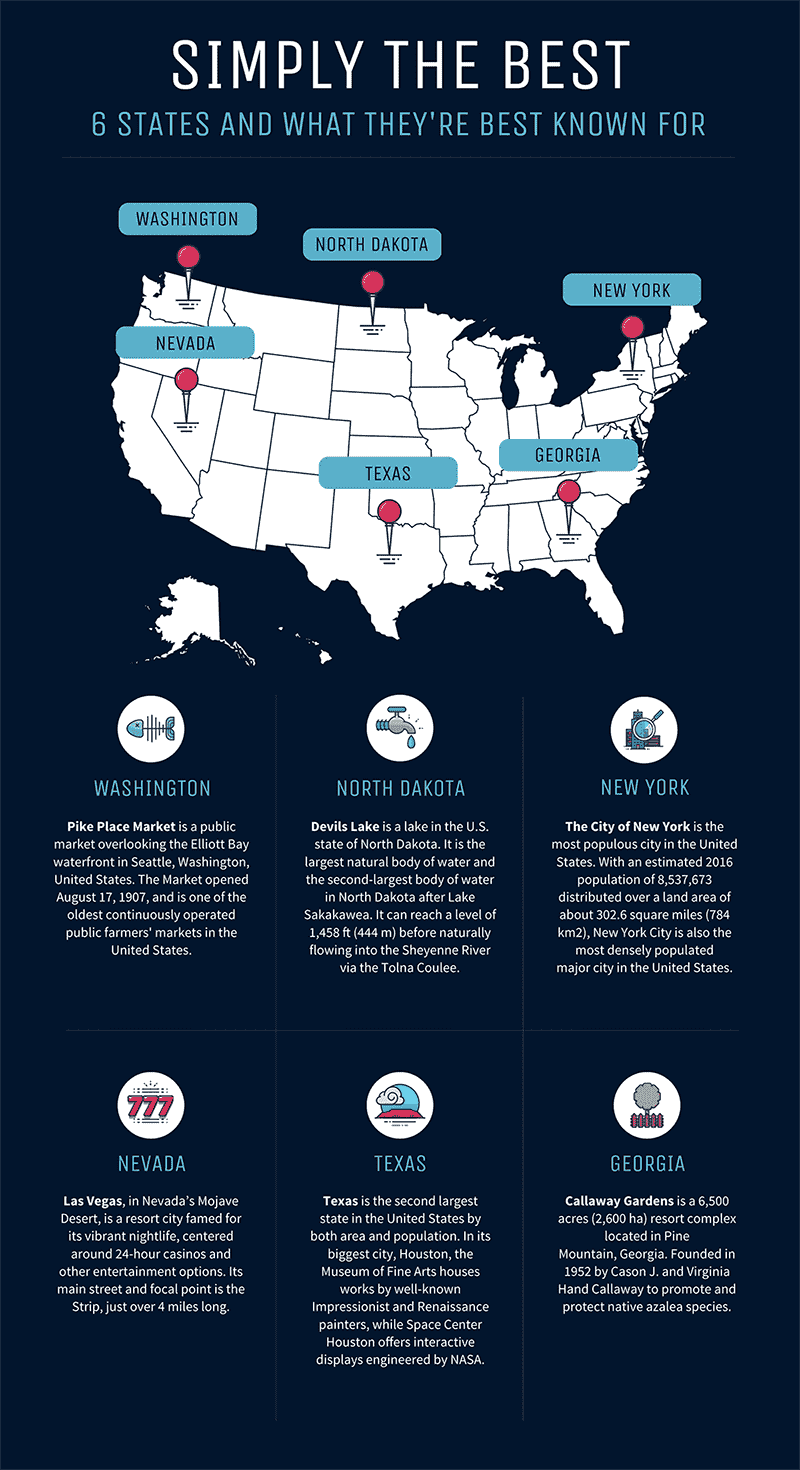 source: venngage
Best practices to use: Use maps; Pair icons with various data points to help the information stand out.
Comparison
You can help people make the best, most informed choices using comparison infographic templates.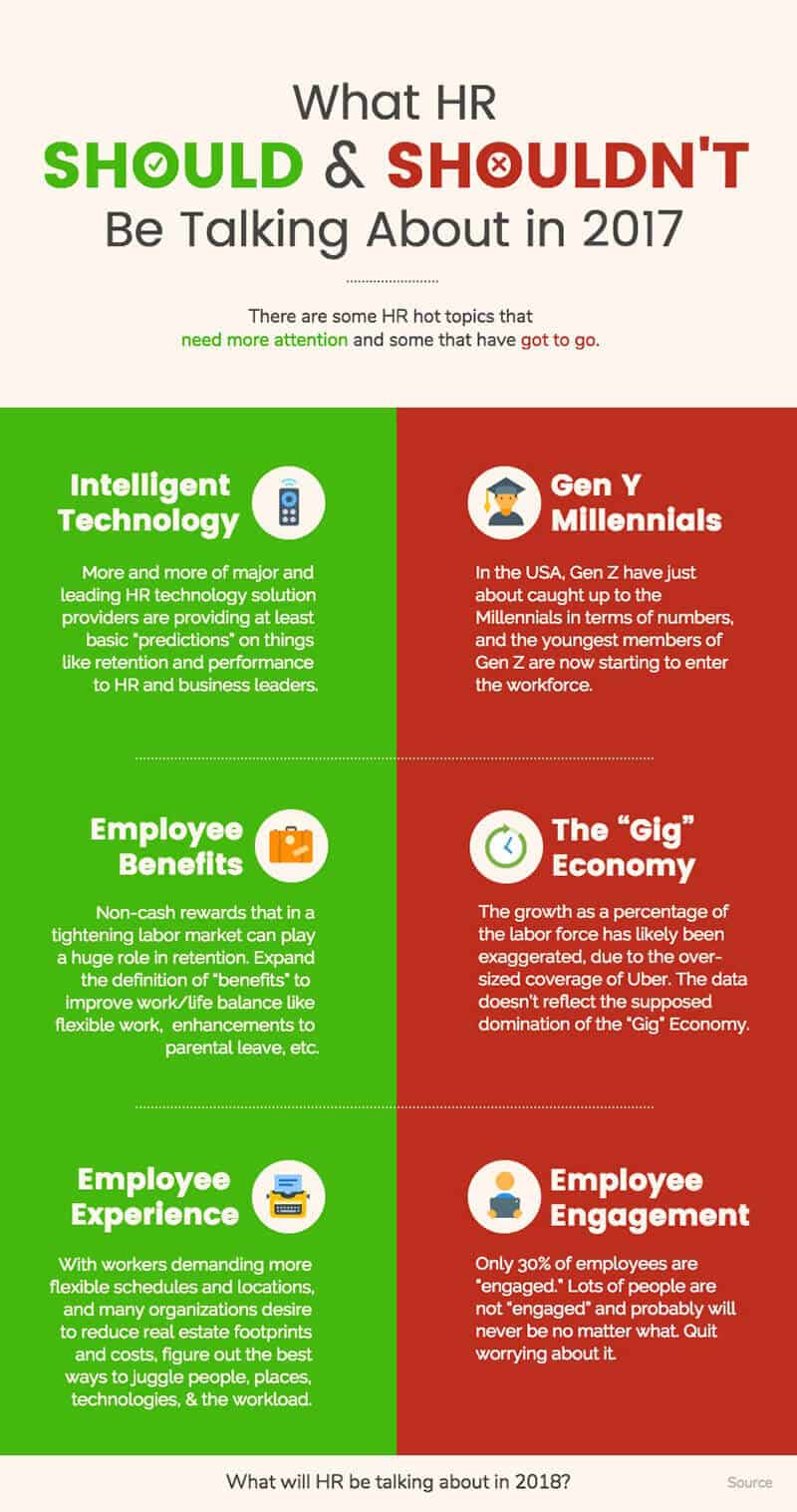 source: venngage
Best practices to use: Divide your image in two parts to show two options; Benefit from choosing contrasting background colors to set the options apart; If you want viewers to pick a specific option, you can highlight it with a brighter color.
Hierarchical
This type of infographics is a great way to showcase the order of importance of something (e.g. Maslow's Hierarchy of Needs) or demonstrate a funnel-like system.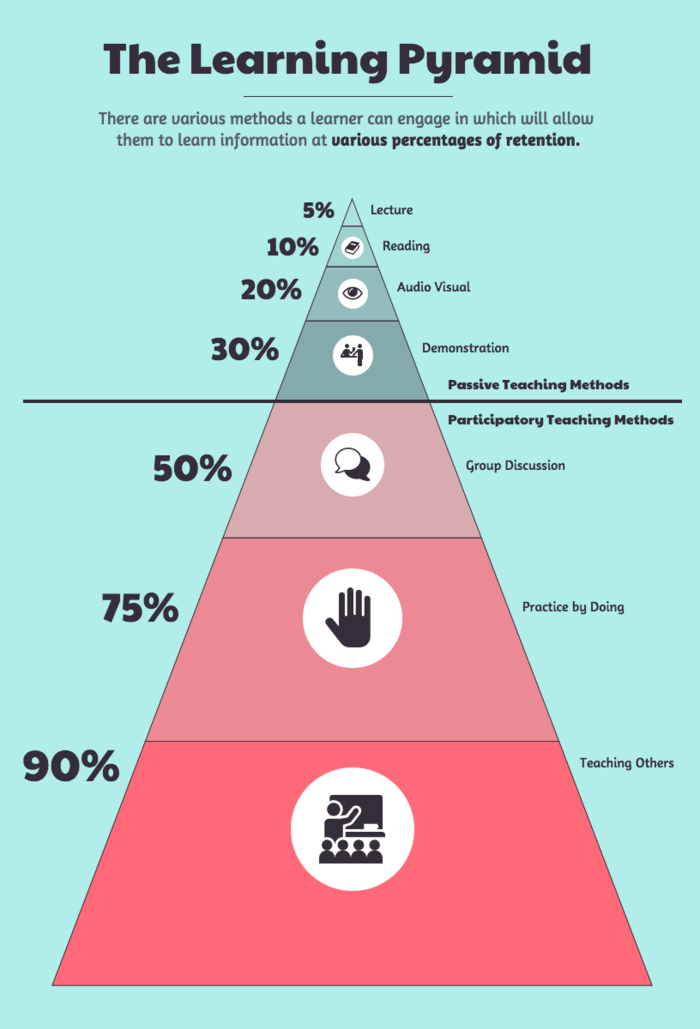 source: venngage
Best practices to use: Pair icons with different stages for better engagement.
List infographics
If you want to share a list of resources, valuable tips, or some examples with your audience, then why not create a list infographic? This could be "COVID-19 tips for community organizations," "A list of essential food for kids," etc.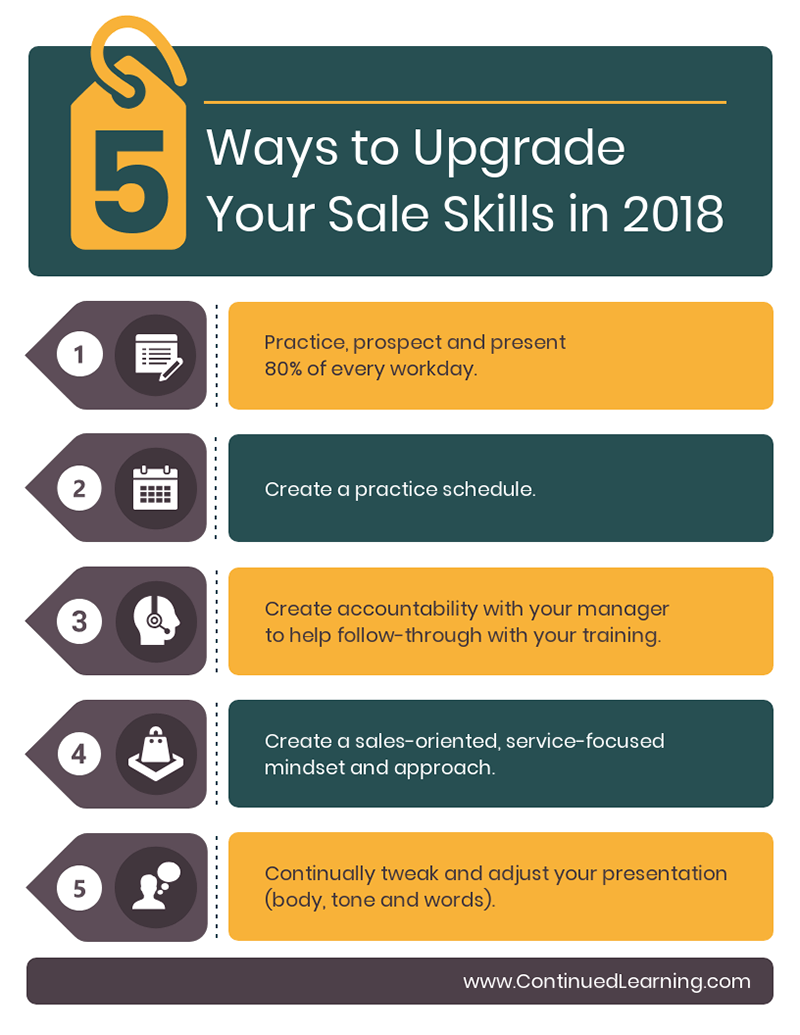 source: venngage
Best practices to use: Number the points in your list to create the flow; Illustrate your points with icons; Vary the background colors to keep your design engaging.
Resume infographics
Let your accomplishments do the talking by using the infographic resume templates.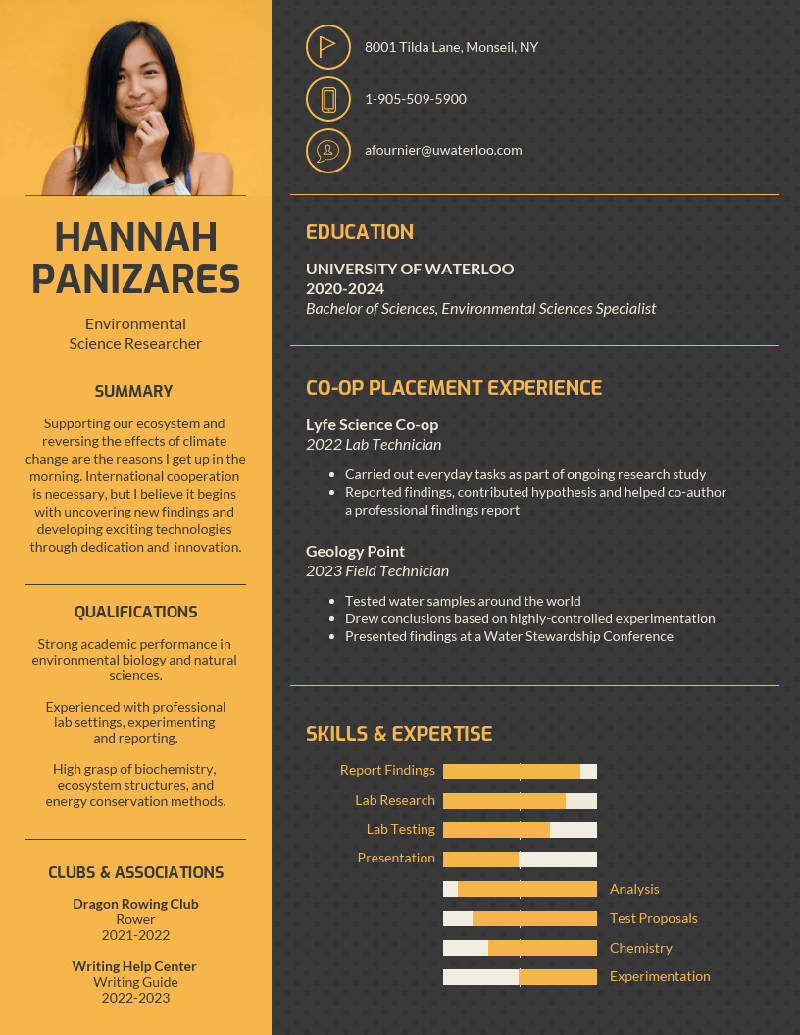 source: venngage
Best practices to use: Make a header for your resume to reflect your personality/personal brand; Use word clouds to visualize relevant accomplishments, skills, or values.
Video
Present your content in a video infographic to make the difference to how well your audience understands your data and what they remember.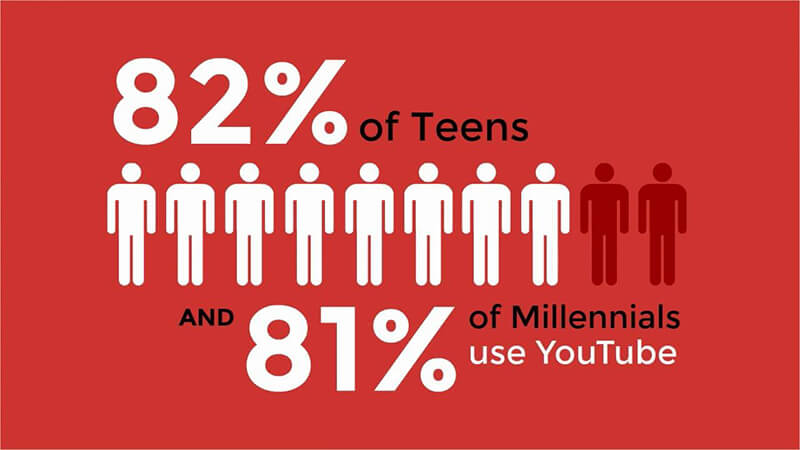 source: youtube
Conclusion
For most businesses, presenting vital (but sometimes boring) facts and statistics can be a challenge. Why not use infographics to transform such information into easy to read visuals? Even if you have zero design or coding skills, you can start making beautiful, engaging infographics already. Fortunately, there is a wide range of infographic making tools out there. You only need to choose the one that suits your needs and practice.
Nick
Nick is a professional content marketer and writer at MySignature. He has been working in digital marketing for more than 5 years.