Email signature tells a story about you. Short but very useful story for those who receives your emails. In other words, it is your ID. Imagine you give your business card to someone you want to contact you later. Definitely, you'll take care this card is visually appealing, has all necessary information, and can persuade a person to call you back or reach you out via email.
Email signature is something close to your business card. It has the same purpose: provide a recipient with all information that may be needed to get in touch with you. A standard email signature footer available in all email clients is not effective. It is a plain text and as a rule nobody usually notices it after reading the main message.
This is very important to create such an email signature design that will draw people's attention and make them remember you or your company.
Secrets of a good email signature design
Email along with Slack, Skype, Telegram, and other messengers, is one of the ways to communicate within your business. When it comes to communication with clients or users, email is usually a first point of contact. It can't be poorly composed. So, you can't do away with a boring "regards" end line.
Details to include in your email footer design
Online email signature generators allow you to add as many details as you need. Some of them even offer to insert custom fields for more information. But you shouldn't fill in each of the suggested fields and make you email signature look like an autobiography.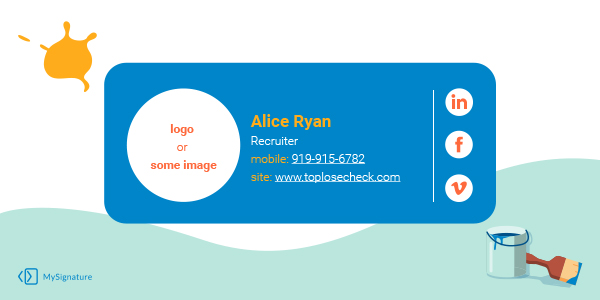 Shorter means better. Sometimes your name, company and photo suffice. Sure thing, you can add the logo or some image, but stick to minimalism and do not overload the signature. It should be like a useful addendum to the email, not an independent means of communication.
Hierarchy principle in the email signature design
Hierarchy triangle is a method of providing information from the most important to less important. This means you should start you email signature with the data that needs to be emphasized. It can be your name. Then, think of the level of importance of all other elements you want to add.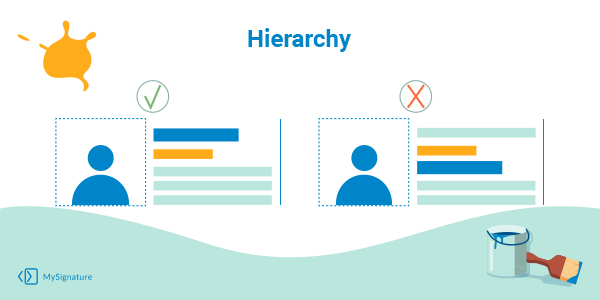 It's essential because very often the recipients pay attention only to things that go first. This is not because they are lazy, they just are too busy to perceive all information you give them. So, important data goes first, and then goes everything else according to your priorities.
Be careful with the color palette
When it comes to choosing colors for a good-looking email signature, sound mind is what you need. Again, the rule of "less is more" has sense. The less striking colors you take for design, the less risk of recipient distraction and overwhelmness you encounter.
People can be sensitive to clashing colors in business communication. Someone thinks of red as something aggressive, although it is the color of your brand. If you design prints for clothes, you may benefit more from the blue+green+yellow+red combination. For email signature design, white+black works much more effectively. However, this is not a rule, this is a recommendation.
Add a logo or a photo — but never both
The "less is more" rule applies also to all graphic elements in the email signature design. Most of the online email signature generators enable users to embed lots of graphics including a logo, sender headshot, or a clickable banner. Each of these elements has a certain purpose.
A logo of your business makes your brand recognizable; a headshot personalizes the message you deliver; and the banner sells and promotes some products or services. While the purposes are completely different, you can't add all of these visuals to your design. Moreover, the email signature will be look cluttered and redundant. You have to decide what purpose you want to achieve with the email and then supplement the signature with appropriate images.
Maria
Maria is a professional content writer at MySignature. She has strong skills in Content Marketing, Email Marketing, SMM, and SEO.