As the percentage of worldwide internet users surpasses 46% of the global population nowadays, digital marketing is essential for every brand promotion. Since 1990, online tools have significantly developed, becoming extremely sophisticated.
Thus, to win tough industry competition, successful marketing agency professionals use innovative techniques, such as dynamic advertising and content, non-linear approach to engage customers. They focus on various channels to catch the target audience's attention, such as websites, corporative emails, SEO optimization and social media. How to use them proficiently and skillfully? Let's check.
The Role of Digital Marketing Agency
As digital technologies and online advertisements that are delivered through various devices – mobile phones, desktop computers, displays, etc., are wide spread and extremely popular, they are essential for efficient branding. Therefore, large corporations and small companies, striving for their business growth, often engage digital agencies to fix existing problems fast and successfully. Using copywriting, website design and innovative marketing techniques, experienced, creative professionals offer brilliant, cost-efficient solutions, taking your brand to a new level.
Hiring a top digital marketing agency, you:
get access to unparalleled technological expertise;
use affordable services;
save time, focusing on your basic activities;
remain updated with the recent market trends;
get fresh ideas and proven business solutions.
A reputable agency provides essential services, studying the market, collecting and analyzing relevant data, monitoring competitors and customer behaviour. It repositions your website and blog content, using attractive video and interactive graphical elements to reach your valued customers. Experienced experts know exactly how to create an informative, attractive email signature, develop powerful content, conduct a fruitful advertising campaign. Therefore, using advanced services of a marketing agency, you improve your business, boosting your ROI.
Basic Online Marketing Channels
Digital strategies that are implemented by established digital marketing companies and by marketing departments of large corporations are to be efficient and personalized. First of all, professionals build a detailed marketing plan, taking into account the project budget and company objectives, using the best opportunities to grow.
Considering business particularities, the recipients' age, gender and preferences, marketing budget and the customers' expectations, digital marketers select the best-suited strategies and analyze consumer behaviour. Experienced professionals get feedback from internet users and select the most efficient pages and social media platforms.
Thus, the commonly used digital marketing channels are:
corporative websites;
email marketing;
social media;
affiliate marketing.
Eye-catching, informative websites are essential for efficient branding. Attractive, one-page sites, animations and special visual effects are trendy nowadays. They immediately catch the attention of contemporary hurries, keeping them from closing the pages. Social media are especially beneficial for small and medium-sized businesses, helping them to engage customers.
Affiliate marketing is a perfect way to promote your goods or services, offering a commission for every click, sale or trade lead. Meanwhile, email messages are used both for goods promotion and for customer services, which can be assisted with the help of agency cold email templates. These marketing tools are commonly used and impactful. They are cost-efficient and great for keeping communication with your esteemed customers. Impressive, short letters are used to keep the buyers informed about your corporative events, sales and product updates. However, professional, attractive email signature helps you to increase your brand awareness and sales volumes significantly.
How Marketing Agencies Use Employee Emails?
Experienced, dedicated professionals of top digital marketing agencies use email messages both for attracting new customers and keeping in touch with them. Online marketers improve their skills continuously, considering basic digital marketing principles. So, qualified, innovative professionals always:
deliver value, building authority;
stay consistent;
are social;
study the customer's attitude, expectations and preferences;
adapt to the newest trends, grow and improve;
implement the best world SEO practices.
Thus, the messages are to be simple and well-timed. Additionally, relevant and updated contact list makes your marketing campaign efficient and meaningful. Employees of every marketing agency send thousands of messages every year. They use consistent, on-brand email signature every time, promoting:
the special content (blogs, articles, ebooks);
beneficial offers;
newsletters;
corporative events and webinars;
carrier and cooperation opportunities;
rebranding trends.
Digital marketing agencies use customized, a well-chosen signature for every mailout. Attractive, simple and clear emails that include powerful calls to action deliver great marketing results, drive real ROI. Being responsive, they help you to reach your target audience by tablets, smartphones and various mobile devices. Thus, communicating with customers continually, businesses promote their brands, grow and win a tough modern competition.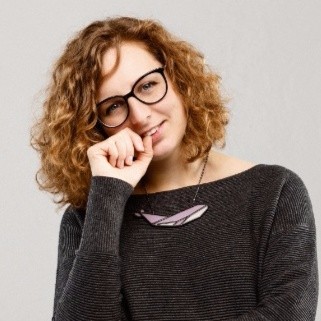 Helga Zabalkanska
Helga is a CMO at MySignature and digital marketer with 7+ years of experience. Having worked in numerous industries she has a deep understanding of various markets and a variety of tools as well as growth hacking techniques that can boost marketing activity in a particular sphere.