Everyday marketers in the travel industry wrestle with the challenge of making their business stand out from competition. With US $7.6 trillion contribution to the global economy, travel industry is one of the largest and most profitable business sectors. In 2016, more than a million people traveled around the world which brought the revenue of more than one trillion of dollars.
The competition is huge. And finding impactful ways to entice new clients and retain the current ones plays a very important role. Email marketing is one of the most effective methods in this situation.
Everyone uses email. If not everyone, then 90% of all people do. This is a significant percentage. Compared to other marketing channels, emails show the best results. For example, it provides the ROI of almost $40 for each spent dollar. No surprise why 84% of travel brands use emails primarily.
What are the advantages of email marketing for travel agents?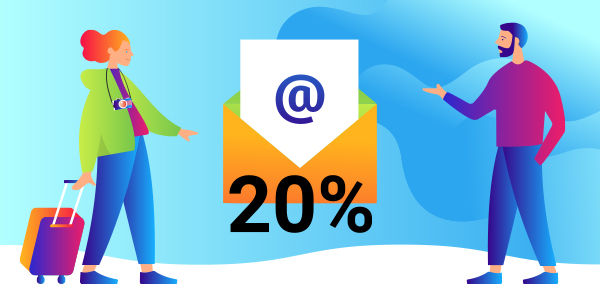 Mailchimp has reported that email marketing in the travel sector has more than 20% open rate. So, why not using the chance to help people who are planning their trips to make their minds up? Apart from that, the value from emails can be the following:
successfully competing with other travel companies;
building loyalty to the brand among the clients;
winning your share in the relevant ultra-competitive market;
attracting new customers and retaining existing ones;
Based on the USTA statistics, in the United States tourists spend more than $31,000 per second. You have to struggle to make these travelers spend their money in your agency, not the competitor's one.
Focus on the mobile opportunity in the travel email marketing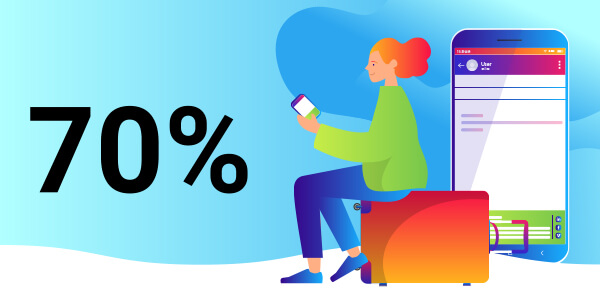 Email Monks reports that people open about 70% of emails on their smartphones. Litmus, in turn, says that 45% of those travel emails are read on the mobile devices. Indeed, tourists use their smartphones and tablets all the time during their trips. They do anything on the run: from searching for accommodation to checking museum schedules.
This chance can't be lost. All emails have to be optimized so that your "mobile" clients could read them properly. If you write valuable content, but deliver it in the wrong way, no one will read it. People are lazy. They won't do anything by themselves. You have to prepare such emails that the recipients will simply open and read without having to switch from mobile to desktop or vice versa.
Which types of content can be effective in travel emails?
It is difficult to determine which types of content will attract users and make them read the email. Apart from sending emails with content from your corporate blog, you can also take into account the following forms of texts: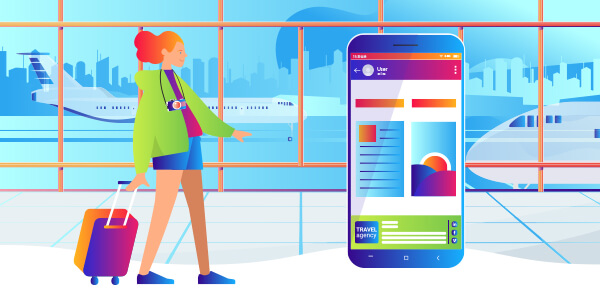 Traveling tips or the information about the city/country your client is going to visit;
Complete guides how to spend weekends in some city;
Detailed information about the events that are going to take place in the place of destination;
Review about the hotels your client has booked or some recommendations if they didn't yet;
Discounts and some special seasonal offers;
Stories of your other clients who have already traveled with the help of your service;
You can also carry out some quizzes or send questionnaires.
When we talk about some events, discounts or offers, it is easy to promote them in each email you send no matter what information it includes. MySignature is a free email signature generator that enables you to create unique signatures with clickable banners. You can simply add a link to the page with the event, offer or discount. The value is that this banner will be displayed each time you send the email to your customer.
Choose the best time to send your travel emails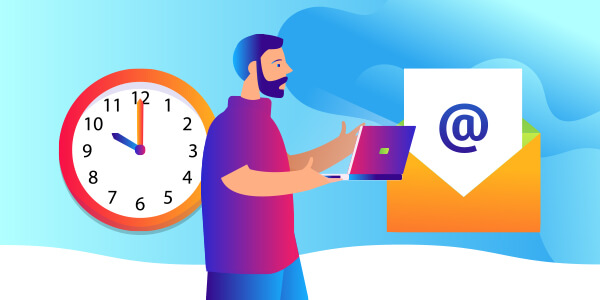 Do not send emails too often. But remember about regularity. Also, you have to research your audience. See at what time of the day or night they read your emails. You have to focus on that particular time. Because it is obvious that sending emails at 3 p.m. when your customers are more likely to read them at 10 a.m. is not effective.
We recommend you to create an editorial content calendar which will include not only the date when the email has to be created and sent but also an accurate time. This will streamline the mailout processes and positively influence the open rate.
Maria
Maria is a professional content writer at MySignature. She has strong skills in Content Marketing, Email Marketing, SMM, and SEO.