Google has introduced a Gmail confidential mode which will be available to administrators and end users on June 25th, 2019. This new feature aims to add more security and protect users' private information.
The mode will be enabled by default both on desktop and mobile devices. Users will be able to turn in off by altering their settings manually.
What is Gmail Confidential Mode?
The key purpose of launching this new feature is to ensure higher security and sensitive data protection.
Gmail confidential mode incorporates the information rights management (IRM) module into your emails. This IRM enables you to set an expiration date for sent emails or completely revoke access to them. This way you minimize chances that the information in the email can be revealed to third parties.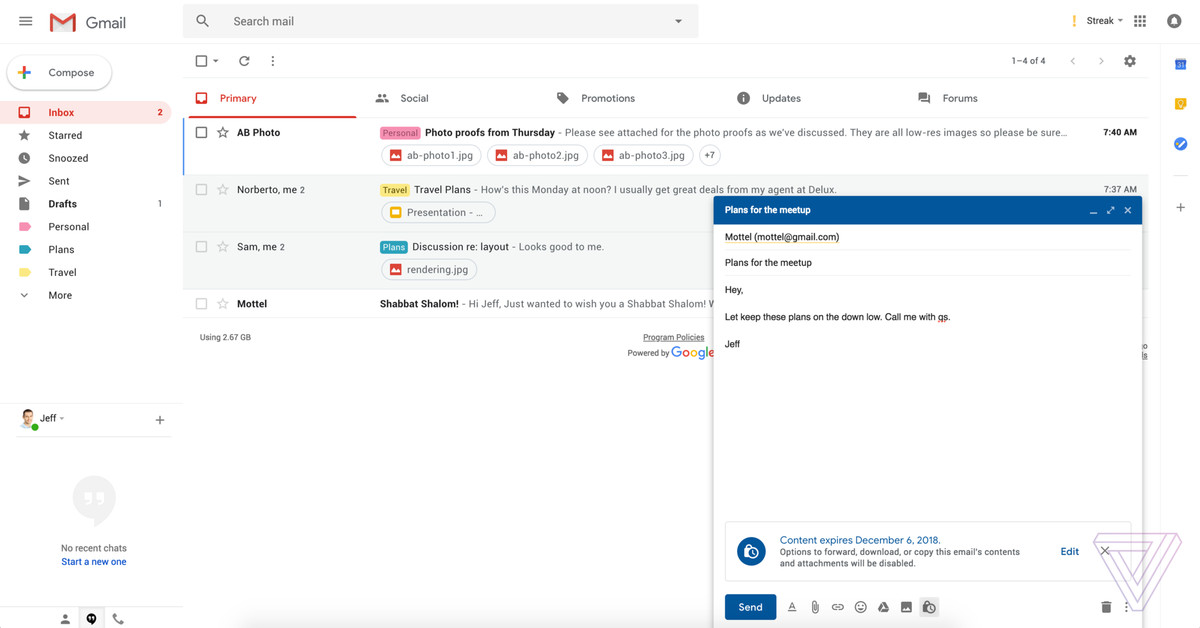 Additionally, when you send the email to someone, you may require this person to enter a code to be able to see the content. This authentication is an extra layer of security provided by Gmail.
Put simply, by turning on this new feature, you may be sure the email you send can't be forwarded, its content can't be copied or printed, and attachments can't be downloaded without your permission.
How to Start Using the Gmail Confidential Mode?
After the launch, the feature will be enabled on all platforms automatically. However, afterward, you will have to manage it manually.
When composing a new email, you will see a new Clock icon at the bottom of the Gmail New Message window. Click it.

After clicking this icon, you will see a Confidential mode window with available settings. You can choose to set the email expiration date. Available options are 1 day, 1 week, 1 month, 3 months, and 5 years.
Also, in this window, you have to select whether to request SMS code for the recipient authentication or not. Once everything is done, click the Save button.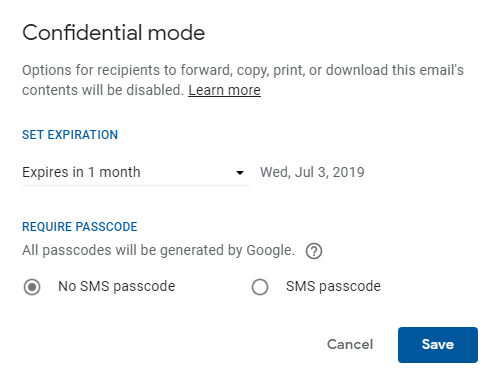 After you save the settings, you will see the message that the content will expire in 1 day or any other time you have chosen. When you are sure everything is correct, click Send.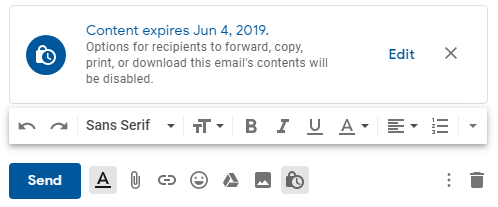 How You Can Benefit from the Gmail Confidential Mode
Confidential mode is not something new for users of emails clients. For example, Outlook has implemented this much earlier. Regardless of such a late mode launch, enabling it entails a lot of benefits:
you get higher control over the information sent via emails;
the data you send via Gmail becomes solidly protected;
the chances of data leakage are minimized;
you personally decide when the access to email should expire;
when you change your mind or figure out that you sent the email with more information than required, you always have a chance to solve the situation.
Pay attention that this new mode will not affect the way your email signature looks, inbox configurations will remain the same, and profile settings will also be untouched.
Maria
Maria is a professional content writer at MySignature. She has strong skills in Content Marketing, Email Marketing, SMM, and SEO.