Well, the tip in the title is a little bit straight to the point, and we will definitely come back to it later. Nonetheless, what we really are discussing today in this article is the key differences between a professional email signature and just a regular one. One can't help but wonder how to create a professional email signature and what the adjective «professional» stands for anyway.
It is no big secret that having an email signature is not the exclusive privilege of a businessperson, your granny, for instance, can totally get one if she wants! Just imagine, she would probably put something like «Nick's beloved granny, an expert on pancakes matters» into the «Position» field and place the picture of one of her cute cats instead of the photo. So every time she would write an email to you (oh, those modern grandmothers, right?) you'd see something like this in the email footer.

Indeed, this is a nice email signature, but it is obviously not a very professional one with all due respect to the cooking skills of Nick's granny!
It does not matter whether you are a student, an unlucky job seeker, or a successful entrepreneur – if your goal is to conjure up an appealing personal image on the Internet and thus benefit from the social networking possibilities it provides, you should think of getting yourself a professional email signature.
The main secret is not to mix your personal life with business. It is probably better if you even use one email box to reach your friends and family and another one to contact your colleagues or potential business partners. Accordingly, the signature also has to correspond to your goals. What is acceptable in your regular email signature could be extremely inappropriate in a professional one.
The choice of an exact pattern of your email footer is fully up to you. You can attach your photo or go without it, you can leave your telephone number, add links to your social media pages or omit those fields while creating a professional email signature template.
If you'd like the minimum disclosure for yourself, it is ok, although do bear in mind that the more information you reveal the more trustworthy image of yourself you create for your clients and business partners. At the same time, make sure you don't consider the email footer your personal blog, so do not share too many unessential details with your email addressees.
If you are a part of some business team, ensure that your professional email signature matches those of your colleagues'. Sometimes companies provide their employees with the precise guidelines on how their email signature should look like and what information should it contain. If your company doesn't have such guidelines you can consult with your boss on this matter anyway just to be sure you do everything right.
Remember that it is not always appropriate to add links to your personal social media accounts into your professional email signature, corporate accounts would do better. Although it is recommended to add social media icons only when the accounts have been active for a long time, so do not set up all social media in one day just to have the possibility to add more icons to your email signature.
A photo is, of course, a key part of any email signature. Based on the image attached to the incoming email we develop a certain attitude towards the sender.
No one would ever consider a serious matter the business proposal got from some Claire Smith with a picture of her hugging a cat. Once more, cats do not belong into a professional signature, if only you do not run a veterinary clinic of course.
Therefore, a clear photo of you is a must. Keep in mind, it should be a photo of YOU and not of you and your friends or someone else. Considering the average size of photos added to the email signatures you'd better use a head shot photo and your face should be visible so no sunglasses are allowed. The dress code depends on the company specialization but you have to look well-groomed anyway and be dressed appropriately. No selfies, that is just not serious.
In some cases, it is acceptable to use the logo of the company you work in instead of your personal photo, although people tend to trust individuals more than an impersonal brand logo.
As for additional components, the main rule is not to cram too much. You can use your email signature to promote your business so it is ok to add a banner, but it should be rather seamless, definitely not animated and not too big.
For the convenience of your partners and customers, you can add a map with the route to your office.
It is not an easy task to make a professional email signature all by yourself, so don't hesitate to outsource this responsibility to the specially developed services like MySignature. It is a professional email signature generator that helps you create a template for an email footer in less than 5 minutes.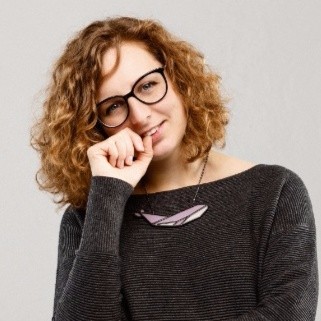 Helga Zabalkanska
Helga is a CMO at MySignature and digital marketer with 7+ years of experience. Having worked in numerous industries she has a deep understanding of various markets and a variety of tools as well as growth hacking techniques that can boost marketing activity in a particular sphere.