Videos are on their rise now. Just consider YouTube. As of June 2017, this video platform almost approached FaceBook in the amount of monthly users.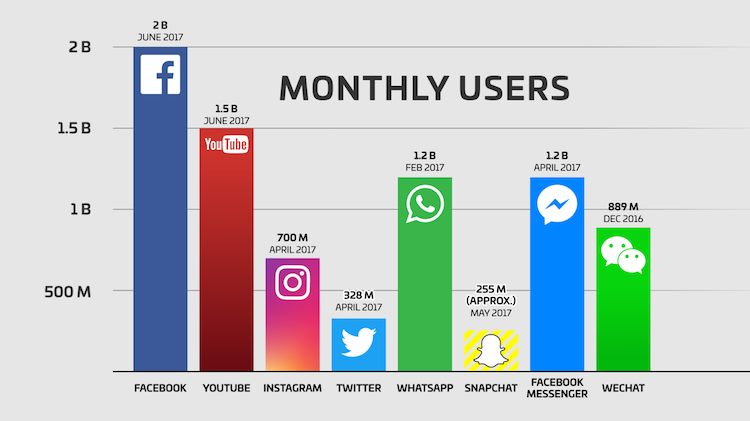 This opens great opportunities for email marketers. Did you know that just adding the word "video" to the email subject increases the open rate?
So, by means of videos, marketers get a chance to:
achieve more conversions
increase brand awareness
and educate customers
While the video is apparently going to be one of the most powerful marketing tools in the future, in this post we will discuss its value and how to use it in practice. Let's go.
What are the key advantages of video email marketing?
Besides all the benefits, inserting the video content into your email works like a hook for recipients.
People are lazy. They get bored with lots of words. Videos are interactive and they do not make the users get tired while the only action they need to do is to click "Play".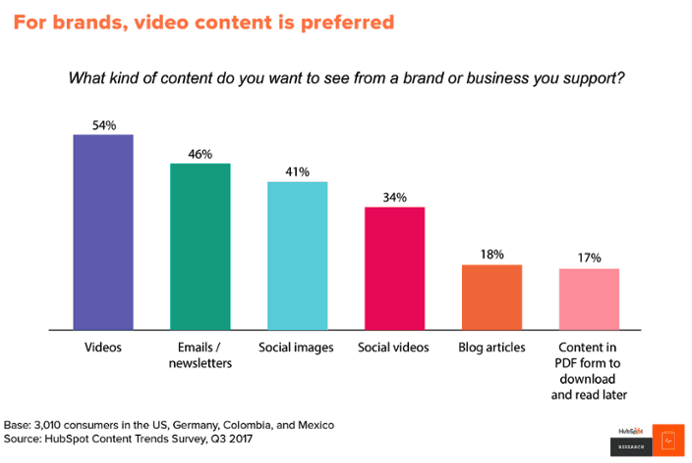 Apart from increasing user engagement, video email marketing has other benefits:
Videos save recipient's time. In less time the user can get information on some news about services or products. They can even listen to the information without switching from the task they have been engaged in.
Videos help draw people's attention. Plain text does not have such an effect on subscribers as videos which are dynamic, interesting, accompanied by music and so on.
Videos tend to go viral really quickly. By using them in your email marketing campaign, you can deliver messages fast and at the same time in an engaging manner. So, why not trying this super tool?
How to use videos in your email marketing strategy?
Do you now agree that videos in emails really work? If yes, let's not waste time and proceed with figuring out how to use it in practice.
First steps
Before recklessly starting to share hundreds of different videos, make sure you have taken into consideration the following:
outlined the key points of your strategy
made market research and analyzed your competitors
determined your target audience and correctly segmented it
generated a step-by-step plan
and the most important thing - checked whether your plans coincide with the budget you allocated
Video shooting goes next
To achieve best results, use video cameras of good quality. Select something from DSLR models, since they are known to work fast, produce great image quality, have convenient manual controls and optics.
If you have a limited budget to buy expensive DSLR cameras, there are plenty of mobile applications that can help create great video content without huge money investments.
Consider some of the followings apps for iOS and Android:
Camera MX (free download, in-app purchases only)
Videon ($4.99 for download)
FiLMiC Pro ($14.99 for download)
Horizon Camera (free download, in-app purchases only)
Movie Pro ($5.99 for download)
VivaVideo PRO ($2.99 for download)
Some additional recommendations
To make your email marketing campaign effective, try to follow such tips:
Try to make short videos using editors like iMovie for windows. Say NO to long videos with non-stop speeches. They will trigger people to unsubscribe. Keep it short and win customers.
To make videos visible and shareable, store them on platforms such as Vimeo or YouTube since they are the most popular sources.
Once you have a ready-made video, do not hurry to distribute it among your audience. First, test it with some beta users such as your colleagues, friends, or some peer groups.
Create a series of videos. Several short videos distributed in a set of emails work much better than a single 10-minute shooting.
Do not forget to include a CTA while you want your subscribers to perform some action and encourage them to share the video.
How to insert video into emails?
There are a few ways of embedding videos into emails. And simply putting a link is not among them. So, you can consider such tools:
MailChimp
MailChimp provides a great feature called Video Merge Tag. It enables you to make video screenshots which you can add to the email. They have small weight what allows for quick email content loading. These screenshots can lead the recipient to the full video on Vimeo or YouTube, or other places where it is originally stored.
More information here on their website.
Wave.video is a versatile online video marketing platform that significantly eases the process of inserting video into emails. Wave.video eliminates the manual work and automatically generates a code snippet for your video that you can copy and paste into the email code.
Every video created or hosted on the platform gets a video landing page that contains a title, description, the video itself, and a call-to-action button that leads your viewers down the conversion funnel. You can customize all the elements: the video player, layout of the landing page, color and style of the text, thumbnail, and target URL. After you add a code snippet to your email management tool, you will ingrate an image preview to your newsletter and effectively drive email subscribers to your video.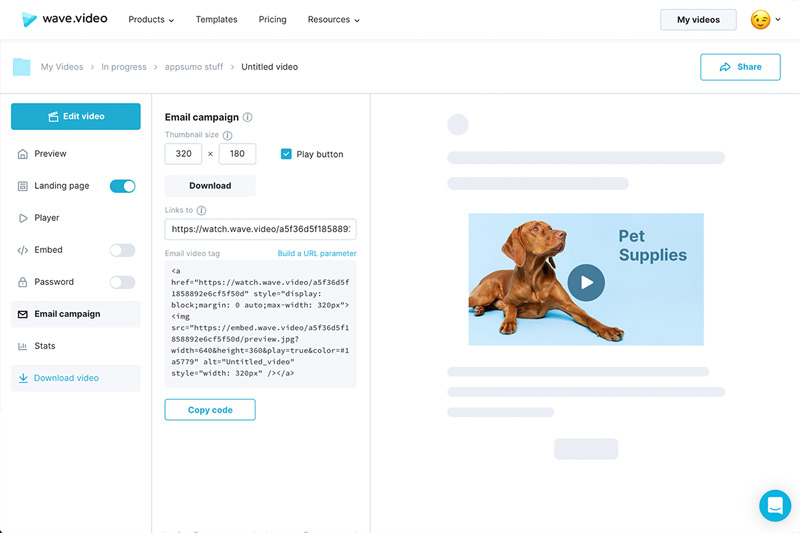 TailoredMail
This tool allows you to encode and insert videos into your email campaigns for instant sending. The platform allows for tracking subscribers' actions in terms of video content (if the video was played, how many times it was played, if it was shared, etc.).
More information here on their website.
HTML5
This is a very popular method that almost every marketer has tried. HTML5 videos are beneficial while they are supported by iPad Mail, iPhone Mail, Apple Mail 4/5/6, and Outlook. Moreover, 77% of all websites on the Internet use this markup language.
HTML5 enables you to create amazing videos due to its advanced functionality and multiple video playing options within web pages. While iOS can't run Flash, HTML5 is a top priority.
Some other email video tools you can use are BombBomb, AWeber, and Constant Contact.
Ostap
Ostap is a marketing professional (PMM) with 5+ years of experience in the software industry (B2B and B2C). Having worked with email marketing products and services, Ostap has a deep understanding of various email marketing strategies and solutions.